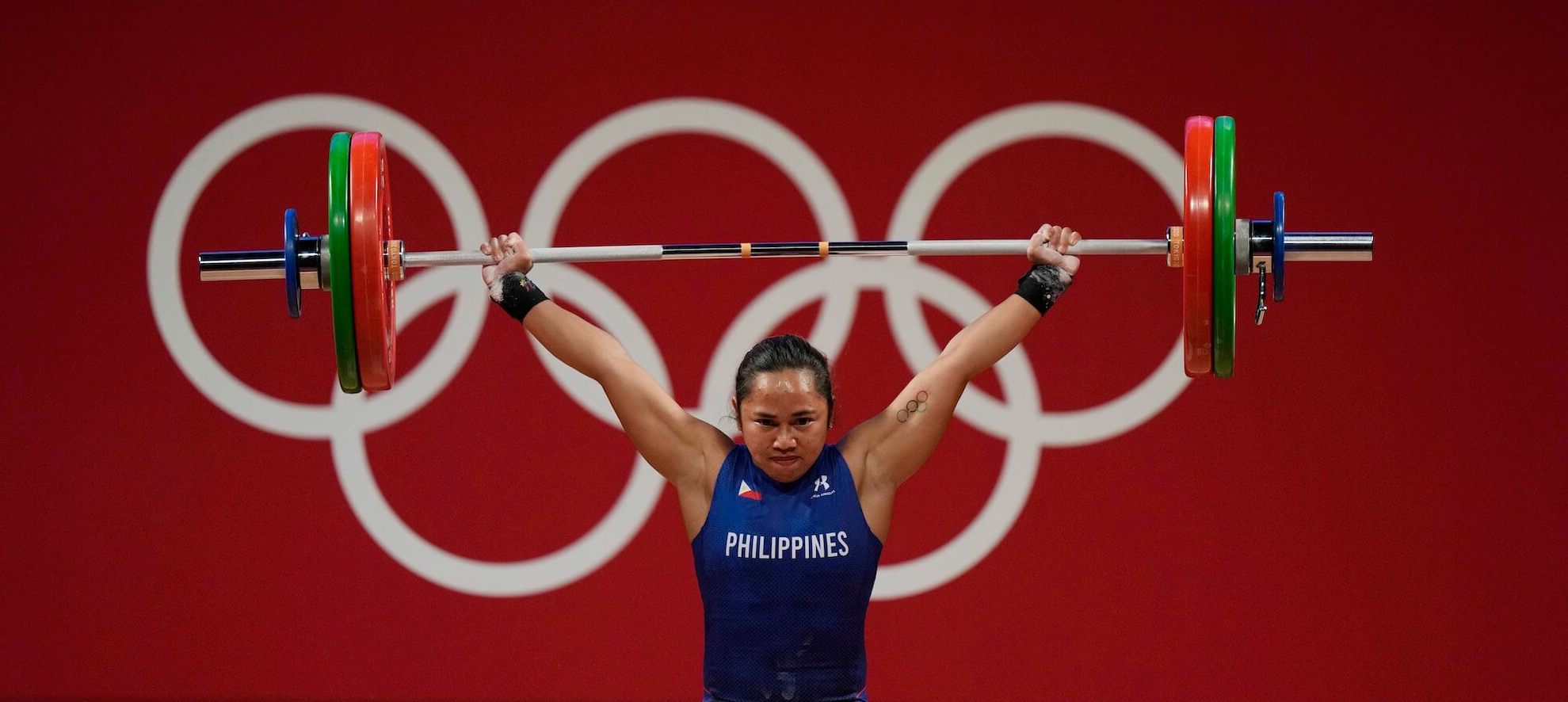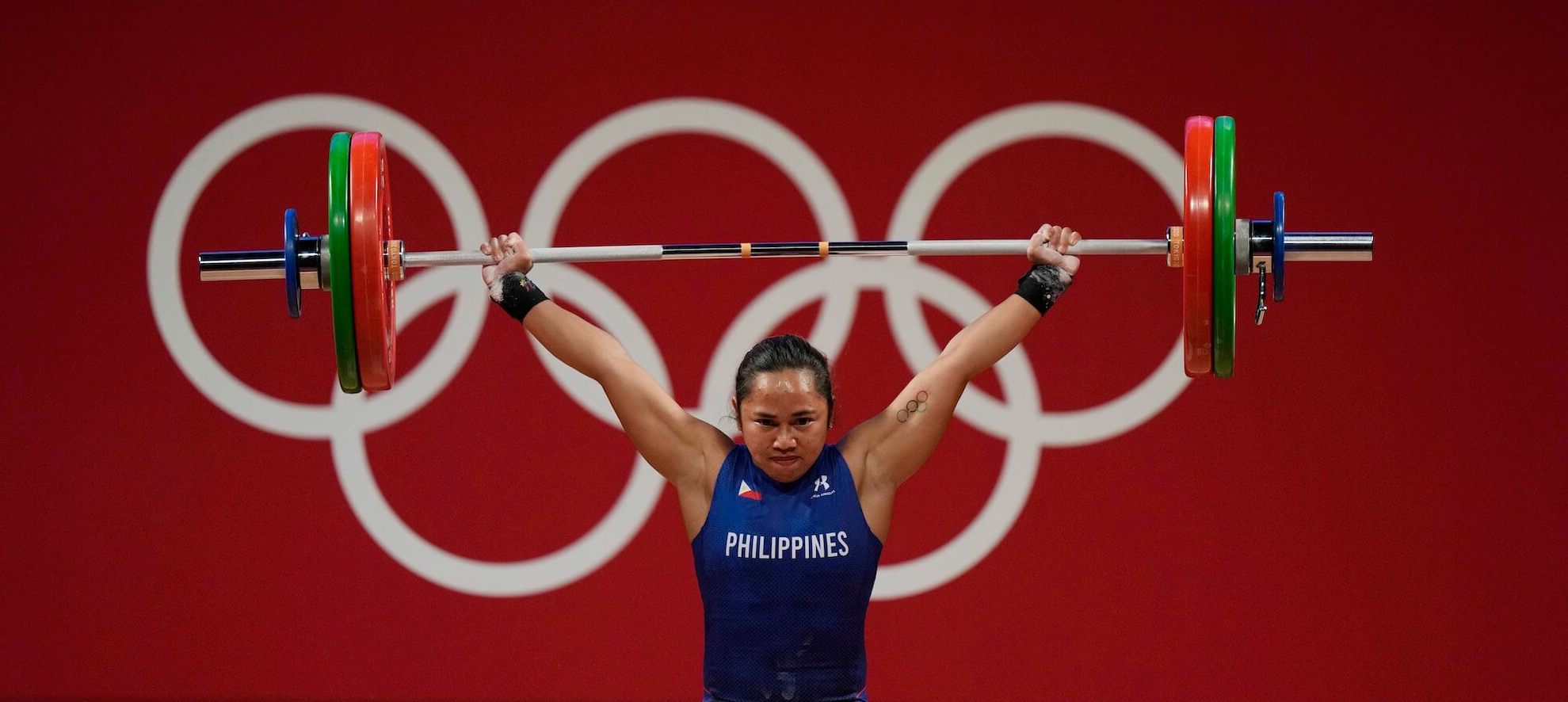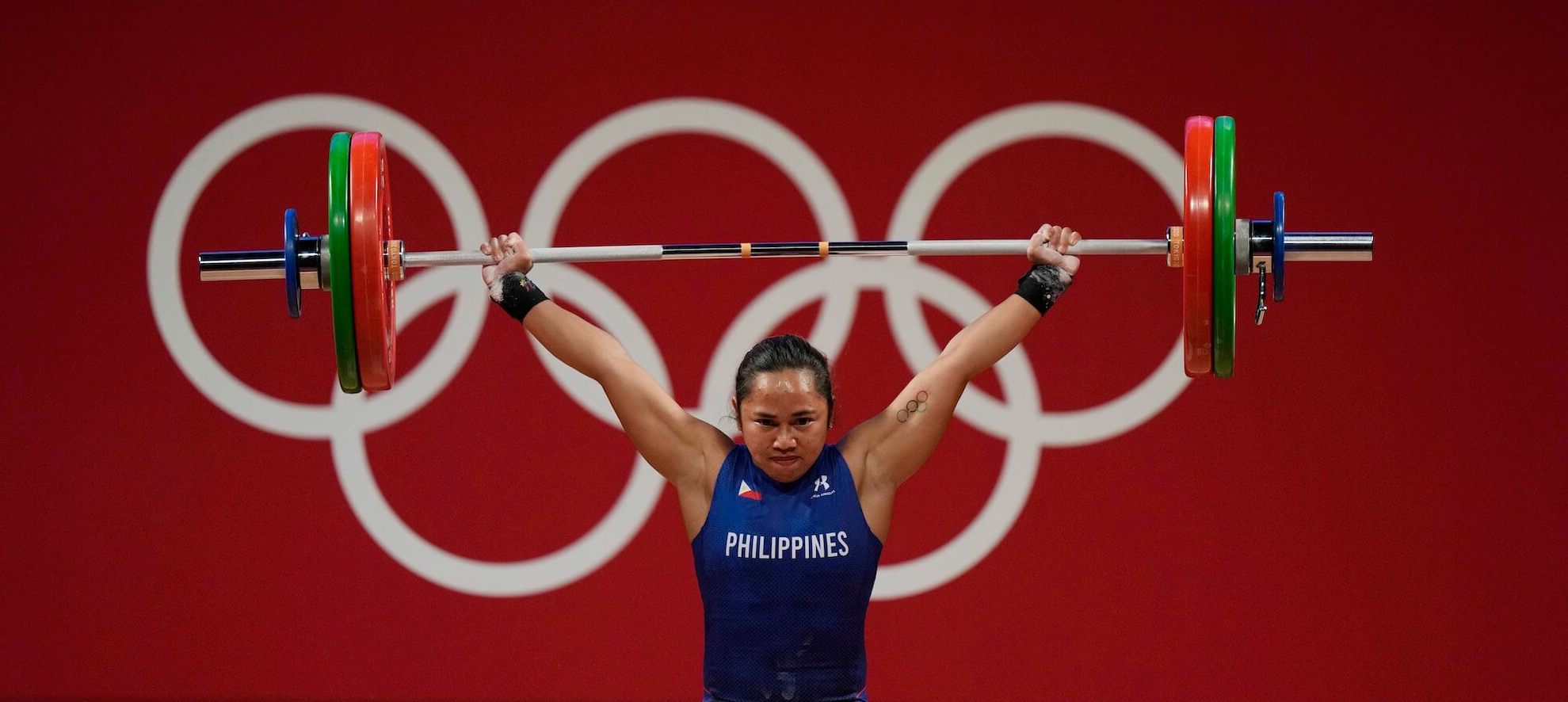 ASEAN Women in Sports Ambassadors
#WeScore Campaign
Building on the legacy of the Tokyo 2020 Games, ASEAN appointed 10 prominent athletes and sports officials as ASEAN Women in Sports Ambassadors in December 2021. Since then, the ambassadors have been using their influence to promote gender equality and women empowerment through sports across the region. This initiative is part of the Japan-funded ASEAN #WeScore Campaign.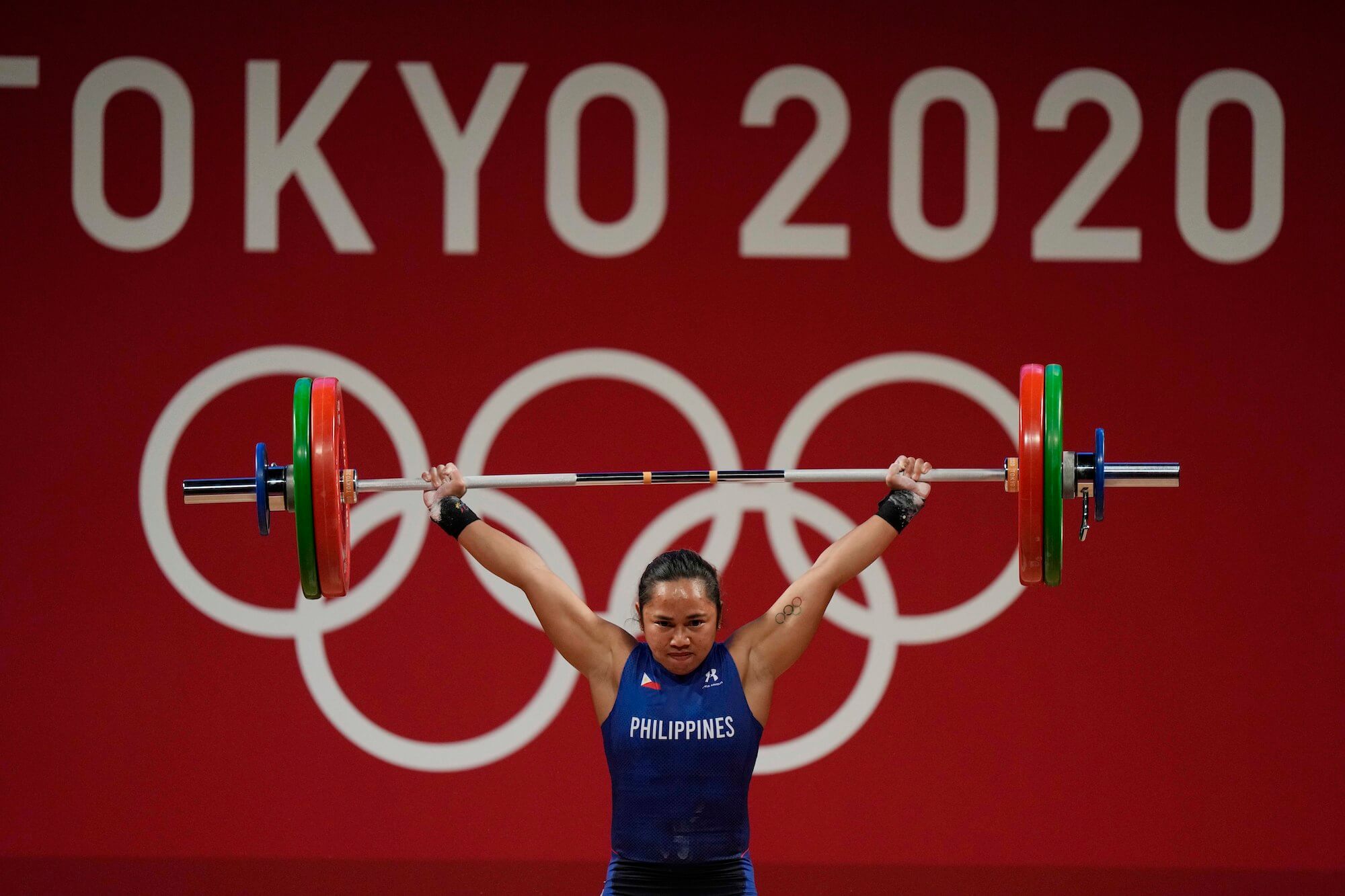 Hidilyn Diaz competes in the women's 55kg weightlifting event, 2020 Summer Olympics, 26 July 2021, in Tokyo, Japan. Photo Credit: © AP Photo / Luca Bruno
Hidilyn Diaz
Weightlifting
Hidilyn Diaz made history by becoming the first athlete to win an Olympic gold medal for the Philippines at the Tokyo 2020 Olympics. She also set a new Olympic record for the 55-kg category of the women's weightlifting event. Previously, Hidilyn nabbed a silver medal at the Rio 2016 Olympics. Hidilyn again dominated at the 2022 World Weightlifting Championship in Bogota, Colombia, sweeping all three gold medals at stake.
Hidilyn's journey to the top was an uphill climb. As a young weightlifter, she had to grapple with gender stereotypes. She said people tended to look at the sport as unfeminine and likely to lead to infertility. At the ASEAN #WeScore Talk Show, she recalled, "Weightlifting is known in the Philippines as a male-only sport. When I started doing weightlifting, many were not so supportive." 
Hidilyn said women athletes like herself are showing that they can become the best at what they do. But she emphasised, "What we need is support not only when we're winning, but also during our preparation." She called for more opportunities for women to participate in sports.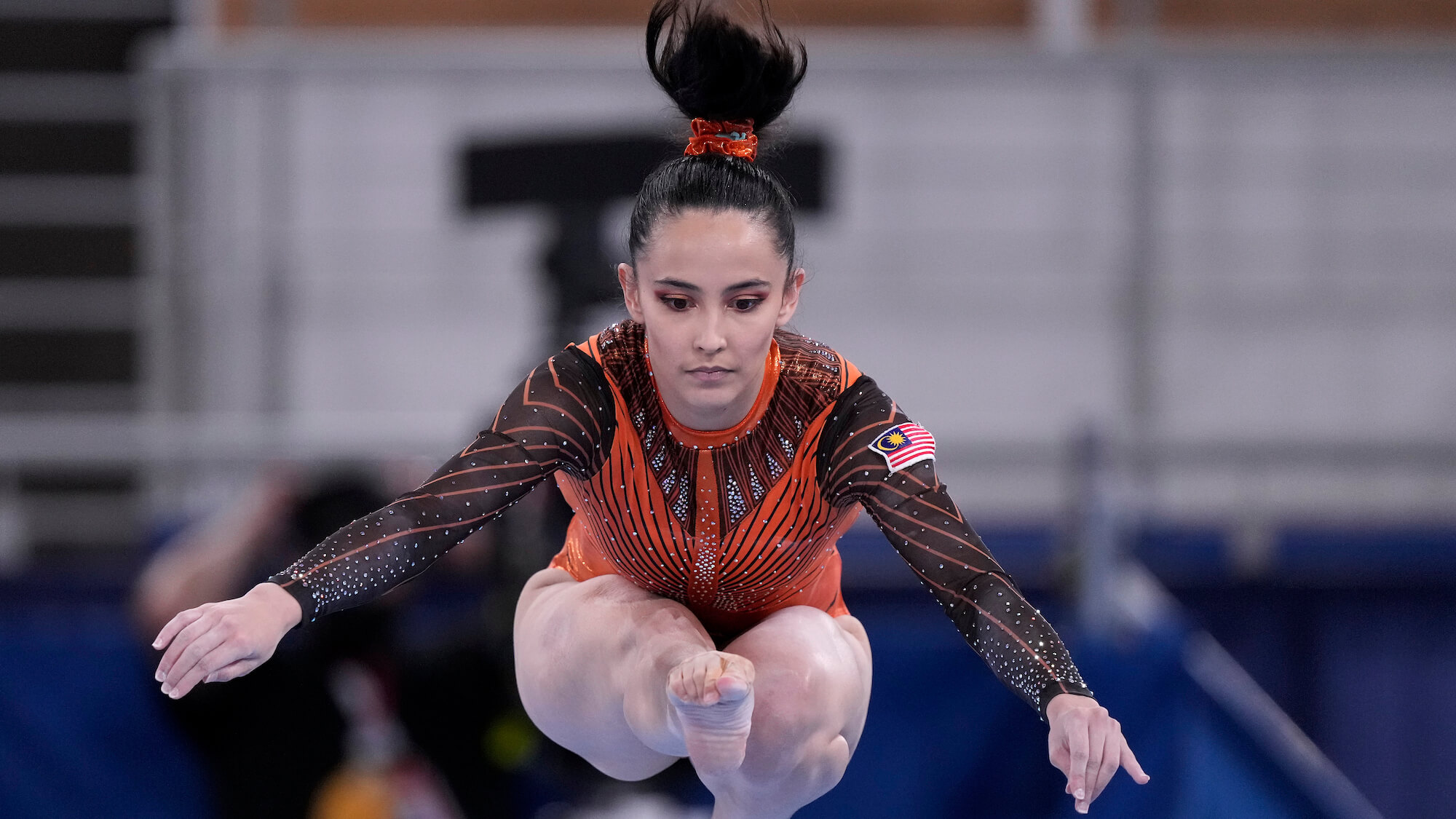 Farah Ann Abdul Hadi performs on the balance beam during the women's artistic gymnastic qualifications at the 2020 Summer Olympics, 25 July 2021, in Tokyo, Japan. Photo Credit: © AP Photo / Gregory Bull
Farah Ann Abdul Hadi
Gymnastics
Farah started her career in gymnastics at the early age of three and has won various medals throughout her career. She became only the third Malaysian gymnast to qualify for the Olympics with her participation at the Tokyo 2020 Olympics. 
"Qualifying and competing at the Tokyo 2020 Olympics, that's been a dream of mine since I was a little girl," said Farah at the ASEAN #WeScore Talk Show. 
"Tokyo 2020 Olympics was such an amazing opportunity for me and for Malaysia, to show that we are a strong country."
Farah cited the media's biased coverage of women gymnasts as one of the challenges she has faced. "As gymnasts, we are negatively talked about. Instead of praising our performance, they talk about our outfits or how we look," she said. "These are some of the barriers that I've tried to break, (to) bring more positive light to women in sports."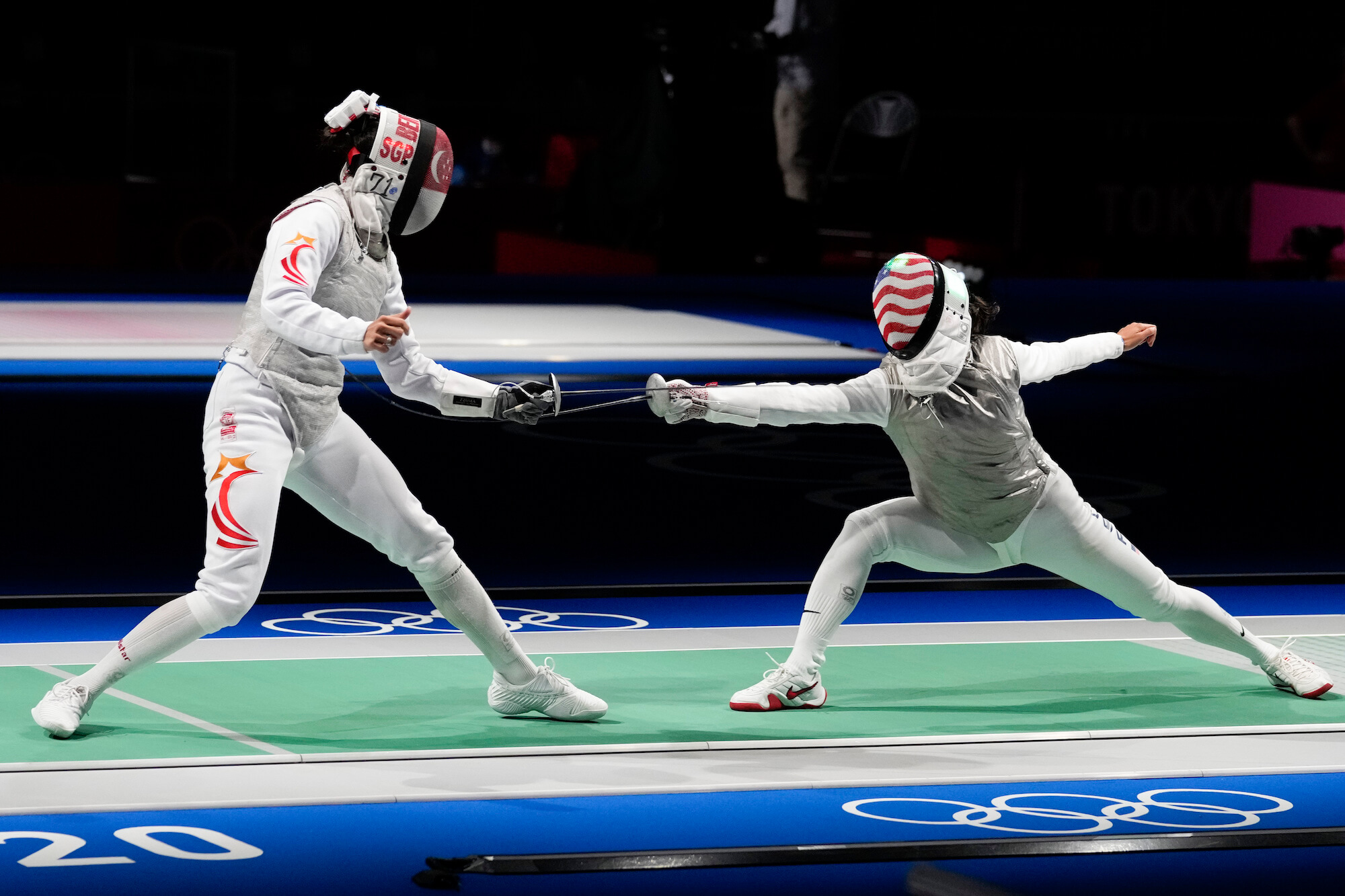 Amita Berthier competes in the women's individual Foil round of 32 competition at the 2020 Summer Olympics, 25 July, 2021, in Chiba, Japan. Photo Credit: © AP Photo / Andrew Medichini
Amita Berthier
Fencing
Amita is a left-handed foil fencer who represented Singapore at the Tokyo 2020 Olympics. She is a three-time gold medalist at the Southeast Asian Games and was named the Women's Foil Athlete of the Year by the United States Fencing Coaches Association in May 2022. 
At the ASEAN #WeScore Talk Show, Amita said gender shouldn't be a hindrance to playing a sport: "I think it's very important to never hold back on what you want to do. Just because you're born female doesn't mean that you shouldn't pursue sports and what you love to do."
Amita noted the importance of having a strong support system. "My parents had been an amazing core and foundation for me to pursue my sport. Without them, I wouldn't be where I am today. I think having a community and federations that encourage females to do the sports that they want to do can help a lot," she said.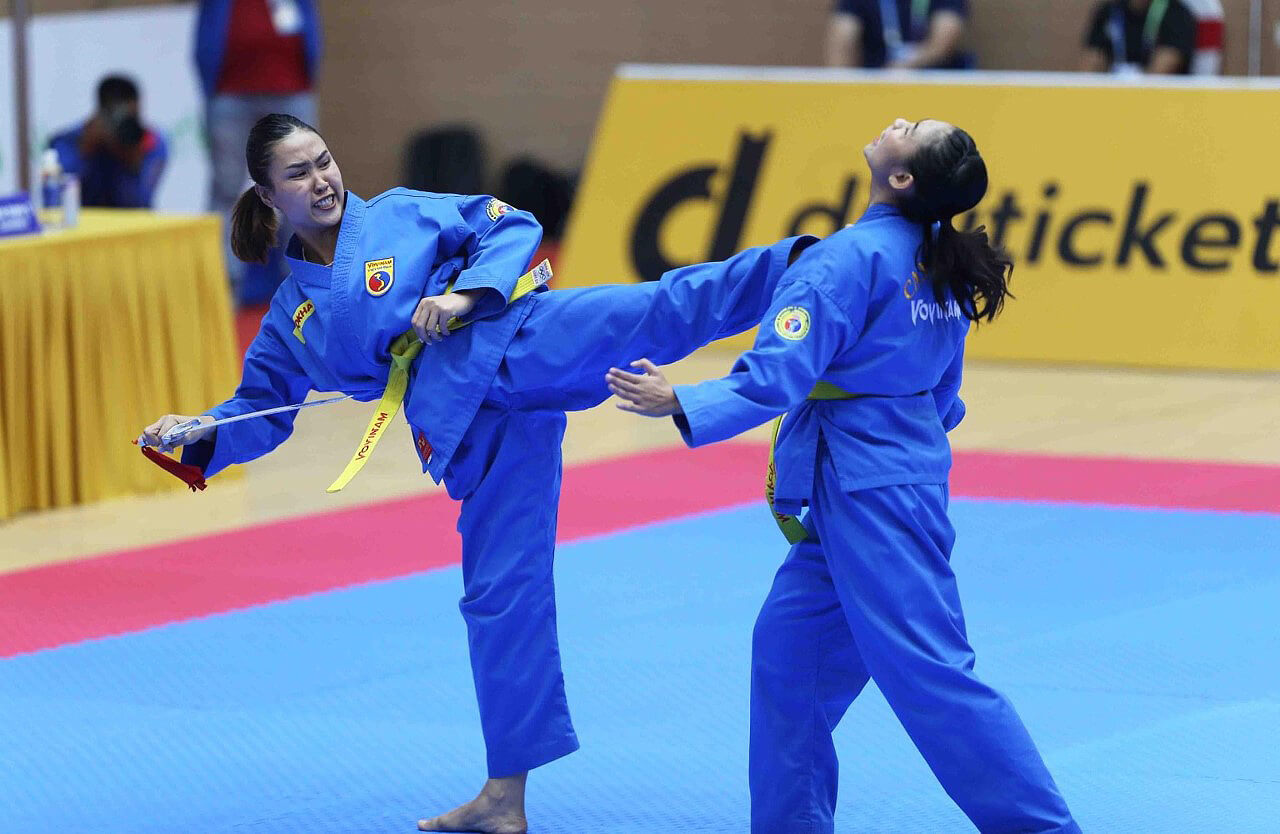 Pov Sokha wishes to become a role model to inspire other women to play sports. Photo Credit: © Pov Sokha
Pov Sokha
Vovinam
Pov Sokha, fondly called NaNa, is a world champion in vovinam. She has been practising vovinam since she was 13 years old, and has won the gold, silver, and bronze medals from the SEA Games and other international sporting events. She is excited for Cambodia to host the 32nd SEA Games in May 2023, and aims to make her parents and country proud by capturing another gold medal. 
NaNa said one way of encouraging women to play a sport is to make women athlete role models become more visible. "It (ASEAN) can conduct more talk shows, like the ASEAN #WeScore Talk Show, to inspire and empower women, and to let communities and the world see that women also have their own abilities and perform at the highest level," she said.
NaNa believes that women athletes can be promoters of peace and stability. She said that sporting competitions are avenues for athletes from all nations to forge friendships and promote intercultural understanding.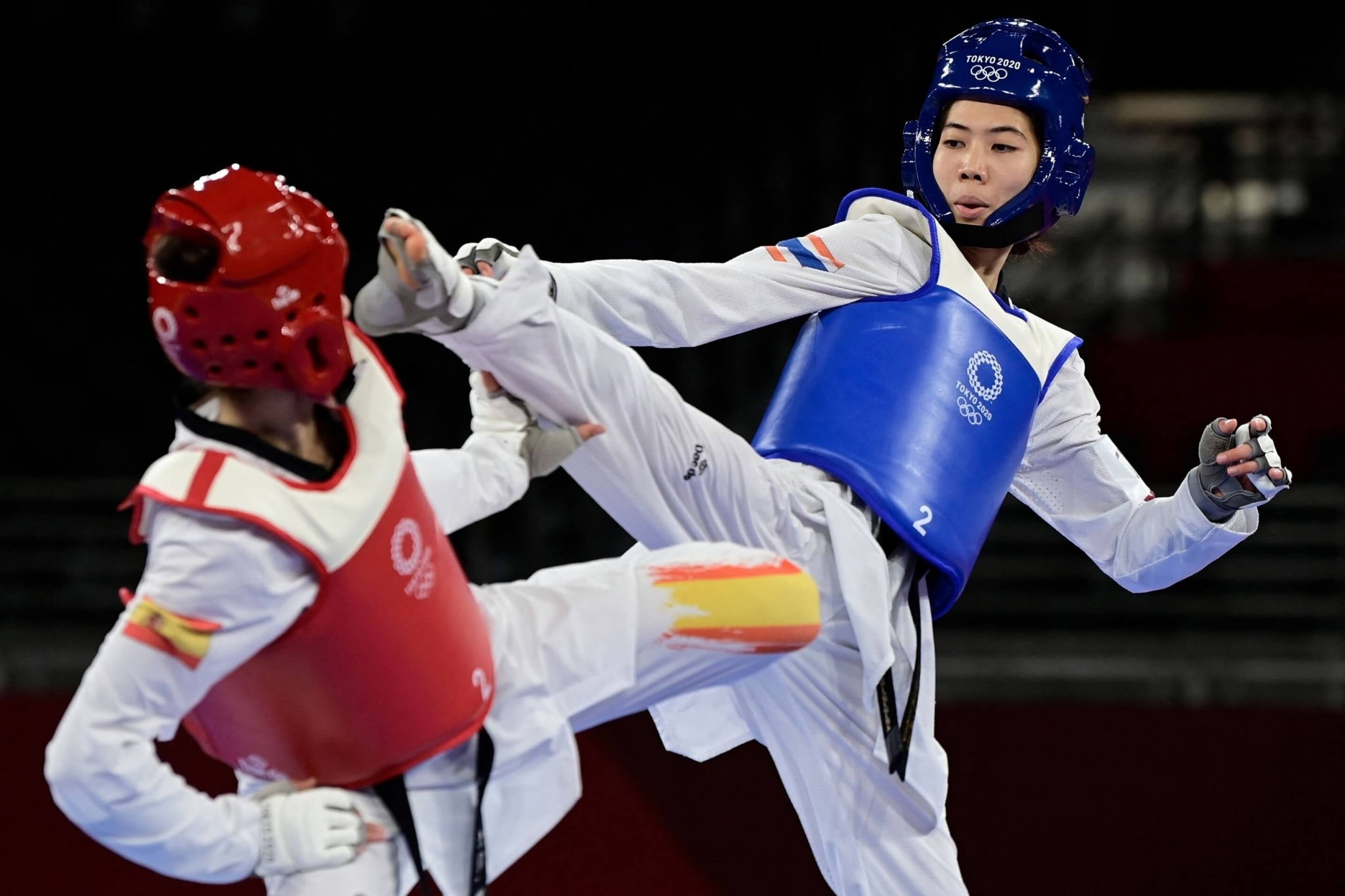 Panipak Wongpattanakit competes in the taekwondo women's 49kg gold medal bout during the Summer 2020 Olympics, 24 July 2021, in Tokyo, Japan. Photo Credit: ©JAVIER SORIANO / Getty Images
Panipak Wongpattanakit
Taekwondo
Panipak Wongpattanakit is a two-time Olympic medalist in taekwondo (49-kg class), having won a gold medal at the 2020 Tokyo Olympics and a bronze medal at the Rio 2016 Olympics. She is also among the top-ranked taekwondo players in the world, with two world championship titles under her belt and gold medals from various international events, such as the SEA Games.
Panipak recently added to her impressive record by winning three gold medals at the 2022 World Taekwondo Grand Prix and a bronze medal at the 2022 World Taekwondo Championships.
At the ASEAN #WeScore Talk Show, Panipak said her family is her inspiration to succeed. "Our father has motivated us since we were young and I started my sports career. My late mother passed away when I was seven years old, so my father is a single father," she said. 
Panipak said that sport has also opened a lot of doors for her. "We were not rich. Getting into sport helped support our family. And sport has taken me here today, to the day I won the gold medal. I did it for my family and country," she said.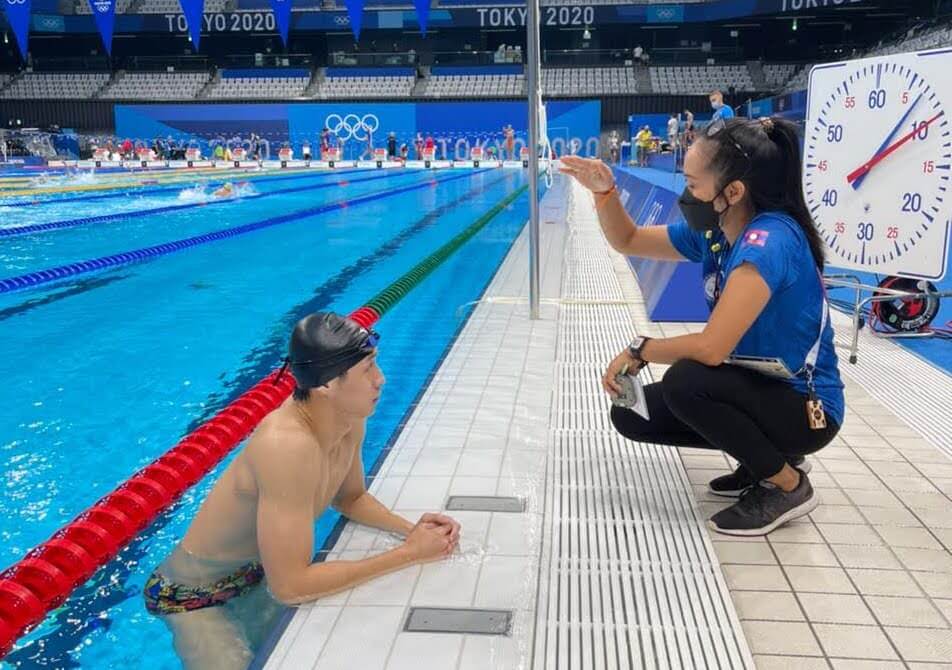 Soulamphone Kerdla coaching an athlete during the Summer 2020 Olympics in Tokyo, Japan. Photo Credit: ©Department of External Relations, Ministry of Education and Sports, the Lao PDR
Soulamphone Kerdla 
Swimming
Soulamphone Kerdla is the head coach of the Lao PDR National Swim Team. Before her coaching assignment, Soulamphone was a swimmer who represented her country in various international sporting competitions. 
At the ASEAN #WeScore Talk Show, Soulamphone said that girls will be encouraged to play a sport if they see it as something fun to do. She said, "When they know it's fun, they're going to want to come and play. Young girls in my country are not very confident to try hard things. Sports can be hard sometimes, but it can be fun. The first thing to do then is (to) show girls and women how fun it could be and make them love the sport." 
For women to become leaders in sports, Soulamphone believes they should first understand sports. "I think we need to educate women and girls about sports. We need to give them opportunities to be in sports. Otherwise, they would not understand why we need sports," she said.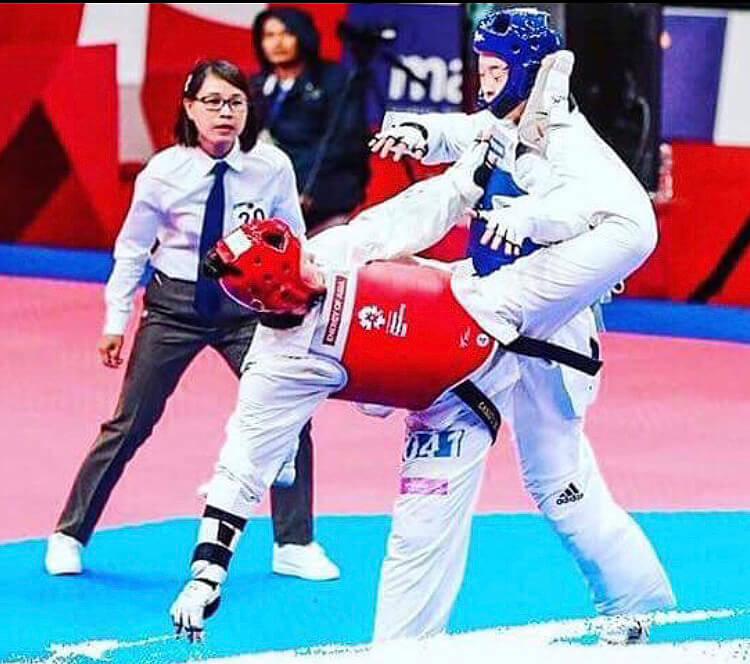 Soe Soe Myar believes that women in sports should take the lead, be informed, and inspire each other. Photo Credit: © Soe Soe Myar
Soe Soe Myar
Taekwondo
Soe Soe Myar was a national athlete who represented Myanmar and won a gold medal in taekwondo at the 2007 SEA Games. She currently serves as the deputy director of sports and physical education at the Ministry of Health and Sports. Soe Soe, who has been practising taekwondo since she was 11, developed an extensive national taekwondo programme in Myanmar. 
At the ASEAN #WeScore Talk Show, Soe Soe said women athletes should encourage one another. "Women should have a seat at the table, share information with each other, and inspire each other. I actually became a referee because I was inspired by a woman referee from Thailand," she said. 
Soe Soe said that sports bring a lot of benefits. She said, "With sports, the first thing you will learn is punctuality because you cannot miss your game. Second, you will learn how to respect rules and diversity. You meet athletes from different cultures and regions. Third, you will learn how to become confident. Athletes gain confidence when they compete and this confidence is carried over to their social life and even after their career is over."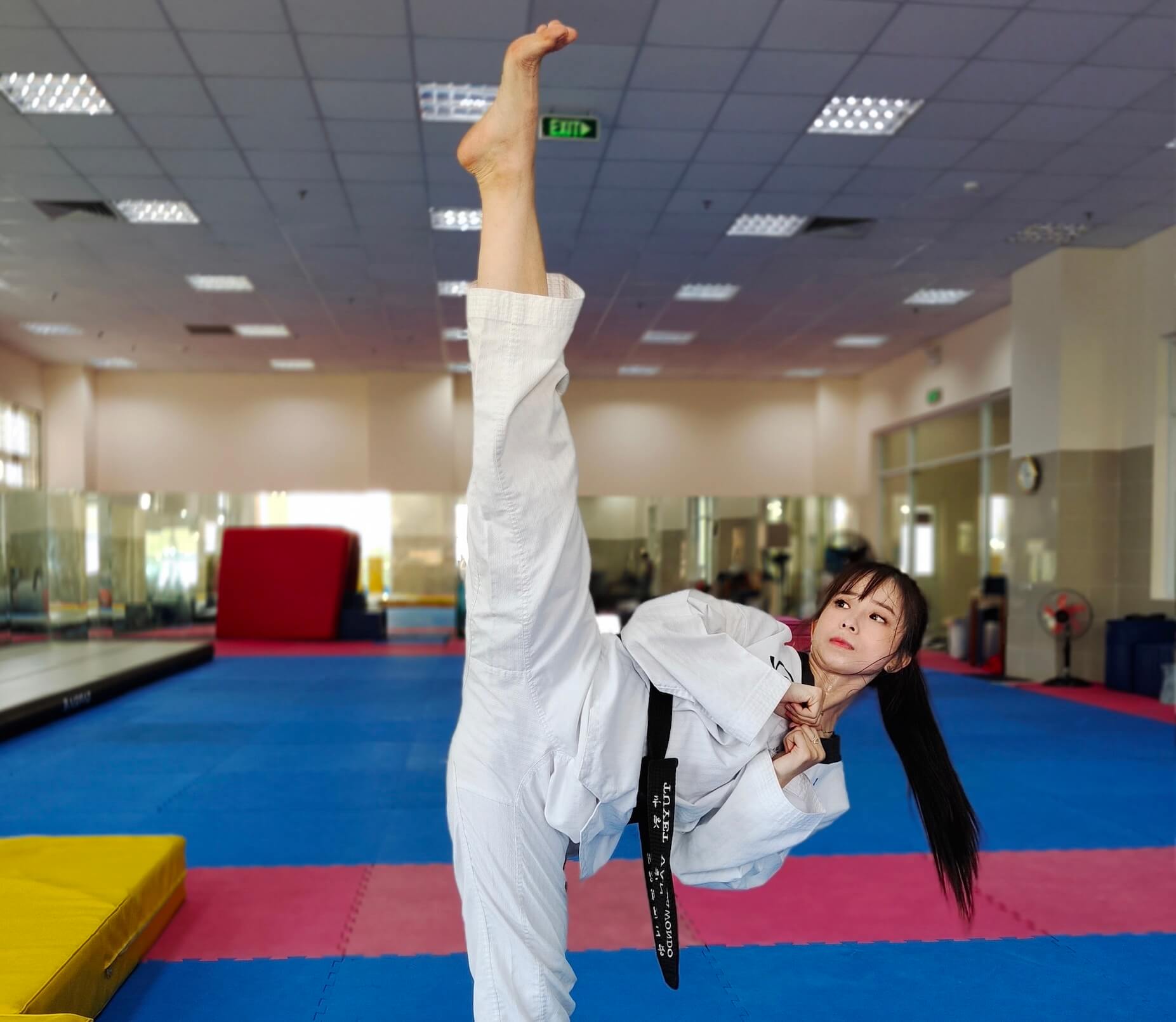 Tuyet Van Chau continues to train and compete, and says she will never give up taekwondo. Photo Credit: © International Cooperation Department, Viet Nam Sport Administration
Tuyet Van Chau
Taekwondo
Tuyet Van Chau is a five-time gold medalist in taekwondo at the SEA Games. She has also won gold and silver medals at the World Championships. She started her martial arts training when she was six years old and became a member of Viet Nam's national taekwondo team in 2009.
At the ASEAN #WeScore Talk Show, Tuyet Van talked about representing her country in a sport that she loves. She said, "It's my first time winning a gold medal at the World Taekwondo Championships in Uzbekistan. I was happy and honoured to sing the national anthem of my county and see the Vietnamese flag when I stood on the podium. I never have any intention of leaving taekwondo."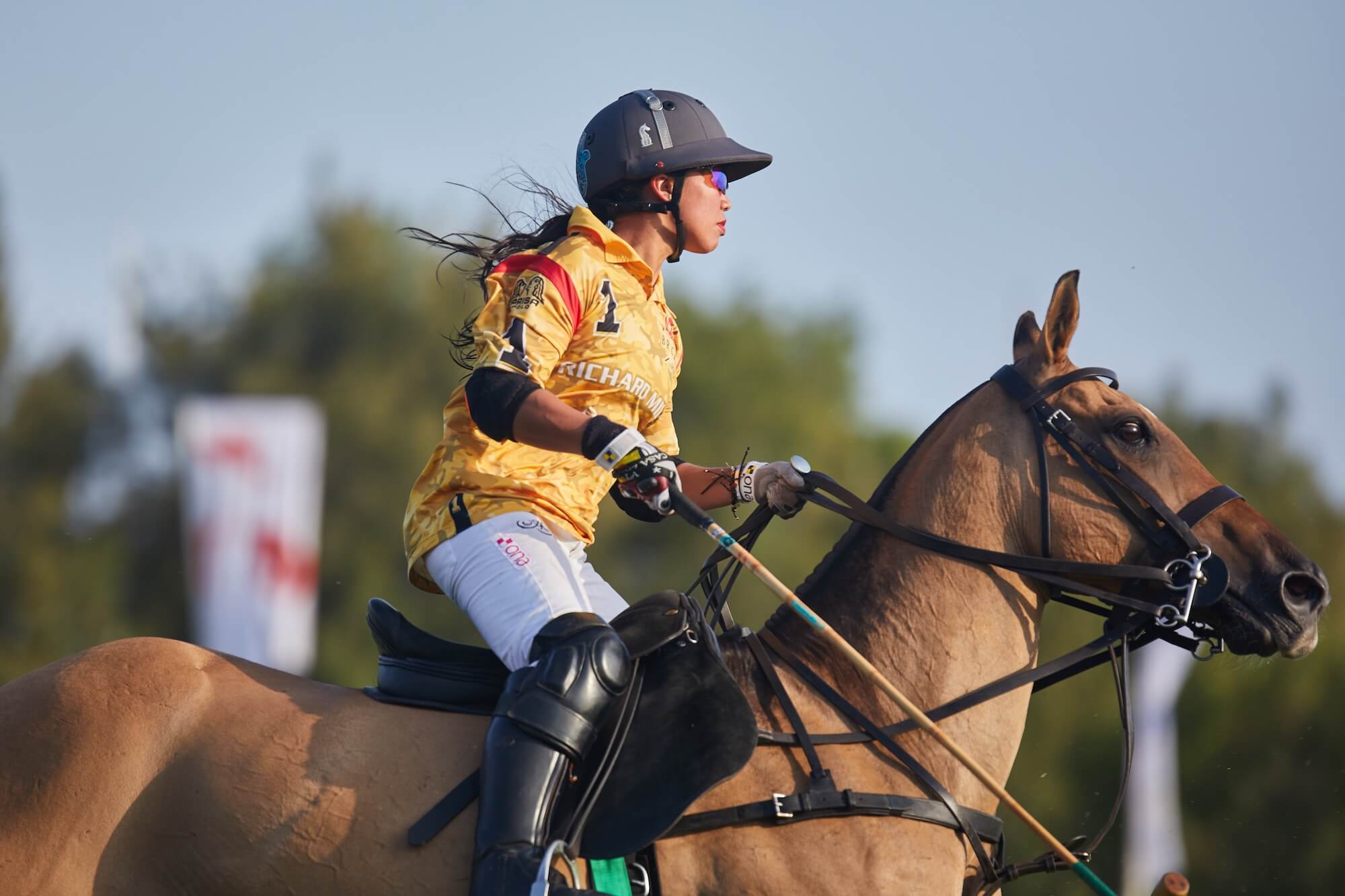 Princess 'Azemah believes that with hard work, persistence, and a strong support system, women athletes can achieve their goals. Photo Credit: ©JMinistry of Culture, Youth and Sports, Brunei Darussalam
HRH Princess 'Azemah Ni'matul Bolkiah Binti His Majesty Sultan Haji Hassanal Bolkiah Mu'izzaddin Waddaulah
Polo
Her Royal Highness Princess 'Azemah Ni'matul Bolkiah is a world-class polo player and the first Bruneian woman to compete and win medals in the Torneo Internacional de Polo and at the SEA Games 2019 and 2017. Her leadership and determination in the very challenging sport of polo show her greatest strengths that have made her one of the leading female athletes in Brunei Darussalam.
Princess 'Azemah developed a passion for polo at a young age. So, she encourages girls and women athletes to follow their passion, to believe in themselves and rise to the challenge to make a difference. Princess 'Azemah says that polo gave her joy and made her a better person. "I have learned many great things over the years, such as trying to be a better teammate, learning how to win or lose gracefully, furthering skills, and having grit and perseverance, which benefit all other areas of my life," she said during the ASEAN #WeScore Talk Show. And today, that passion for polo continues by supporting nurturing young girls and boys to play polo in the Brunei Polo Academy started in 2018. 
Throughout her involvement in high-performance sports, she has demonstrated her unwavering commitment and continuous support for the country's special needs programmes, such as breast cancer awareness, through polo charity programmes and fundraising events. She has a huge interest in motivating others to embrace a healthy lifestyle by having a space for fitness boutique called Shine Cycle to promote the benefits of regular exercises for fellow Bruneians and residents.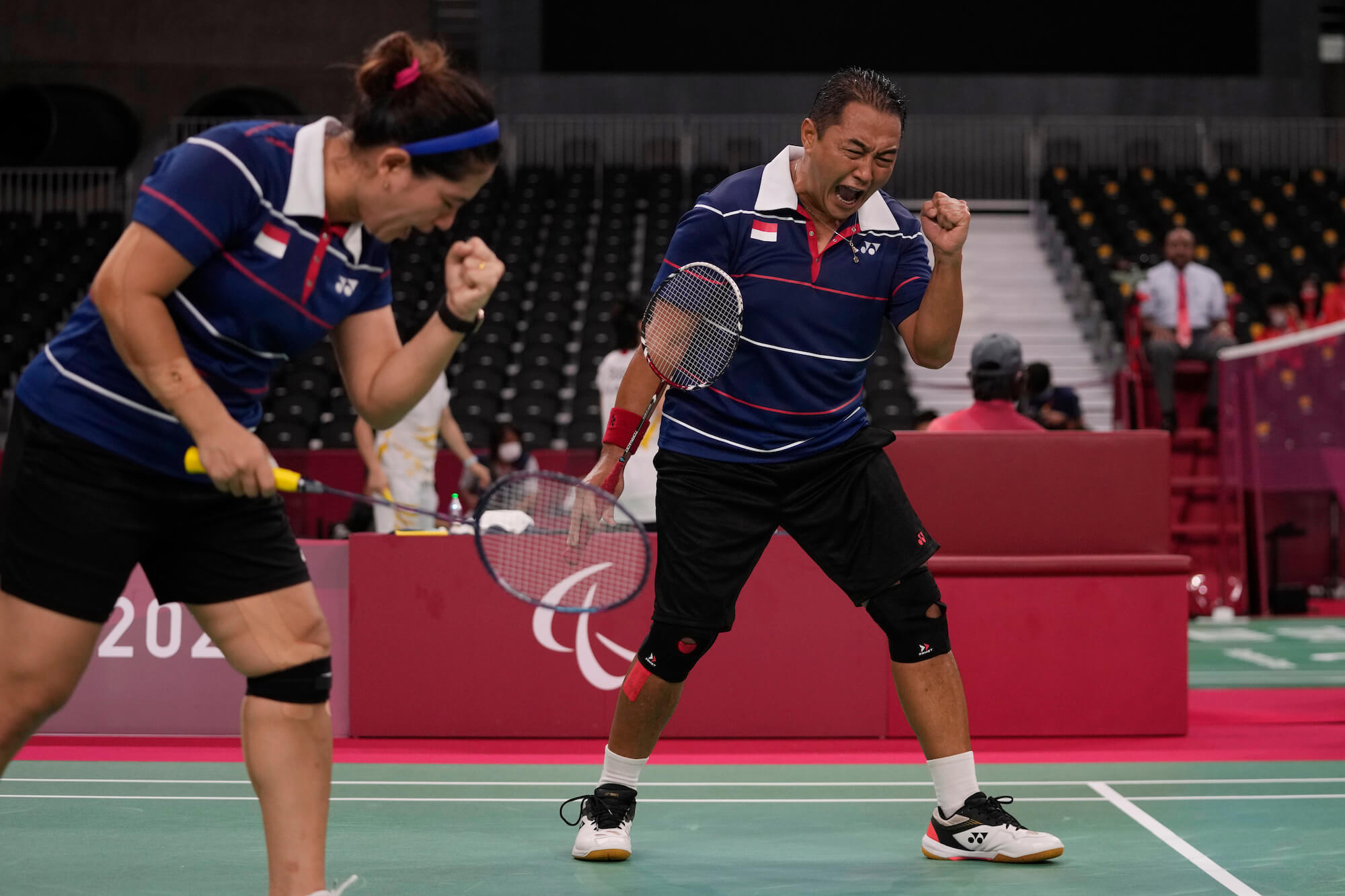 Hary Susanto (right) and Leani Ratri Oktila (left) celebrate during in mixed doubles SL3-SU5 gold medal match at the Tokyo 2020 Paralympic Games, 5 September 2021, in Tokyo, Japan. Photo Credit: © AP Photo / Kiichiro Sato
Leani Ratri Oktila
Para-badminton
Leani Ratri Oktila is a top-notch badminton player who has won multiple gold medals at the Tokyo 2020 Paralympic Games and ASEAN 2015 Para Games. With tenacity, she overcame the childhood accident that left her with physical limitations and became part of Indonesia's national para-badminton team merely two years after her accident. 
At the ASEAN #WeScore Talk Show, Leani talked about what the sport means to her. She said that when she was a kid, her parents had accepted that she may no longer become an athlete or a world champion, but had hoped that she would be healthy by doing sports. 
With World Disability Day, Leani and her fellow para athletes feel that they are appreciated and equal. During the COVID-19 pandemic, many of the events and competition schedules for para athletes were cancelled despite the continuation of the schedule for the non-para athletes. "For us para athlete, we often feel jealous of other athletes who don't have a disability," she said, wishing for equal opportunities for para athletes in the region.