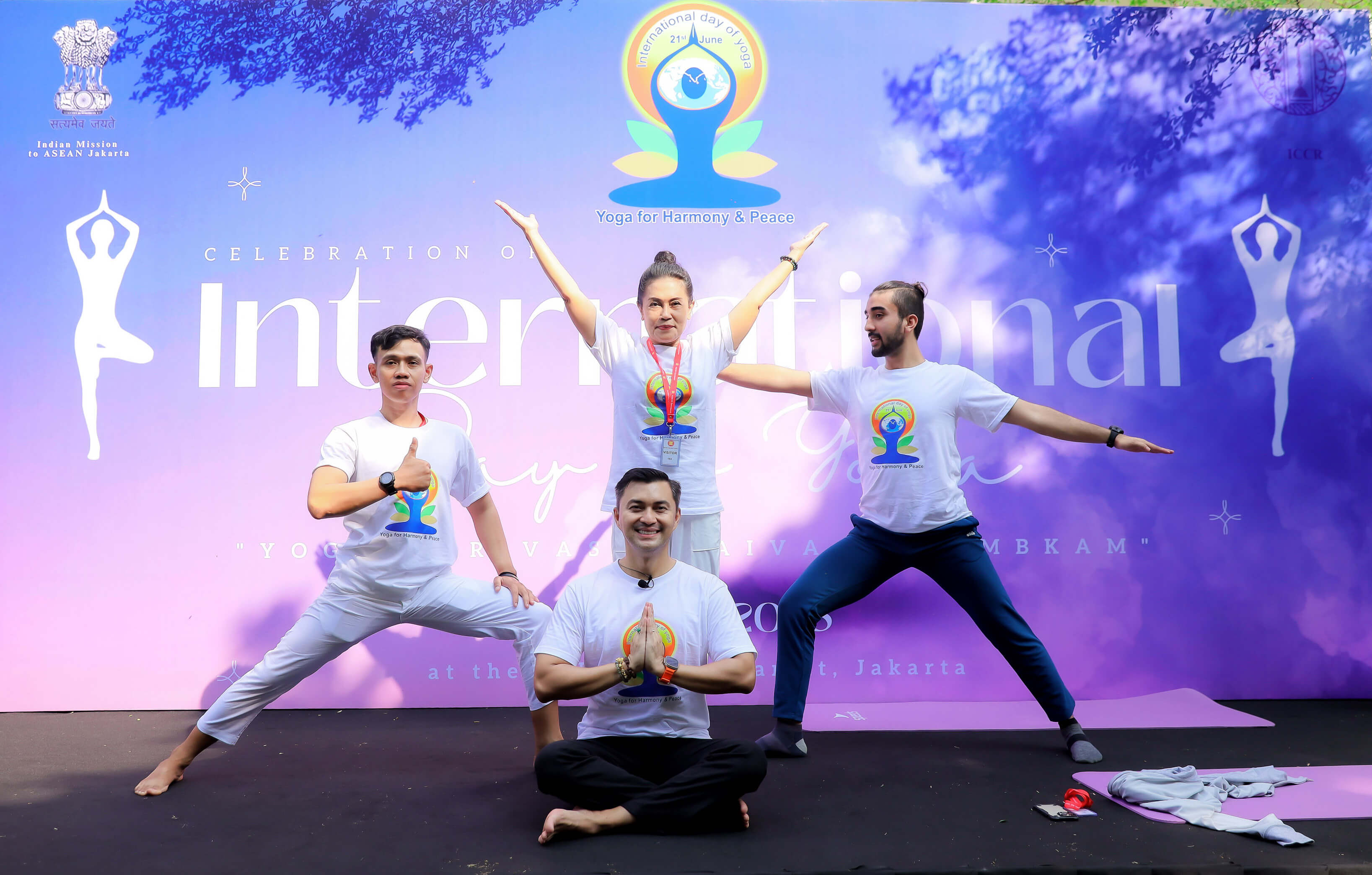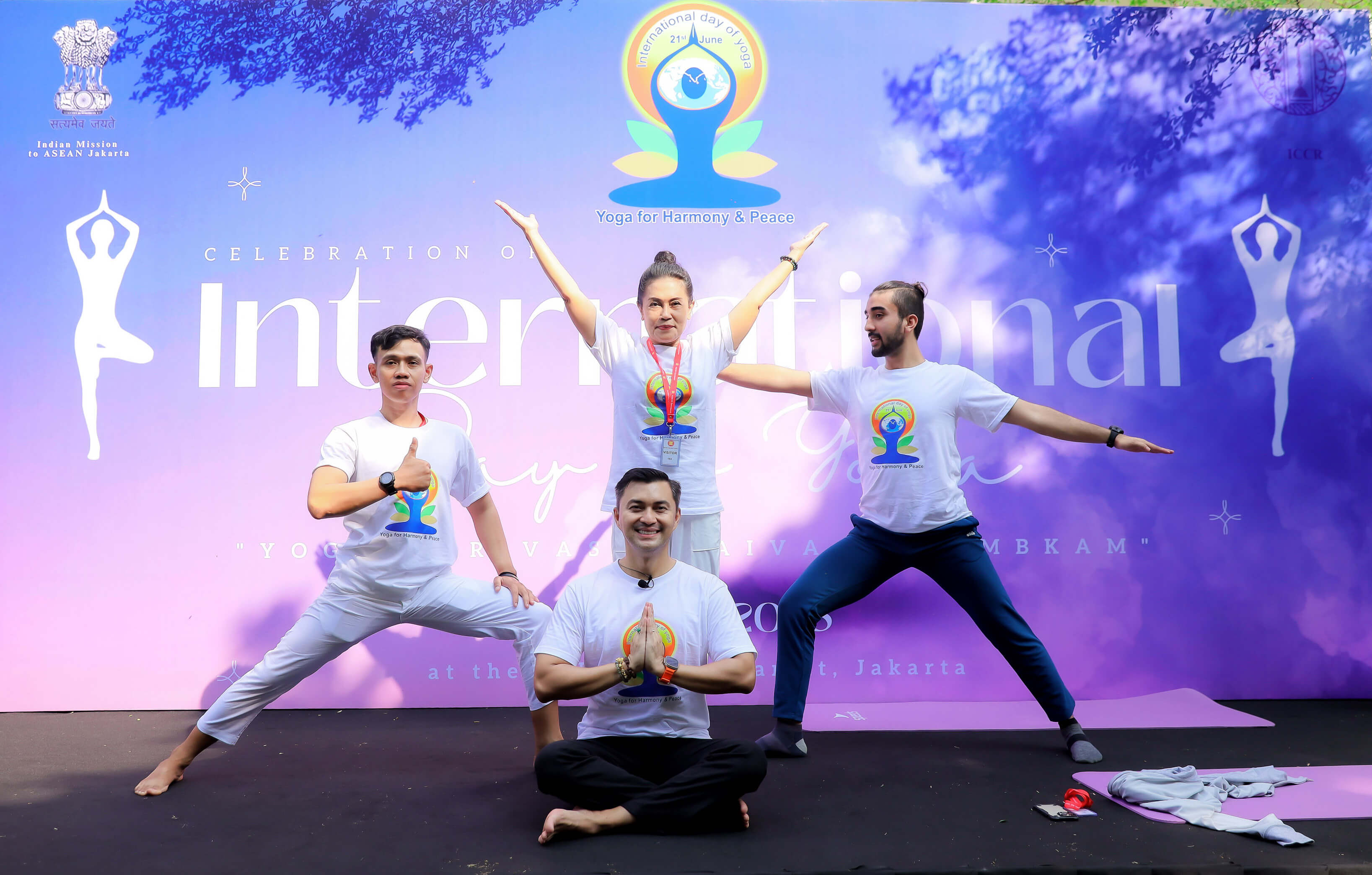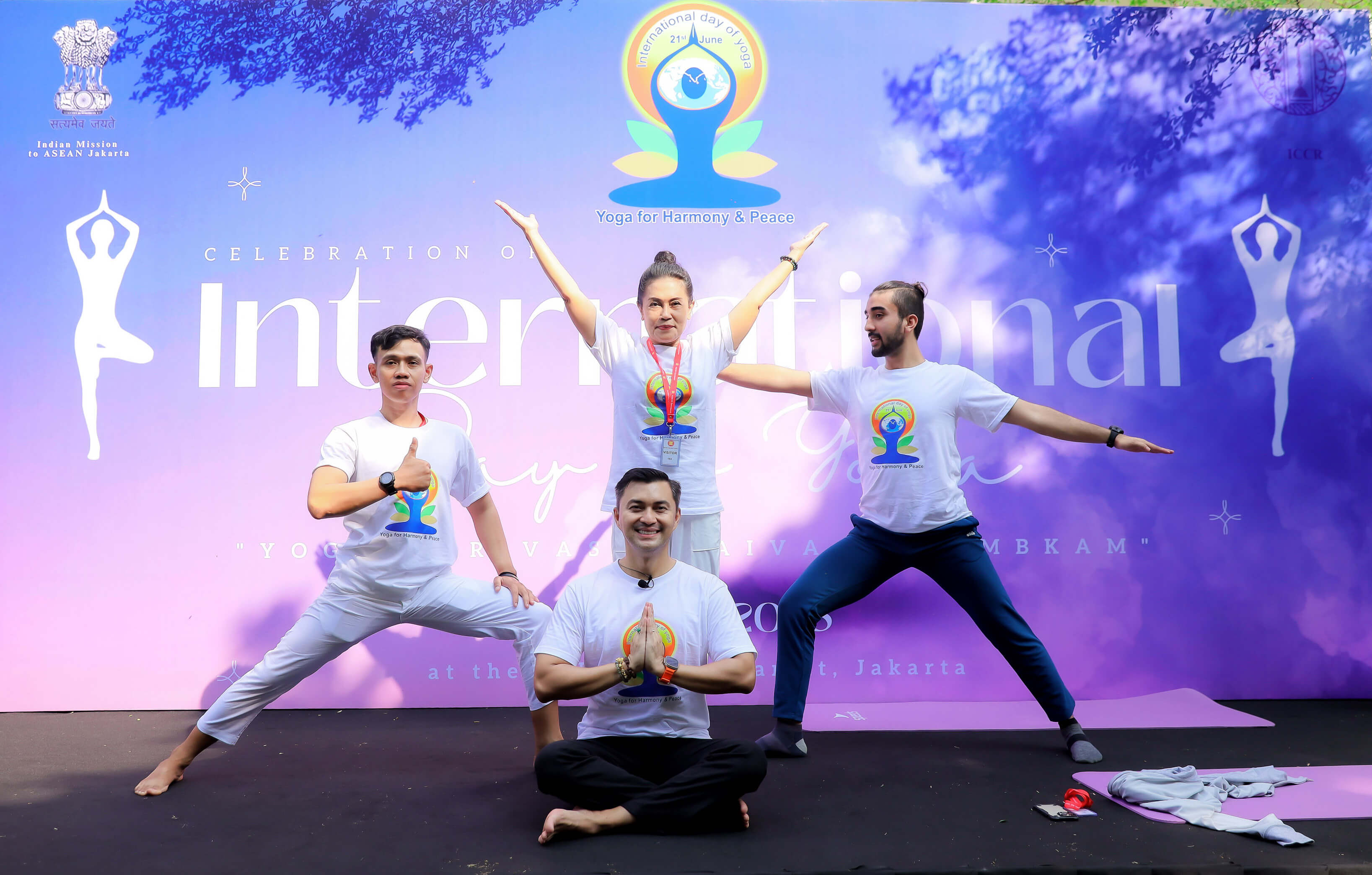 International Day of Yoga at the ASEAN Secretariat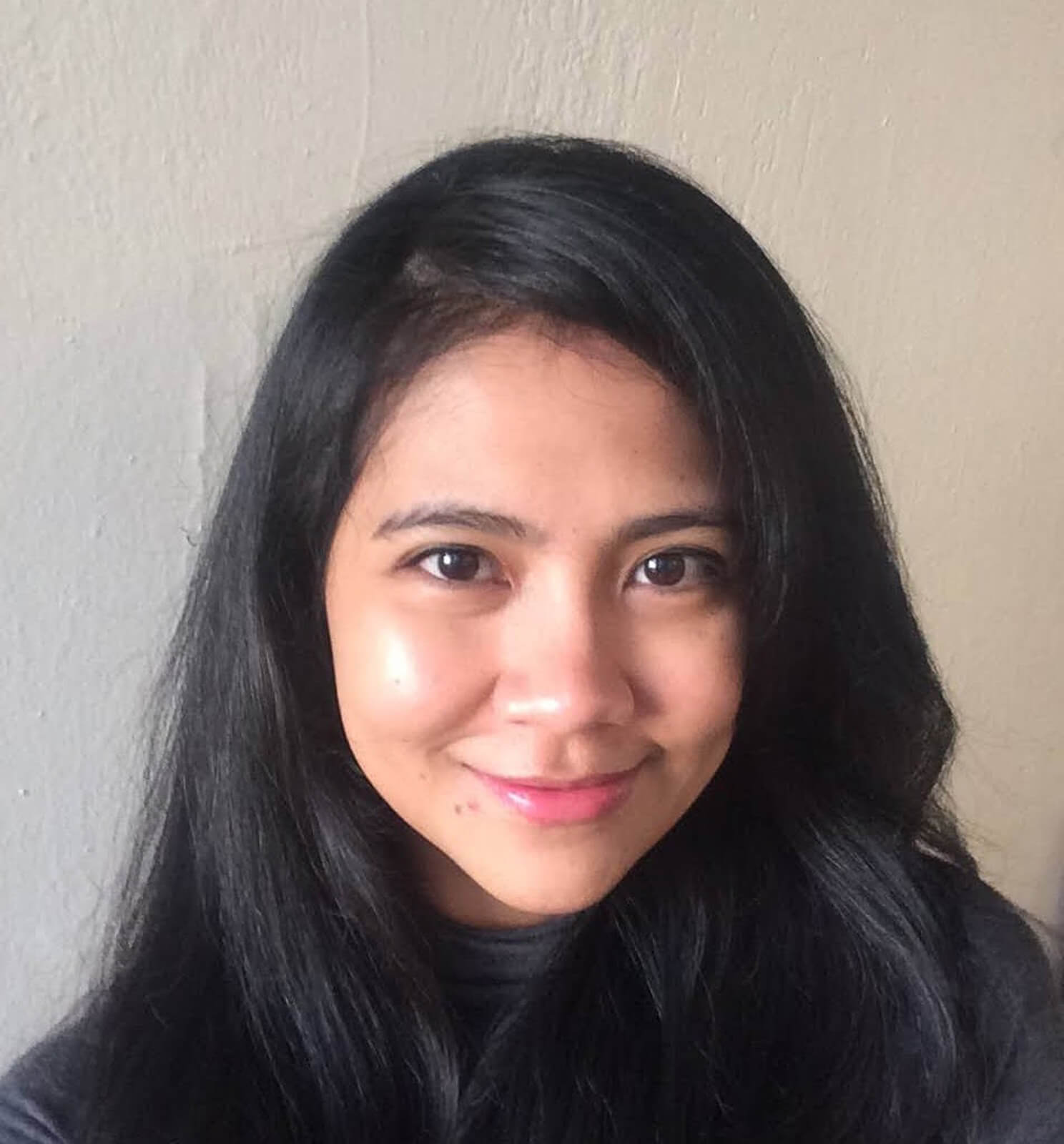 Ixora Tri Devi
Staff Writer, The ASEAN | ASEAN Socio-Cultural Community Department
International Day of Yoga has been celebrated on 21 June since 2015. It is observed globally to promote Yoga as a way to find physical, mental, and spiritual harmony in our fast-paced modern existence.
For the first time, an International Day of Yoga celebration was held at the ASEAN Secretariat in Jakarta. The Indian Permanent Mission to ASEAN organised the event to promote yoga and its numerous health benefits for the body and the mind. Ambassadors and their representatives, Head of Organizations, and staff from the ASEAN Secretariat were invited to the event.
Under the shade of leafy trees, in the Secretariat's lush backyard, 80 participants gathered to begin their day slowly and peacefully. Leading the session was Anjasmara Prasetya, a famous Indonesian actor who has transitioned into an experienced yoga instructor. Both yoga beginners and enthusiasts dedicated themselves to a morning of mindful breathing, purposeful movements, and awakening muscles that often remain dormant.
This year's celebration highlighted the theme "Vasudhaiva Kutumbkam" a Sanskrit phrase, which translates to "One Earth, One Family, One Future." During his remarks, Ambassador Jayant Khobragade of India to ASEAN delved into the true essence of yoga, highlighting its power to unify and harmonise.
"(Yoga promotes) unity between body and mind, between body and nature. We are also uniting ourselves with the past and cultivating forward," he expressed.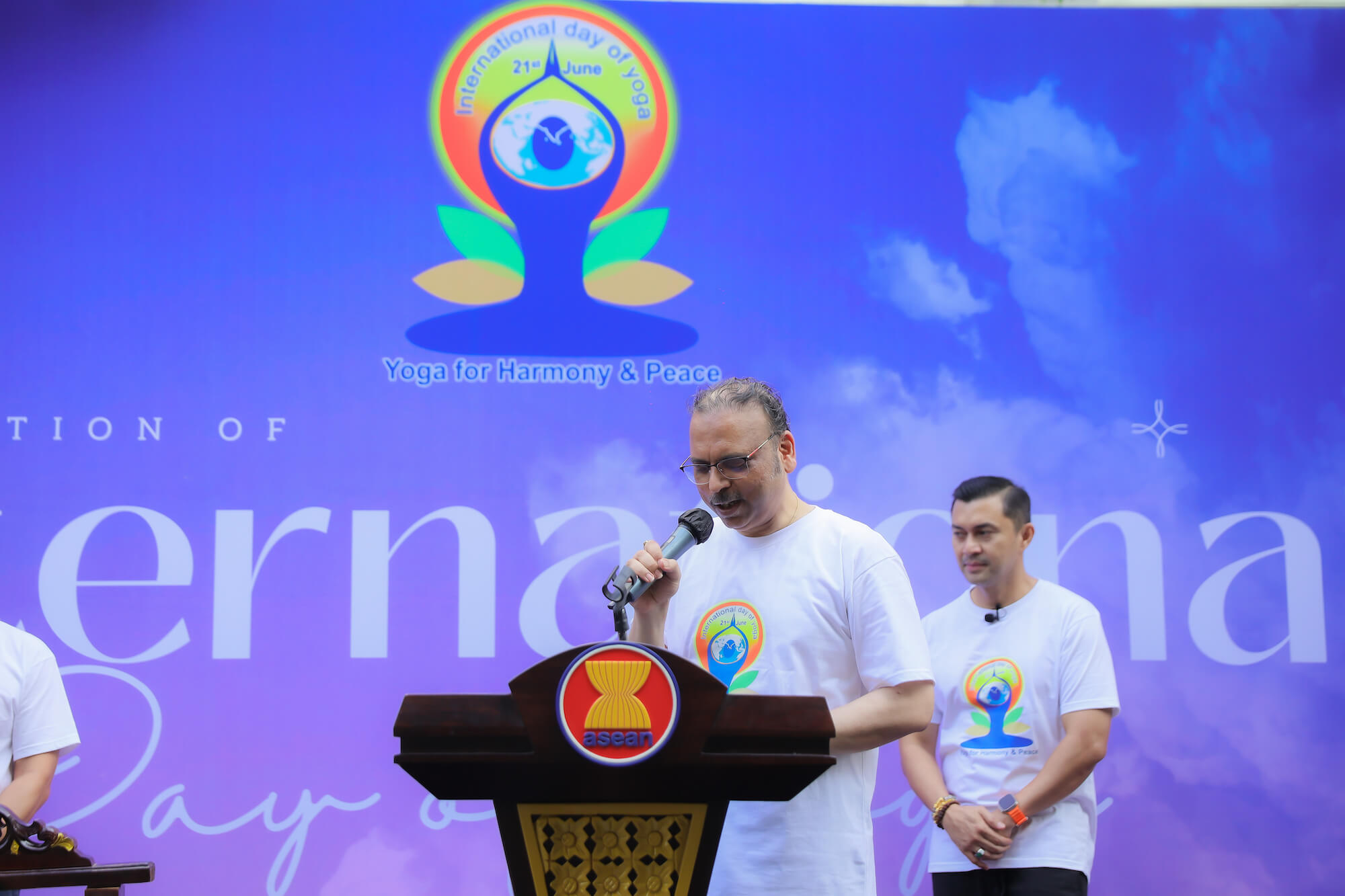 Indian Mission to ASEAN Ambassador Jayant Khobragade emphasises the essence of yoga and its capacity to unite and harmonise, during his remarks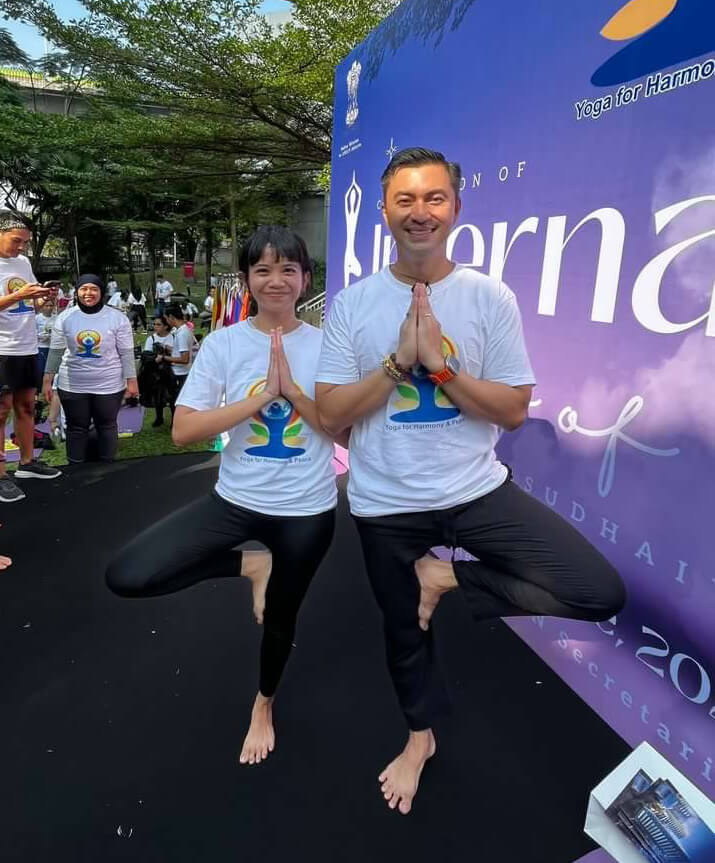 Irene Vivi Sidabutar (left), shares the transformative benefits of yoga with her enthusiastic colleagues at the ASEAN Secretariat
One of the participants, Irene Vivi Sidabutar, expressed her enthusiasm for the yoga session before starting her office hours. Although she had only been practising yoga for less than a month, Vivi has already experienced its transformative benefits. She was thrilled to see the interest of other participants, many of whom were her colleagues at the ASEAN Secretariat.
"The event was incredibly enjoyable. I was pleasantly surprised by the large number of people who joined. Considering that yoga has scientifically proven benefits for mental health and can help reduce work-related stress, I truly hope that we can have more yoga sessions at the ASEAN Secretariat. This way, all the staff can effectively manage their stress and emotions," Vivi expressed.
Similar to Vivi, Dea Karina Artikasih, an avid yoga practitioner, was thrilled to learn about the celebration of International Day of Yoga at the ASEAN Secretariat organised by the Indian Mission to ASEAN.
"It's not every day you get to do yoga in the back garden of your office, together with people you would normally see only in meetings, and led by your high school celebrity crush. It is an unforgettable experience! Not to mention the tasty Indian cuisine they served afterwards. I left feeling refreshed and rejuvenated," she conveyed.
In a post-event interview with The ASEAN, yoga instructor Anjasmara expressed his heartfelt joy at witnessing an increasing number of individuals reaping the rewards of yoga. Actively involved with the International Day of Yoga event since 2015, he has observed a growing enthusiasm among participants.
"I hope that the celebration of International Day of Yoga will inspire countless more individuals to embrace yoga and harness its tremendous benefits, leading to a healthier population that can manage stress better and improve their quality of life," Anjasmara shared.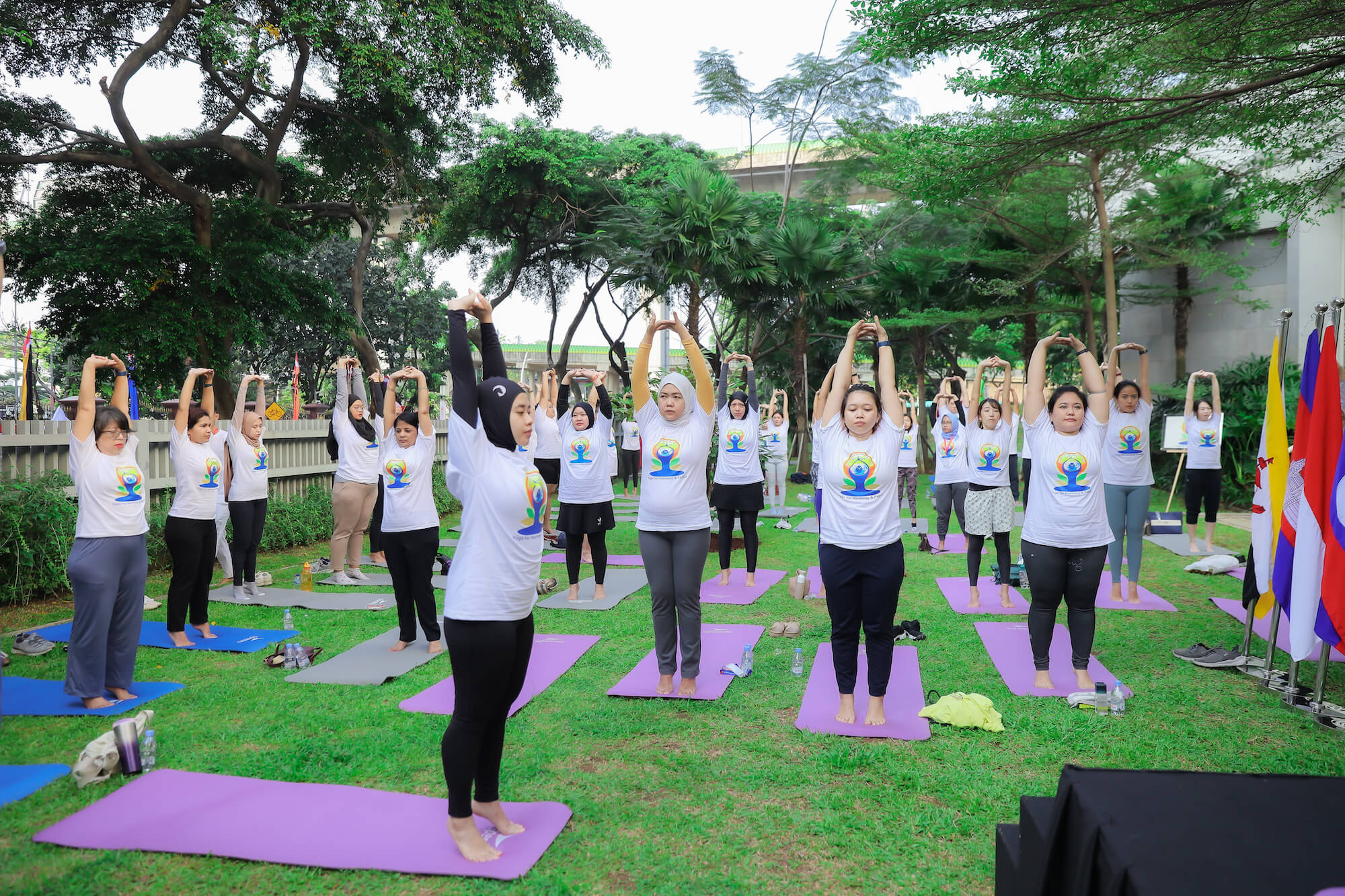 The ASEAN Secretariat staff and diplomatic community in Jakarta display their vibrant enthusiasm for yoga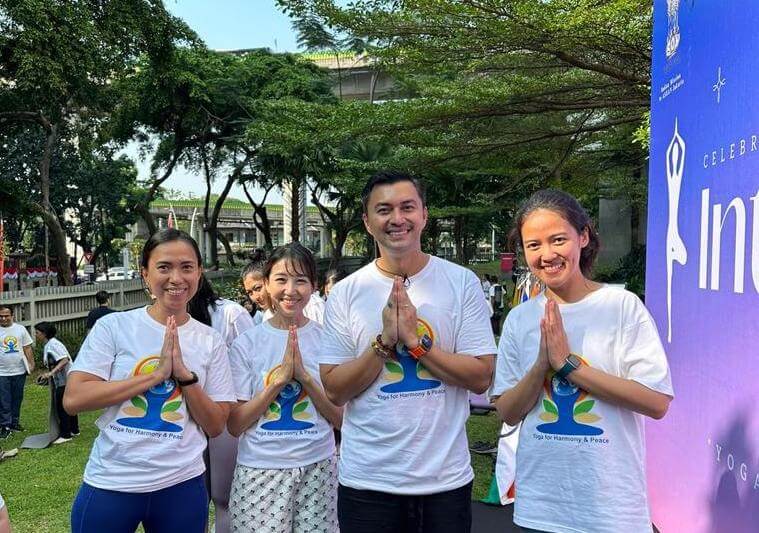 Avid yoga practitioner, Dea Karina Artikasih (left), felt refreshed and rejuvenated after the yoga session, Photo Credit: ©Dea Karina Artikasih, Irene Vivi Sidabutar