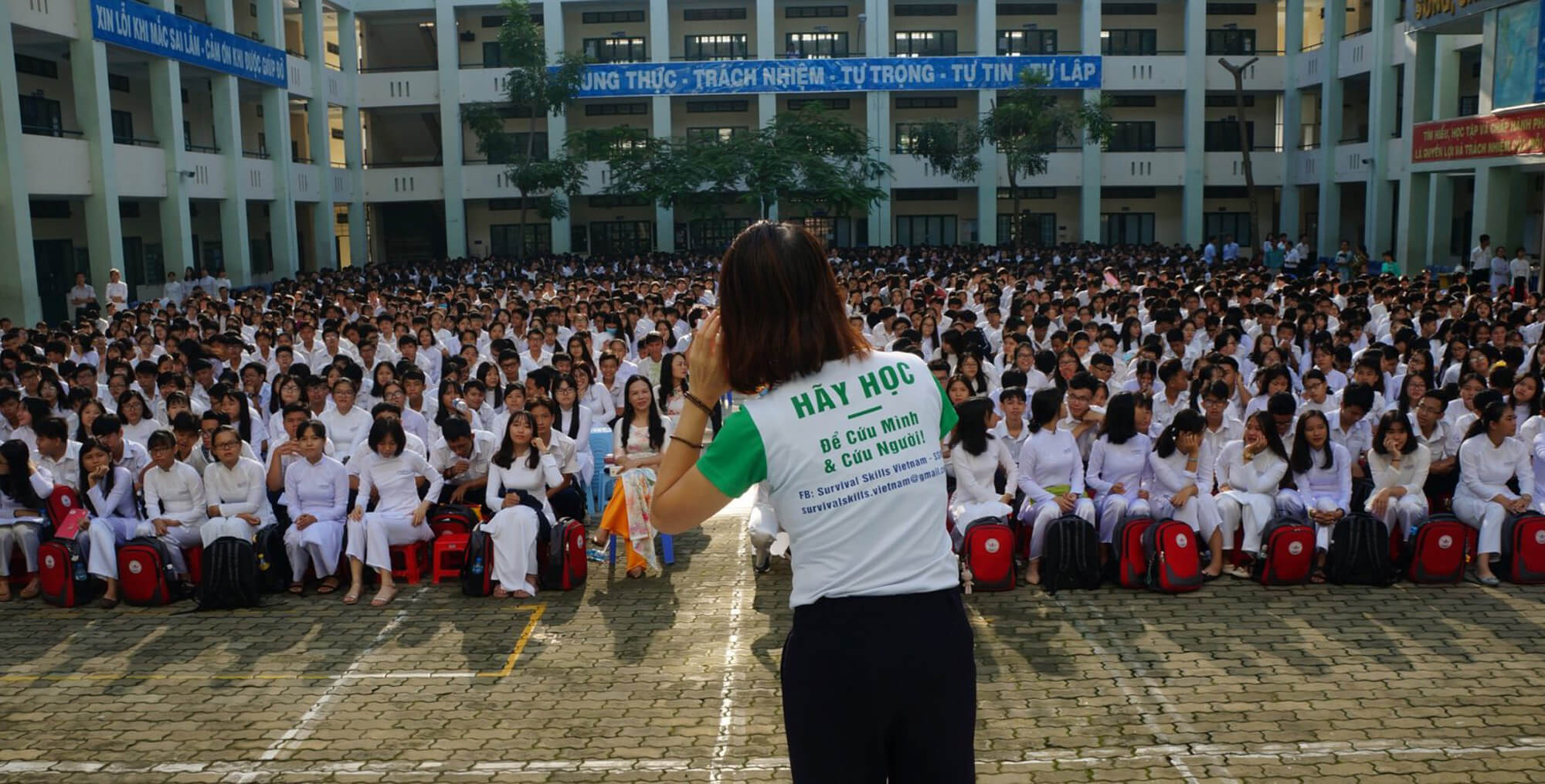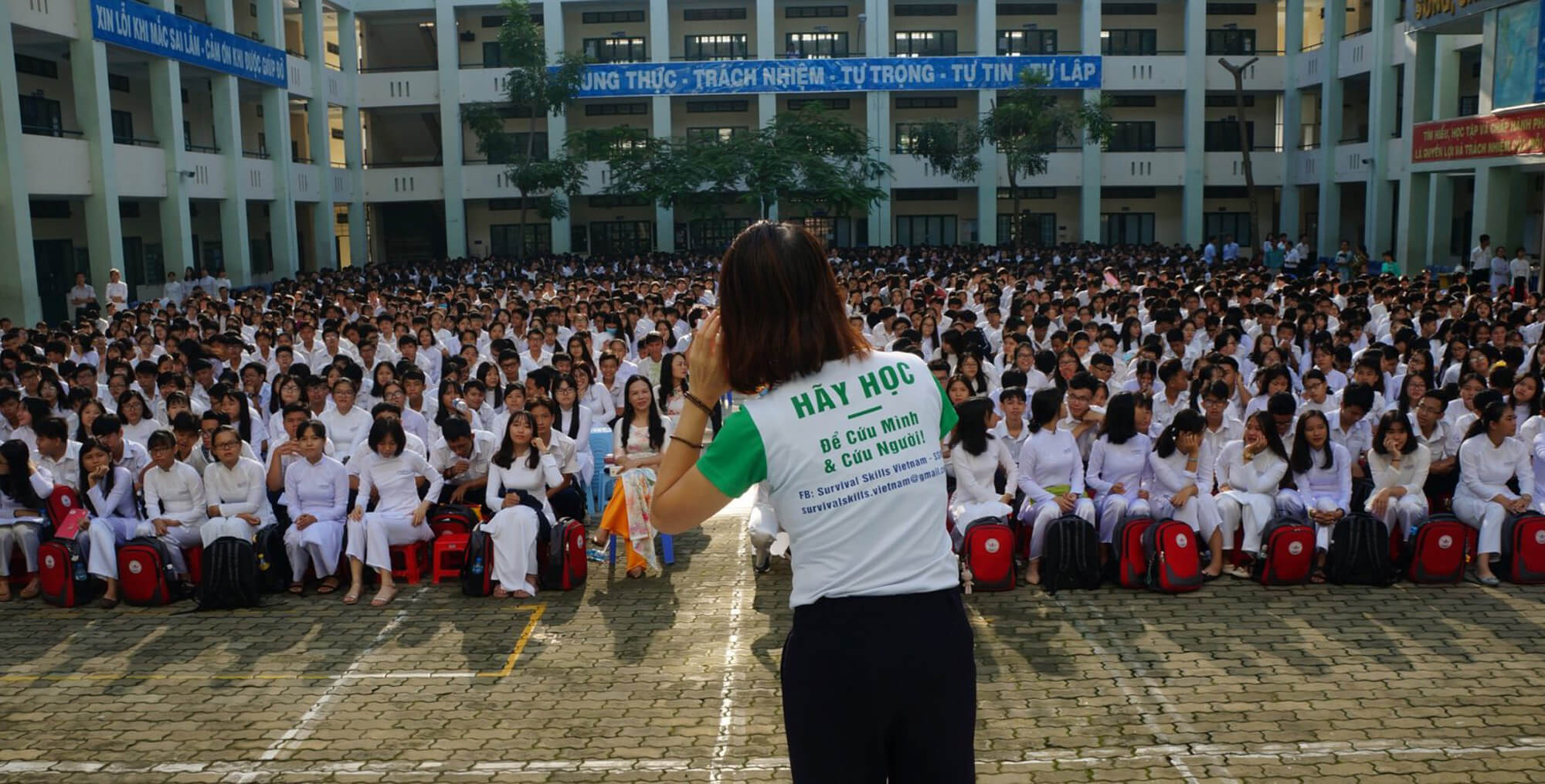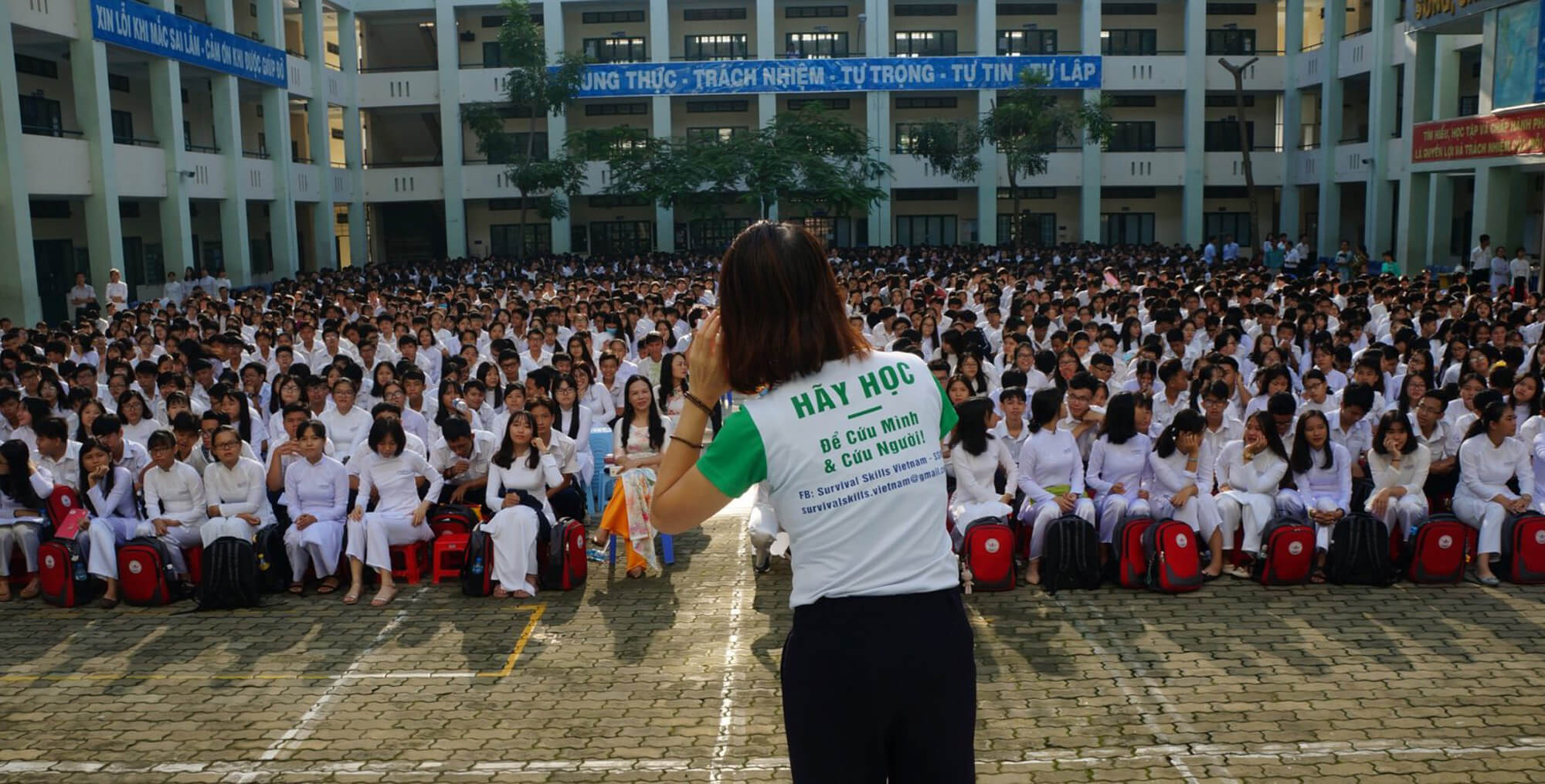 Survival Skills Vietnam: Creating First Aid Networks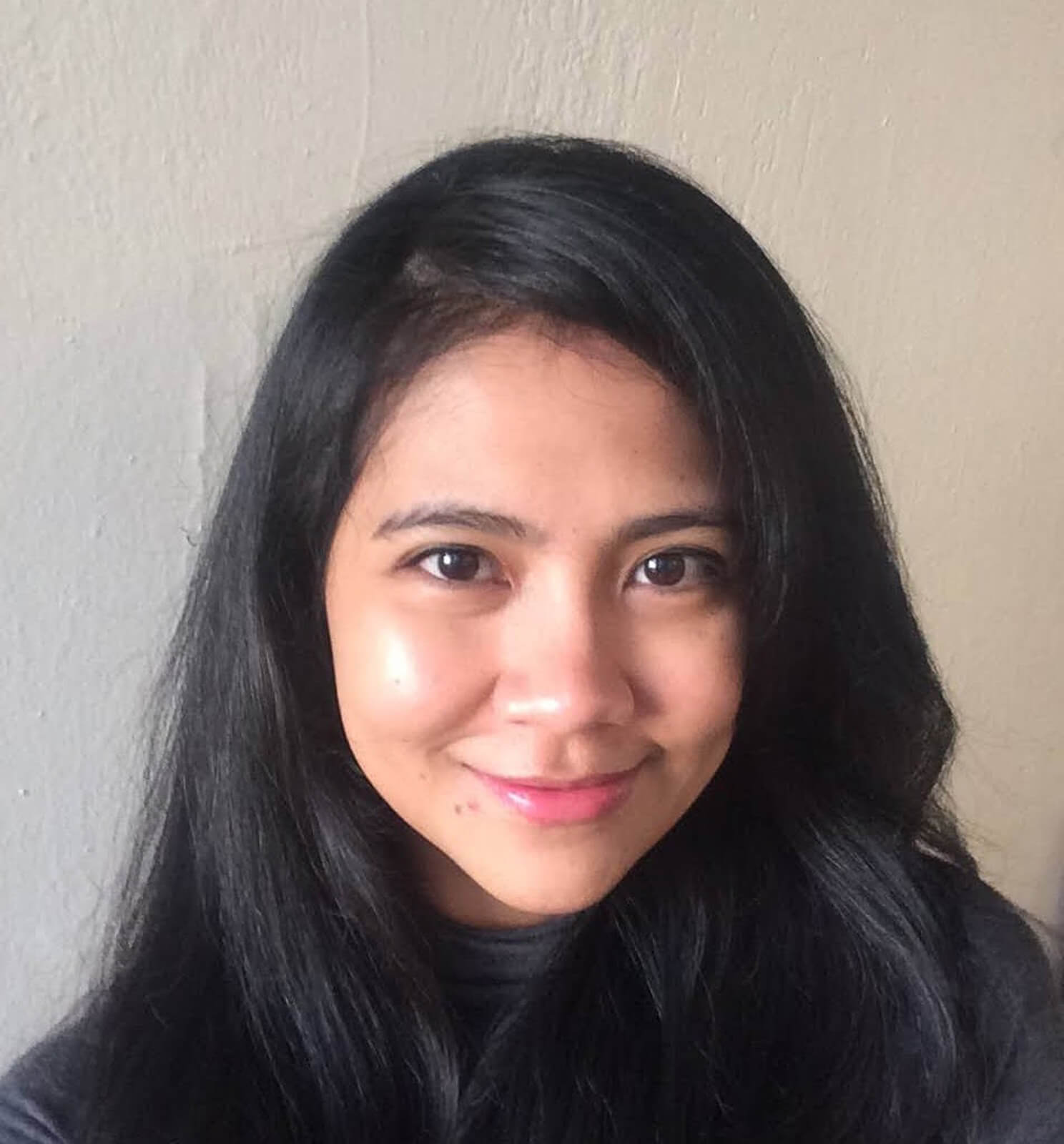 Ixora Tri Devi
Staff Writer, The ASEAN | ASEAN Socio-Cultural Community Department
Like any ordinary person, 40-year-old Trang Jena Nguyen initially believed that first aid skills and knowledge were exclusively for doctors and medical professionals. However, it only took one workshop to change her mind.
"I was shocked to learn that someone's brain can die in just 3-4 minutes without proper first aid. It was a wake-up call for me. Many Vietnamese people, like myself, are unaware of this information. This is something we should be learning in high school."
The workshop was held in 2014. After the event, Trang Jena crossed paths with Tony Coffey, an Australian emergency responder leading the session. Following a fruitful conversation, they committed to conducting their own first-aid workshop. Little did they know this initial session would lay the foundation for Survival Skills Vietnam (SSVN).
"In our early years, we mainly offered free classes. However, we soon realised that we needed a more sustainable approach. The number of accidents in Viet Nam is alarmingly high, and awareness of first aid is extremely low. We both thought this journey required a full commitment and various resources," said Trang Jena.
Fast forward to 2018, SSVN faced growth challenges as it relied heavily on its founders' time and financial support. The founders yearned to transform the organisation from a personal project into a solid, well-established entity. Then, an unexpected solution emerged from one of the training participants.
"During one of our classes, a participant named Ho Thai Binh expressed interest in helping develop a free first aid app. He enthusiastically volunteered to build an app that provides step-by-step first aid instructions. Seeing his enthusiasm and dedication, we invited him to join our team as another co-founder," explained Trang Jena.
In 2018, Mr. Binh assumed the role of SSVN's director. The decision was made to register SSVN as a social enterprise, a relatively novel concept in Viet Nam. This transformation enabled SSVN to generate its finances and at the same time still have the flexibility to implement social community free programs.
Over nine years, SSVN diversified its educational offerings, using various teaching methods supported by commercial revenue. The result: it delivered crucial first aid education to over 100,000 Vietnamese. The training includes recognising hazards in school, drowning first-aid, stroke first-aid, and most recently, first-aid training for mental illness emergencies.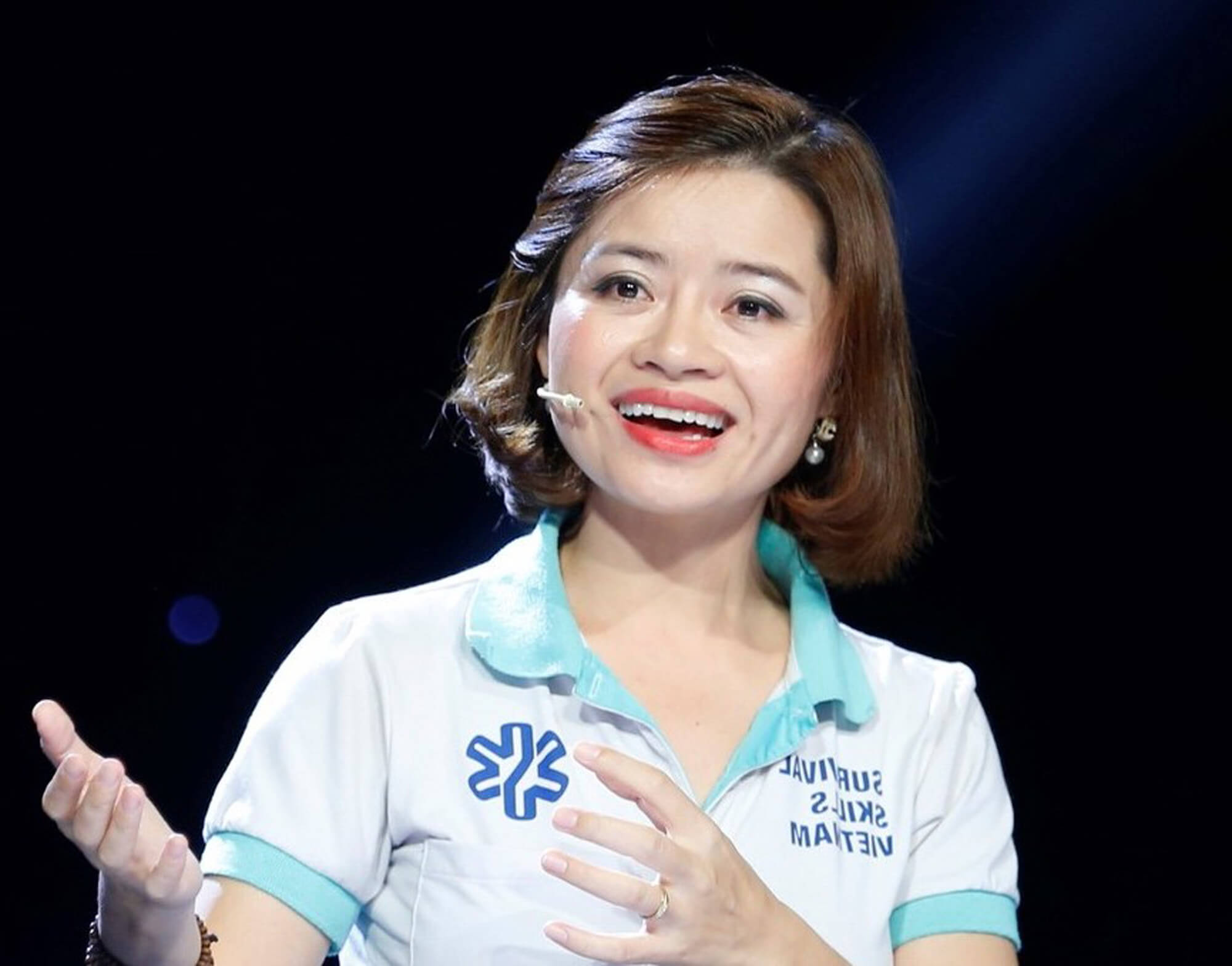 Survival Skills Vietnam's Co- Founder, Trang Jena Nguyen, pledges to continue until every family has a member trained in first aid
From raising awareness to igniting action
Beyond merely raising awareness, SSVN's primary goal is to establish sustainable local instructors capable of disseminating knowledge within their communities. To achieve this, SSVN collaborates closely with local doctors and nurses to provide first-aid training courses for teachers nationwide.
One of SSVN's success stories emerged from Cư M'gar district, Dak Lak province. "At the end of 2022, led by teacher Mai Văn Chuyền, this group implemented regular first aid awareness and drowning prevention activities in multiple schools once or twice a month."
SSVN's impact extends further as it has inspired others to take action. A notable example is the birth of the First Aid Support (FAS) Angel group in Hanoi.
"In 2019, Grab invited us to provide first aid training in both Ho Chi Minh City and Hanoi. Pham Quoc Viet, a Grabbiker from Hanoi, attended our training sessions. Motivated by our mission and drawing from his personal experience, he founded the FAS Angel group. To date, this group has aided over 8,000 people, earning recognition for their effectiveness and speed," Trang Jena shared.
"What sets them apart is their unwavering dedication—all members are passionate volunteers. Mr. Viet's personal experience was pivotal; he once was in an accident without assistance. He didn't want others to feel that helplessness," she added.
Trang Jena and SSVN admire the work of FAS Angel. In its early days, SSVN also provided technical support and connected Mr. Viet to larger networks. "Over three years, it managed to get three ambulances donated by the people."
The importance of first aid in an emergency
Despite global health crises, SSVN perseveres in providing free and private lessons. Over the past two years of the COVID-19 pandemic, SSVN transitioned most of their activities online. To the group's surprise, its efforts to condense essential information into accessible e-learning resources have proven to be an effective tool for raising awareness.
"We conducted workshops virtually and reached schools in remote northern areas through platforms like Zoom. With e-learning, we can reach even more people, and we've made everything readily available and easy to access," she added.
Trang Jena acknowledges that SSVN's assistance indirectly impacts disaster situations, as many casualties require immediate first aid.
"By promoting the correct first aid practices, we aim to prevent well-intentioned but potentially harmful interventions by untrained individuals. We aim to ensure everyone knows what to do and what not to do in such situations."
Still, Trang Jena and her peer's efforts have been challenging. One of these challenges is combatting misinformation spread by the media.
"We provide free workshops for the media, offering accurate information. Recently, we collaborated with a national TV station to broadcast a series of first-aid steps. They committed to continuing this for 2-3 months. This represents significant progress, and we've noticed increased attention and care from local media."
In addition, Trang Jena emphasises the need for regulations that protect first aid responders, a crucial challenge for leaders in Viet Nam and the ASEAN region to address.
"Another challenge is the absence of legal protections for first-aiders, especially in Viet Nam. When individuals help in emergencies, they can sometimes be attacked by the victims' family members, who may mistakenly blame them for the accident."
As the road to raising awareness on the importance of first aid education is still long ahead, SSVN is now expanding its focus to household hazards, identifying potential risks at home to avoid preventable accidents.
"We're working on an AI-based project to address this challenge, following our successful work on school hazard awareness. I often discuss this with my colleagues: We must persist as long as first aid education isn't made mandatory in schools. Our ultimate wish and dream are for every family in Viet Nam to have at least one person who knows how to administer first aid," Trang Jena concluded.