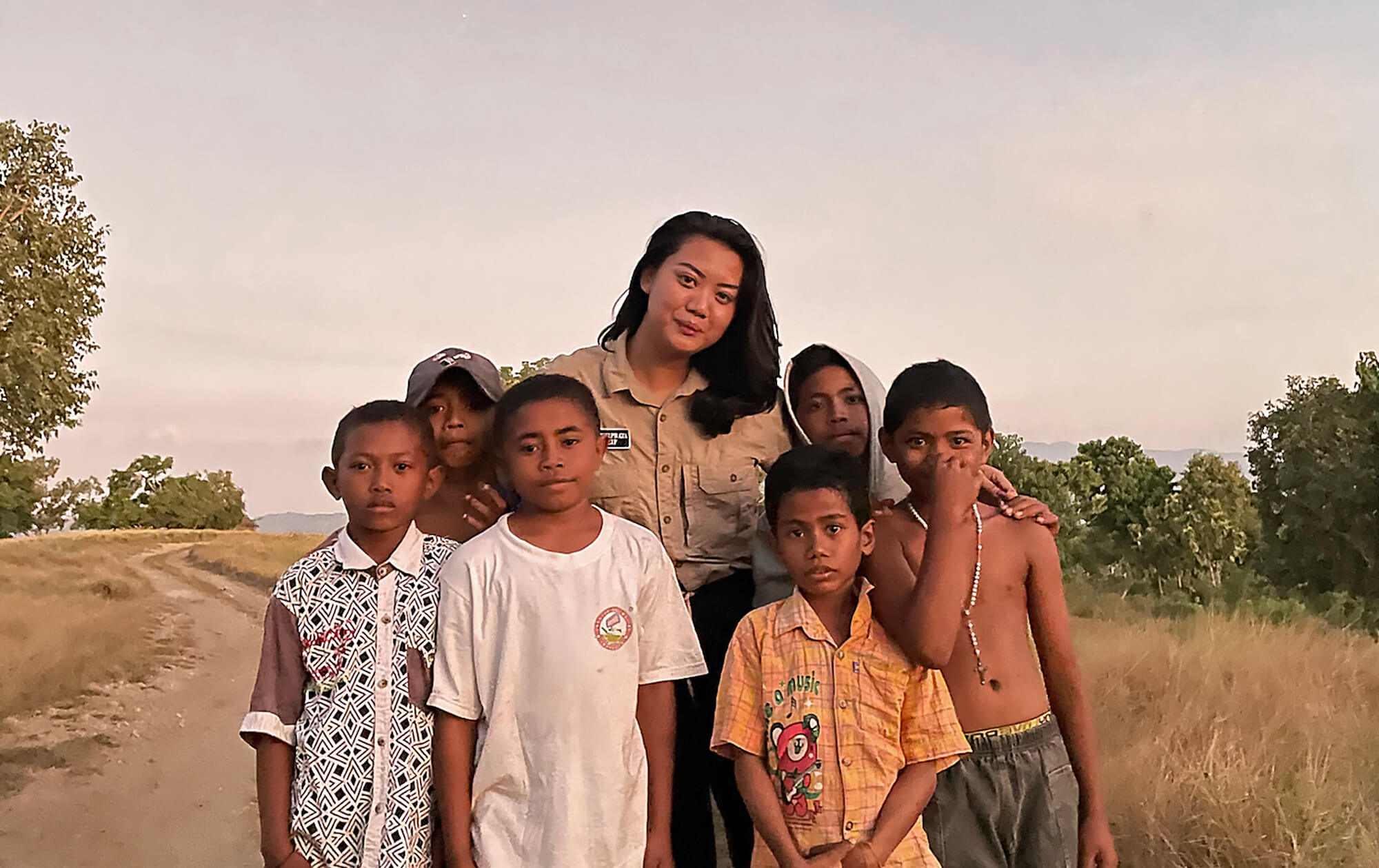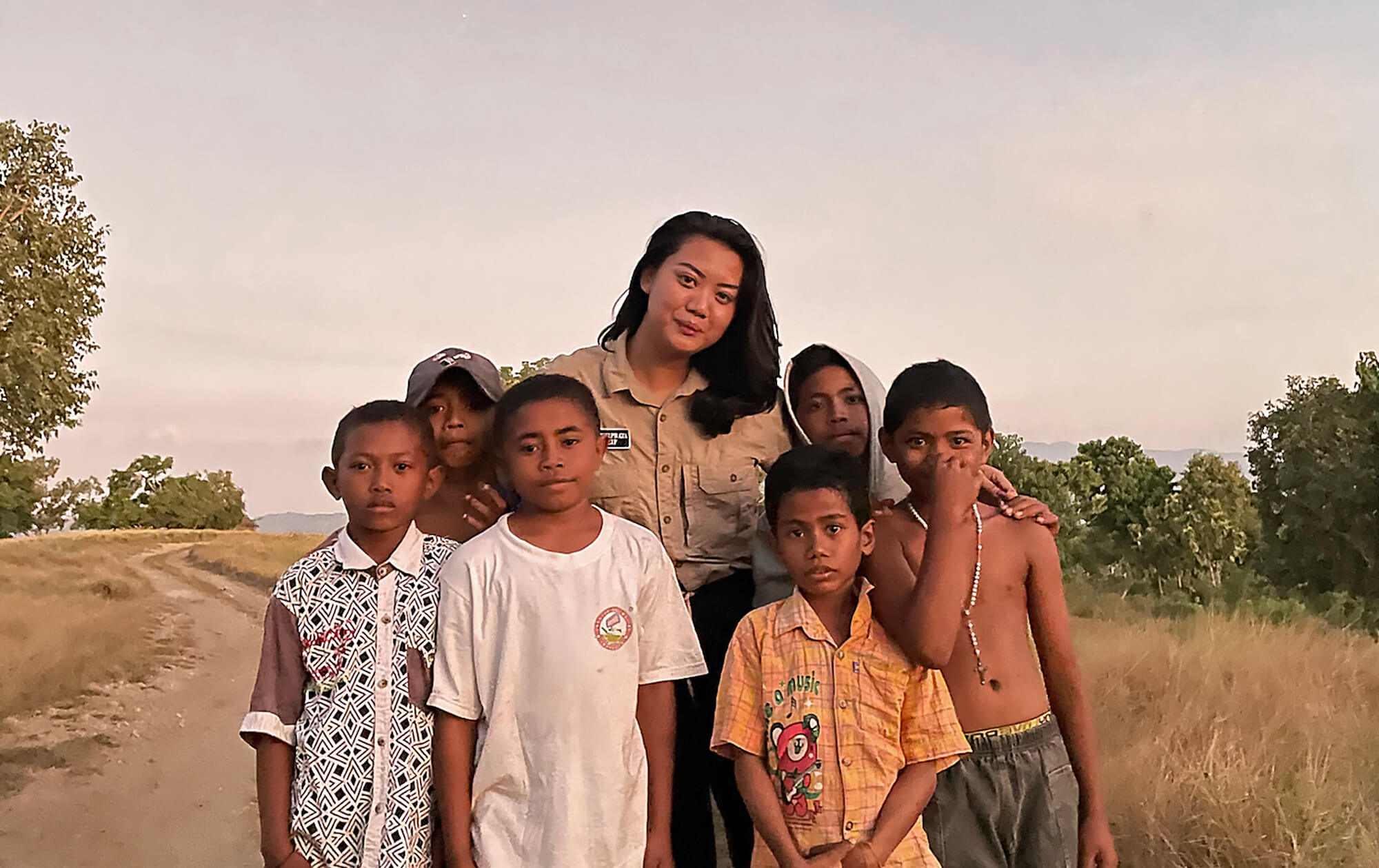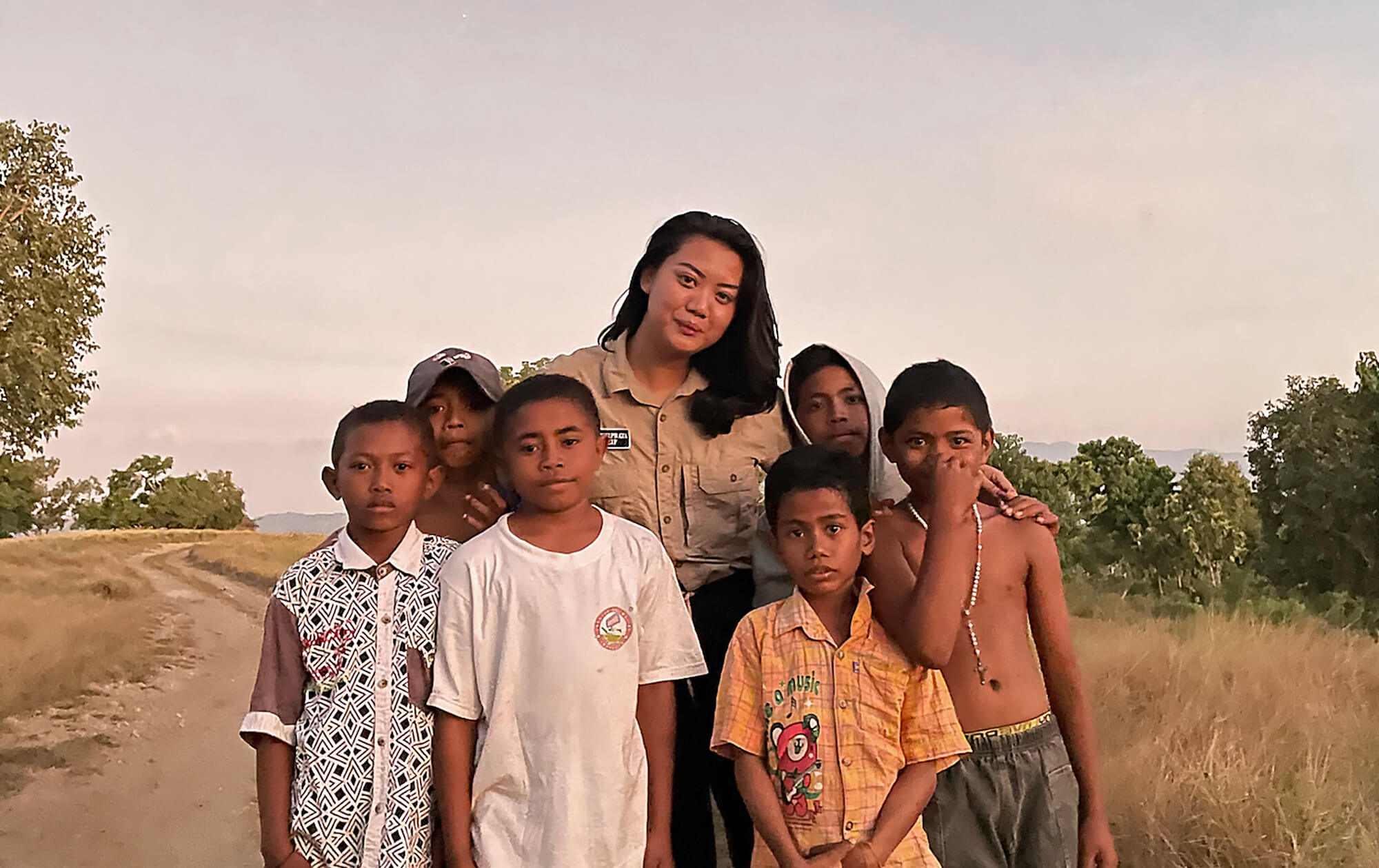 Sania Leonardo: Content Creator by Day, Volunteer at Heart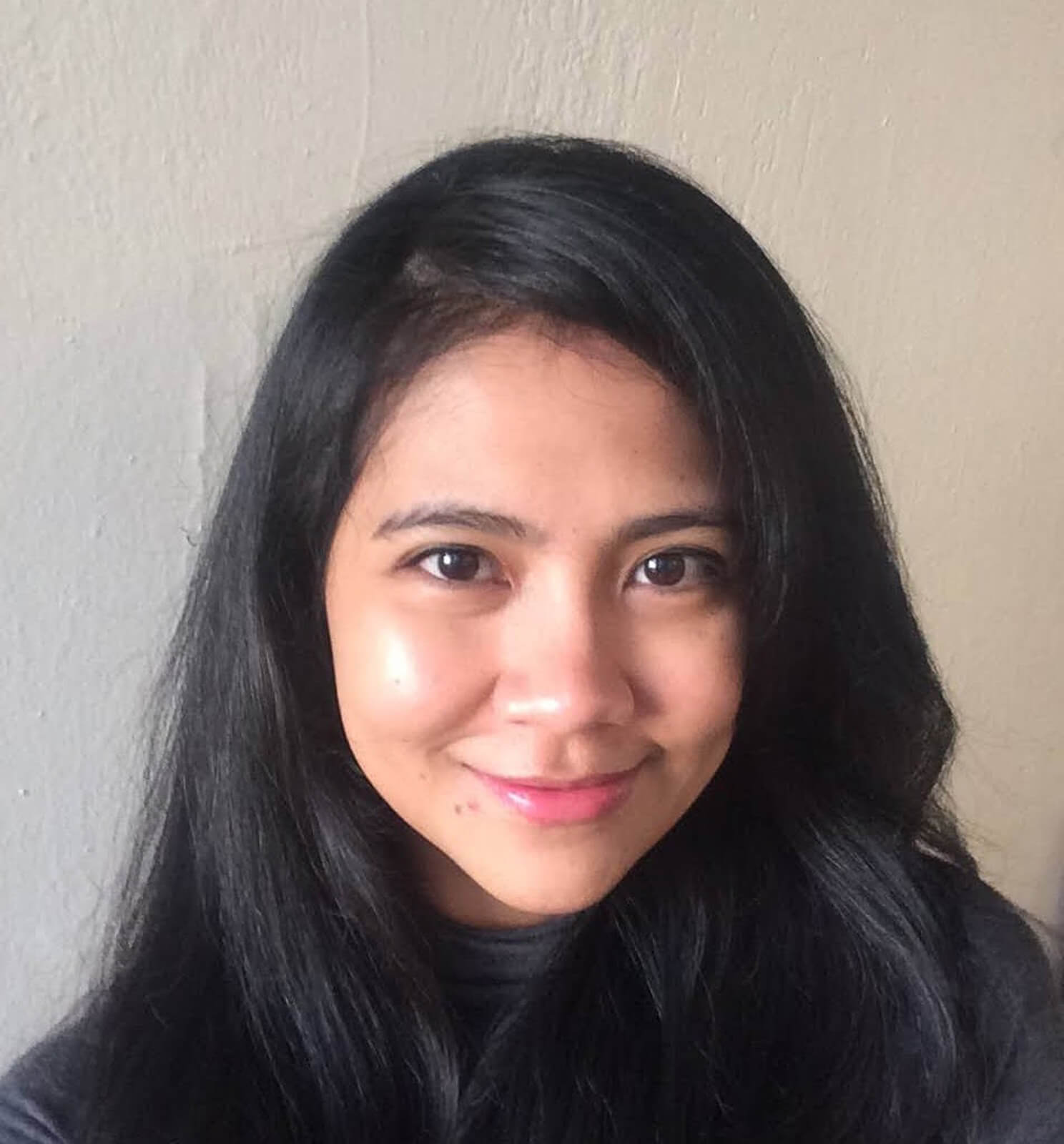 Ixora Tri Devi
Staff Writer, The ASEAN | ASEAN Socio-Cultural Community Department
It is neither fame nor her three million followers on social media that brings Sania Leonardo the greatest happiness. Instead, it is the warm embrace of her students at emergency schools and their excitement to see her whenever she arrives.
The 23-year-old refers to herself as a full-time volunteer, a title she rightfully earned by dedicating most of her time to providing trauma-healing support for children in disaster-prone areas in Indonesia since 2021.
Sania extended a helping hand during the Banten flood (2022), the Cianjur earthquake (2022), and her longest-running project yet is collaborating with the non-government organisation, Cakra Abhipraya Responsif, to help build a school in Lembata, East Nusa Tenggara, which was struck by tropical cyclone Seroja in 2021.
Between 2021 and 2023, Sania embarked on multiple journeys, via air, sea, and land travel, going on long road trips from the capital Jakarta to Kupang, Larantuka, and finally to Lembata, where she was considered part of a big family.
"I take great pleasure in bringing happiness to others because their joy becomes my own. Whenever I succeed in making someone smile, I feel a profound sense of purpose," Sania said to The ASEAN.
A promise to fulfil
Reflecting on her life as a humanitarian volunteer, Sania reminisced about her junior high school days when her aunt invited her to teach students in impoverished areas. She didn't fully grasp it back then, but she strongly desired to do more.
"When my aunt, Tante Yuliana Kale Supratikno, passed away, I whispered to her, 'I made a promise that you would see me following your path and make you proud.' This promise has driven me ever since," Sania said.
With a deep passion for humanitarian issues, she pursued a bachelor's degree in journalism at the London School of Public Relations in Jakarta, graduating in 2020. During the peak of the COVID-19 pandemic that same year, she created a TikTok account @panggilakubambang (Just Call Me Bambang) to combat lockdown boredom. To her surprise, her humorous persona resonated with many, and she gradually gained millions of followers.
Nevertheless, Sania maintains a clear boundary between her work as a content creator and her volunteerism. "I create all my content at home, never on-site," she explained. "If you check my social media stories, you'll notice that whenever I post something related to Lembata, it's usually for crowdfunding. There's no opportunity for me to create content during rescue operations. No one would have their cell phone with them!"
Sania also adheres to a firm principle of not exploiting others' misery for content creation. "Yes, they are in agony, living in unfortunate circumstances," she stated, "but that's not something we should exploit. They are not objects of pity. Let's not be those who give with one hand while their other hand is ready to record."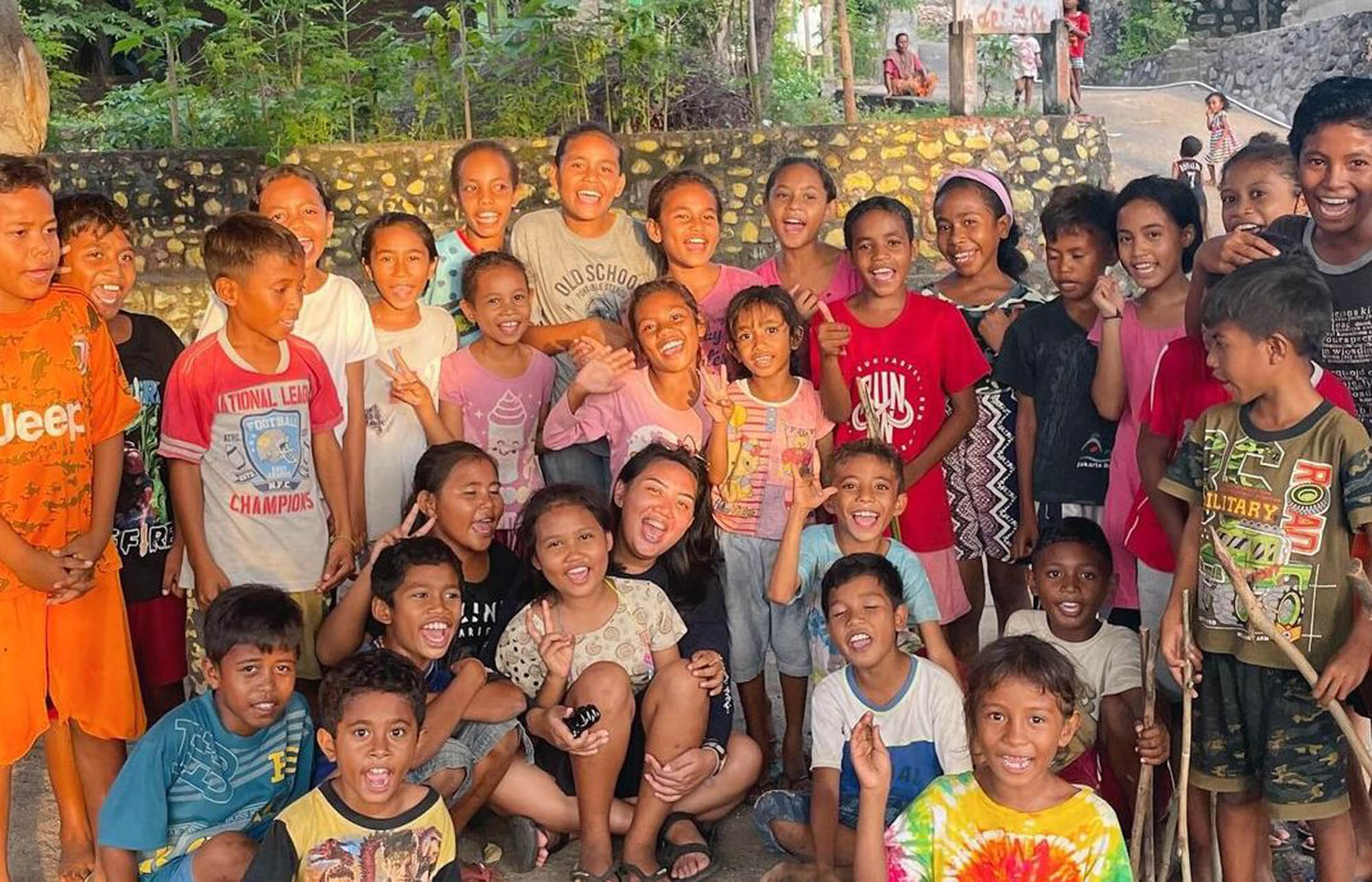 Despite her large social media following, Sania Leonardo stays humble, devoting herself to aiding children in disaster-stricken regions | Photo Credit: ©Sania Leonardo
Helping others heal
As a volunteer, Sania is primarily involved in providing psychosocial and nutritional support for traumatised children. "I'm not a psychologist, but we do our best. We try to heal children's trauma by encouraging them to play, to write. In Lembata, many children lost their families during the storm, and many even lost limbs. We can't replace their parents, but we can help them heal and improve their situation."
While her followers may treat her like a celebrity, that is not the case when she wears her volunteer hat. She shared a humorous anecdote about someone searching for her to take a picture together but being directed to the back, where she was washing dishes. "That's the reality. My role is the same as other volunteers. I'm not a celebrity. In Lembata, we cooked for 300 people, and we washed dishes together."
Working in the remote island for nearly three years deepened her love for the local community. "It's like my second home. When I visit other places, I need to think about my accommodation, where I'll stay. But in Lembata, I have no worries at all. Everyone would open their homes to me. I can ask anybody, and they would welcome me with open arms."
She emphasised the need to shed urban perspectives, explaining that when she refers to "home," it's not luxurious city houses. Many Lembata's survivors now live in shacks amidst corn farms, having abandoned their homes due to red zone designations. She emphasised, "Since 2021, they've lived in these conditions. The same applies to their schools; they haven't had functioning schools for two years. We make do with what we have left from the disaster."
Contemplating her own school years, Sania mentioned she was not the brightest student but emphasised the potential of these children with the proper education. "That is why, for me and Cakra Abhipraya Responsif, building schools is essential. We want to provide them something lasting, even after we're gone."
A call to action
The 2021 Cyclone Seroja triggered flash floods and landslides, resulting in over 150 deaths and dozens missing. Despite years of interaction with the people of Lembata, Sania still feels the emotional toll.
"Every time I ask them what they have for lunch, they say 'nasi kosong,' just rice. I feel sad sometimes. But I remind myself not to judge them by my standards. What do I know about their happiness? They might be content with what they have and their lives, and it's not our place to pity them. That probably irritates them."
"My experiences have changed my perspective. My children, my students here, may never get to play in fancy playgrounds in Jakarta's malls; they're stuck in this disaster-prone area. But they're happy! What I've learned is that you can create your own happiness. It's a blessing for me to meet them and watch them grow. Previously, I thought witnessing their struggles made me count my blessings. But that's not correct. Their condition is not our reason to be grateful."
Looking back at her journey, Sania recounts one of her most significant accomplishments was helping to raise 1.8 billion rupiah (approx. 117,000 US dollars) to build a school, Sekolah Negeri Bakti Toleransi, in Lembata. "Two years ago, I was at my lowest. I thought it was mission impossible. But now that we're here, I'm proud of what we've achieved. We are 80 per cent finished. The students ask us to slow down the process so we can still visit them. Their comment brings me to tears."
Much like the commitment she made to her late aunt, Sania has embraced volunteerism as her lifelong calling, with no intentions of slowing down. Meanwhile, to her followers and all youth across the ASEAN region who aspire to tread a similar path, Sania's message is clear: seize the opportunity to engage in any humanitarian project closest to you. "Don't wait. Just do it now; do what you can. Your best is enough," she said.