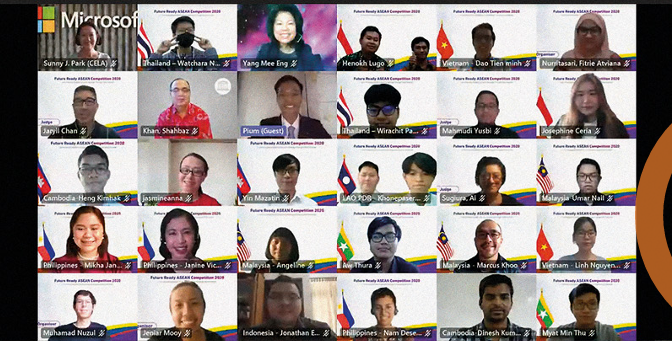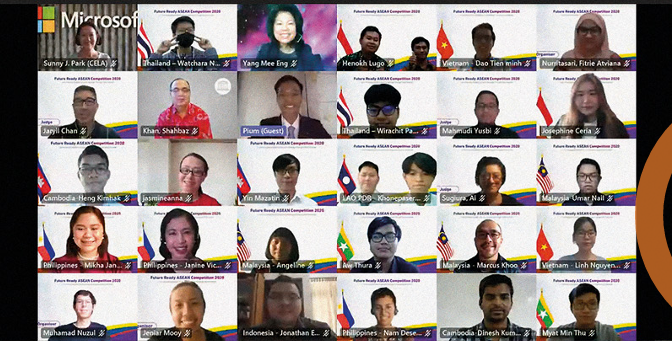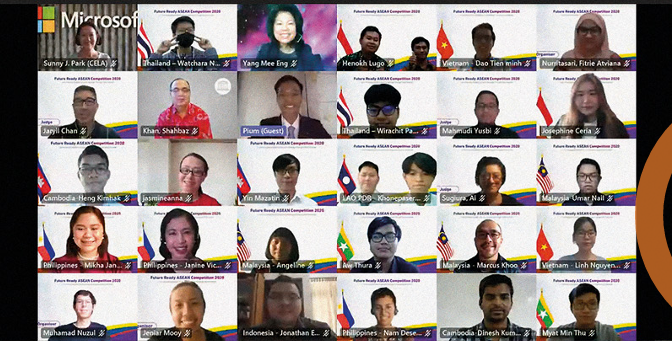 Nurturing Innovation among ASEAN Youth during a Pandemic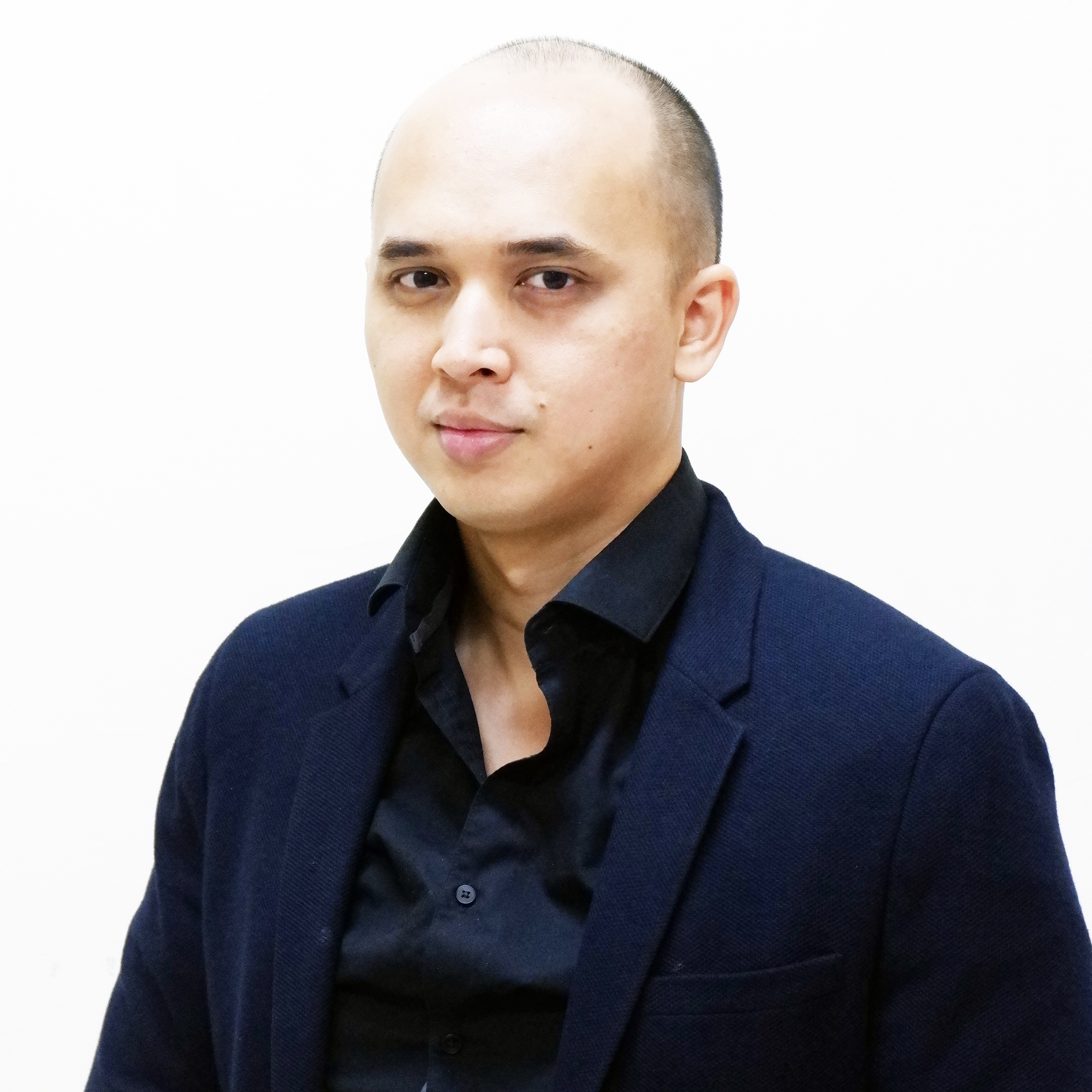 Anthoni Octaviano
Head Of Communications, ASEAN Foundation
The COVID-19 pandemic has forcibly accelerated digitalisation in almost all aspects of human life in ways we never imagined. Physical distancing measures require a shift to digital technologies, with the amount of time we spend online surging to new heights. Nearly nine out of 10 youth in ASEAN reported increased reliance on digital tools in the past year, while almost half (42 per cent) have picked up at least one new device.
This situation has given rise to virtual events in a relatively short time. Many organisations, realising the greater access of young people to the internet and their hunger to improve themselves from the comfort of their home, are churning out webinars that focus on skills development on a daily basis and for free.
In an era where access-friendly virtual events have become the norm, it is important to find novel, out-of-the-box ways to bring youth together to share experiences while inciting their curiosity and galvanising their innovative potential at the same time. 
Embracing the New Online Era
For Nguyen Ngo Hoai Linh, a young arts and culture enthusiast from Viet Nam, her country's cultural heritage is something that she holds very dearly. 
When I was little, my grandmother was a big fan of the traditional performing arts of Viet Nam. I grew up loving to watch it as well. Whenever I have free time, I use it to participate in cultural projects and volunteer at a local art centre," she said.
The COVID-19 pandemic forced Linh to limit her activities, but it did not stop her from finding other ways to realise her passion. It was early in the pandemic when she found out about the Future Ready ASEAN Competition. The competition invited young people from across the region to come up with data-driven solutions on how to promote the richness of ASEAN's cultural heritage.
Together with her friend, Nguyen Hoang Lam, and a mentor, Dao Tien Minh, Linh developed an application that can identify various dance movements and inform users about the origins of the traditional dances in each ASEAN country. The innovative idea behind the app and the massive potential of its practical use became the judges' deciding factor for selecting Linh and her team as the winner of the 2020 Future Ready ASEAN Competition. 
For Linh, this is just the first step. She intends to further develop this app so that it can help people learn to perform ASEAN's traditional dances from the comfort of their home.
The Future Ready ASEAN Competition is part of the ASEAN Digital Innovation Programme (ADIP), a regional initiative that was organised from March 2019 to December 2020 by ASEAN Foundation in partnership with Microsoft. ADIP aims to provide access to quality computer science education for the marginalised and underserved. ADIP is one of ASEAN Foundation's regional initiatives with activities that have shifted from in-person format to virtual engagement due to the pandemic. All key activities of the programme, such as the capacity building sessions and the data science competition, have since been implemented virtually.
The pandemic has forced us to rethink our approach in implementing our programmes more engagingly. With in-person activities restricted to control the spread of COVID-19, we have had to rely on digital technology to continue providing a platform for ASEAN youth to grow and realise their potential.
"In the time of pandemic, digitalisation is no longer an exclusivity, but a necessity. Our ability to adapt quickly in this fast- changing world is essential in ensuring that we are able to continue supporting youth development in the region," said Dr. Yang Mee Eng, the Executive Director of ASEAN Foundation.
ASEAN Data Science Explorers (ASEAN DSE), a programme that was initiated in 2017 in partnership with SAP, has also fully embraced this new direction, transitioning its data analytics competition into a virtual competition to continue building digital literacy and 21st-century skills for youth in the region amidst the pandemic.
The challenge for us was to make the 2020 competition interesting and appealing to prospective participants. Changes were made to ensure that the participants were motivated to deliver innovative, datadriven proposals that can help tackle ASEAN's most pressing issues, including live-streaming all 10 national finals and the regional final of the competition on ASEAN Foundation's Facebook. 
The ASEAN DSE Regional Finals in October 2020 saw three teams from Viet Nam, Singapore, and Malaysia emerge as winners due to their remarkable presentations and proposals. The proposal from the Singapore team, which consisted of Koay Tze Min and Ng Yi Ming, highlighted a relevant and serious issue: the rising number and root causes of domestic violence against women during COVID-19. The team's proposal raised a promising solution, which is the establishment of local community networks that strengthen women's rights and economic participation.
Protecting Youth from Lurking Danger
As one of the regional entities that helps promote virtual engagement as a norm among ASEAN youth, the ASEAN Foundation also recognises the danger that lurks behind the rise of digitalisation and the need to do something about it.
With young people now having greater access to the internet, are staying connected, and exploring their interests, they are now more vulnerable to online threats, such as cyberbullying, misinformation, security risks, and identity fraud. Indeed, we have not only witnessed an unprecedented crisis in the health and socio-economic sectors during this outbreak, but also the rise of infodemic and cybercrime.
With the support of Google, the ASEAN Foundation organised the Online Safety Webinar Series for Youth to prepare youth to confront these concerns. The webinar's goals are to promote safe and positive online experience for youth in ASEAN and advocate the value of digital citizenship. The ASEAN Online Safety Academy website has also been launched, with valuable resources for more people to continue learning about online safety.
The post-pandemic era will likely bring about new challenges that the world has never seen before. For our youth to take on these challenges and transform them into opportunities, they need to be equipped with the right skills. As the most tech-savvy generation, they have an amazing adaptability that allows them to quickly learn and maximise the benefits of digital technology.
Additional knowledge about online internet safety will also enable them to be creative and innovative while exploring the unlimited potential of the internet. Supporting their growth and providing them with relevant and engaging online experiences will help our youth reach their full potential. Proof of that are young people like Nguyen Ngo Hoai Linh, Koay Tze Min, and Ng Yi Ming who aspire to be innovators and drivers for positive change in their communities.