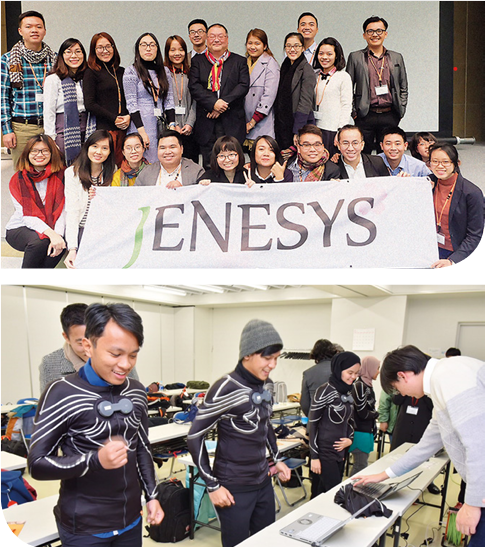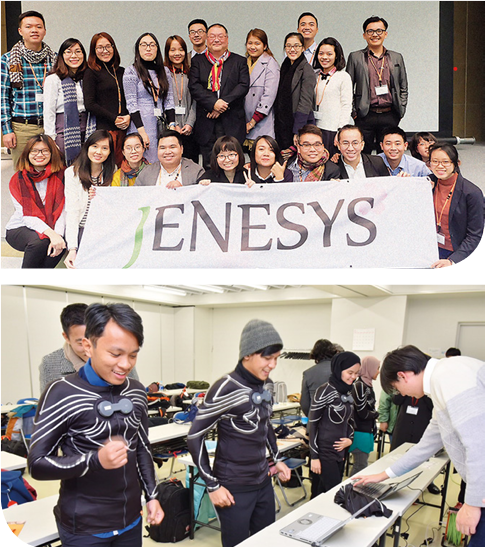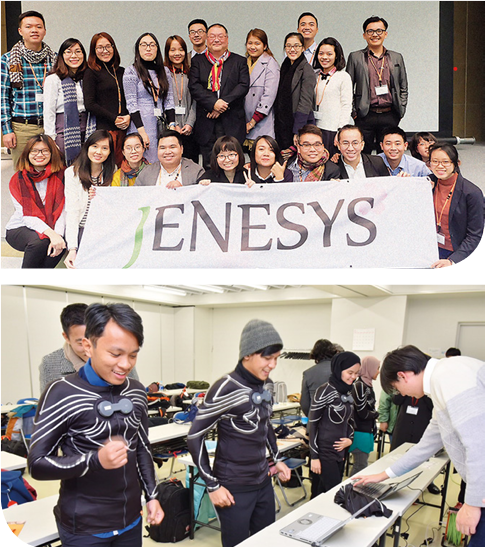 Building Bridges Through the JENESYS Project
Joanne B. Agbisit
Associate Editor, The ASEAN
In the wake of the First World War, a group called the Confédération Internationale des Étudiants pioneered the first systematic and extensive student exchanges with the noble intention of improving international relations and laying down the foundations of peace and stability.
A century hence, student and youth exchanges remain the cornerstone of people-to-people contact and cultural diplomacy.
The JENESYS (Japan-East Asia Network of Exchange for Students and Youths) Project, promoted by Japanese Government and ASEAN Secretariat, carries the same ideals of its antecedents—promoting cultural understanding and peacebuilding. The JENESYS project specifically aims to give young ASEAN nationals an opportunity to learn about Japanese society and culture through an immersive study tour of Japan.
A Brief History
The JENESYS project was launched in 2007 following a commitment made by then Japanese Prime Minister Shinzo Abe at the 10th ASEAN-Japan Summit and the 2nd East Asia Summit to fund and support a youth exchange project in the East Asia region. It "aims to promote mutual trust and understanding among the peoples of Japan and the Asia-Pacific region including ASEAN, and to build a basis for future friendship and cooperation."
The project is intended for youth in ASEAN and Timor-Leste who are keen to experience Japanese culture first-hand and engage in meaningful interactions with local companies, organisations, and communities. A separate component aims to send Japanese students to the different ASEAN Member States to expose them as well to Southeast Asian people and cultures.
The JENESYS project initially ran for a period of five years, from 2007 to 2012, with several agencies including the Japan International Cooperation Center (JICE) as implementors. It has since been extended under different programmes and with additional purposes—Kizuna (Bond) Project (2012- 2013, to support recovery from the Great East Japan Photo Credit: © Tran Mai Khanh Ngoc, Japan International Cooperation Center Earthquake); JENESYS 2.0 (2013-2015, to revitalise the Japanese economy); and Japan's Friendship Ties Programs "JENESYS" (2015-2020, ongoing, to promote the "charms" of Japan). JICE is currently involved in the implementation of JENESYS 2020.
Throughout the different iterations of the projects, the main purpose stayed the same. Shionoya Tsuyoshi, Managing Director of JICE's International Exchange Department, said that it is "designed to help ASEAN people get to know Japan better towards mutual understanding and to create a strong partnership according to the vision statement of the Japan-ASEAN Friendship Cooperation."
The youth exchange projects have also been scrutinised and evaluated to improve their duration and content, towards enriching the overall experience of the participants.
To date, over 37,000 youth from ASEAN Member States and Japan have participated and benefited from the JENESYS project.
Miyazawa Takeshi, First Secretary of the Mission of Japan to ASEAN, noted, "Since the ASEAN connects the Indian Ocean with the Pacific Ocean, it is no exaggeration to say that the stability and growth of this region influences the peace and prosperity of the Asia-Pacific region. Furthermore, we assume that maintaining a rules-based order in an open and free environment is extremely important for ASEAN to unite and prosper as 'One.' This importance is referred to in the 'ASEAN Outlook on the Indo-Pacific (AOIP)' announced in 2019. Japan will support the principles of the 'ASEAN Way' and 'ASEAN One' as a friend of ASEAN. JENESYS contributes to one of the pillars of cooperation of the AOIP, people-topeople connectivity." 
How the JENESYS Works
After setting the annual plan of JENESYS, the JENESYS implementing agency recruits and selects participants with the cooperation of related parties, such as the Embassy of Japan in ASEAN Member States, the Senior Officials Meeting on Youth (SOMY) country focal points, ASEAN Secretariat, and Ministry of Foreign Affairs of Japan.
Participants are selected with fairness and transparency. Participants who are highly motivated to learn about Japan or a different culture, have leadership qualities with an ability to disseminate their exchange experience, and match the theme or specialty of the programme, among others, are eligible.
Once the participants arrive in Japan, they follow a fixed schedule of activities that typically involves lectures, site visits, courtesy calls, school exchanges, homestays, workshops, and a final reporting session lasting for a maximum of 10 days. The line-up of cities and sites and the types of lectures or workshops are customised by the implementing agency according to the theme.
At the end of the 10-day visit, the participants present an "action plan," based on their experience, at the final reporting session. After returning to their home country, they are expected to implement this action plan that outlines how they intend to share their JENESYS experience and apply their new-found knowledge and insights to strengthen ties between Japan and their country.
It is designed to help ASEAN people get to know Japan better towards mutual understanding and to create a strong partnership according to the vision statement of the JapanASEAN Friendship Cooperation.
A Slice of Japanese Home Life
By far, the most popular and anticipated segment of the exchange programme is the homestay experience.
Homestay allows a group of participants to live with a host family for a period of two to three days to immerse in local life. Participants get to observe and participate in daily household routines and rituals, learn proper etiquette and behaviour, taste authentic Japanese cooking, and engage in discussions about Japanese history, customs, and traditions.
Mutita Ariyavutikul, an alumna from JENESYS 2016, recalled that she and three other group members—a fellow Thai and two Singaporean participants—were placed with a host family in Sendai City in December. The timing allowed them to take part in the family's winter routines, such as decorating the house for the New Year and building a snowman.
Ariyavutikul said she remembered enjoying the sumptuous fare prepared by the host- parents during their stay. She added that the group members gladly reciprocated their host's generosity by preparing Thai and Singaporean soup and a special omelet for the host family.
The sense of hospitality and caring attitude of the host family—values that are reminiscent of Southeast Asian cultures—were also something that Ariyavutikul said she would never forget. "It was so cold at night, so the grandma would boil water for us and put a hot water bag on the blanket to keep us warm throughout the night. I appreciated it," she shared.
Kobayashi Hikari of JICE's Youth Exchange Division said that the homestay arrangement is mutually beneficial. "We think that the direct exchange is very important to Japanese citizens, and the participants always say that it's the highlight of the programme too," she said. "Due to the duration of the programme or regional circumstances, sometimes, we conduct just a one-day home visit, instead of (having participants) stay for two or three days."
Exposure to New Perspectives and Solutions
Field visits allow JENESYS participants to view issues from other lenses and expose them to new systems, ideas, and solutions.
For Tran Mai Khanh Ngoc, a participant from the JENESYS 2016 batch, the highlight of her Japan visit was the trip to Aito Eco Plaza Nanohana-Kan in Higashiomi City which she said is a model for sustainable community development.
"In this community, the locals plant rape blossom (nanohana), sell the rapeseed oil as a typical product of the community, and use the rest as cooking oil," Tran said. 
"After using the cooking oil, they thought, how could we recycle this used oil? And they turned it into energy—the biodiesel fuel. This is then used to run the farming machinery." She said that this practice reflects the local community's maxim, "what's from earth must return to earth."
Tran found the waste-to-energy project quite impressive. "I think that there are so many things we can learn from the Japanese, including how to develop a good community," she said. "From the lectures, you could feel the community spirit, the passion that the locals have for everything they do."
Tran said that she is trying to do her job as an employee of the Ho Chi Minh City Department of External Relations with the same kind of resourcefulness, energy, and passion. "I feel like I need to also contribute something more to my community," she said. "If you do something with a passion, you will constantly think about how to improve it."
Ariyavutikul's field visits were also eye- opening for her. "Before, I was focused solely on technology and thought that it's the answer for everything, but from the programme I learned that more than technology, a strong collaboration between government, private organisations, universities, and the local people is important," she said. She said that the value of public-private sector partnership is a key takeaway that has informed her work as an economist at the Bank of Thailand.
Like Tran, she also appreciated Japan's concern for the environment and commitment to sustainable development through clean energy technology. "Global warming and sustainable development goals are issues that ASEAN should pay more attention to, to attain long-term growth," she said.
Lessons in Punctuality and Minimalism
Dr. Yuhanis Binti Mhd Bakri, an alumna from the JENESYS 2017 batch, said that the programme's structure alone served as an introduction to Japanese culture. The schedule of activities, she said, was tight, well-curated, and expected to run like clockwork.
Yuhanis said this reflects the value placed by the Japanese on their time. "Japan is really appreciative of punctuality," she said. "I took this attitude back home. Now, if the meeting starts at 9 am, I have to be there no later than 8:50 am, regardless."
Yuhanis said that it also speaks to the strong work ethic and discipline of the Japanese, which she believes account for their technological achievements and societal progress. She said that she carries this influence with her, helping her become a better member of the faculty of the Department of Chemistry of Universiti Pendidikan Sultan Idris.
Yuhanis said that it also speaks to the strong work ethic and discipline of the Japanese, which she believes account for their technological achievements and societal progress. She said that she carries this influence with her, helping her become a better member of the faculty of the Department of Chemistry of Universiti Pendidikan Sultan Idris.
Yuhanis also observed the cleanliness of the environment and the absence of frilly décor during the site visits. "Everything was there for a purpose and in the right place," she said. The minimalist aesthetic, she said, inspired her to declutter her home and workspace, and reduce her trash.
Aspirations for Advanced Studies
Tran and Ariyavutikul said that their participation in the JENESYS programme led them to seek further studies in Japan.
"My experience with the JENESYS programme may be considered one of the main factors that pushed me to apply for a scholarship to pursue my master's degree in public policy at the National Graduate Institute for Policy Studies in Tokyo, Japan," Ariyavutikul said. She said that studying in Japan allows her to learn about Japan's and ASEAN's monetary, f iscal, and structural policies from a pool of international experts.
She is set to graduate in September 2022 and plans to apply the knowledge that she gained from the academic programme and her whole Japan experience to shape economic policies in Thailand and help it rebound from the COVID-19 pandemic.
Tran said she was so impressed by the JENESYS activities, especially the study trips to the prefectures, that she was eager for more. "From 2017 to 2019, I pursued a master's degree in public policy at Meiji University under the JDS scholarship," she said. Tran noted that the academic programme had the same hands-on approach as the JENESYS project, which she found highly effective.
After completing her degree in 2019, she went back to Ho Chi Minh City Department of External Relations, where she was assigned to handle the sister city relationships between Ho Chi Minh and foreign cities. This assignment has given her an opportunity to be at the forefront of efforts to enhance ties with Japan, an important partner of the city in the areas of trade and investment.
Long-lasting Connections
The JENESYS project gave rise to lasting personal connections among the participants. After their study visit, alumni groups created web or social media pages to post photos and stories of their exchange experience. Many have maintained these pages to keep in touch and share relevant information.
Alumni activities, such as conferences, meetings, and gatherings, are occasions to rekindle these bonds and generate awareness and interest about the project.
Yuhanis shared, "In Malaysia, the JENESYS alumni had a reunion in 2019 where different batches participated. About five or six of us from the group joined. There were students that came from Japan, and they were in a similar exchange project."
The JENESYS 2016 Student Conference was a particularly momentous event since its youth delegates founded the ASEAN University Student Council Union. The union seeks to amplify youth voices and keep them engaged. It held its first conference in 2017 and has been holding regular conferences since.
Fukuda Aika of JICE's Youth Exchange Division added that the exchange project also connects the youth in ASEAN Member States to Japan. "Some participants are even in contact with their host families in Japan. I hope they keep this connection going," she said.
Implementing JENESYS amid a Global Pandemic
Border closures and international movement restrictions to contain the COVID-19 pandemic have placed the JENESYS project in a difficult spot. Nonetheless, Miyazawa said that the government of Japan and JICE are rising to the challenge. "The worldwide spread of COVID-19 has disrupted international movement of persons. Under these circumstances, youth exchange projects have been suspended. We decided to continue JENESYS utilising online platforms since it is important to continue human resource development for the international community," he said.
Along this line, JICE has been organising webinars and online school exchanges since December 2020. The online activities, said Shionoya, have been useful and informative to participants pending actual field visits.
Bridging Cultural Divides
The task of bridging socio-cultural divides to maintain peace and harmony is a never- ending one—and the role that exchange projects like JENESYS plays in this process cannot be taken lightly.
Having benefited from positive crosscultural experiences, the vast network of JENESYS alumni across the region can help dispel pre-existing biases, promote goodwill, and create spaces for intercultural dialogue and cooperation.
Miyazawa noted, "As JENESYS alumni know, JENESYS is not only a meaningful project to participate in, but also provides a basis for taking action, based on the JENESYS experience after returning home and the network that is established between ASEAN and Japan. The JENESYS experience is the f irst step to becoming a leader."
He added, "Finding and fostering young leaders, tackling the challenges facing the world, and building a global network of young leaders are important goals for youth exchange projects such as the JENESYS project. To achieve these goals, we will continue to support the young generation. In addition, in Japan, there are various scholarship programmes, fellowships, and training programmes. Embassies and consulates in ASEAN Member States can help youth to find additional opportunities."
With Japan and ASEAN set to celebrate the 50th anniversary of their relationship in 2023, the government of Japan expressed hope that JENESYS alumni activities will continue and the circle of friendship facilitated by JENESYS will expand for peace and prosperity.