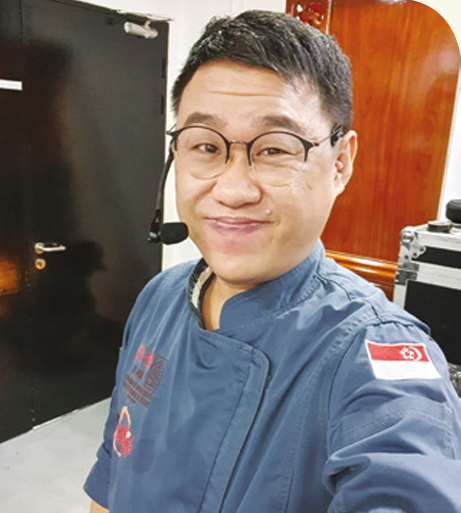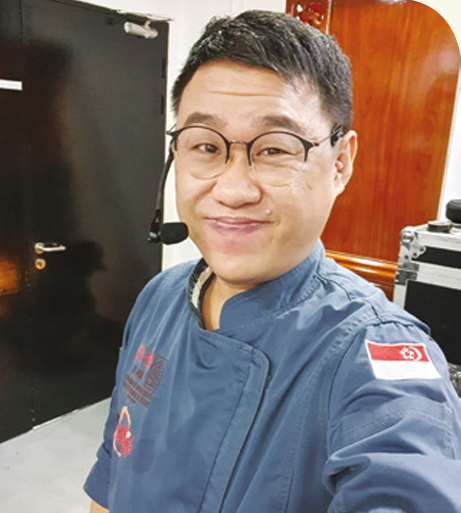 Melvin Chew
Hawker Stall Owner
The hawker scene is an integral part of Singapore's culture. Locals and tourists throng hawker centres to enjoy local cuisine at affordable prices. But diners had to stop eating out when Singapore imposed circuit beaker measures in April to contain the spread of the coronavirus. The partial lockdown left hawker centres empty for months.
Melvin Chew, the second-generation owner of the Jin Ji Teochew Braised Duck and Kway Chap stall at Chinatown Complex Food Centre, decided to take action to survive the pandemic. He created the Hawkers United-Dabao 2020 Facebook group that allows hawkers to promote their food and services on the platform. The group saw 25,000 members sign in within the first 24 hours. Now, it has over 280,000 members.
"I grew up in a hawker centre, and this food stall has raised me and my siblings. My concern is if the pandemic causes all hawkers to end their business, then I think our hawker culture will end. So I think I have to play a part. The intention is to bring all hawkers into a platform, so people can know that they are still doing takeaway and delivery.
"Lots of our hawkers are about 60-80 years old. Even though we have delivery platforms, their commissions are a bit too high for them. They also don't know how to use the technology. One of the reasons I started this group is to tell them that they still can do the delivery by announcing it in the group. A lot of hawkers started to post their business on the group and got good feedback on the business. I encourage people to do group buys; if you're staying in certain areas, people can volunteer to buy food from the hawkers for the households there.
"But even before the circuit breaker, when we learned that the pandemic was going on in China and started spreading all over the world, our business had been slightly affected. My sales dropped about 70 per cent because my stall is in Chinatown, which is a commercial business district (CBD) area and a tourism spot. When we got no tourists and the whole CBD was closed, that affected a lot of hawker centres. The government subsidised rents and all the fees we need to pay for about five months, so it cut down our burdens a lot.
"I also see that a lot of taxi drivers and private-hired drivers got no job during that time. After the government agency gave green light that these drivers could do food delivery, I started Delivery United group so that hawkers can go inside this platform to use and do food delivery. At the same time, the drivers can also get income during this period of circuit breakers.
"We also faced supply problems during this period. Supplies of ingredients got delayed because quite a lot of ingredients were from China. There was also a short period of time when food containers were out of stock. When the demand is high and the supply is low, everything will be expensive. But as I had to maintain the food quality, although it's expensive, I still use the same ingredients. I maintain the selling price; I don't think it's wise to raise the selling price because everybody is suffering. As long as we can survive during the circuit breaker period, then it's good enough.
"On food safety, we got extremely strict hygiene safety in Singapore. During the pandemic, safety level is our top priority; we always wash our hands and wear masks. Every now and then, there will be an inspector to go around the hawker centre, and if you do something that is not on their regulations, we can be fined up to 10,000 Singapore dollars and also get suspended.
"Now, hawkers are doing quite well, but hawkers in the CBD area are still doing quite badly because most office workers have not resumed work, or still work from home. There are no tourists, and lots of workers who used to work in the CBD area had lost their jobs. Business is slightly better than during the circuit breaker, but it's not what we expected. We're just holding on and hopefully after the pandemic and the whole world opens up, tourists and workers can start coming in again. In the meantime, we're just enjoying this period and helping each other out."
Interviewed by Novia D. Rulistia. The conversation has been edited and condensed for clarity. The views and opinions expressed in the text belong solely to the interviewee and do not reflect the official policy or position of ASEAN.