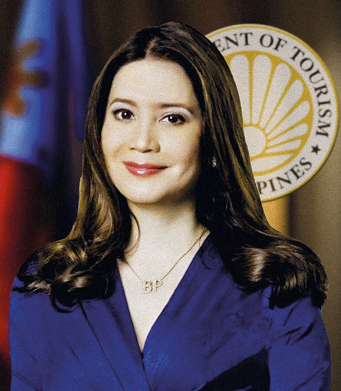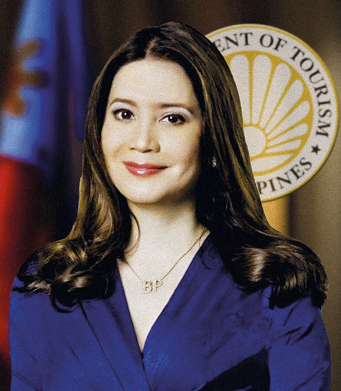 Bernadette Romulo-Puyat
Secretary of Tourism of the Republic of the Philippines
Culture, Health and COVID-19, Labour and Future of Work
Tourism has been one of the hardest- hit sectors by the prolonged COVID-19 pandemic. Secretary Romulo-Puyat talks to The ASEAN about the pandemic's impact on the Philippines' tourism industry, on jobs and businesses, and how the country is working towards recovery.
Tourism is a key driver of Philippine economic growth. Can you tell us briefly how the Philippine tourism industry has been impacted by the COVID-19 pandemic? Can you describe the full range of its impact on tourism-related micro, small and medium-sized enterprises (MSMEs) in your country, which are said to comprise more than 90 per cent of the tourism industry?
Secretary Romulo-Puyat:
The COVID-19 pandemic has adversely impacted the Philippine tourism industry. In 2019, the industry's contribution to the Philippine Gross Domestic Product was at 12.8 per cent. This decreased to 5.4 per cent in 2020 when the pandemic hit—a considerable gap from the previous year.
Based on the data of the Philippine Statistics Authority, we only recorded 1.48 million tourist arrivals in 2020— a decline of 82.05 per cent compared to the record-high 8.26 million tourist arrivals in 2019. More so, we recorded only 24 million domestic trips in 2020, showing a decline of 77.90 per cent compared to the almost 110 million domestic trips recorded in 2019. 
This translated to a major loss in tourism revenues, which plummeted to 973 billion Philippine pesos in 2020 from 2.51 trillion pesos in 2019.
The challenges of the pandemic forced several tourism establishments to close or to cut down on their operations temporarily. This inevitably affected tourism workers, as seen in the 4.68 million workers employed in the tourism industry in 2020, representing a decrease of 18.1 per cent from the 5.72 million workers employed in 2019.
Despite the challenges and limitations of the pandemic, the Department of Tourism (DOT) has been relentless in its efforts to keep the tourism industry afloat while laying the groundwork for the industry's recovery.
At the onset of the pandemic, several hotel and accommodation establishments were repurposed as quarantine, isolation, or multi- use facilities nationwide. This afforded them a continuous stream of income as they housed returning travellers, recovering patients, and Business Process Outsourcing (BPO) and health workers. The vaccination of frontline tourism workers in these hotels were also prioritised under the A1 category of the National Vaccination Plan.
Furthermore, as early as June 2020, the DOT issued minimum health and safety protocols for tourism operations, that would allow destinations and establishments to reopen even during the pandemic. In September 2020, the Philippines was granted the World Travel and Tourism Council (WTTC) Safe Travels Stamp, indicating that our tourism health and hygiene protocols comply with global standards.
How did the government support tourism-related MSMEs at the height of the pandemic? What measures are being undertaken to help them re-open and bounce back from the pandemic?
Secretary Romulo-Puyat:
While international borders were still closed to leisure travel, we focused on domestic tourism as the primary catalyst for tourism revival. We have been conducting site inspections and validation trips with the intent of ensuring that our local destinations are ready to accept local tourists and are equipped with the health and safety measures aligned with the protocols set by the National Task Force. These are being done in order to address traveller hesitancy and show people that travel can be done in a safe manner.
Hotels in cities and famous beach destinations have also provided a welcome respite for many Filipinos experiencing cabin fever—those who have grown weary of being confined to their own homes for extended periods due to the quarantine. By developing packages for hotel staycations and wellness workcations, domestic travellers need not go far away to get the chance to relax, recharge, and reboot in a fresh new environment, while still complying with the prescribed health and safety protocols.
As part of our efforts in saving tourism establishments, livelihood, and jobs that have been severely affected by the pandemic, a total of 10.1 billion pesos was allocated to assist tourism stakeholders under the Bayanihan to Recover as One Act (Bayanihan 2). Six billion pesos of the total amount was allotted to the CARES for TRAVEL Program, a soft loan programme for micro, small, and medium tourism enterprises. Together with the Department of Trade and Industry (DTI)-Small Business Corporation, we launched the CARES for TRAVEL Program in October 2020, providing zero-interest, no-collateral loans with a loan term of up to four years and a grace period of up to two years.
In terms of our workers, employment in the tourism industry decreased by 18.10 per cent, from 5.72 million in 2019 to 4.68 million in 2020. To aid tourism workers, 3.1 billion pesos was allocated to the DOT and the Department of Labor and Employment's Financial Assistance and Cash-for-Work Program for Displaced Workers in the Tourism Sector. Members of duly registered community-based tourism organisations, employees of DOTaccredited tourism enterprises, tour guides, and local government unit (LGU)-licensed primary tourism enterprises were eligible to apply for the one-time financial assistance of 5,000 pesos.
Furthermore, to jumpstart the reopening of the industry with full confidence, the DOT continues to double its efforts in vaccinating all tourism workers in the country. As of 8 April 2022, we have vaccinated 97.16 per cent of our targeted tourism workers across the country, with 32.64 per cent already having received their booster shots. Aside from formal tourism workers, we have also included the vaccination of souvenir shop vendors, tour operators and travel guides, and motorbanca or motorised boat operators in top tourist destinations across the country.
Another way to strengthen our tourism workforce was to continue the training and levelling up of their skills and knowledge. The need for training intensified during the pandemic, as our workers and stakeholders had to learn how to deal with and adapt to the new normal. The DOT's Office of Industry Manpower Development, together with our regional offices, collaborated to organise online learning classes and webinars. As of the end of last year, we had conducted 956 classes with 69,580 participants. With the re-opening of tourism, our thrust to develop our workforce remains strong.
Many informal workers are also tourism-dependent and have lost jobs and income during the pandemic. Are there any interventions to help them regain their livelihood?
Secretary Romulo-Puyat:
As the Philippines remain committed to the shared goals of the ASEAN Economic Community, we also ensure that our tourism practitioners and workforce are at par with our Asian neighbours', especially with the implementation of the ASEAN Mutual Recognition Arrangement on Tourism Professionals. 
This arrangement promotes and encourages the mobility of tourism professionals in the ASEAN regions. Towards this end, from June 2016 to March 2022, seminar-workshops on the programme's awareness and toolbox immersion across six tourism labour divisions, namely, housekeeping, front office, food and beverage service, food production, and travel agency and tour operation services, were conducted.
To further elevate the competitiveness of our tourism professionals, we initiated the Filipino Brand of Service Excellence Program. Since its launch in 2018, we have helped raise the service standards of nearly 13,000 workers by highlighting what we call the seven M's of Filipino service: Maka May Likha, Makatao, Maka Kalikasan, Maka Bansa, May Bayanihan, Masiyahin, at May Pag-asa.
To ensure a long-term recovery strategy for the tourism industry, the DOT crafted the Tourism Response and Recovery Plan (TRRP) in May 2020. The TRRP served as the Department's master plan for navigating the tourism industry, not just during the pandemic but also in any future challenges.
The pandemic also compelled us to update our National Tourism Development Plan, refocusing it on promoting safe, fun, and competitive tourism; pursuing Photo Credit: © EON Local PR/Department of Tourism, Philippines sustainable, inclusive and resilient tourism; and strengthening governance and destination management.
To promote safe, fun, and competitive tourism, we developed more than a hundred tourism circuits across the country to introduce the best travel products and experiences that each region offers. These circuits include culinary, history, nature, wellness, agriculture, and faith-based tourism.
In terms of strengthening governance and destination management, the DOT provided the LGUs with technical assistance and capacity-building programmes to prepare and implement their local tourism master plans, investment programmes, product and market development programmes, and data gathering capabilities, among others. 
Lastly, to pursue sustainable, inclusive, and resilient tourism, we have a flagship programme in partnership with the ADB and World Bank called Transforming Communities Towards Resilient, Inclusive, and Sustainable Tourism (TouRIST). Its strategic objectives cover the building and strengthening the capacities of destinations for conservation and climate- smart investments. Part of the programme is to formulate measures that would address tourism risks and crises, which will then set emergency plans and provide guidance to local governments and the private sector in preparing and updating their crisis management plans based on UNWTO and ASEAN guidelines, and business continuity plans.
To promote safe, fun, and competitive tourism, we developed more than a hundred tourism circuits across the country to introduce the best travel products and experiences that each region offers. These circuits include culinary, history, nature, wellness, agriculture, and faith-based tourism.
What role did digital technology play in the tourism industry during the COVID-19 pandemic? What opportunities does it offer to tourism MSMEs post-COVID? Do you think that the increasing use of digital solutions, such as artificial intelligence for travel services, would eventually lead to the displacement of the workforce?
Secretary Romulo-Puyat:
During the COVID-19 pandemic, the majority of the world's operations shifted heavily into the digital platform. The tourism industry was severely impacted as it used to rely heavily on face-to-face interactions. As the needs and expectations of tourists changed along with the circumstances, Philippine tourism also had to adapt and innovate in order to keep up with the standards and protocols of the new normal.
The Department of Tourism has advocated the expanded adoption and integration of Smart Tourism in our programmes and products. This involves the strengthening of digital platforms, ensuring datadriven planning, and expanding other tools for promotions and marketing.
Travel and tour operators also transitioned to digital technologies in terms of promotion strategies and operations in order to meet the demands of the time. The current situation has compelled them to adopt various technologies for contactless transactions, as well as stage hybrid travel and tourism events.
Events such as the Philippine Travel Exchange (PHITEX), MICECON, and Regional Travel Fairs were already conducted in a hybrid setup to secure the safety of travel and trade practitioners as well as the participants, and to reach a wider market.
For the last two years, the DOT has been offering online workshops and webinars to educate and upskill tourism stakeholders for business in the new normal. In order to help them grow and adapt, we provide support by introducing them to the basics of e-commerce and showing them how to build an online presence and successfully maintain an e-business. 
In this day and age, changes in the travel and technology landscape go beyond improving our processes or the tourist experience; it also entails transforming the entire tourism ecosystem itself. Our current efforts to digitise processes allow more streamlined experiences for tourists, from exploring travel options, booking services, and savouring their adventures.
While the use of technology is bound to enhance the traveller experience, we are confident that our tourism workers will still play a significant role in a highly-digital tourism world. Travel is all about experiences and relationships–something that perfectly corresponds to the Filipino brand of hospitality that we offer. More so, tourism is a creative field that requires human intervention in the form of customer service and designing tours and experiences. No automation can surpass human hospitality, and we at the DOT guarantee that our efforts to bolster the digitalisation of the tourism industry are in line with the strengthening of our tourism workers' capabilities.
For the last two years, the DOT has been offering online workshops and webinars to educate and upskill tourism stakeholders for business in the new normal.
We note that the Philippines has volunteered as a lead coordinator for establishing a support mechanism for women-owned MSMEs under the Post-COVID-19 Recovery Plan for ASEAN Tourism and ASEAN Tourism Strategic Plan (ATSP) 2016-2025 so they can recover from the pandemic. Can you share with us any progress on this front?
Secretary Romulo-Puyat:
The Philippines has always been a staunch advocate of Gender and Development and Inclusive Tourism alike. These priorities are engrained in our guiding policies, strategic plans, and consistently in our work programmes. 
With this, we have taken steps in order to institutionalise our approach to promoting development that is fair and inclusive, not only under the lenses of gender but of the wider scope of our developing sector. This has been an advocacy that I have carried even before my time as Tourism Secretary. Back when I was still serving in the agriculture sector, women's empowerment and support to MSMEs, especially those promoting sustainability in their businesses and enriching communities and their identities, have been my priorities.
Our work aligned with the PostCOVID-19 Recovery Plan for ASEAN Tourism and that of the programme with the framework of the ASEAN Tourism Strategic Plan 2016-2025. They reflect our commitment to pursuing this path towards inclusiveness. We are now set to convene a dedicated working group for the implementation of the ASEAN Gender and Development in Tourism Work Plan that seeks to address issues concerning the rights of women and vulnerable groups, their access to opportunities and economic growth, and the establishment of support mechanisms towards this goal.
The Philippines has likewise consistently ranked first among ASEAN Member States on the global Gender Gap Index, showing our commitment to the advancement of women's empowerment and uplifting their socio-economic status. Leading the programme in the ASEAN, we wish to share our best practices and promote them region-wide.