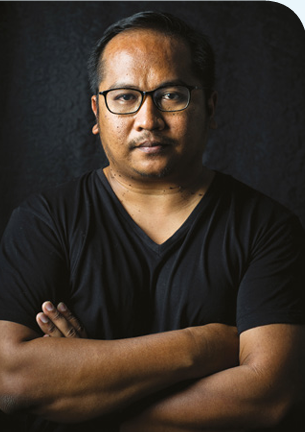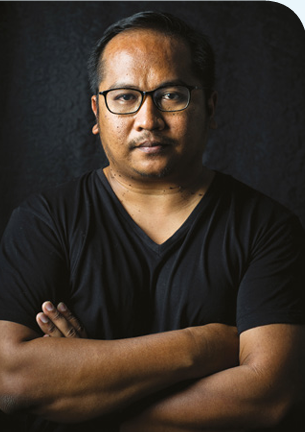 Samak Kosem
Artist and Researcher
Samak Kosem has been researching on Muslim culture in Southern Thailand for many years. The PhD candidate at the Faculty of Social Sciences in Chiang Mai University communicates his findings through photography, mixed media, and videos, among others, to reach a wider audience.
His recent research focuses on homosexuality in Muslim society to understand the limitations of gender perspectives in the society. When the pandemic hit, Samak, who has exhibited his works at the Bangkok Art Biennale and in galleries from Chiang Mai to Hong Kong, needed to adjust his plans for his arts and research projects.
"The pandemic has greatly affected the art communities. A lot of art events have been postponed, while some others moved online. I quite disagree with online art events because the audience will lose opportunities to interact with the artworks and the artists. The way you experience art is important because unlike online shopping, people don't just go to the event to buy artworks, but also to experience them.
"I was planning to have an exhibition this year for my paintings of portraits painted on the other side of a carpet. But my co-artist who lives in Australia and I decided to postpone it. If we kept on going, we couldn't set up the exhibition like what we had been planning. Setting up is important; we have to be there to decide things, and to make the details work. We are trying to retain the artwork's aesthetic aspects so people can come and experience our works. 
"Artists, especially the new ones, have been struggling during the pandemic since galleries were closed and art events were cancelled. When the condition had gradually returned to normal, some galleries set up exhibitions that feature collaborations between new and established artists, something that we didn't see before as they usually held events for famous and international artists. The Bangkok Art Biennale is also ongoing now, although the visitors are mostly local people. In terms of the market, many collectors are from outside Thailand and now it's still difficult for them to travel and come to art events here.
"Academically, the pandemic period has been quite difficult for me, my classmates and professors. Our PhD class is small, and my professor was not used to teaching online because he is old and prefers personal interaction in the class. But we adapt and slowly become professional in working online. My art projects come together with my research, and the travel restrictions have affected my field research a lot and I need to think of back-up plans to complete it. The pandemic also affected foreign students who study here; they can't go back to their countries, or they can't come back here. On the bright side, I wrote a lot during this period and I could finish all my pending articles for some publications. 
"The stay-home period affected my health too, because I worked a lot, I slept late, and ate late. I coughed often, and at that time, I felt like everybody was suspicious of me, questioning why I coughed a lot. After several rounds of examinations, it was found that I got GERD due to my eating problems.
"From what I've been observing, the COVID-19 pandemic has brought changes in the society. In the education sector, the learning platforms have evolved and it created new possibilities to reconnect. While in the art sector, I see how art communities continue to work to find ways to deal with these restrictions. They are forced to think about how to engage the audience through different ways; how we must go through all the visuals in digital form to reconnect with the audience. Art fair organisers also need to think a lot on how to expose the artworks. It's interesting to see how arts will be shaped by all this in the future.
"Regionally, I think the pandemic has cut the way we do things in ASEAN, as if we go back to living in a box. Before, I loved how people in ASEAN connected through travelling, education, trading, etc, but now we go back to the box. This year becomes an important period to learn because the social system has changed."
Interviewed by Novia D. Rulistia. The conversation has been edited and condensed for clarity. The views and opinions expressed in the text belong solely to the interviewee and do not reflect the official policy or position of ASEAN.