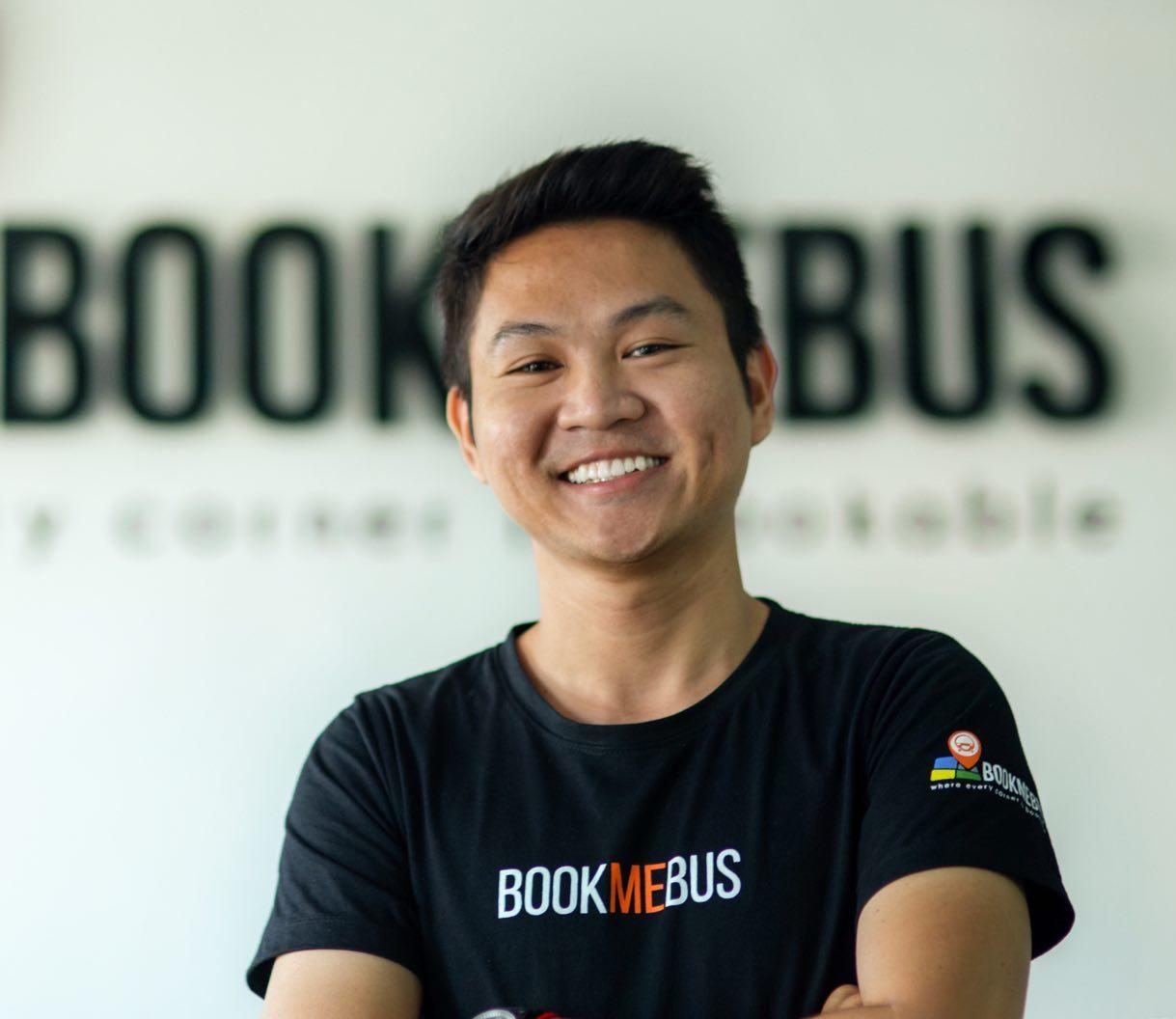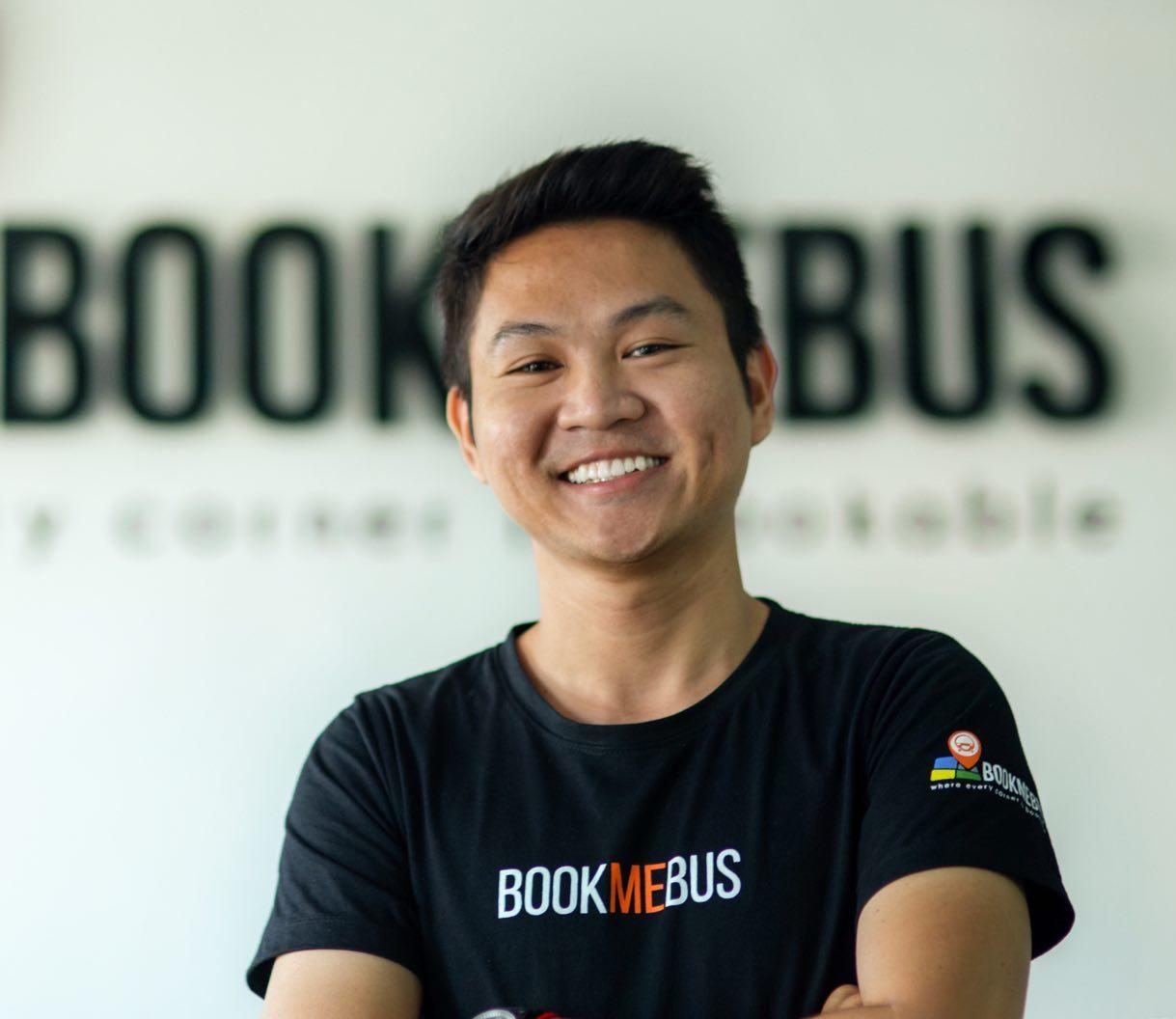 Langda Chea
Founder, BookMeBus
Labour and Future of Work
Soaking in the stunning views of Koh Rong Samloem's pristine beaches while feasting on fresh seafood are some of Langda Chea's most cherished memories. The 33-year-old travels whenever he needs to recharge from work. However, the ardent traveller recalls that getting to Cambodia's gorgeous white sands and scuba diving spots was once a challenge. Growing up in Phnom Penh, Cambodia, Langda has had some unpleasant experiences during his intercity trips.
Taking a larn taxi (រថយន្តតាក់ស៊ី), operated by drivers everyone calls "uncles," was the fastest and the most convenient option to get from Phnom Penh to his parent's hometown in Battambang City. Larn is a shared taxi, which usually accommodates 4-5 passengers at a time. Langda struggled with uncles at crowded terminals where they would fight tooth and nail for potential customers. Langda says the ordeal made him feel like prey hunted by vultures.
As much as securing taxi rides were always unpleasant for him, Langda would dutifully make the trip home every Khmer New Year, Pchum Ben and other special occasions. After making countless intercity trips, he finally realised: he could do something to make his journey more enjoyable.
While on a five-hour larn ride to Battambang City, he got the inspiration to build an online platform, BookMeBus, so customers can book seats on a bus or shared taxi ahead of time. This way, he thought, the customers would fight for their seats, not the other way around. During the 253-kilometre excursion, Langda convinced the uncle, who was driving him, that it was a feasible idea.
In 2015, his idea came to fruition, and both drivers and passengers hopped on the BookMeBus platform. Since then, many Cambodian travellers have been enjoying safer and more comfortable trips by bus, ferry, and taxi. The booking service is now also available for trips to Viet Nam, Thailand, and the Lao PDR. Two years after it launched, BookMeBus won a gold medal in the start-up category of the ASEAN Information and Communications Technology (ICT) Awards.
"I think my entrepreneurship DNA came from my father. My father was a car dealer. He always took me to his workplace. There, I observed how he worked and convinced his customers to buy his cars. I continued to go with my father to his workplace, even during high school. Back then, I convinced the uncles who worked with my father to try and sell their cars through online classified ads. At that time, Cambodia had no Facebook, so I wanted to help them get the best benefit from digital platforms. Eventually, many of these uncles asked me to do their listing for them.
"It was around 2014, and I had already abandoned BookMeBus's initial concept for two years before I decided to quit cold turkey from my job. At that time, no one in Cambodia understood start-ups yet. I joined a hackathon to explore more about my plan. After it kicked off, I asked for support from my family and friends. I told them other than solving the intercity transportation issues, this concept also has a huge potential because we have a lot of local passengers and tourists in the country. Somehow, I convinced them. Some of them quit their jobs to join me full-time. One of them is my older brother, the cofounder. BookMeBus has what we have today because of their trust and their teamwork.
"Our journey is not without hurdles. In 2019, we tried to expand our office to Ho Chi Minh City, Viet Nam. We had already signed up several bus operators in our system. But then the pandemic came. We couldn't convince our investors to put in more money, so we had to lay off a lot of staff. In 2021, we pivoted the business. I said, 'we can't grow tall, so we need to get fat.' At that time, we could not expand our business to other countries, so we needed to leverage our market in Cambodia. Eventually, we did a joint venture with a big logistics company and entered the e-commerce business. Now, we have two children: BookMeBus and VTenh, an e-commerce platform.
"Unlike in 2014, it is easier for a young start-up to build a company right now. The tech adaptation is already happening. The market is ready, and locals are more adaptive to technology. Recently, the government also set a plan for growing the digital economy in the next 10-20 years. They have started to build the ecosystem.
"What ASEAN can do to accelerate digital transformation across the region, I believe, is by connecting the dots. For example, BookMeBus has found an innovative solution for border crossing and intercity transportation. So how can we scale the business to a regional level? Maybe Indonesia also faces the same problem? Or the Lao PDR, Thailand, and Viet Nam? ASEAN can play the role of helping us expand beyond our country. For us especially, it is such a struggle because our market in Cambodia is pretty small.
"We have witnessed how start-ups can positively impact the country. In my case, we generate jobs for drivers and bus companies while also attracting more tourists to visit. It opens more opportunities. We need to work together among ASEAN members. Innovative ideas can have more impact on creating more jobs. They can also make our lives a lot easier."
Interviewed by Ixora Tri Devi. The conversation has been condensed and edited for clarity. The views and opinions expressed in the text belong solely to the interviewee and do not reflect the official policy or position of ASEAN.