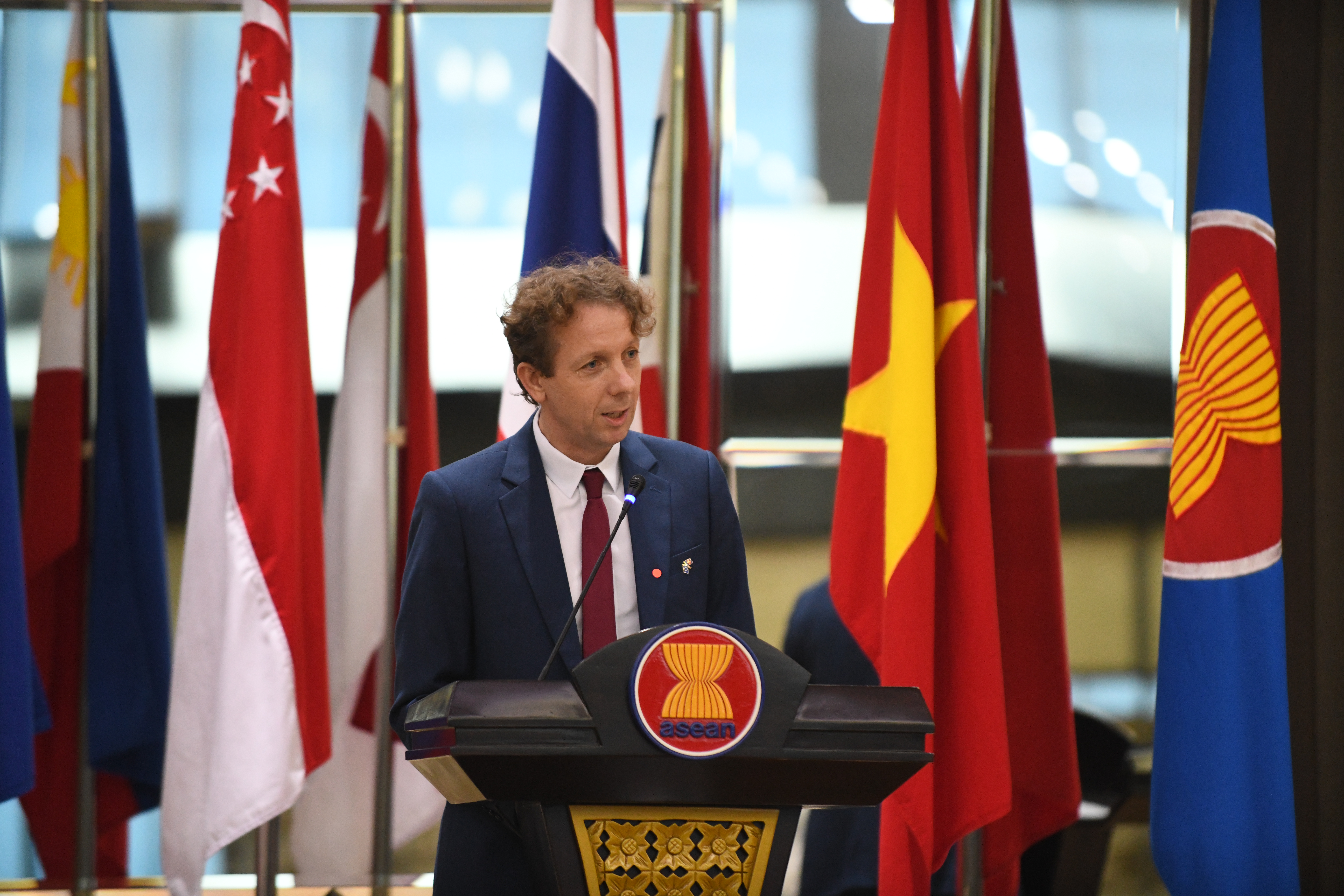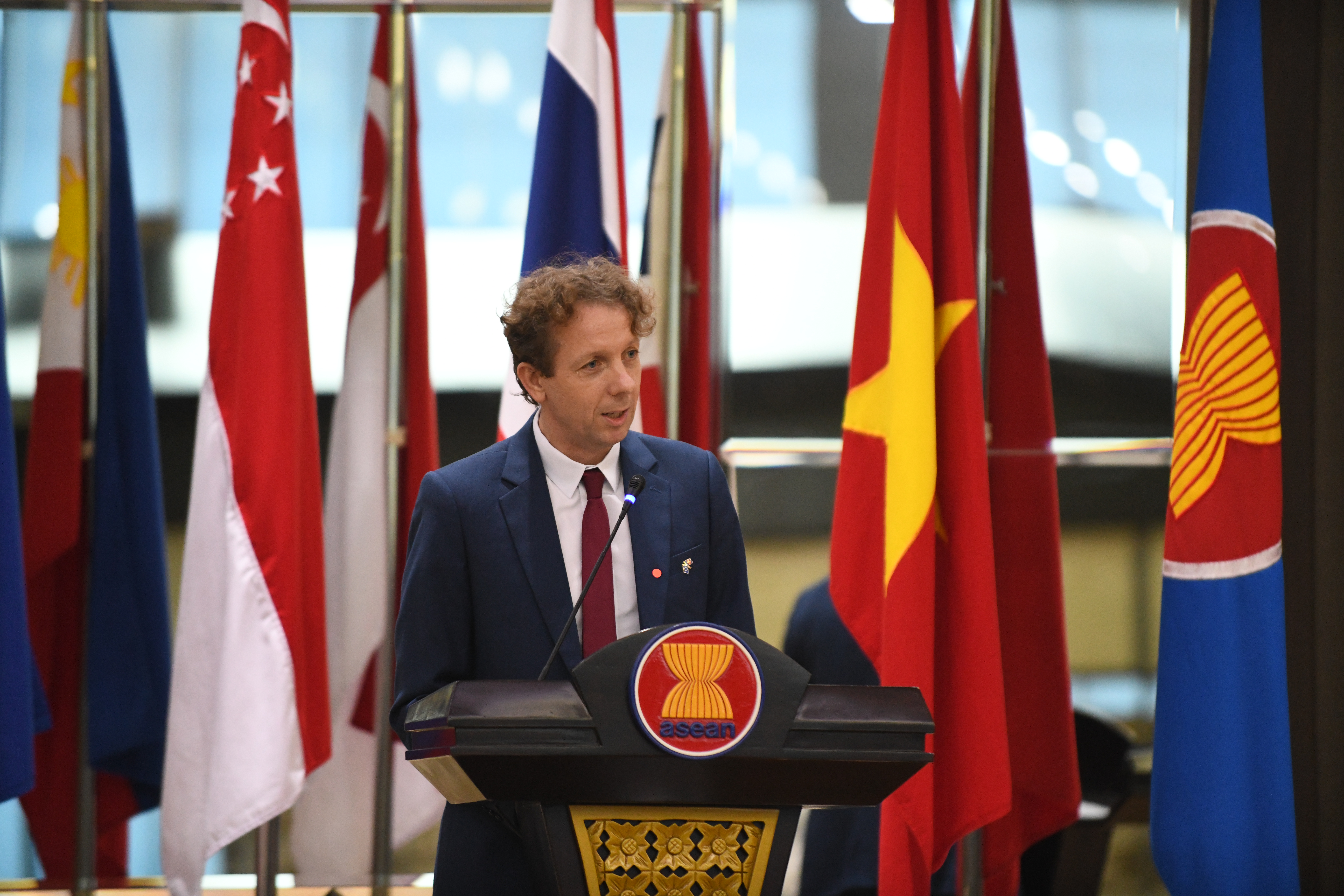 Celebrating the Past, Preparing for the Future: Reflections Ahead of the ASEAN-EU Commemorative Summit
Igor Driesmans, EU Ambassador to ASEAN
ASEAN Identity and Community Building
Throughout 2022, ASEAN and the European Union have held many great events in Jakarta, throughout Southeast Asia, and in the cyber sphere, including a joint photo exhibition, a bike ride, a cultural festival, a comic strip competition, a series of video reflections by eminent persons along with a Young Leaders' Forum. All of these events are connected by a common thread—celebrating the 45th anniversary of the establishment of our Dialogue Partnership that has, over the past decades, come to form a rich, colourful and multi-layered fabric.
These events are stepping stones and a symbolic countdown to the ASEAN-EU Commemorative Summit, which is due to take place in Brussels on 14 December. This meeting promises to be an event of an unprecedented scale, held at a time when our two regions—and indeed the whole world—are navigating an increasingly challenging landscape.
What is the significance of our upcoming Commemorative Summit, and what are we hoping to achieve? 
Before answering this question, let us perhaps start by unrolling and peeking at some of the key features of the fabric of ASEAN-EU relations. First and foremost, we are the world's two most successful regional integration projects and, as such, natural partners for cooperation –based on our shared belief in multilateralism, international law, and a realisation that the absolute gains of ever-closer cooperation trump the relative gains of competition and confrontation. We have made the most out of these firm foundations, and the corresponding achievements are certainly too long to list. But to name a few, and in no particular order, we have been strategic partners since December 2020; we are each other's third largest trading partner; EU is ASEAN's second-largest source of FDI; we have some 20 regular policy dialogues that allow us to exchange experiences in a wide range of areas, and to pick a recent development, we signed the first region-to-region Comprehensive Air Transportation Agreement in October.
Our relations do not, however, exist in isolation, and this decade has proven to be particularly testing for all of us. The hopes of a smooth post-pandemic recovery were ruthlessly dashed by wars, and we have seen far too many instances of blatant disregard for international law and humanitarian principles. These developments have been followed by food and energy insecurity and rising inflation affecting the whole world. Even worse, climate change has shown no signs of abating as it continues to pose a severe threat to our planet and our existence.
Leaders from member states of the EU, ASEAN, and our respective organisations—close to 40 people—will gather in Brussels against this daunting backdrop for a commemorative summit. Our Commemorative Summit will be a chance to celebrate our achievements—45 years of partnership in integration. More importantly, it will also serve as a unique opportunity to show and prove that ours is a partnership of strategic partners and responsible stakeholders who are committed to working together to address the most pressing challenges of today and tomorrow—and to do so in a sustainable manner. With our shared commitment to multilateralism, we will also send a strong message of support to the rules-based international order at a time when it is facing a plethora of challenges. We will also focus on the fundamentals of our cooperation: peace and security along with economic cooperation and trade, which form a long-standing pillar of our cooperation. We will also look into further developing the strong commonalities between the ASEAN Outlook on the Indo-Pacific and the EU Strategy for Cooperation in the Indo-Pacific, as peace and prosperity of this region, with ASEAN at its centre, remains of utmost importance.
Last but not least, our partnership recognises the need to be forward looking. With this in mind, we have identified connectivity and sustainability as dominant features of our future engagement. From the EU side, the Global Gateway strategy will be used as the principle tool for enhancing cooperation on these two priorities. Connectivity in all shapes and forms—infrastructural, digital and people-to-people—will be enhanced and deepened. And initiatives such as the Green Team Europe Initiative in Partnership with ASEAN, our contribution to the ASEAN Catalytic Green Finance Facility, the launch of an EU-ASEAN Energy Dialogue, and the EU-funded Smart Green ASEAN Cities programme will ensure that sustainability will be at the core of cooperation between Europe and Southeast Asia.
In lieu of concluding, allow me to state that there is more to come. We have side-events, among others, in the run-up to the Commemorative Summit that will allow our businesses and youths to engage in person, a joint statement, and a series of concrete deliverables that will further enrich the fabric of our relations. As we approach the end of our commemorative year, we will definitely do so on a high note.
For more information about the Commemorative Summit, follow the EU Delegation to ASEAN social media channels:
Twitter: @EUinASEAN
Facebook: @EUinASEAN
Instagram: @EUinASEAN
YouTube: @EUinASEAN
Contact: delegation-asean-info@eeas. europa.eu
The views and opinions expressed here are those of the author, not those of ASEAN or its members.