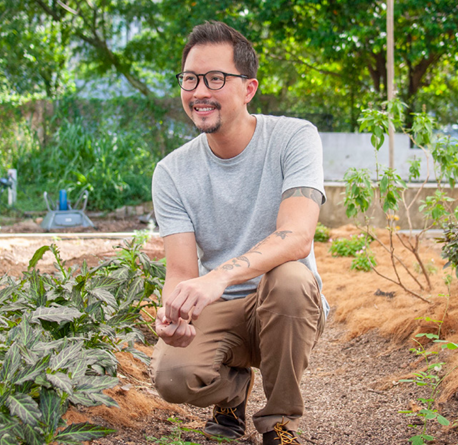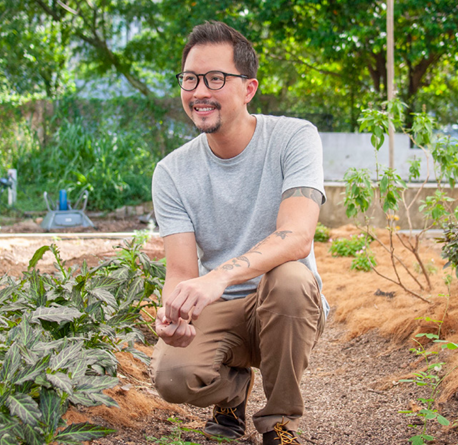 Bjorn Low
Urban Farmer and Executive Director, Edible Garden City
Bjorn took a leap of faith after 10 years of working in the digital marketing industry to explore a more sustainable lifestyle. His decision led him to a soul-searching journey across the United Kingdom, Spain, and Japan, where he learned to grow food in organic agricultural farms.
When Bjorn returned home, he found underutilised spaces and incorporated urban farms into Singapore's cityscape. In 2012, he co-founded Edible Garden City with the goal of improving sustainability in local food production. It began with one restaurant garden for chefs that was driven by the global farm- to-table movement. Edible City has now built more than 260 urban gardens across Singapore. The gardens also serve as an inclusive community hub, providing green spaces for people to learn and connect with nature.
"We did a lot of pop-ups during the early days. One of the pop ups is called Nong, which is the Chinese word for farming. It was in a 30 thousand square feet rooftop car park in Chinatown's People's Park complex. We want to make the rooftop carpark an alternative solution for growing food in the city. 
"One pop-up led to another and we grew to become a community of food enthusiasts and food activists working to create a narrative of what we see as a sustainable food system. We are using urban farming as a modality to encourage citizen participation, community engagement, and also achieving social impact within the areas that we operate.
"It was challenging to find access to the local agriculture market or industry because land is premium in Singapore and barriers to entry are high. You can't just buy land to start a market garden and start a small-holding enterprise. After four or five years, the government gave us a space to further develop our work on urban agriculture and develop the model to become a viable community farm. 
"On our main farm, we are able to create a model that addresses social impact issues around the community that we operate in. One of those is through employment policies where we integrate beneficiaries, such as adults with special needs and the elderly, by bringing them into the workforce. We are elevating the societal pressures that they face by providing them with a safe space, a community, and an identity.
"We use urban farming to support elderly men living in low-income housing estates in Singapore. There are difficulties directing social services support to them because they are not as forthcoming with their problems and tend to fall into social depression and isolation. When we started our program, there was an elderly man who never talked. He was a bit detached and struggling with social isolation. Working in the garden gives him a sense of belonging and purpose so that by the end of the six-week programme, he became cheerful and couldn't stop talking. 
"The act of nurturing a plant can also be a healing process. Throughout the journey there will be a lot of challenges and if you look at them through a positive lens, these resemble lessons about life and nature. Studies on horticulture therapy are also very encouraging. It allows us to see how we can pivot our urban farming operations into more than just providing food, but also providing care to the community. We want to elevate mental wellness and cohesiveness of the community as the core of our work for the future.
Singapore has lost a lot of knowledge on local food as we eat with a global mindset. We want to work on the mindset shift and get people to demand more local leafy vegetables instead of the imported cold weather crops. Southeast Asia is thriving because we can grow everything, so why are we growing things that are not suited to our climate? Local edible plants like sayur manis, moringa, and ulam raja should have more prominence than kales and strawberries.
"What I look forward to is for ASEAN to facilitate knowledge sharing on native and local food culture across the region. Our region shares almost the same climate and a lot of this knowledge is still encapsulated within individual ASEAN countries, such as Indonesia, Malaysia, and Thailand. Indigenous people have always lived in harmony with the environment and their knowledge should be used to build a stronger sense of responsibility within people living in urban areas. I hope that this knowledge can be adapted to shape our landscape to become more sustainable for the future."
Interviewed by Pricilia Putri Nirmala Sari. The conversation has been edited and condensed for clarity. The views and opinions expressed in the text belong solely to the interviewee and do not reflect the official policy or position of ASEAN.