Singapore

Singapore Civil Defence Force
Singapore, a bustling island city-state in Southeast Asia, may appear as an oasis of tranquillity amidst the chaos of the modern world. Behind the scenes, the city-state is constantly preparing and ever-ready to respond to a range of hazards with its robust disaster management framework. The Singapore Civil Defence Force (SCDF) is the national focal point for disaster management and coordinates with multiple stakeholders and partners for a whole-of-society and whole-of-government response strategy.
Singapore recognises that changes in climatic impact drivers could result in more frequent and/or severe extreme weather events.
The threat of rising sea levels due to climate change presents a significant and escalating danger to Singapore, a low-lying coastal city-state. With a large portion of its population, economic activities, and critical infrastructure situated along its coastline, Singapore is highly vulnerable to the impacts of sea level rise, emphasising the need for comprehensive and proactive adaptation strategies to safeguard its long-term sustainability and resilience.
Singapore also places emphasis on preparedness in the face of public health crises. Though not frequent, these health crises demand preparedness and a coordinated response across multiple agencies.
Singapore's substantial industrial and petrochemical complexes also bring about risks of fires, chemical leaks, and explosions. While stringent regulations keep the probability of such incidents low, their potential consequences are grave and can have far-reaching effects on human lives, the economy, and the environment.
Key elements and assessment of Singapore's disaster response
Singapore's disaster response strategy is built upon a multi-tiered framework that involves government agencies, non-governmental organisations, and the community. The SCDF plays a central role in this framework, orchestrating response efforts with other agencies to ensure a well-coordinated approach.
The key elements of Singapore's disaster response include:
i. Early detection and warning systems: The SCDF maintains and operates the Public Warning System (PWS), a network of sirens across the island, to warn the public of imminent threats that could endanger lives and property. Other broadcast systems, such as the SMS Public Alert System and the SGSecure mobile application, are also available for use during emergencies. These warning systems complement the future nationwide sensor network, which will continuously detect anomalies in the atmosphere that may affect the health and safety of the public.
ii. Emergency response: The SCDF's all-hazards responses to disasters include firefighting and rescue operations, emergency medical services, and Hazardous Materials (HazMat) management. SCDF is equipped with specialised teams for different types of emergencies, such as the Disaster Assistance and Rescue Team for Urban Search and Rescue and the Chemical, Biological, Radiological, and Explosive teams for HazMat incidents.
iii. Community engagement and education: Strengthening community resilience is also integral to Singapore's disaster mitigation efforts. Since 2016, the SCDF has been pursuing a Transformation 2025 vision of creating A Nation of Lifesavers. To achieve this goal, the SCDF actively engages the community through a wide range of public education programmes to enhance our collective resilience and emergency preparedness.
iv. Multi-agency and international collaboration: The SCDF collaborates with other agencies, such as the Ministry of Health, the Ministry of Defence, and the Singapore Police Force to ensure a cohesive and efficient response to complex emergencies. Interagency communication and coordination are vital to managing complex crises. In addition, recognising the interconnectedness of disaster impacts, Singapore engages in regional and international collaborations.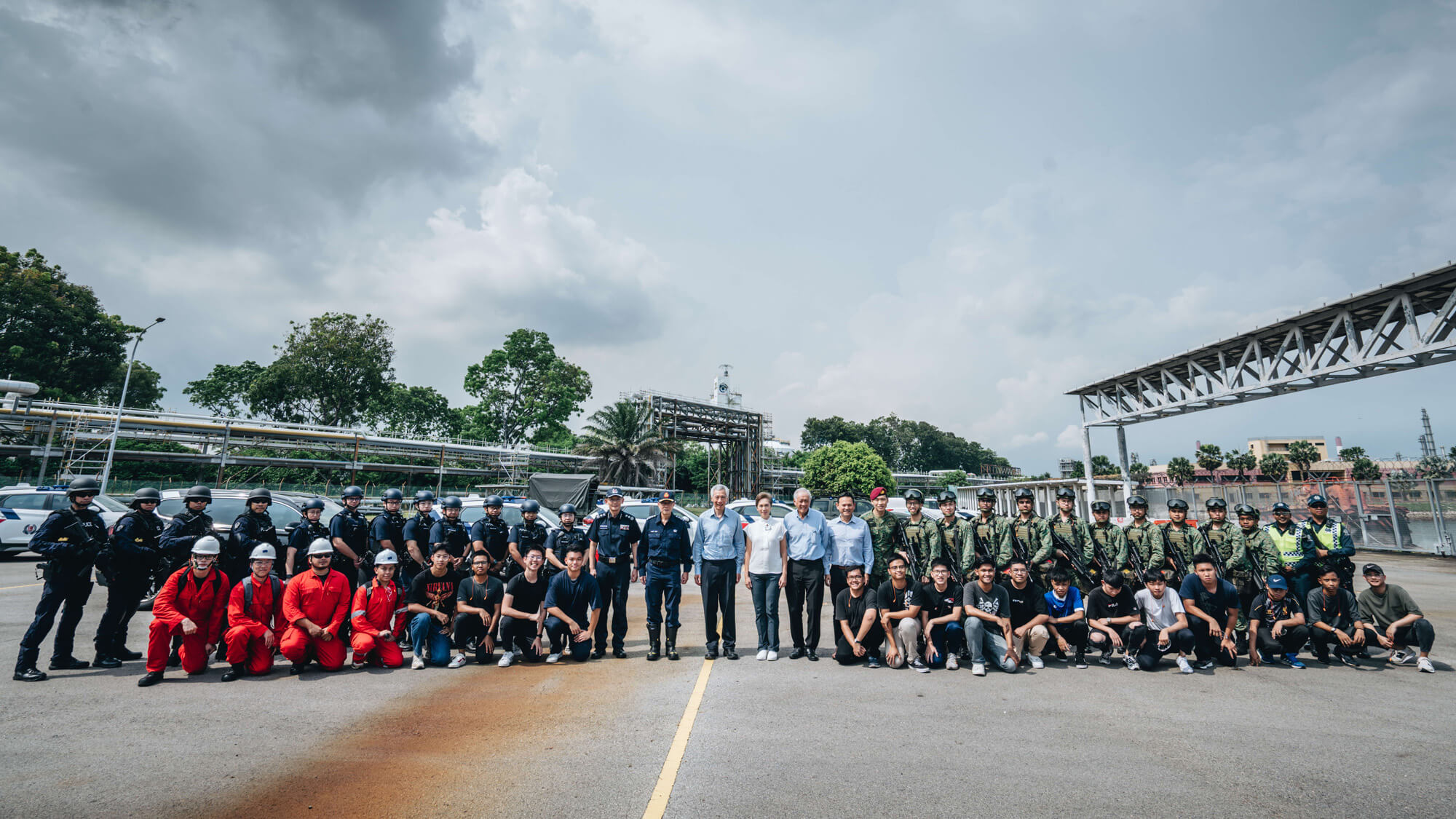 Multi-agency collaboration during Exercise Northstar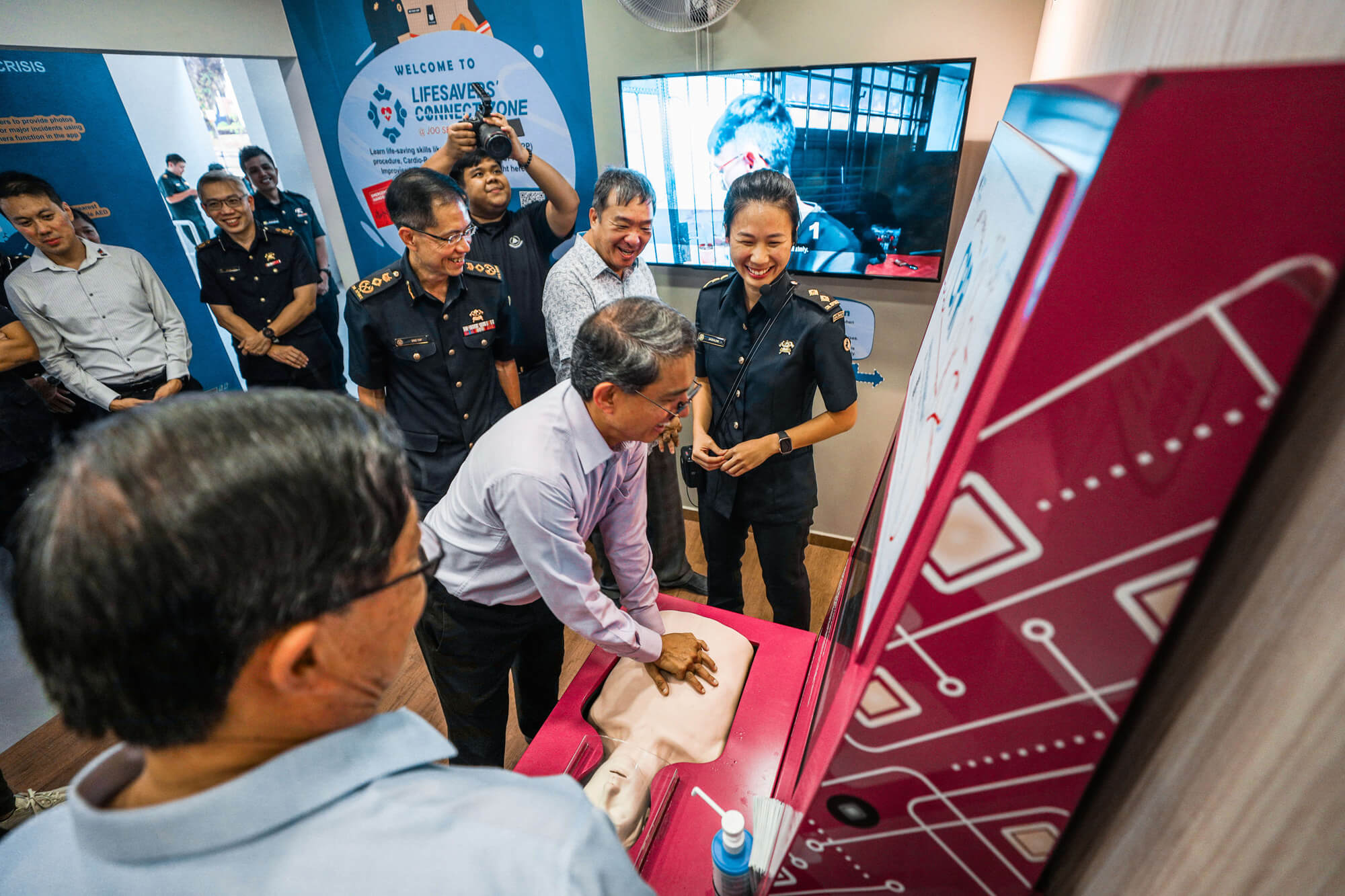 The opening of Joo Seng Fire Post which co-locates the Lifesavers' Connect Zone (LCZ). The LCZ features interactive kiosks for members of the public to engage in self-directed learning or hands-on practice on lifesaving skills and is part of SCDF's efforts to deepen public engagement.
Singapore's response to disaster is assessed through various lenses, including timeliness, efficiency, and the impact on public safety. Thorough reviews are conducted after incidents to identify strengths and areas for improvement. National-level emergency exercises are also conducted to ensure the preparedness of related agencies in responding to various scenarios. First launched in 1997, Exercise Northstar aims to validate the whole-of-government response framework and improve emergency response and coordination among national agencies in Singapore. The most recent Exercise Northstar, conducted in March 2023, simulated a terrorist attack on various oil tanks and petrochemical pipelines. The exercise involved more than 300 personnel from various agencies, including the SCDF, SPF, Singapore Armed Forces, Ministry of Health, Maritime and Port Authority of Singapore, and private companies.
Singapore's commitment to disaster management extends beyond its borders. As a member of the ASEAN Committee on Disaster Management (ACDM), Singapore collaborates with fellow ASEAN Member States to achieve an effective and efficient approach to disaster management ranging from prevention, mitigation, preparedness, response, recovery, and global leadership. This includes resource sharing, knowledge exchange, and joint exercises to enhance disaster management capabilities. This cooperation facilitates the exchange of expertise and resources with our ASEAN partners, builds capacities, and promotes regional stability and resilience. It also strengthens the region's collective ability to respond to large-scale disasters, which can often transcend national boundaries.
As we celebrate the 20th Anniversary of the ACDM, let us reflect on and renew our commitment to safeguard the region. In the face of climate change and evolving threats, ACDM has continued to integrate technology, foster regional collaboration, and learn from past experiences to continually refine its disaster management framework to minimise the impact of disasters on the communities.
SCDF stands ready to protect its nation and assist its neighbours in times of crisis.
---
Authored by the Singapore Civil Defense Force