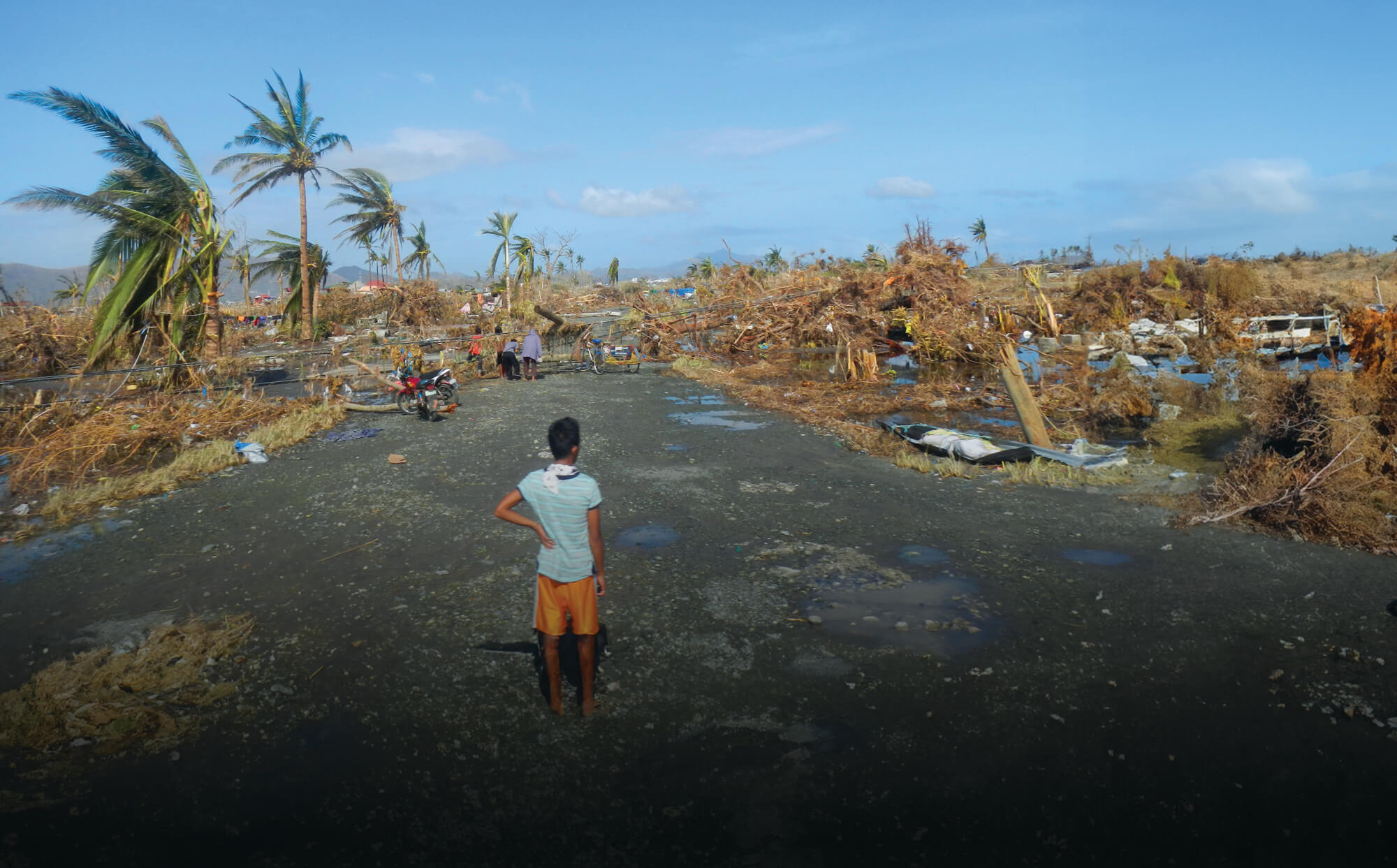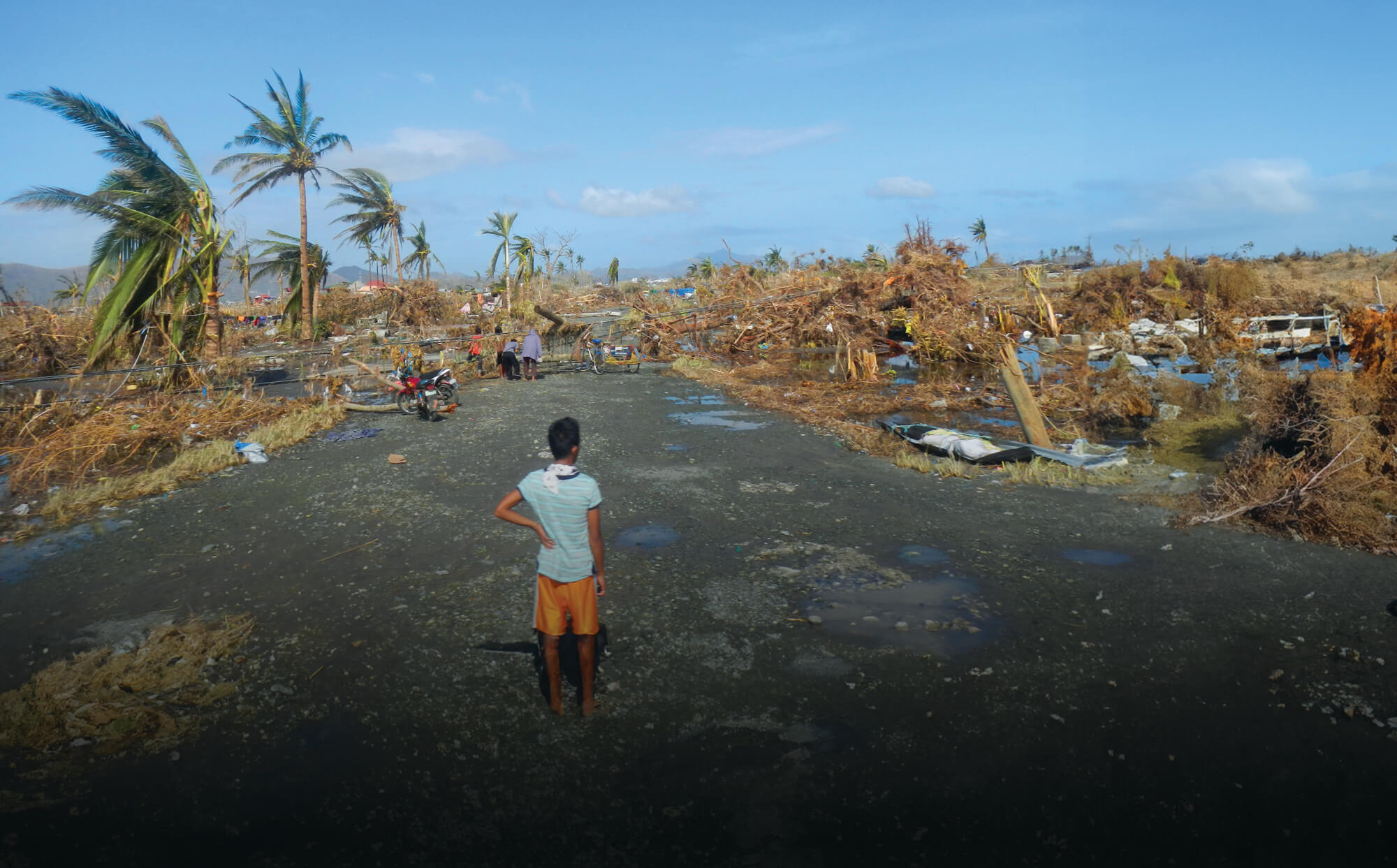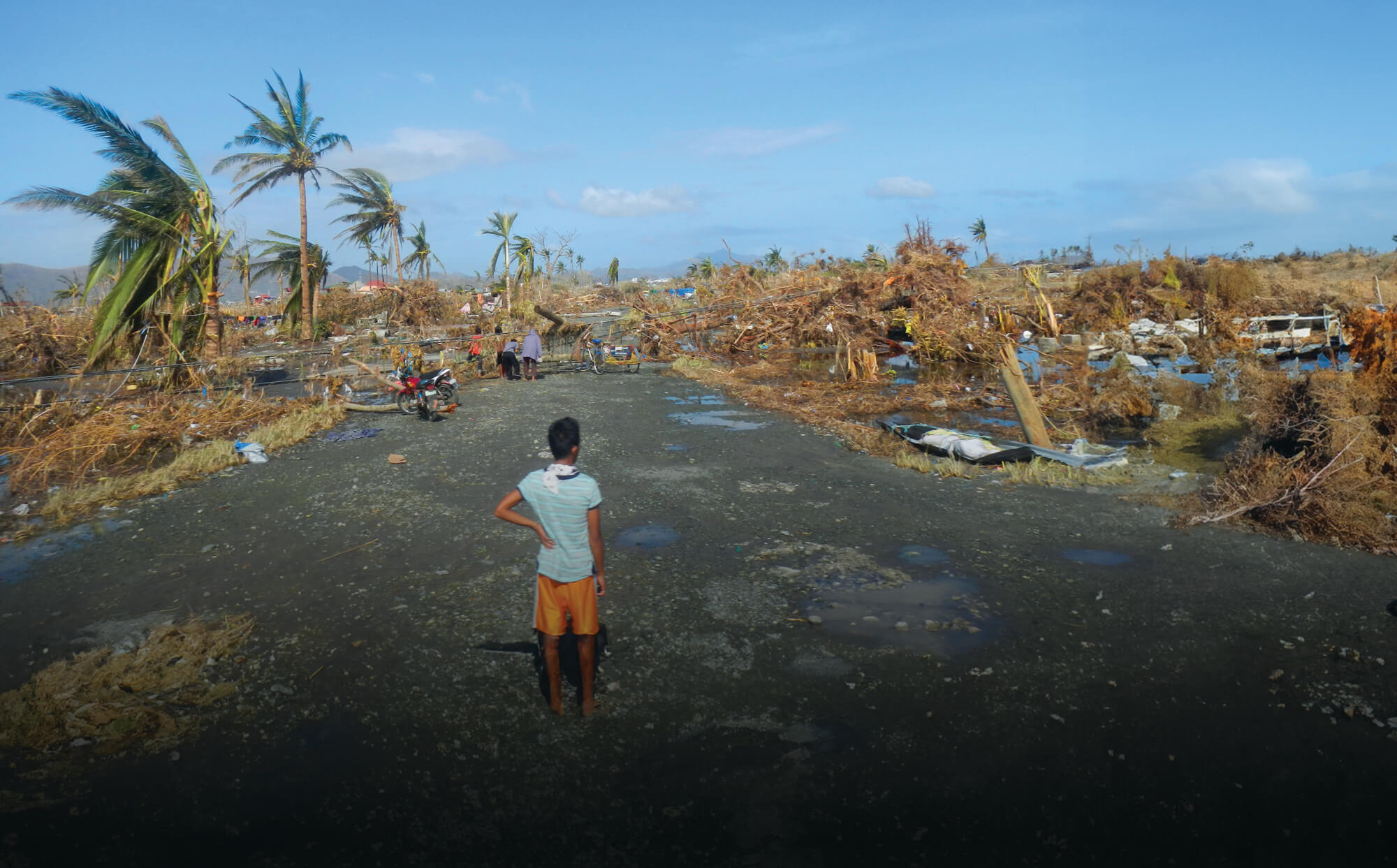 The Philippines

Office of Civil Defense-National Disaster Risk Reduction and Management Council
Situated along the Pacific Ring of Fire and the Pacific Typhoon Belt, the Philippines is prone to various hazards due to its geographical location. Floods, storm surges, landslides, earthquakes, volcanic eruptions, and drought are the common hazards that the country deals with constantly.
In 2013, one of the most powerful tropical cyclones in the world, Typhoon Yolanda (international name: Haiyan) made landfall in the southern part of the country. It caused a total of 6,300 deaths and 95.5 billion Philippine pesos (approx. 1.6 billion US dollars) worth of damage and losses to infrastructure, agriculture, private property, and other sectors. The massive destruction prompted the declaration of a state of national calamity and the country had to seek international assistance.
In the same year, a magnitude 7.2 earthquake shook the provinces of Bohol, Cebu, and other nearby areas. A total of 227 people perished and 976 people sustained injuries from collapsed structures and debris. In addition, houses, roads, bridges, seaports, airports, churches, public buildings, schools, and hospitals suffered total or partial damage amounting to 2.25 billion Philippine pesos (approx. 39.5 million US dollars).
In the past five years (2018-2022), other disasters and incidents caused by natural hazards resulted in 3,265 deaths, affected 67 million people and caused 226 billion Philippine pesos (close to 4 billion US dollars) worth of damage and losses.
In addition to disasters caused by natural hazards, the country also faces different forms of human-induced hazards, such as fires, aviation accidents, civil disturbances, maritime incidents, and armed conflicts.
In 2013 and 2017, the country grappled with two major armed conflicts that necessitated national-level intervention to address the needs of the affected communities. The Zamboanga Siege of 2013, for example, resulted in 140 fatalities and 268 persons injured.
Meanwhile, the Marawi City armed conflict in 2017 led to 128 deaths and left 336 persons missing. During the Marawi City conflict, an on-site National Emergency Operations Center was established near Marawi City. Task Force Bangon Marawi was also established to oversee the recovery, reconstruction, and rehabilitation efforts in Marawi City.
The Philippines emergency and disaster response system
Depending on the type of emergency or disaster, resources tapped from national or regional agencies may vary. These resources include transportation assets for relief distribution or aerial survey, search and rescue assets, water filtration systems, generator sets, additional food and non-food items, and cadaver bags.
Emergency response and disaster management is not new in the Philippines. The country has been actively working towards strengthening Disaster Risk Reduction and Management (DRRM) since the enactment of Republic Act 10121, also known as the Philippine DRRM Act of 2010.
To ensure systematic operations, the government identified courses of action and coordination systems that are appropriate to specific emergencies. For instance, it has three National Disaster Response Plans (NDRP), namely: NDRP for hydrometeorological hazards; NDRP for earthquakes and tsunamis; and NDRP for consequence management for terrorism-related incidents. These plans enable relevant agencies to implement a well-coordinated response when there is an emergency and dealing with a disaster.
Another example is the mechanism activated by the country's National DRRM Council (NDRRMC) when weather disturbance is looming. This mechanism is called pre-disaster risk assessment or PDRA, which identifies the imminent threats posed by a weather disturbance. This assessment helps the government determine the preparedness measures that must be implemented to ensure the safety of communities.
In PDRA meetings, the NDRRMC identifies and prescribes Emergency Preparedness Response (EPR) protocols to Regional DRRMCs that may be affected by a weather disturbance. EPR protocols consist of actions that must be undertaken by various government agencies and the local government units before the onslaught of the storm and during response operations. They are categorised based on the level of risk present in specific areas.
Response clusters of the government are also activated during emergencies. Various government agencies ensure availability of resources; readiness of warehouses, evacuation centres and other facilities; equipment for rescue activities; standby funds; and other food and non-food items across various key locations to ensure speedy deployment of support during emergencies.
The country continues to implement systems, mechanisms, protocols, and policies that were developed with an appreciation of lessons learned from domestic and international disaster experiences. It has also adopted strategies that have been proven effective and helpful in emergency response or disaster management. Alongside these efforts, the Philippines continues to work to make improvements and pursue innovations, especially those interventions that promise positive, long-term impacts. In this line of work, collaboration with international organisations has proven highly beneficial to the country.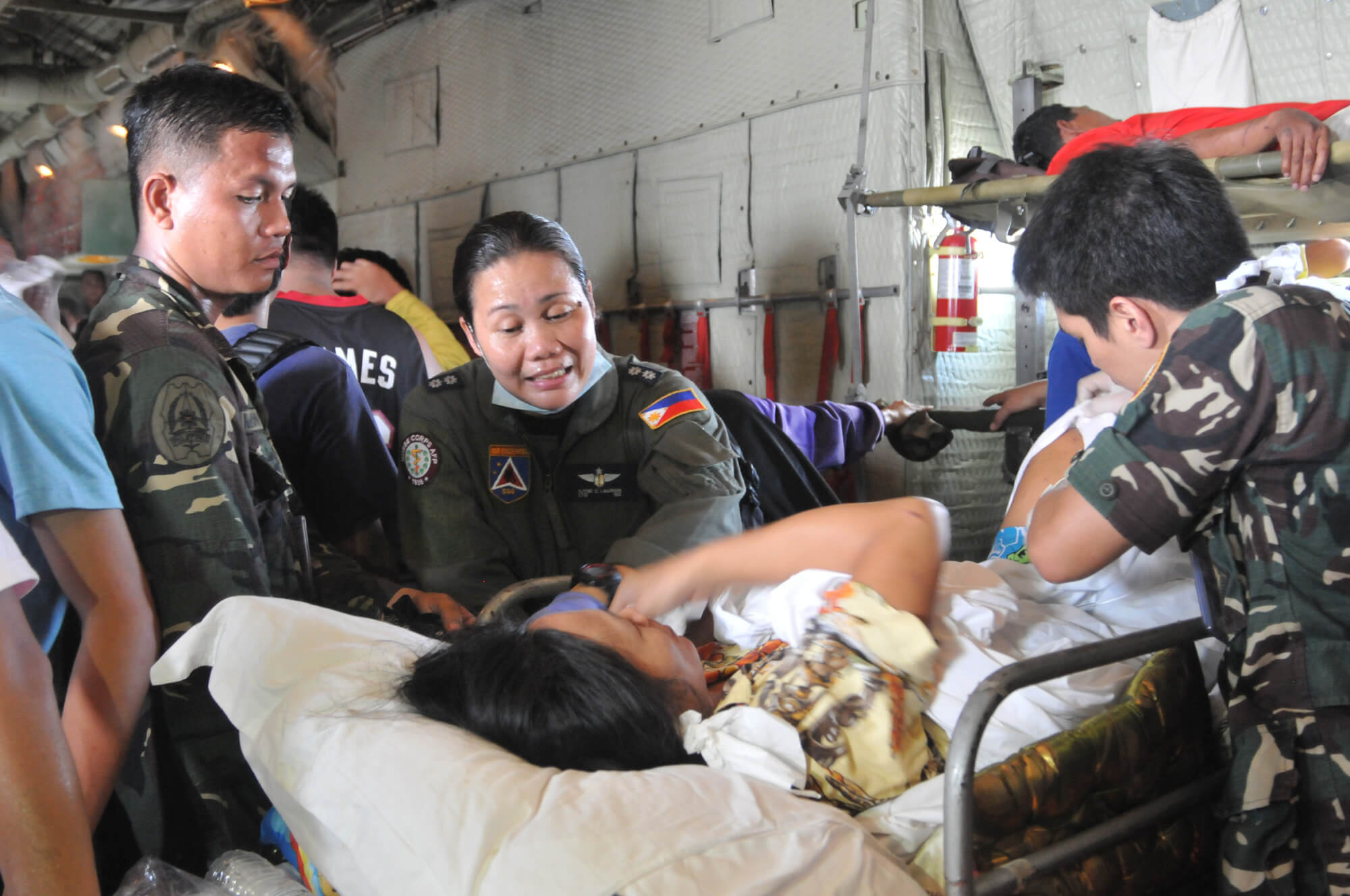 The National Disaster Risk Reduction and Management Plan aims to provide risk-based, timely, and anticipatory response actions to meet the immediate needs of communities during disasters
Participation in regional disaster management initiatives
At the ASEAN level, the Philippines has been actively involved in various endeavours that strengthen disaster response including:
i. Deployment of ASEAN-Emergency Response and Assessment Team (ERAT)
The Philippines, through NDRRMC-Office of Civil Defense, participated in humanitarian aid to disaster-affected communities within the ASEAN region during the following disasters: (a) ASEAN-ERAT humanitarian needs assessment in connection to the repatriation of displaced persons in Rakhine, Myanmar, January 2018; (b) ASEAN-ERAT deployment and deployment of NDRRMC relief items during the Magnitude 7.5 Sulawesi Earthquake response operations; (c) ASEAN joint needs assessment in connection to the civil unrest in Myanmar, June 2022; (d) ASEAN-ERAT deployment to Tropical Cyclone Mocha in Myanmar, 19-29 May 2023.
From 6 to 16 November 2022, a 10-member ERAT was also immediately deployed in the Philippines to conduct rapid damage and needs analysis due to the impact of Tropical Storm Paeng (International Name: Nalgae).
ii. Disaster Emergency Logistics System for ASEAN (DELSA)
Launched on 7 December 2021, the DELSA was established to develop a regional stockpile and pursue capacity enhancement of the ASEAN Coordinating Centre for Humanitarian Assistance on disaster management (AHA Centre) and ASEAN Member States in emergency logistics operations. The DELSA has three (3) main established facilities, one in Subang, Malaysia; one in Chainat, Thailand; and one in Quezon City, Philippines.
The Office of Civil Defense, the executive arm of the NDRRMC, inaugurated the DELSA satellite warehouse in Camp General Emilio Aguinaldo, Quezon City on 1 July 2019. The warehouse houses the stockpile of relief goods and equipment set aside in preparation for disaster response.
DELSA serves as the ASEAN region's main mechanism to swiftly increase the availability of relief items for Member States affected by disasters. Using the ASEAN Agreement on Disaster Management and Emergency Response (AADMER) and the Standard Operating Procedure for Regional Standby Arrangements and Coordination of Joint Disaster Relief and Emergency Response Operations (SASOP), the AHA Centre coordinates the deployment of relief items to disaster-affected Member States. These relief items are delivered directly to the NDMO and the subsequent distribution of goods to disaster-affected communities occurs under the NDMO's authority. This approach ensures that DELSA relief items become NDMO resources that can be distributed quickly during emergencies and support ongoing operations in affected areas.
In the most recent Typhoon Egay (International name: Doksuri), the AHA Centre, through DELSA, promptly released 103 family packs, 150 shelter repair kits, 200 hygiene kits, and 30 tarpaulins to the affected population in Ifugao.
iii. AHA Centre Information Management Network (AIM-Net)
The Philippines is also an active member of AIM-Net, a regional forum where ASEAN Emergency Operation Centre (EOC) practitioners coordinate and cooperate in strengthening EOC capacities, capabilities, and practices when it comes to Disaster Information Management and Information Systems Interoperability. The Philippines co-chaired the network along with Indonesia during the 2nd AIM-Net Meeting conducted in September 2022, in Jakarta, Indonesia.
Partnerships play a significant role in DRRM, as they enable collaborations that can help pool together financial, technical, and necessary human resources in times of disaster.
The National Disaster Risk Reduction and Management Plan
Moreover, the National Disaster Risk Reduction and Management Plan (NDRRMP) fulfils the requirements of RA No. 10121 of 2010, which provides the legal basis for policies, plans and programmes to deal with disasters. The NDRRMP covers four thematic areas, namely, (i) disaster prevention and mitigation; (ii) disaster preparedness; (iii) disaster response; and (iv) disaster rehabilitation and recovery. These areas correspond to the structure of the NDRRMC. By law, the Office of Civil Defense formulates and implements the NDRRMP and ensures that the physical framework, social, economic, and environmental plans of communities, cities, municipalities, and provinces are consistent with the plan.
The NDRRMP establishes the linkages between disaster risk reduction and management, climate change adaptation, and human security by focusing on climate and disaster risks. NDRRMP is aligned with global frameworks, such as the Sendai Framework for Disaster Risk Reduction 2015-2030, the Paris Agreement, United Nations Sustainable Development Goals 2015-2030, the International Health Regulations, and the new urban agenda.
At the regional level, the NDRRMP aligns with the Asia-Pacific Economic Cooperation Disaster Risk Reduction Framework, the AADMER, and the Asia Regional Plan for Implementation of the Sendai Framework for Disaster Risk Reduction 2015-2030.
And at the national level, the NDRRMP aligns with key development agendas, such as Ambisyon Natin 2040, Philippine Development Plan 2017–2022, National Framework Strategy on Climate Change, National Climate Change Action Plan 2011–2028, and NSS.
The Philippines' NDRRMP 2020-2030 ensures that the principles behind the vision are reflections of the changes, priorities, and commitment of the country, including regional and international frameworks. Some of the identified new directions include: risk-informed investments, advancing digital transformation, ensuring a multi-sectoral approach, ensuring gender-responsiveness, promoting locally led ecosystem-based DRRM and climate change adaptation, ensuring inclusion and meaningful participation, assuring public-private partnerships, establishing a functional RBMES, investing in public health.
With the updated NDRRMP, along with all relevant response plans, policies, and protocols and the optimal use of science and technology in emergency management, agencies and organisations involved in humanitarian assistance, disaster response, and early recovery. That goal is to provide risk-based, timely and anticipatory response actions to address the basic, life-preservation, and immediate needs of communities and government. Ultimately, we have been able to assist the affected communities and populations in continuing life with dignity and preventing or minimising the exacerbation of emergency situations.
---
Authored by the Office of Civil Defense- National Disaster Risk Reduction and Management Council, the Philippines