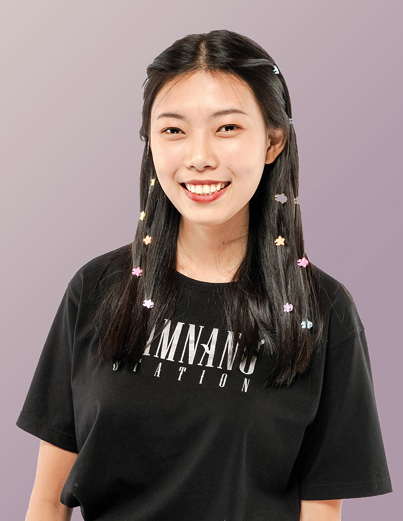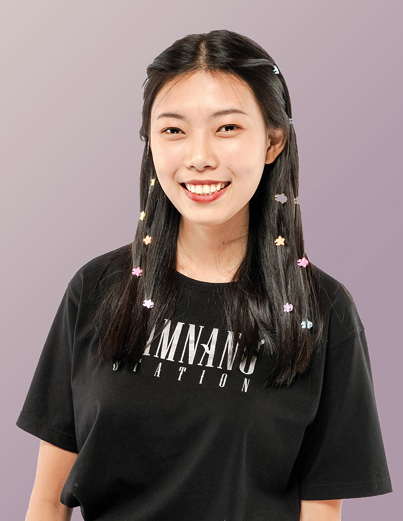 Seng Rothsethamony
Digital Content Creator, 18
Like many teenagers who grew up with technology, Seng Rothsethamony, or Mony, finds her passion in the digital world. Mony majors in Global Affairs at the University of Phnom Penh, Cambodia but she is pursuing her interest in digital technology. Mony has participated in several coding and IT training programmes, including the ASEAN Digital Innovation Programme (ADIP), to better equip herself in the digital era.
In March 2020, Mony and her college friends established Bamnang Creative Innovation, a digital marketing company aiming to help business owners in Cambodia go digital.
"I'm always keen on technology and business. With two of my university friends, Ngov Menghieng and Visith Visal, we shared this idea to build a digital marketing company. Although we didn't have any experience in tech, I'm studying global affairs and they are studying business and graphic design, we decided to give it a try because we believe that it will become a significant industry in the near future. Digital marketing is much better than traditional marketing because it's easy, more effective, and has a huge impact as it can reach a large number of people. With this, we can help business owners in Cambodia to grow their business digitally.
"In the beginning, we had to work without being paid because we didn't ask for any funding to help us run the company. We did everything ourselves based on our limited knowledge as we couldn't recruit anyone yet. But we were f inally able to find a team member with a solid technology background to join us onboard.
"Our biggest challenge was to explain to business owners who have no idea about what digital marketing is. We explained to them it's not like traditional marketing where you give leaflets to people, but it's promoting the products digitally on the Internet. It was also difficult to get clients in the beginning because we were new to this industry. And during the pandemic, it was even harder to find clients because of the lockdown. But we didn't give up. We kept working on finding clients, telling them about the benefits of digital marketing, and how to sell their products online. We also kept researching and studying to improve our team's abilities in all f ields, including sales and marketing, graphic design, media production, human resource management, financial management, and operation as well. 
"Now, our company has a total of 18 people, and we have also worked with big companies, SMEs, international institutions, and international NGOs. We promote our digital marketing agency to the public through our social media platform and collaborate with influencers from various sectors, like education, entertainment, and travel.
"If we compare it to five years ago, I can say that digital marketing in Cambodia is growing significantly, especially after the pandemic."
"The competition in digital marketing is quite tight now, but we are ready for it because we have our own unique points. We are focusing mainly on the art, design, and the quality of the production, not the quantity. If we already have too many companies to handle, we will not take a new one as we want to focus on the quality. In the next five years, we hope we can go fully digital where we will also provide services for website development, Google SEO, and Google Ads.
"As the business grows, I have to divide my time carefully between school and work. Apart from Bamnang, I'm also the co-president of the Beautiful Learning Cambodia branch, an NGO that is based in Seoul. I'm in charge of external communication and partnership in Cambodia. But I set my priorities: I put Bamnang at the top, my studies second, and then Beautiful Learning. I'm very lucky that my parents are really supportive of what I do.
"If we compare it to five years ago, I can say that digital marketing in Cambodia is growing significantly, especially after the pandemic. Because this is a free market system, the companies can pop up anytime, and there are more digital marketing companies in Cambodia right now; some were just established a few months ago. Some ministries and many institutions have also started to shift to digital marketing, and I think that's good.
"Technology is growing in ASEAN, and young people in the region are quite tech- savvy. Unfortunately, most are still using it for entertainment only. I really hope ASEAN and other entities can help improve the digital literacy of the youth on how to use technology for other purposes, like education and business."
---
Interviewed by Novia D. Rulistia. The conversation has been condensed and edited for clarity. The views and opinions expressed in the text belong solely to the interviewee and do not reflect the official policy or position of ASEAN.