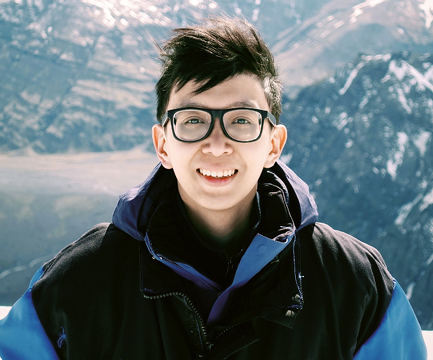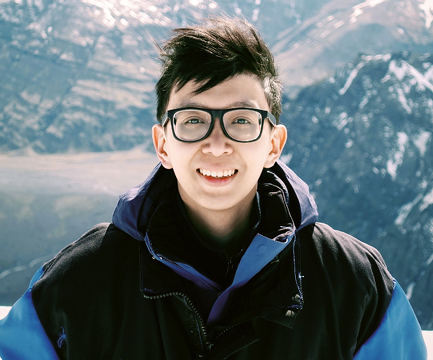 Angelo Casimiro
Budding Engineer and Inventor, 22
At four years old, Angelo Casimiro constructed his first light bulb switch. At 14, he built a "fighting" robot that won first place in a national robotics competition.
At 15 years old, he developed an electricity generating footwear that became a local winner and a regional f inalist at the 2014 Google Science Fair—a prestigious international competition for promising young scientists.
Now at 22 years old, Angelo has over a hundred science and engineering projects under his belt, ranging from water-powered calculator to portable solar powerbank. Many of these are posted as do-it-yourself tutorials on Instructables, YouTube, and TikTok, designed to inspire creativity and resourcefulness in other people.
On the verge of completing an engineering degree at the De La Salle University, Angelo dreams of contributing to the Philippines' technological progress by forming his own research and development (R&D) company and developing cutting-edge technologies in the fields of renewable energy and transportation.
"I used to stay with my maternal grandparents after school. I got to spend a lot of time with my grandfather who was a retired mechanical engineer. He was fond of tinkering with stuff around the house and working on projects. His ideas for projects would come from Popular Mechanics since at that time, Internet use was not yet widespread, and do-it-yourself content was nonexistent.
"My interest in technology was nurtured by my family, especially my grandfather who was my earliest mentor. I was an inquisitive child, and would always ask about how things work. One time, I saw my grandfather trying to fix my cousin's remote control car. I pestered him with a lot of questions which he answered very patiently. Since then, doing projects became our pastime. We began with simple projects like making light bulbs work and building a wind turbine. Our dream was to eventually make an electric car. We were talking about it before he passed away when I was nine.
"I owe a lot to my parents too. When I was little, my parents would buy me toys and not even a week later, they would be in pieces. Instead of getting mad, they would just take it in stride. That gave me the courage to explore more. Scolding me would have prevented me from learning. When my grandfather and I began doing our homemade projects, my parents would bring me to hardware and electronics stores where you wouldn't normally bring a kid. Looking back, I think I spent more time in these shops than I did in toy stores.
"I mostly learned through hands-on experience. I supplemented this by watching YouTube tutorials. I first learned about the basics, such as electrical switches, and then I moved on to electronics, analog and digital. I gradually accumulated all these knowledge until one day, I would look at a product and would have a clear idea what's inside of it and how it works, much like an x-ray vision. 
"Ideas for my projects come from what I observe are problems that can be fixed with simple engineering solutions. Occasionally, ideas pop up during random conversations with friends. For example, just last year, contact-free devices became necessary to avoid getting COVID-19, so I developed a low-cost, hands-free alcohol dispenser that people can make on their own. A few years ago, I also developed a portable solar powerbank that can be used for emergency. It can charge appliances like an electric fan for two hours.
"My favorite project is still the electricity generating footwear, my entry to the 2014 Google Science Fair. In a nutshell, it involves putting a device between the sole and in-sole of your shoes so that when you take a step, a certain amount of electricity is generated. This can be used for charging phones, etc. I think I was the first Filipino to become a finalist. The project was featured not only in the local media, but the international media as well, such as the HuffPost, The Verge, and Gizmodo. It was even mentioned in an episode of the Big Bang Theory (Season 8). I also started to gain a following on my channels. I guess this jumpstarted public recognition and so now, every time I make an interesting project, it gets noticed by the news media.
"But, the most meaningful projects for me are the mini-projects involving renewable energy. Even when I was a kid, I gravitated towards solar and wind power. Right now I have this mini-series on YouTube on using different renewable energy sources for contraptions, such as high-powered electric bikes that contain a lot of smart devices. I'm also going to build a motorbike from scratch with some high efficiency technology inside.
"I want to create a smart, automated home, which I want to run on purely renewable energy. A few months ago, I made my room automated. The remote control box I made, which communicates through wifi, serves as the main power switch and allows you to select whether you're going to use power from the grid or from the solar panel. Next, I need to make a programme that will connect this to Amazon's Echo Dot. Right now, my small solar panel is generating 500 watt-hours per day. That translates to savings of about 4.50 Philippine pesos per day (.092 US dollars per day). The bigger panels I plan to install will produce 14 times more energy.
"It's actually hard to sustain this 'hobby' if you don't have funding. You have to save and supplement what you have with another source of income; otherwise, you'll end up lacking the parts that you need for bigger, more complex projects. 
"At the moment, I really lean towards open sourcing the projects so everyone can build—that's the beauty in open source. Instead of people paying a lot of money, they can just build anything and tweak it the way they want to. Even though I have learned how patenting works and I'm now more conscious about intellectual property for the projects I develop, I don't think I'm ready for it just yet. Getting patents—not just at the national level, but also at the regional and international levels—is expensive and so you have to make sure that you at least breakeven from the mass manufacturing of your product. Patents expire after 20 years so you have a short window to make your product commercially viable. I have two projects that may be feasible for patenting in the future.
"My ultimate dream is to one day improve the R&D capability of the Philippines. I want to start a company that focuses on R&D to help advance technology in the country. The Philippines is really a good place to put up an R&D centre since semiconductor manufacturers are here in Asia and cost of doing business in the country is much lower.
"In the future, I would like to work on renewable energy production and sustainable transportation in the Philippines. My thesis proposal will likely focus on this topic—establishing a system where households can share their excess solar energy with one another. We have to push the boundaries of what can be done to make electricity consumption efficient and affordable even if there is initial resistance. It will definitely bring technological disruption, but it has worked well for many industries like telecommunications."
---
Interviewed by Joanne B. Agbisit. The conversation has been condensed and edited for clarity. The views and opinions expressed in the text belong solely to the interviewee and do not reflect the official policy or position of ASEAN.