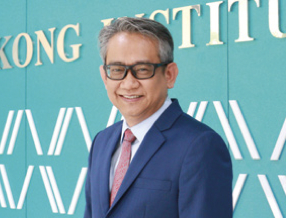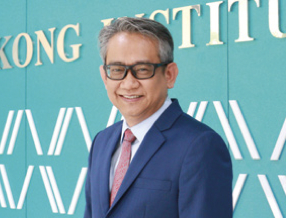 Mekong Institute – Bridging Policies and Implementation
Joanne B. Agbisit
Associate Editor, The ASEAN
ASEAN Identity and Community Building
In 2021, the Mekong Institute won the ASEAN Prize; a prestigious regional award conferred annually to a citizen or an organisation that has significantly contributed towards ASEAN community-building efforts.
Early Years
The idea for a Mekong sub-regional economic grouping was introduced by the Asian Development Bank in 1992 with its launch of the Greater Mekong Sub-region Economic Cooperation Program. At the time, the countries within the sub-region were just emerging from the social, economic, and political unrest of the previous decade. The initial stage of this programme, Suriyan says, aimed to develop the connection among the five mainland Southeast Asian countries (Cambodia, Lao PDR, Myanmar, Thailand, and Viet Nam) and China's two provinces, Yunnan and Guangxi, which comprise the Greater Mekong Sub-region (GMS).
From this initiative, the governments of Thailand and New Zealand and Khon Kaen University conceived the idea of a training centre to build human capacities in the sub-region, which was necessary to support the sub-region's accelerated development. "Behind that thought, (a training centre) could provide a platform where people from GMS countries could come together and better understand each other, create an atmosphere of collaboration," he explains. "If they were not connected, not equipped with a proper mindset, how could there be cooperation between countries? It would be limited and difficult." This led to the establishment of the Mekong Institute in 1996.
The early years of the institute were focused on training government officials. "We organised a series of training for middle-level government officials to start with and then started to expand to other stakeholders like the private sector and others," says Suriyan.
But by the 2000s, he says, there was a growing recognition that developing human capacity was not enough. Suriyan notes, "We really needed to create an open economy because infrastructure, connectivity without it will not yield so much benefit." The institute's capacity development services thus shifted to supporting a free-market economic system.
Meantime, the institute went through its own organisational transition in the 2000s. From a training centre within the auspices of Khon Kaen University, the institute became an international organisation with its own charter in 2003. In 2009, it transformed into an intergovernmental organisation and was accorded a legal personality by the Thai government.
The Work
The Mekong Institute plays the role of intermediary, bridging the divide between high-level policy and or translation of that policy on the ground. 
"We look at implementation issues, particularly cross-border issues, transboundary matters related to economic cooperation and integration," Suriyan notes. "We do not set up our own broad policy. Policy has been given and a bigger map of what is supposed to happen in the sub-region. The issue is how we can bring this into operation, address implementation issues, and demonstrate the joint benefits. We also provide feedback to policymaking bodies on what issues and experiences (we encounter) so policy can be refined."
The institute brings this intermediary role in three of its current priority areas—agricultural development and commercialisation, trade and investment facilitation, and sustainable energy and environment—and cross-cutting issues of labour mobility, social inclusion, and digitalisation. Its services range from capacity building to advisory services, research studies, policy dialogues, and partnerships and linkages.
Suriyan cites its recently completed project in one of the GMS economic corridors, the Regional and Local Economic Development in East-West Economic Corridor Project, to further demonstrate the institute's work on the ground.
"The idea is that we have an economic corridor, and we want to promote agricultural products; but agricultural development should not only focus at the production level," says Suriyan. "They (farmers) need to link to a market, have a business model. They need to know how they can prepare the produce in such a way that they meet the requirements of the market. And if the produce needs to be transported to other countries for processing, they need to understand cross-border mechanisms."
This is where the Mekong Institute comes in. "For example, in Viet Nam, we helped farmers in Quang Tri province with their coffee production," Suriyan says. The institute organised a series of activities, he says, to help farmers work out "how coffee will be processed, linked to a market," and decide "whether the farmers should produce coffee or send the beans to another area, across to Thailand, to make some sort of coffee products."  
If there were hiccups along the way, for example, in the cross-border arrangement, the institute would step in to determine what was stopping the transit of the products. Suriyan notes, "There are policies, but sometimes there are implementation issues. So, we work on them and see the process through until the final product arrives in the other country."
Under the same project, the institute also assisted rice producers in Lao PDR. "Lao has a good variety of rice, but they don't have good milling facilities," Suriyan notes. "We helped them understand how to produce good rice that meets the requirements not only of food safety but also of quality. Oftentimes, rice is locally-milled and because of low technology, there is a high percentage of broken rice and humidity is not properly maintained. Then when you enter the market, the price (of rice) becomes very low."
Suriyan says Mekong Institute's work boils down to particular commodities in particular economic corridors.  The institute brings to bear its set of knowledge to help farmers improve their agricultural products and facilitate their integration into cross-border value chains. 
In addition to economic corridors, Suriyan says city development is the other entry point for the Mekong Institute to do its work.  "We ensure that all economic cooperation and integration measures are incorporated into city development (plans)," he notes. "If you look at the sub-region as a human body, cities are important organs and help link the economic corridors, which are the bloodlines."
Impact on the Sub-region
"It's not the training or the activity we do, but the alumni," says Suriyan,when asked about the most significant contribution of the Mekong Institute. The institute has trained about 10,000 individuals over its 25-year history.
"By one or two training, you cannot expect to change the world, but you can expect that a network of like-minded people will be established and last longer," he says.
He adds that the alumni, many of whom are now high-level government officials or industry leaders, understand the value of cross-border cooperation. "With this understanding and willingness to work together, gradually we can build a stronger subregion," he says.
Threats and the Work Ahead
Mekong Institute is looking at even more complex challenges in the horizon. Suriyan cites two pressing threats to the sub- region that need to be addressed. "One is the Mekong River itself and the unpredictability of the water level," he says. "It's not only about the amount of water but the timing."
He explains that wet season patterns have become unpredictable, and droughts are lasting longer. In fact, scientists report that in 2019, water levels in the Mekong River dropped to their lowest in more than 100 years.
"Imagine the Mekong subregion without a reliable Mekong River. We are not able to grow. (The) economy will malfunction," Suriyan says. "I don't think people want to see that coming. And therefore, (we need to figure out) how we can collectively work to prevent this from happening."
Second, the Mekong sub-region is becoming a geopolitical minefield, Suriyan notes. While interest in the sub-region is good and investments from outside the region are growing, and welcome, he says that it is important that the sub-region does not become a battleground for superpower countries.
"It creates an environment not conducive to cooperation and pressures countries in the Mekong sub-region to deal with multiple directions of development," he says. The competition for influence may end up costing Mekong countries, he adds.
Significance of the ASEAN Prize
The ASEAN Prize, Suriyan says, is a reminder that one does not have to work in ASEAN to contribute to community-building. He adds that the Mekong Institute has always strived to contribute to this community-building aspiration of ASEAN.
Second, the prize is an affirmation that implementing high- level policies is just as important as setting these policies, Suriyan says. "We feel that our work has been recognised because ASEAN sees that setting the policy is not a complete strategy. We need organisations like the Mekong Institute to help communicate and create understanding on the policy, build capacity so that the policy is translated on the ground, and show people how they can benefit (from it)," he says.
Finally, Suriyan says the prize is an encouragement to other sub-regional cooperation programmes, such as BIMP-EAGA, IMT-GT, to work towards ASEAN's aspirations as well. "If they do things that take (the region) one step to progress, the ASEAN people will benefit, directly or indirectly," he says.