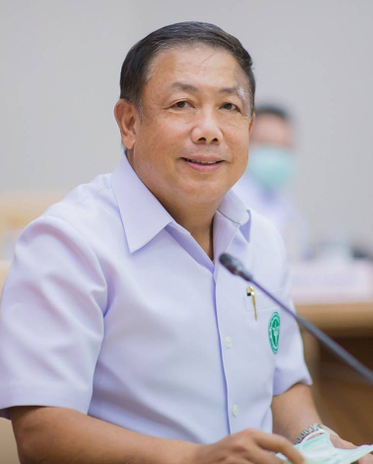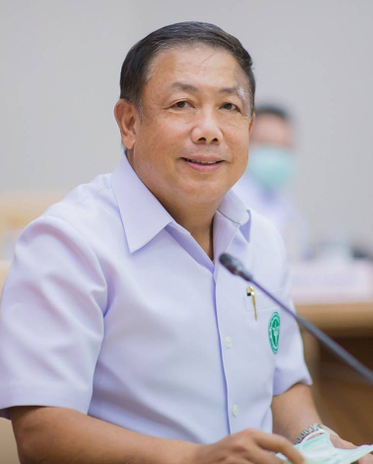 Kiattibhoom Vongrachit, MD
Permanent Secretary Ministry of Public Health, Thailand
In mid-2020, Thailand planned its rollout plan to ensure the inoculation of 70 per cent of our adult population by the end of 2021, using millions of doses of locally produced AstraZeneca's vaccine, together with imported vaccines procured through bilateral deals.
COVID-19 Vaccines: Designed and Made in Thailand
Our National Communicable Diseases Committee established a sub-committee to oversee vaccine management, knowledge communication and public relations, vaccination service, evaluation and follow-up, and adverse events following vaccination. The vaccines were distributed first to highly affected areas and subsequently across the country.
The rollout of COVID-19 vaccines is critical to protecting lives, building human capital, and stimulating economic recovery. All stakeholders must work together to accelerate vaccine production and equitable distribution to boost economic recovery. An equitable access principle underpins our rollout plan. Both Thai citizens and non-Thai nationals can access COVID-19 vaccines. As the vaccine supply was limited, our first batches of vaccines in February 2021were prioritised for our front-line health workers and public health volunteers, the elderly aged 60 and over, people with severe chronic diseases, and pregnant women with over 12 weeks of gestation. The general public and foreigners were vaccinated in subsequent months as more vaccines became available from bilateral deals. The Ministry of Public Health also works closely with the Ministry of Foreign Affairs in reaching out to, initially, foreigners aged 60 years or more and for those with chronic illness. Since June this year, more than 170,000 foreigners of 173 nationalities in Thailand have been vaccinated through a pre-registration system. We have also worked with various partners, such as Thailand's National Vaccine Institute (NVI) and the Thai Health Promotion Foundation, to provide the public with accurate knowledge about the benefits of vaccines and address any fake news to lower vaccine hesitancy.
We have been working towards homegrown vaccines to ensure vaccine security and self- reliance for decades now. The critical need or COVID-19 vaccines has strongly affirmed our self-reliance policy and f inancial support for boosting national vaccine capacity. The global vaccine supply is limited, with worldwide demand exceeding the global vaccine production capacity. Our capacity for developing and producing COVID-19 vaccines remains limited. We are striving to enhance the capacity through cooperation among potential vaccine research institutes and manufacturers in the country and collaboration with international partners to transfer technology to local vaccine developers and manufacturers and scale up their production base capacity. In 2020-2021, the Thai government financially supported local research institutes and vaccine manufacturers in developing COVID-19 vaccines, using different technology platforms, and upgrading vaccine production capacity.
Producing homegrown vaccines would mean that we can set our own direction. The ASEAN Vaccine Security and Self-Reliance (AVSSR), under the endorsement of Heads of States at the 35th ASEAN Summit in 2019, is a potential platform to galvanise ASEAN collaboration towards regional security and self-reliance for COVID-19 vaccine supply. This will help us cope with the current pandemic which could be protracted and with other future emerging infectious diseases (EID) threats. We are living in an uncertain era. Therefore, ASEAN needs to be self-reliant in vaccines. The current pandemic is a driving force to accelerate this initiative towards achieving vaccine security and self-reliance in ASEAN.
The key words are collaboration and shared vision. We have created a joint operation among researchers, manufacturers, and regulatory agencies to brainstorm ideas comprehensively and collectively for design, research, development, production, problem solving, and exchange of experiences. Our Team Thailand allows researchers to integrate their work successfully. Whether it is developing prototypes in the country or getting technology transferred from other countries, integration will result in standardised, safe and effective vaccine research, development and production according to international standards. NVI plays a significant role in enhancing existing capacity and infrastructure for local partners through governance arrangements and financing a critical budget for Team Thailand. We have a few types of vaccines under development and have started human trials for our domestically developed coronavirus vaccines. 
A few of our highly recognised partners include, but are not limited to, Government Pharmaceutical Organisation (GPO), Chulalongkorn University, BioNet-Asia Co., Ltd., and Baiya Phytopharm Co., Ltd. GPO has been working with Mahidol University's Tropical Medicine Department and an American non-profit organisation to develop a vaccine candidate. They are studying and creating a COVID-19 vaccine by combining the genetic material of the spike protein with Newcastle disease virus (NDV), utilising egg cell-based technology to generate an inactivated vaccine. Phase two started in July and we expect the results by year-end. The vaccine manufacturing capacity of GPO can be expanded up to 30 million doses per year, so we hope for its success. Another homegrown vaccine being developed by Chulalongkorn University and its partners is called "ChulaCov19" using messenger RNA (mRNA) technology. It uses the same technology platform as Pfizer-BioNTech and Moderna. ChulaCov19 is designed and developed by a team of Thai researchers working collaboratively with Pennsylvania University's Professor Drew Weissman—a physician-scientist renowned for his discovery of the technology used in the production of this vaccine. They use the tiny particles of the coronavirus' genetic material (mRNA) to tell cells to make specific viral proteins, such as the spike protein, to enter host cells and boost them to build immunity to combat the virus. The clinical trial began in June 2021 and will continue until the year-end. One good thing about this technology platform is that the mRNA type of vaccine can be manufactured rapidly as we do not need to wait for the virus to be cultured. Moreover, this technology platform can promptly customise the prototype vaccine based on the genetics of the mutant and be transferred to local manufacturers for further vaccine production. As with the immense concern with the emerging variants, the ChulaCov19 vaccine will be designed and developed to be capable of preventing mutated and vaccine-resistant variants. 
Another promising vaccine under development is a DNA vaccine being developed by BioNet-Asia Co., Ltd. They are currently preparing for clinical studies and expect to start the clinical studies phases 2 and 3 in 2021. The company has the capability to manufacture at a large scale very quickly. Interestingly, Baiya Phytopharm Co., Ltd., a start-up company of Chulalongkorn University from CU Innovation Hub, is now researching on utilising tobacco leaves as a protein expression platform to produce recombinant molecular proteins in vaccines. In mice, the vaccines are very successful in terms of both immunogenicity and safety. Currently, vaccine manufacturing is focused on increasing production capacity and improving production standards for clinical trials, which are scheduled to take place from August to September 2021. We expect to deploy these promising vaccines next year to have more freedom with our vaccine policy.
I have to say that all ASEAN Member States can help drive vaccine security and self-reliance. There are lessons we have learned from this pandemic. First, each country must increase investment in pandemic preparedness and response to mitigate its impacts and build back better. I consider it an essential investment because we will get a significant return. Second, we must unite and collaborate to achieve our shared goal of higher security of vaccine and therapeutics supply in the region for the health security of our people. Third, improved capacity and self-reliance in the development, production and supply of vaccines and therapeutics in our region, under regional collaboration on various appropriate platforms, will guarantee the availability of essential supplies in our f ight against the COVID-19 pandemic and future EID threats. Lastly, public health and social measures are critical to preventing and limiting COVID-19 transmission. ASEAN can learn from these lessons.