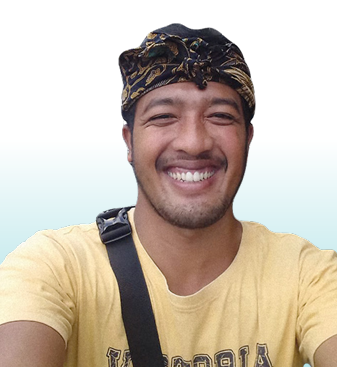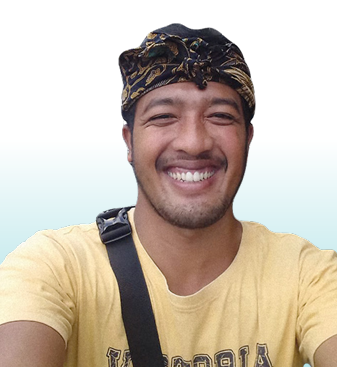 Ketut Putra Yasa
Driver and tour guide
Labour and Future of Work
Bali Island in Indonesia is often called the "Island of God" for its rich tradition and beautiful scenery. Attracting more than 6.5 million tourists from around the globe in 2019, it is one of the world's top tourist destinations. Its economy relies heavily on the tourism industry and many Balinese people depended on it for their livelihood as well. Ketut Putra Yasa is one of those who makes a living out of Bali's lively tourism scene. As a private driver based in Ubud, Bali, most of his customers are foreign tourists, which is why his business was badly hit when the borders closed due to the COVID-19 pandemic.
"Before the pandemic hit, tourism in Bali was bustling. I used to be able to save up to 9 million Indonesian rupiah per month during the high seasons, and had three cars that I used to rent.
"Unlike taxi drivers, I don't only pick up and drop off my guests, but I can also arrange a customised tour course/ route for them. Although I am not a licensed tour guide, I learned English so I can help to explain about the tourist sites and converse with the guests. I can also help to arrange for a licensed tour guide should the guests want a more detailed explanation.
"The pandemic has hit me and my family really hard. As the borders closed, the tourism industry in Bali was badly affected. I had almost no guests at all for the past two years. I have been struggling a lot financially. I even had to sell my belongings and also all my cars. Some days, we barely even have enough to eat.
"As drivers, we usually have a team of fellow drivers whom we can trust so we can help each other in case of any issues.I work in a team of three, and we usually cover for each other when one of us is sick or needs to attend religious ceremonies. We also refer guests to each other.
"Since we had no income during the pandemic, I started making Balinese roasted nuts and selling them to local restaurants. This has helped my family to stay afloat when there are no guests. Many others also had to switch jobs, working odd jobs to make ends meet, although employment was hard to come by as almost everyone in the island was also struggling.
"In my case, the only social assistance I received was the electricity subsidy. My burden was relieved a little bit when my former customers went for a long stay in Bali and used my service. Many people others were not as lucky and lost everything that they have because of the pandemic.
"Nowadays as the borders open up again, I have started to get some guests again but the number is still incomparable to before the pandemic. Most people in Bali depend on the tourism industry so even when the tourists started to come in, it's still not like what it used to be.
"I am now starting over again as I took out a new car loan. If borders are opening up again for tourism and quarantine measures are relaxed, perhaps it would incentivise tourists to come again to Bali. I really hope that the tourism industry can recover again and that the economy will go back to normal soon."
Interviewed by Pricilia Putri Nirmala Sari. The conversation has been translated, condensed, and edited for clarity. The views and opinions expressed in the text belong solely to the interviewee and do not reflect the official policy or position of ASEAN.