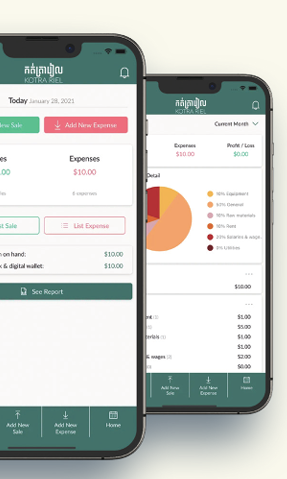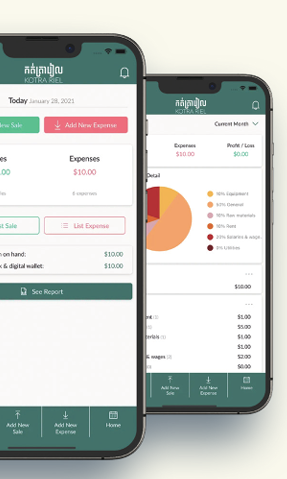 Fintech Unlocks Financing for Women Entrepreneurs
Joanne B. Agbisit
Associate Editor, The ASEAN
Gender, Labour and Future of Work, Poverty Alleviation
Women-led micro and small-sized enterprises in Cambodia can now keep track of their finances through an easy-touse bookkeeping app, Kotra Riel.
Kotra Riel is a mobile app that lets business owners with little to no accounting background record their daily sales and expenses and produce basic financial reports in two currencies, Rial and US dollars. The app runs on iOS and Android platforms and is in both Khmer and English.
The app was developed by SHE (Support Her Enterprise) Investments, a social enterprise based in Cambodia whose mission is to "support women micro-small entrepreneurs to scale up and create long-term social, environmental and economic impact for people and communities." Support comes mainly in the form of training programmes on a range of entrepreneurial skills, such as financial literacy and management, marketing, and basic business operations.
Kotra Riel was developed to supplement the financial literacy training SHE Investments provides to neophyte entrepreneurs. "We saw the need for this kind of app because there are a lot of bookkeeping apps in the market, but most are quite advanced and not tailored to women-led businesses that are starting as micro-sized and informal," explains Keisha Gani, SHE Investments' acting country manager and head of operations.
Gani says the app could be used online and offline, an essential feature since many enterprises are operating in rural areas or outside the city centre. She notes, "For some apps, you need to have an internet connection to be able to sync. We made sure that this was a key feature that we could use (in the app). Part of that means the interface has to be super simple—what are my expenses, what is my income, and then at the end, it generates a report that you can compare with your bank account." 
Gani adds that the app could be downloaded for free and has no hidden subscription costs for its features. SHE Investments could offer the app for free because it was developed with the support of the UN Capital Development Fund and Khmer Enterprise in Cambodia. "They helped provide funding for staff time, ongoing maintenance of the app to make sure it works," she says.
Kotra Riel targets the heart of the problem for women in business—lack of access to financing. Women own 62 per cent of micro-enterprises and 26 per cent of small and medium-sized enterprises in Cambodia. Yet, only 3 per cent have access to formal credit, and even fewer have received funding from a private investor or venture capital, according to a 2019 study by the International Finance Corporation. This is partly due to poor accounting systems and a lack of financial records, the study points out.
By keeping a record of their business income and expenses through the Kotra Riel app, Cambodian women can manage their cash flow better, create a proper budget, plan for future expenses, and apply for a business loan or raise funding from investors. These, in turn, will allow them to grow their business. 
SHE Investments is seeing early successes. Since the app's release in February 2021, 8,000 individuals have registered as users, of whom 3,000 are women. Gani says, "We are seeing the excitement of women entrepreneurs when they see it and how it changes their understanding of financial management…And at the same time, (we're) getting good feedback on how we can improve it. This is probably everything that we could've asked for."
As its next step, SHE Investments intends to partner with micro-financing institutions to facilitate loans for women. "We partnered with a micro-financing institution called AMK here in Cambodia to pilot test a loan feature," Gani says. "We signed a memorandum of understanding with them so that they could use the financial records from the Kotra Riel app to consider women for loans. At least 25 loan applications went into AMK."
Gani says that SHE Investments wants women to have the confidence to utilise digital tools in their business. "We want to improve women's agency overall as key decisionmakers, (for women) to make final decisions about the management of their business. So, if Kotra Riel is a tool that enables them to do that, then that itself is a great success."