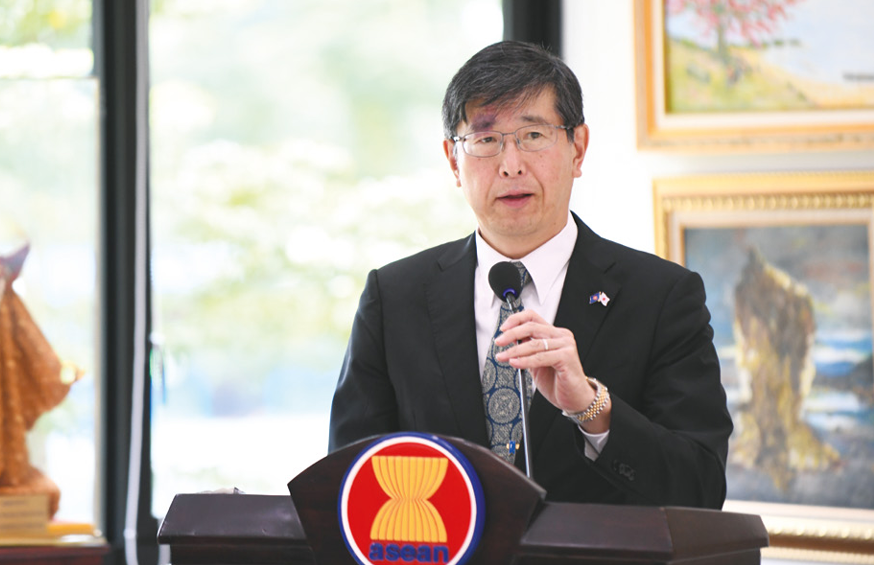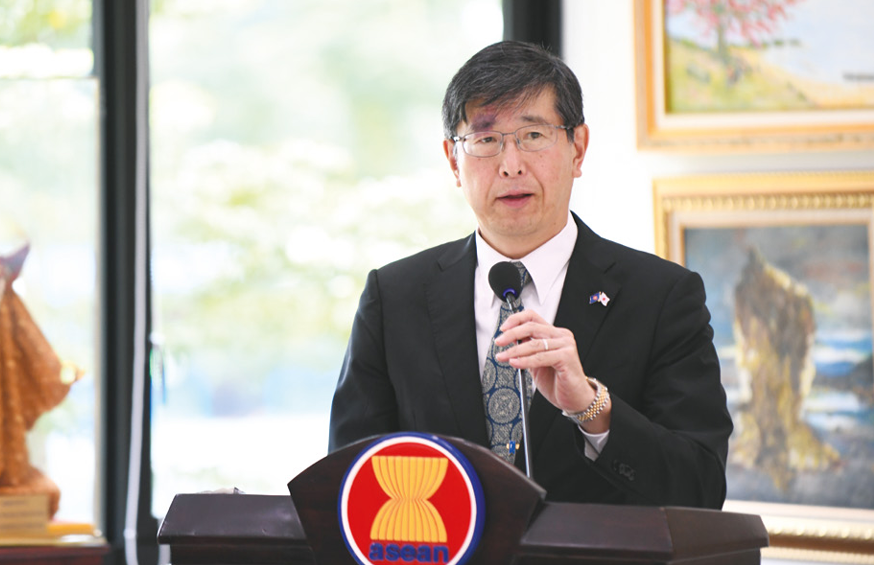 Chiba Akira
Ambassador, Mission of Japan to ASEAN
First of all, I would like to congratulate the ASEAN Secretariat upon the launching of The ASEAN magazine. It is my honour to join in this issue with this interview on a most pressing and important subject of healthcare systems.
Can you share with us the strengths of Japan's health system, which enabled your country to effectively manage the COVID-19 pandemic? What lessons can ASEAN and other countries derive from Japan's experiences in providing quality and affordable health care?
Ambassador Chiba:
At the initial stage, Japan realised that COVID-19 is a disease that spreads along with a relatively small number of expansive transmission chains. Thus, viral infections can be controlled by containing or preventing such a chain. Japan adopted two methods called "retrospective tracing" and the avoidance of "Three Cs." 
"Retrospective tracing" is a contact tracking technique which, unlike standard methods of tracking the behaviour of those infected, identifies the location of clusters and infection sources by identifying patients' behaviour and their interactions with people before infections, then expands it by mapping and cross-referencing.
"Three Cs" stand for closed spaces, crowded places, and close-contact settings. This concept serves as a guideline for avoiding situations with high risks of infection. The cluster-based approach, in particular, the avoidance of "Three Cs" is employed as a core measure to suppress transmissions of the virus while enabling the resumption of social and economic activities. Additionally, it works as a core measure to cope with the low winter temperature and to prevent the rapid increase of re-infections.
At the same time, the active cooperation of Japanese citizens plays a pivotal role in preventing the spread of infections. The Government of Japan calls on citizens to help reduce the risk of infections by categorising "five cases" to be avoided, namely social gatherings consuming alcohol, lengthy feasts in large groups, conversations without wearing masks, lodging together in a small limited space, and roaming about, as they increase infection risks. Citizen cooperation is so far achieved not through coercive measures but through request and encouragement. 
Globally, half of the world's population still do not have access to basic health services, and the situation is worsening due to the COVID-19 pandemic, which poses a threat to human security. Hence, in order to respond to the global spread of COVID-19, it is crucial to focus on achieving universal health care (UHC) under the premise of "no one is left behind."
From this perspective, Japan is advancing efforts to promote UHC in Southeast Asia. For example, under the Japan-Thailand Partnership Programme (JTPP), SouthSouth cooperation is vigorously being pursued with Thailand, leading to the establishment of UHC in Thailand earlier than any other ASEAN country. Under this programme, efforts have been made to share knowledge and experience on the management and administration of Japan's medical insurance system with ASEAN countries in order to respond to the increase in public expenditure on medical expenses as a challenge in realising UHC. In addition, the "Project for Strengthening the ASEAN Regional Capacity on Disaster Health Management (ARCH Project)" is implemented in Thailand in cooperation with the ASEAN Secretariat and emergency medical institutions in ASEAN countries. This project supports the creation of a mechanism for information-sharing among ASEAN countries in response to COVID-19.
Japan has been a staunch supporter of ASEAN's initiative to establish the ASEAN Center for Public Health Emergencies and Emerging Diseases (ACPHEED). Why do you think it is important to set this up? And how can Japan support this center?
Ambassador Chiba:
The global spread of coronavirus infections proves how infectious diseases easily sweep across national borders, and it is now clear once again that international cooperation is crucial to respond to such situations.
During the Special ASEAN Plus Three Summit on Coronavirus Disease in April 2020, Japan announced to fully support the establishment of the ASEAN Centre for Public Health Emergency and Emerging Diseases (ACPHEED). A Feasibility Study was carried out in June 2020, followed by the inauguration event held at the 23rd ASEAN-Japan Summit in November 2020. We would like to express our appreciation for ASEAN's positive acceptance and our respect for the efforts made by all relevant parties in ASEAN Member States.
We understand that the Centre will be responsible for the dissemination and analyses of infectious disease- related data, human resources development, as well as research and development programmes. Through such efforts, ACPHEED will develop as a core centre to tackle infectious diseases and public health emergencies in the region, and will become an institute that contributes to the prevention of future outbreaks of infectious diseases and the preparation of effective responses in public health emergencies.
Japan has contributed approximately 50 million US dollars to the Japan-ASEAN Integration Fund (JAIF), which has become a major tool through which we support ASEAN Outlook on the Indo-Pacific for the establishment of ACPHEED. Based upon the results of the Feasibility Study, Japan will support the construction of the Centre, the maintenance of relevant goods and equipment, as well as human resources development, including experts at the Centre. In addition to the contributions to JAIF, Japan will prepare training and the dispatch of experts through the Japan International Cooperation Agency (JICA). With such efforts, Japan will continue to provide maximum knowledge and expertise, as well as to provide continuous and full support to ACPHEED.