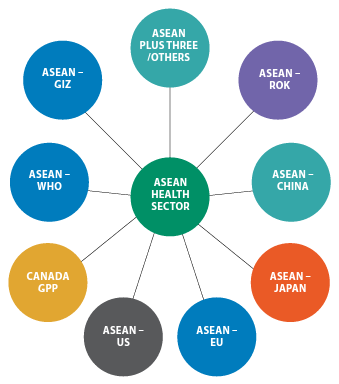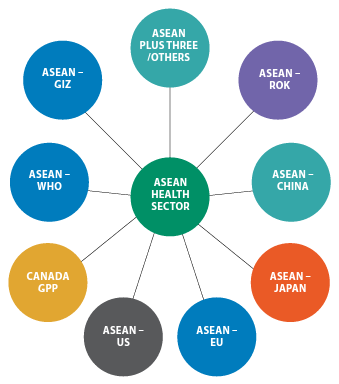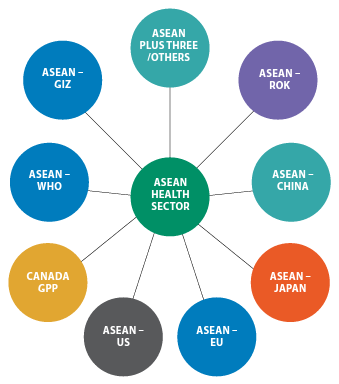 ASEAN Health Sector's Collective Response to Covid-19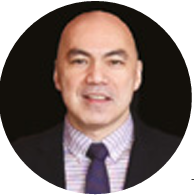 Ferdinal M. Fernando, MD
Head, Health Division ASEAN Socio-Cultural Community Department
The ASEAN Health Sector has been engaged in the prevention, detection, and response to COVID-19 since the first week of January 2020 when information about the cluster of pneumonia cases in Wuhan City was shared with the ASEAN Secretariat.
Since then, the ASEAN Health Sector's collective response to COVID-19 was synergised and scaled-up to ensure harmonised regional efforts in sustaining and further enhancing regional health cooperation and efforts in responding to the impact of COVID-19. 
As of 23 December 2020, based on the Risk Assessment for International Dissemination of COVID-19 to the ASEAN Region consolidated by the ASEAN Biodiaspora Virtual Centre (ABVC), the ASEAN region has over 1,422,400 confirmed cases of COVID-19 and at least 32,300 deaths. The table above indicates that all ASEAN Member States have reported cases either through local or imported transmission within the month of December.
As of this writing, globally, there are more than 78,400,000 confirmed cases, including more than 1,722,000 deaths, and the case fatality rate (CFR) is 2.20. The ASEAN region's total confirmed cases make up just two per cent of the global figures, the impact of COVID-19 on the region has made its health systems and socio-economic conditions more fragile.
The epidemic curve from the latest risk assessment report indicates that there are a few ASEAN Member States that are still experiencing increased COVID-19 transmission. The majority are reporting slower rates of transmission with a cluster of cases in local communities being reported.
With this development, some Member States are transitioning from lockdown measures to gradually opening up their communities and economic activities while sustaining public health and social measures applicable for local and international movements of population. However, there is still a need to strike a balance between continued efforts to suppress and stop the transmission of the virus, and mitigation of the pandemic's economic and social impacts.
The ASEAN Health Sector, through existing mechanisms and platforms, has sustained the interventions launched since the first week of January 2020 through cooperation within ASEAN and with other external partners. The ASEAN Health Sector continues to have technical updates and information exchanges, sharing of good practices, production of risk assessment reports, and enhanced cooperation and coordination in preparedness, prevention, detection and response among health and non-health stakeholders.
The sustained implementation of these activities is leveraged with the strength of the:
ASEAN Emergency Operation Centre Network for Public Health Emergencies;
ASEAN BioDiaspora Virtual Centre which manages the programme for big data analytics and visualization;
ASEAN Risk Assessment and Risk Communication Centre training on risk communication;
Existing ASEAN Health Plus one or Plus Three mechanisms of cooperation with Dialogue Partners such as China, Japan, Republic of Korea (ROK);
ASEAN Plus Three Field Epidemiology Training Network; and Regional Public Health Laboratory Network
These platforms enabled ASEAN Health Sector to continue to:
Share situational updates and response information; technical exchanges; real-time critical information and operational referrals via mobile instant messaging;
Share preparedness and response strategies, good practices and lessons, as well as operational challenges, gaps and needs, through video conferences and webinars. We have conducted these activities within ASEAN and with Plus Three, Italy, United States, and during the period with health experts from Australia and from France;
Produce thrice-weekly reports on the Risk Assessment for International Dissemination of COVID-19 ASEAN Region;
Carry out exchanges on disease surveillance and laboratory readiness and response actions, including risk communications, and technical and material support.
Collaboration and solidarity are critical in this extraordinary, unprecedented global health crisis, and it requires enhanced cooperation of the international community. The cooperation with Dialogue and Development Partners has been harnessed and enhanced through the ASEAN Health Sector cooperation. These resulted in ongoing and new initiatives that aim to enhance the current response and ensure future preparedness. These initiatives include as follows:
The Enhancing the Detection Capacity for COVID-19 in ASEAN Member States with the Republic of Korea, which was launched in June, has progressed to procurement of kits and equipment, and soon to delivery and conduct of in-country trainings.
The Development of an ASEAN Portal for Public Health Emergencies with Canada has moved forward with the production of a beta website; its further development will be supported through GIZ.
The Feasibility Study on the Establishment of the ASEAN Centre for Public Health Emergencies and Emerging Diseases with Japan has also advanced substantially through the engagement of experts and resource persons from ASEAN Member States, Japan, Canada, United States and international institutions such as WHO, Asian Development Bank, among others. This feasibility study was concluded in October 2020 with the final report and its recommendations elevated to the ASEAN Summit.
The Expert Panel on COVID-19, as supported by GIZ through EU funding, conducted its first webinar series in December 2020. The next webinars in the series are scheduled in January 2021. The outcome of these webinar series with expert panel members will be the policy briefs for consideration by the ASEAN Health Sector in strengthening response to COVID-19 and moving towards recovery.
The ASEAN WHO Cooperation on COVID-19 Response will likewise be implemented with the support of EU funds to enhance existing mechanisms on public health emergencies and support capacity building of Member States for sustaining COVID-19 response.
There will also be the continuation of relevant programmes for COVID-19 through the Mitigation of Biological Threats Programme supported by Canada.
Research and innovation initiatives on COVID-19 with the European Commission have been conducted among relevant research and academic institutions of the ASEAN and EU regions.
Technical assistance and exchanges, and provision of medical supplies and equipment at bilateral and regional levels with China, ROK, and Canada.
Noteworthy in our sustained response is the enhanced coordination and cooperation with external partners which have resulted in expanded or new initiatives.
Figure 3 provides a summary of these ongoing cooperation with external partners.
In an effort to address the mounting challenges from this unprecedented crisis, the ASEAN Health Sector has been further engaged with a number of proposed initiatives that emerged in response to different aspects of the pandemic including fortifying the region's security to future public health threats. These initiatives have been proposed by the Health Sector, non-health sectors as well as partners. 
For this reason, the senior health officials of the region collectively engaged in synergising and scaling-up COVID-19 responses involving the ASEAN Health Sector. This was done to map existing and proposed initiatives relevant to health; determine and avoid redundancies or duplication of efforts; and synergise initiatives and enhance complementarity of health-related response measures to COVID-19 and future pandemics or outbreaks. They hope that greater cooperation can be realised with ASEAN's partners since there is still the need to:
Access regular and vital COVID -19 data and information;
Access to resources for essential medical supplies, including vaccine;
Develop regional framework for cross sectoral coordination in response and recovery;
Further align with regional and global movements through the GAVI COVAX Facility, IHR, SDG, and the ASEAN Health Development Agenda for 2021-2025;
Closely collaborate and coordinate with ASEAN Sectoral Bodies and Development and Dialogue partners.
Figure 4 maps out 27 health-related various interventions to address health and health system issues and support the regional prevention, detection and response measures. These include:
11 operationalised mechanisms and platforms within the ASEAN Post-2015 Health Development Agenda including the implementation of the ASEAN Vaccine and Drug Security and Self-reliance; 
8 new health initiatives including the Establishment of ASEAN Centre for Public Health Emergencies and Emerging Diseases;
5 non-health sector-initiated regional programmes endorsed initially by the ASEAN Coordinating Council Working Group on Public Health Emergencies (ACC WG PHE) that require SOMHD contribution, which include the implementation of the ASEAN Regional Reserve of Medical Supplies, ASEAN Comprehensive Recovery Framework and COVID-19 ASEAN Response Fund; and, the ASEAN Strategic Framework on PHE
3 new areas of cooperation with Development Partners to support the ASEAN Health Sector's efforts involving the initiatives on the ASEAN-WHO Collaboration on Responding to COVID 19 funded by an EU grant; the ASEAN-GIZ Support COVID-19: Strengthening ASEAN 's Capacity on Crisis and Health-Related Communication, which will support the further enhancement of the ongoing project supported by Canada on the Development of the ASEAN Portal on Public Health Emergencies; and the conduct of a series of sessions of Expert Panel on COVID-19 Response which will result in the development of relevant policy briefs on selected cross-cutting themes/concerns; and, the first phase of the implementation of the ASEAN Vaccine Security and Self-Reliance (AVSSR), which will focus on the timely and equitable access to affordable and quality-assured COVID-19 vaccine/s under the AVSSR Regional Strategic and Action Plan for 2021-2025.
With all of these ongoing and upcoming cooperation, greater engagement with other stakeholders are encouraged to further enhance the whole of society and the whole of government approach to responding to health threats.