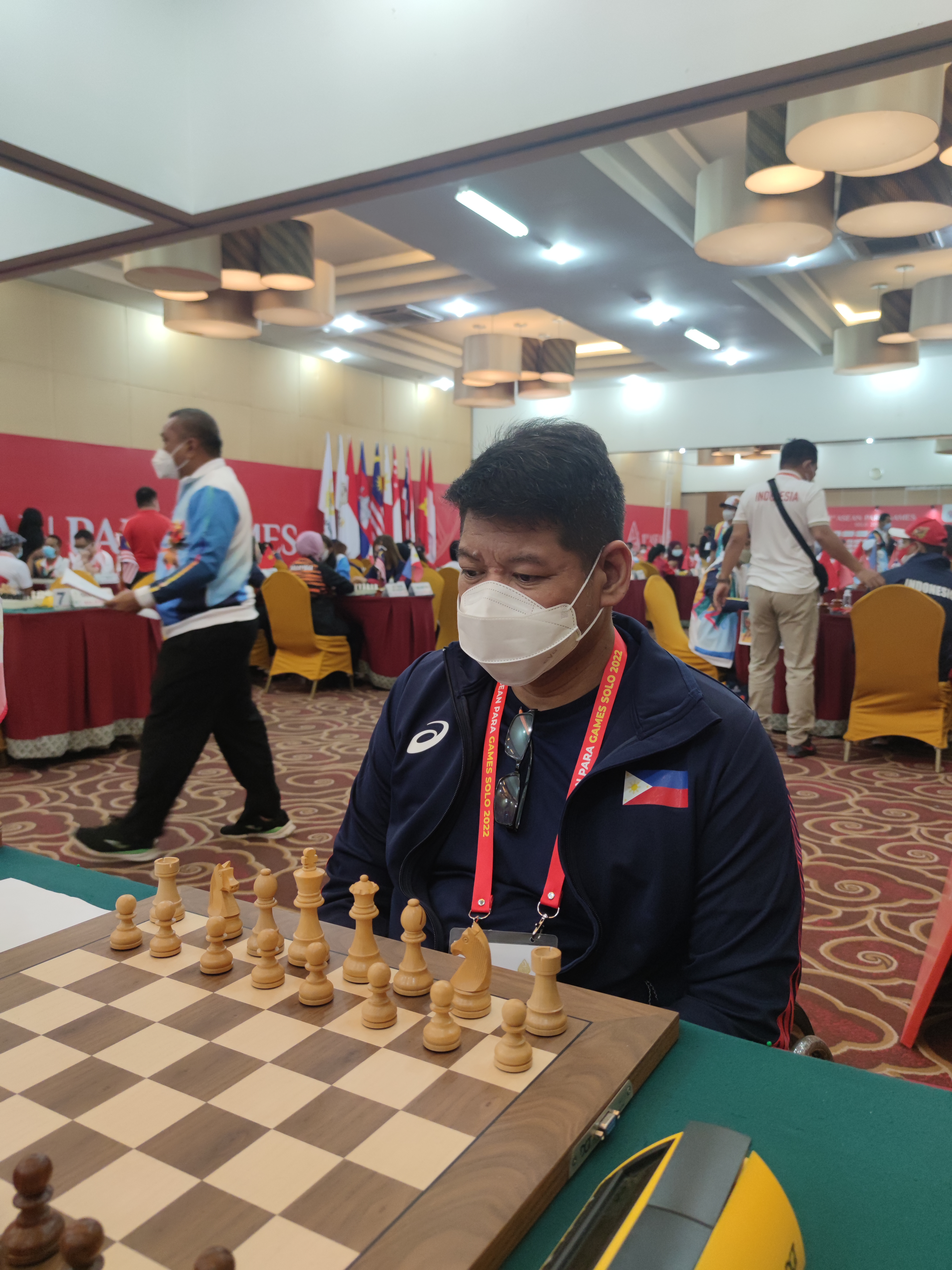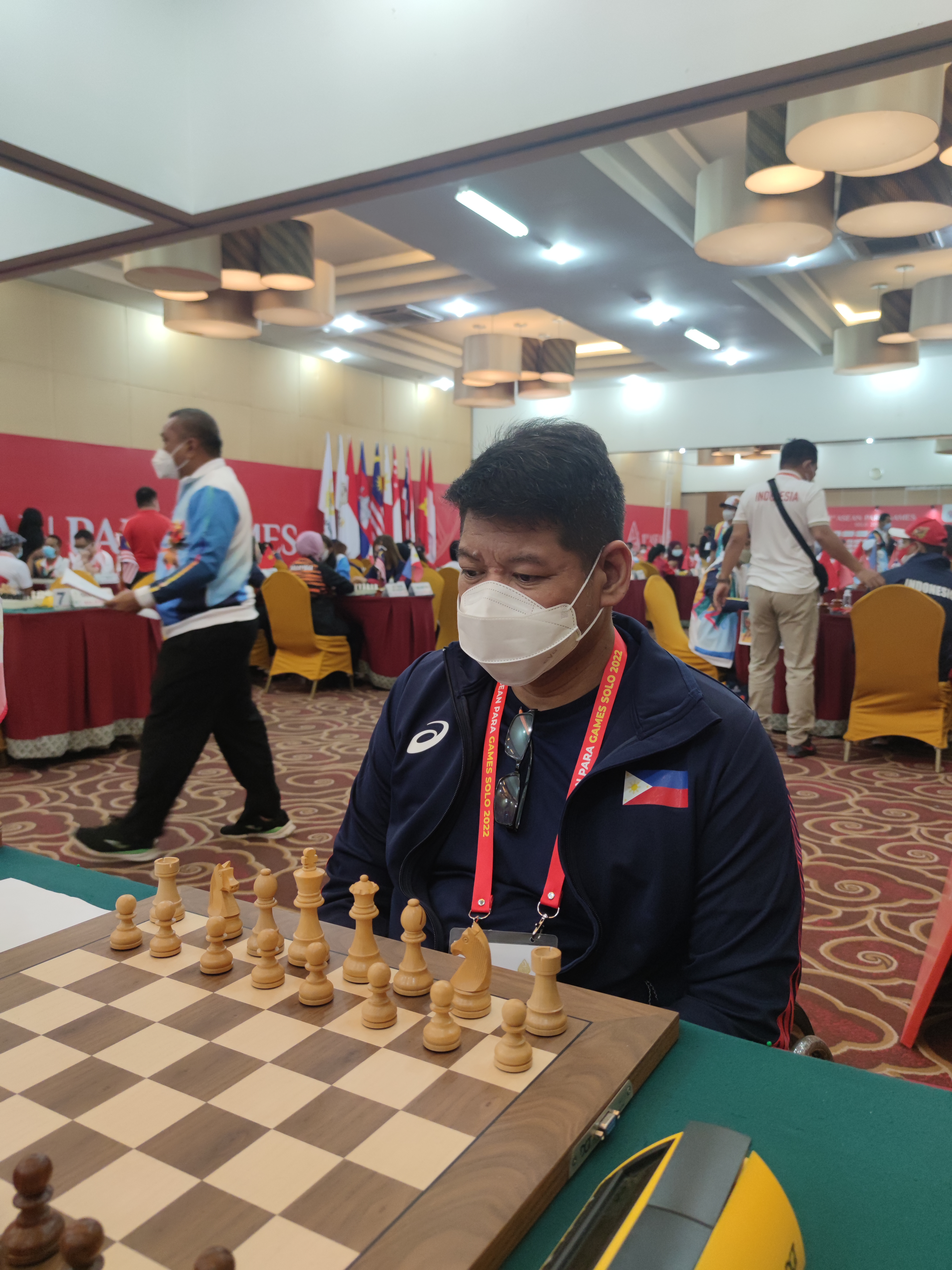 Jasper Belarmino Rom
Chess Para Athlete
Ixora Tri Devi
Staff Writer, The ASEAN
1974 was a historic year for chess lovers all over the Philippines. 22-year-old Filipino, Eugene Torre, became the first Asian grandmaster after winning the silver medal at the 21st Chess Olympiad in Nice, France. His monumental legacy undeniably became an inspiration for chess players across generations, including Jasper Belarmino Rom.
Jasper played his first set when he was twelve after picking notes from his uncle. It was the 80s, and chess fever was far from over. Every weekend, residents in Jasper's neighbourhood in Danao City, Cebu,would gather and play the game for fun.
Over time, Jasper's affection for the game grew. His father recognised it and gave him Torre's biography, Beyond
the 13th Move. "It was my first book in chess given by my father," he said.
"I was 15 when I started winning in a city tournament. When I was 16, I won the regional competition and represented my school in a national youth game. My competitors were all non-disabled. I was the only one in a wheelchair to represent our region."
Fifty-year-old Jasper was born with a congenital deformity in his legs. Until high school, his friends and families would help him move around and commute. He started using a wheelchair after he was selected to represent his school and city more regularly in competitions. Thus, accessibility was one of his most crucial factors in choosing a college.
Initially, Jasper wanted to become a lawyer, but unfortunately, the law school did not have facilities for persons with disabilities. So instead, he chose the University of San Carlos Technological Center for its accessibility and opted for a degree in electronics and communications engineering. It turned out that the school had a strong chess team. He was ultimately selected as a member of the varsity team and helped the team win inter-collegiate chess titles from 1990-1994.
During college, Jasper also managed to build a chess club. Supported by the city, the Mabini Chess Club was established to provide chess training and development for kids in his neighbourhood. Although the club is defunct, training the aspiring youth remains one of Jasper's proudest achievements.
"Many of these kids went on to become scholars in college by being varsity chess players or excelling in academics. Many of them are successful, partly because of the chess learnings they had which include critical thinking, discipline, patience, and having a strong determination. That is quite fulfilling on my part and I am proud of what they have achieved."
Balancing work and chess
Jasper attained another milestone in 2000 when he gained the highest local title: Chess National Master. Two years later, he got a scholarship to pursue his master's degree in Public Policy at Georgetown University in Washington, D.C. In between studies, he would play chess occasionally, and gained a US National Master chess title in the process. After finishing his graduate studies, he focused on his work in the project management field in the Philippines and Thailand.
Although his time is devoted to his work and family, he followed the chess world from the sidelines. As he said, "when you start to play chess—and love it—it stays with you. You find time to play again if there is an opportunity."
During a family vacation in Thailand in 2017, where he was also playing in the Bangkok Chess Open, Jasper unexpectedly saw his break for a major competition. At the event, he reunited with the members of the Philippines national para chess team, some of whom were also his teammates back in 2000. They asked if Jasper would like to join the team for the 2018 Asian Para Games in Jakarta, Indonesia. The father of two hesitated, but when he moved to Jakarta later the following year to work in the ASEAN Secretariat, he finally said yes. Perhaps it was destiny.
Using sports to advocate inclusion
At the 2018 Asian Para Games, Jasper helped the team bag two golds in the team category and won two bronzes in individual categories. At the 11th ASEAN Para Games 2022 held in Solo, Indonesia he again helped the team bag two golds in the team category and won one silver for the individual category.
Jasper's team has now been labelled as "Team Gold" by local media. But beyond the podium and medal ceremony, Jasper has a compelling message he wants to convey.
"When I play chess, there is an aspect of advocacy—an advocacy for equalisation of opportunities and inclusion through sports. Athletes with disabilities are very much capable to bring honour to their country and contribute to nation building. We must ensure that athletes with disabilities have access to sports and accessible facilities and are provided the necessary support on an equal basis with other athletes, for them to be able to reach their full potential. They also would need access to proper training under supportive and skilled trainers and, of course, exposure to international events.
"ASEAN countries are very supportive to athletes with disabilities nowadays. I hope they will continue to provide opportunities for athletes with disabilities to shine. In supporting the athletes, they will produce results for their countries, which ASEAN as a region can be proud of."
Wearing another hat, as a part of the Programme Cooperation and Project Management Division of the ASEAN Secretariat, Jasper also encourages more organisations of persons with disabilities to come up with regional project proposals. Yet, as he recalled, less than 1 per cent of the ASEAN Cooperation Projects submitted to ASEAN is related to disabilities. 
"These projects would contribute to ASEAN's community building efforts, particularly on inclusion. They can submit a project that is related to inclusive sports, for example. After all, ASEAN is a community of opportunities. We should give opportunities to all, including persons with disabilities."
While continuing to advocate inclusivity through sport, Jasper is holding on tight to his dream: to be on the same level as his chess heroes.
"I used to dream about being a grandmaster. But maybe that can wait. Right now, my goal is just to play good chess to help the team win in upcoming competitions. Hopefully, by playing well, other good things will follow."
Chess: An everyday board game for communities across the region
Stephan Hillyer Levitt wrote in 1991 that the game of chess appears to have been modified from the Indian game of caturanga in the 6th century A.D. Levitt explained that chess was introduced from India to the Persian king Khusraw I Anushirwan. According to the indologist, the game reached the Middle East, Spain, and Byzantium when Persia was conquered by the Arabs. It was also possible, he said, that the Crusaders learned the game in the Middle East who further spread it throughout western Europe.
In modern Southeast Asia, chess is widespread across the region. It is not rare to find security guards playing the board game to beat boredom when tending their posts. It is also a typical game played by students during recess or sports festivals. In Brunei Darussalam, Malaysia, and Indonesia, the game is called catur.
According to the Inventory of ASEAN Traditional Games and Sports (1998), the Malaysian version of chess was prevalent before the advent of the European game. The book cites that the difference between Malay and European chess is in the arrangements of the pieces, although the steps and power of the chess pieces are also similar. For example, in European chess, the king stands opposite the king and the queen opposite the queen. In Malay chess, the minister (equivalent to a queen in a European game) stands on the right of his king, provided he has not been checked or moved.
On the other hand, Vietnamese like to take the game outside the board. Co Nguoi, or human chess, is Viets' beloved game, often part of village or temple festivals. Hanoi Times wrote that spectators of all ages always anticipate the game that showcases traditional dress, music, and martial arts.
As the game has a firm root in the region, it is no wonder that many chess players in ASEAN have become a force to be reckoned with on the global stage. Filipino Eugene Torre became the first grandmaster from Asia and the first Southeast Asian to be inducted in the prestigious World Chess Hall of Fame. He certainly will not be the last. Now, there are more grandmasters and international masters from the region, including Vietnamese Lê Quang Liêm, Indonesian Irene Kharisma, Malaysian Yeoh Li Tian, and many more.
Sources: Levitt, S.H.(1991). Chess-Its South Asian Origin and Meaning. Annals of the Bhandarkar Oriental Research Institute, vol. 72/73, no. 1/4, 1991, pp. 533–47. Retrieved 21 September 2022 from http://www.jstor.org/stable/41694919. Rahman, A.(1990). Inventory of ASEAN Traditional Games and Sports.Jakarta: ASEAN. Ngan. N. Human Chess in Viet Nam. Hanoi Times. Retrieved from https://hanoitimes.vn/human-chess-in-Viet Nam-22652.html