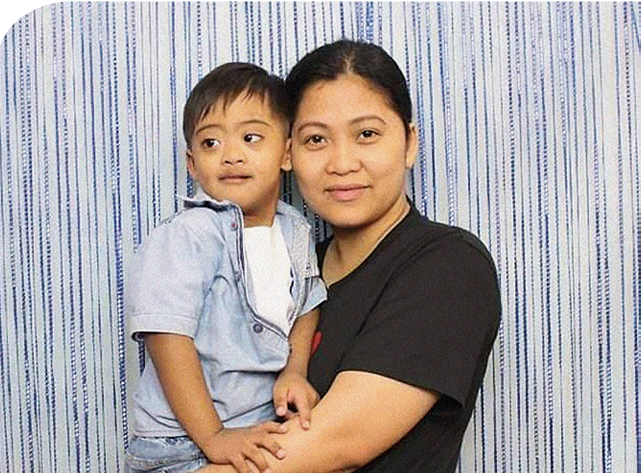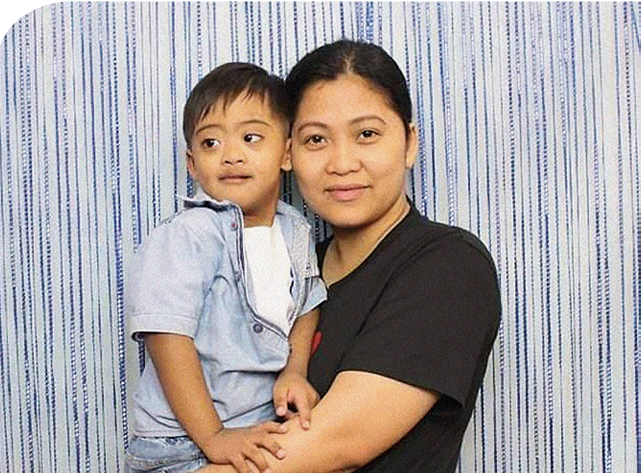 Janice Lopez
Migrant Worker. Mother. Advocate for Children with Special Needs
Forty-year-old Janice Lopez has worked for 14 years in Qatar as a retail industry administrative executive. Like millions of other Filipinos, Janice sought better employment overseas to provide for her family back home.
In 2015, she had a son, Jaden, and left him in the care of her family in the Philippines. He was later diagnosed with Down Syndrome and a congenital heart defect. Janice needed to continue working abroad to care for her son. Despite the financial and emotional challenges, she has taken care of many other children with special needs like Jaden too.
"I left Jaden when he was two months old and went back to work abroad. I had no idea about his condition until he was born and hospitalised for more than one month due to congenital heart disease. I was still in denial, and I was overwhelmed after witnessing him being revived at the hospital. I realised that his present condition was very serious. I spent all my savings. I was left heavily in debt, so I needed to do something. All I was thinking at that time was earning money and making sure I could provide for all his needs, including for very expensive open-heart surgery. I still remember I was at the immigration desk at the airport, and I froze, wondering if I should go or not. I was miserable for the entire 10-hour flight.
"Since the day that I left him to work abroad, I cry every single day. It's really hard to overcome homesickness, especially now that it's been almost two years since I haven't seen him because of the COVID-19 pandemic. I feel sad and heartbroken when I'm idle. Rather than being miserable, I make use of this time by doing what I love and how I may help others. Since I'm not capable of assisting financially, I share awareness about children with Down Syndrome and children diagnosed with congenital heart disease. Jaden is my best example, a living testimony. By sharing our journey with others, I know we are saving lives.
"When I already understood and absorbed Jaden's diagnosis, I know I had to step in and do something within our Down Syndrome community. So, I started Jaden and Friends (JAF) in 2017, right after Jaden's open-heart surgery. I started several initiatives, Preloved Strollers, Diaper Drive, Blood Donation Drive and Happy Hearts Project, using social media as a tool since I work overseas. I always made time to work on this on my days off and free time. I don't have the exact numbers, but roughly around 150 preloved strollers were given away, and more than 300 children underwent heart surgeries nationwide. I did all the communication with patients' families, with doctors, as well as sponsors. Those who execute these are my volunteer friends in the Philippines and fellow parents who pay it forward after their children received their happy hearts.
"Half of the babies born with Down Syndrome have congenital heart defects. I witnessed many children died because they were not given a chance to have healthy hearts due to financial constraints. I know it's a fact that they are not a priority under charity programs. Too often, they face stigma, discrimination, and exclusion. Everyone has the right to health and equal access to quality health care, and this is what I rally for and advocate. I am blessed that I had generous donors for Jaden's operation, but I was devastated and hopeless before I got help. Jaden was oxygendependent for around seven months, and it was heartbreaking to see him unwell and bedridden. Now that he's ok, I want to share our struggles and winning battles with many others and do something remarkable and noble for our Down Syndrome community.
"It has now been a year since the start of the COVID-19 pandemic, which has claimed millions of lives and changed our lives in many ways. I usually go home for vacation two or three times a year, and I haven't seen my family in more than a year. I am very fortunate to be still employed, so I focus mainly on working hard instead of worrying and overthinking. Now with JAF, we had a few patients who died since the lockdown happened on March 17 last year because they were not given a chance to undergo surgeries. These patients were already scheduled for their heart operations, but the Department of Health had to suspend elective surgeries because of the pandemic. It was heartbreaking.
"I remember one of those kids was Wendell. He's 16 years old and dreamed of being an engineer someday; he was so happy that our organisation was helping him with the operation. He was supposed to undergo the surgery five days after the lockdown, but he died two weeks later due to cardiac arrest since it was cancelled. There were a few more kids like him. I was crying, but there's nothing else I can do but to pray. We shared the sentiments with our happy heart doctors, so they pushed on with the operations, and they resumed after almost two months. 
"There were many challenges, and we had to rent a two-bedroom condominium situated near the hospital that serves as a halfway house for patients who don't have a place to stay. Even for those who have relatives in Manila, no one would welcome them into their homes for their health and safety. They are afraid that if they accept them in their house, they will catch the virus since our patients will mostly go in and out of the hospital, and most of our patients are indigent and cannot afford to rent a hotel on a daily basis. That's why we decided to rent a condo for our patients' convenience and safety, and this is free for them.
"Another challenge is blood donors. A child who will undergo open-heart surgery needs blood transfusions. The blood bank has insufficient supplies; volunteer donors are afraid to visit hospitals, so I came up with another Blood Donation Drive project. Thankfully, with the support of individuals and volunteers, blood heroes have been incredibly amazing. I am so grateful for all these unsung heroes. The next challenge is to get donations. It's hard to raise funds because many businesses have closed down. Many have no income because they lost their jobs, and the cost of heart operations are high. Thankfully, in partnership with individuals and with the support of Government Guarantee Letters, we saved 142 precious lives in 2020.
"It is Jaden who keeps me going. I am blessed with many strengths as a woman, an overseas Filipino worker, an advocate and a mother. My greatest strength is having faith in God, for I know he is the only one who has my back. I just want to be with my son, to be together and travel together. I wish to live long to take care of Jaden and JAF to continue raising awareness about children with Down Syndrome and those with congenital heart disease, inspiring others and saving lives.
"I'm a mother who will do everything for her child. I had to sacrifice being away to work so I can provide for his needs. Kids with Down Syndrome have a lot of associated health issues. He underwent open-heart surgery, eye laser surgery, twice oral rehabilitation and hopefully, I can start with his hearing issues, as his doctor advised him to use a hearing aid. I wish I was there to take care of him. This is the sacrifice that I need to face while being away. My only regret was not being able to enjoy motherhood with him when he was a baby. I pray that Jaden will always be healthy because being away when he gets sick drives me crazy. I will always be proud of him. Whatever he wants in the future, I will support him and be his number one fan. I will be here to continue advocating for you, Jaden, and continue inspiring others. Jaden and Friends Inc will be Jaden's legacy, and that people will never forget him, a child with Down Syndrome who inspires many.
"I hope ASEAN can promote that children with special needs deserve to be raised in a society that cares for their health and well-being. Provide opportunities for healthcare assistance and subsidy for indigent patients and make it legally mandated. In these difficult times, as a woman and a mother, I also need support for mental health, depression, anxiety, and taking care of oneself during a pandemic." Learn more about Janice's work https://jadenandfriends.com/
Interviewed by Mary Kathleen Quiano-Castro. The conversation has been edited and condensed for clarity. The views and opinions expressed in the text belong solely to the interviewee and do not reflect the official policy or position of ASEAN.