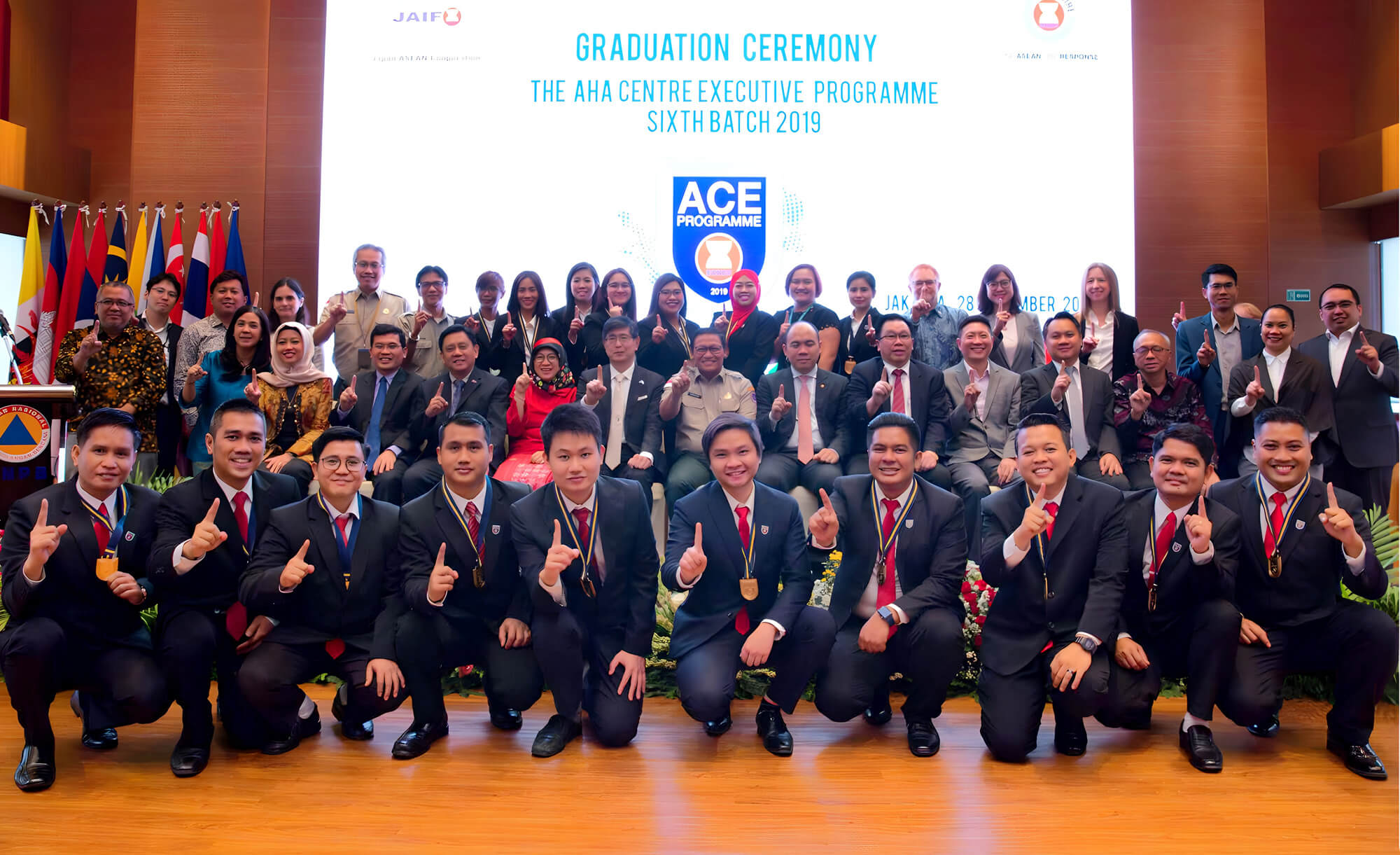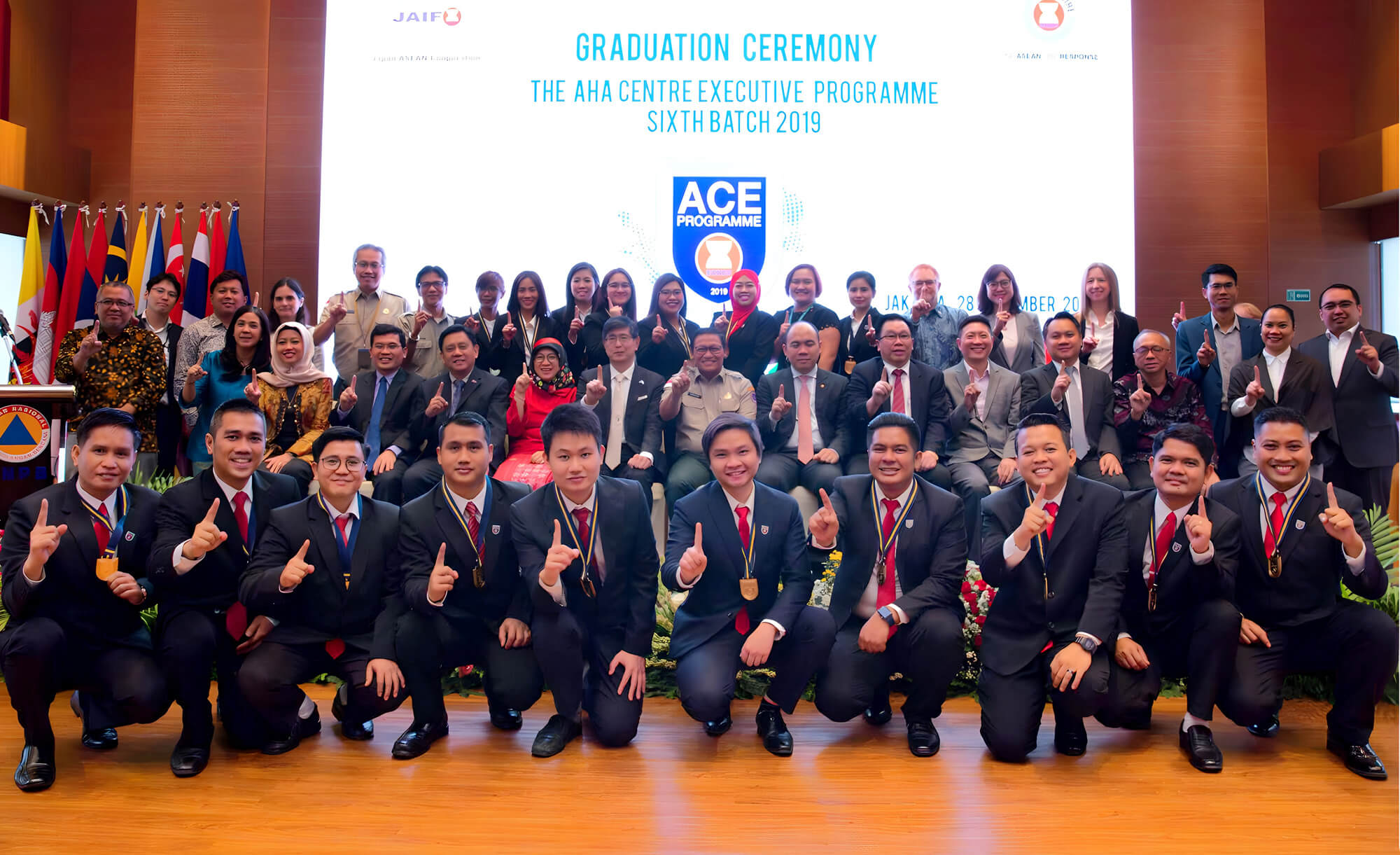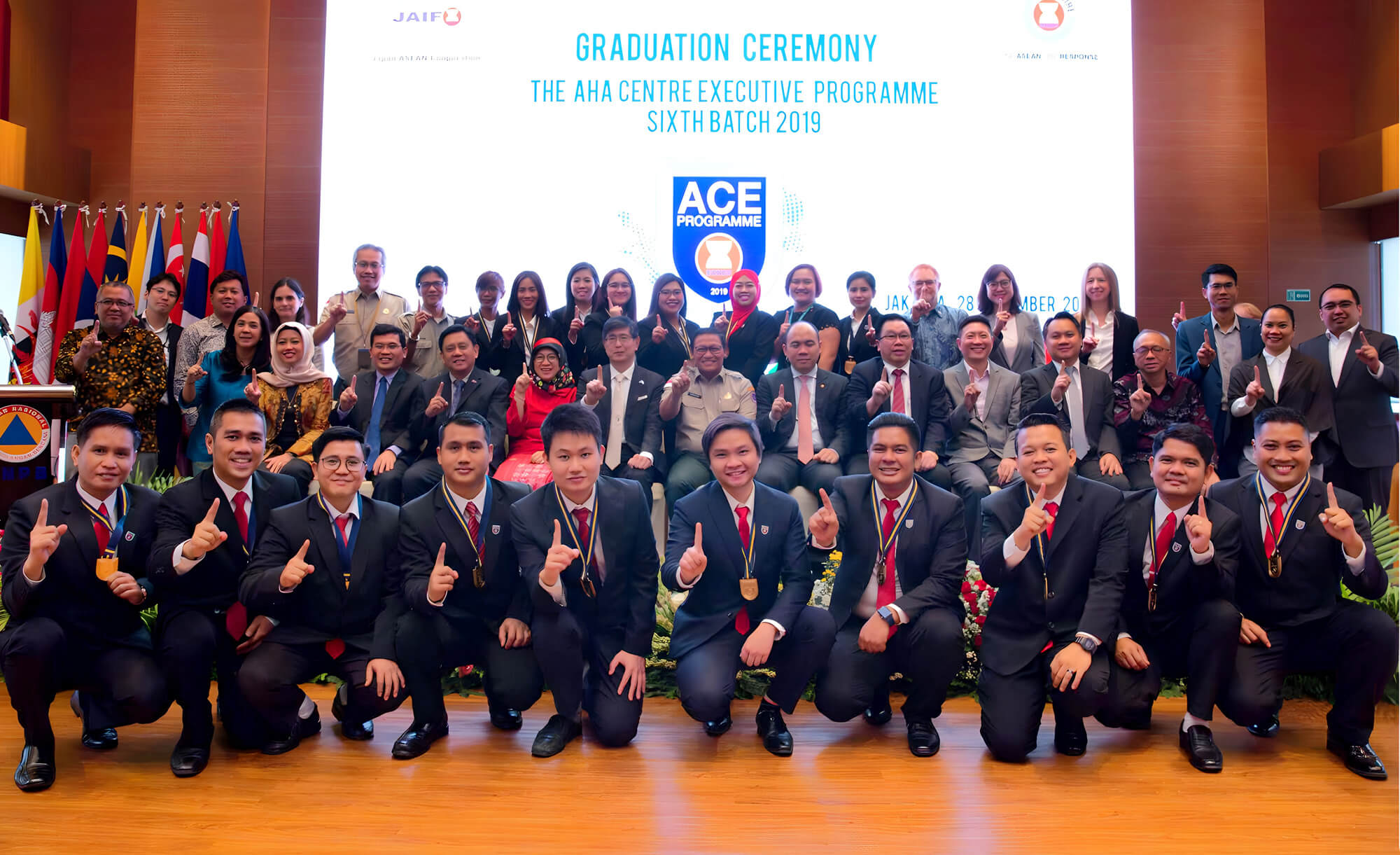 From Response to Resilience: ASEAN-Japan Cooperation in Disaster Management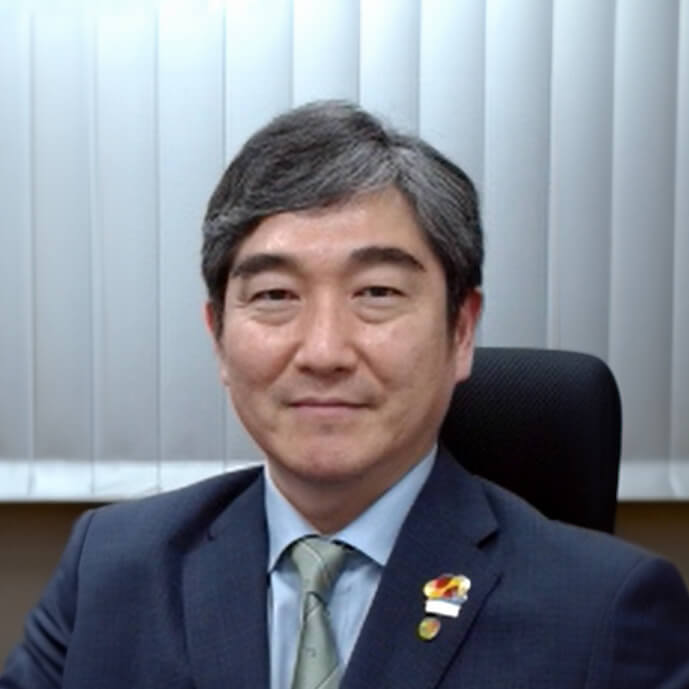 Naoki Minamiguchi
Director, JAIF Management Team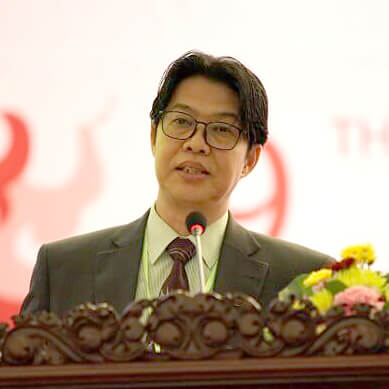 Zin Aung Swe
Programme Coordinator, JAIF Management Team
Many disasters may be inevitable as the forces of nature are increasingly becoming unpredictable and destructive. However, their adverse impacts can be reduced through effective collaboration, preparedness, and response. The value of such cooperation cannot be overstated. ASEAN, a region that is vulnerable to various natural and human-induced disasters, has been working together with various partners to enhance its capacity and cooperation. One of the key partners in this endeavour is Japan, which has established the Japan-ASEAN Integration Fund (JAIF). JAIF stands out as a pioneer development cooperation instrument contributing significantly to the ASEAN region in its quest for effective disaster management, response, risk reduction and mitigation, and the creation of resilient communities.
"One of the key pillars of JAIF's support has been enhancing ASEAN's capacity and readiness to respond to disaster emergencies and reduce disaster risks in the region.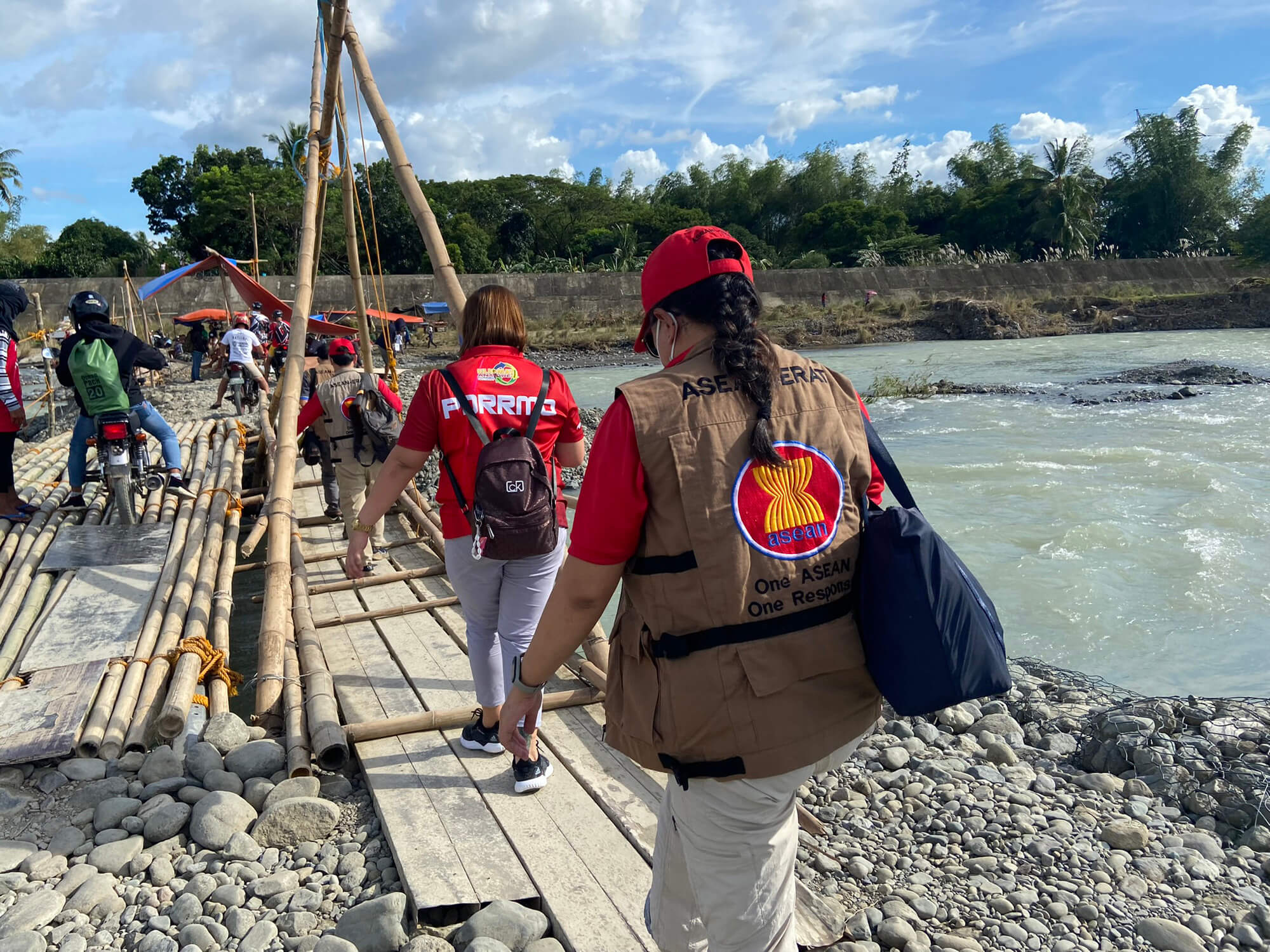 ASEAN-Emergency Response Team swiftly deployed to assess Tropical Storm Nalgae's impact in the Philippines (October-November 2022)
As ASEAN and Japan celebrate their 50th anniversary of friendship and cooperation this year, it is timely to reflect on the achievements of disaster management cooperation between these two disaster-prone regions and countries. It is also opportune to delve into the long-standing collaborative efforts of ASEAN and Japan through JAIF, focusing on the assistance rendered, especially but not limited to, the ASEAN Coordinating Centre for Humanitarian Assistance on disaster management (AHA Centre) since the onset of its establishment, the implementation of the ASEAN Agreement on Disaster Management and Emergency Response (AADMER) Work Programmes, as well as Japan's unwavering commitment to furthering disaster risk reduction and resilience building in the ASEAN region.
JAIF: A catalyst for positive change and progress
The Government of Japan established JAIF in 2006, following a pledge of then-Japanese Prime Minister Koizumi Junichiro at the 9th ASEAN-Japan Summit held in Kuala Lumpur, Malaysia in December 2005. A primary purpose of JAIF is to support the efforts of the ASEAN Member States to pursue the comprehensive integration of ASEAN towards the realisation of an open, dynamic, and resilient ASEAN Community as envisaged in the Declaration of ASEAN Concord II (Bali Concord II). While promoting greater cooperation between ASEAN and Japan and addressing emerging regional challenges, JAIF is also intended to assist in the implementation of the ASEAN 2025 Blueprints of the ASEAN Political Security Community, ASEAN Economic Community, and ASEAN Socio-Cultural Community with particular emphasis on narrowing development gaps among the ASEAN Member States.
In this context, since 2026, JAIF has funded more than 570 projects across various domains, including responses to the COVID-19 pandemic, which all together topped 767 million US dollars. And one of the key pillars of JAIF's support has been enhancing ASEAN's capacity and readiness to respond to disaster emergencies and reduce disaster risks in the region, which are anchored in the Vision Statement on ASEAN-Japan Friendship and Cooperation adopted in December 2013 and its Revised Implementation Plan in August 2017, as well as in the ASEAN Outlook on the Indo- Pacific (AOIP) adopted in June 2019. Japan's interventions have also been guided by the ASEAN-Japan Work Plan on Disaster Management 2021-2025, the progress of which is followed up through the framework of the ASEAN-Japan Ministerial Meeting on Disaster Management (AMMDM Plus Japan) on a regular basis, apart from being reviewed by the ASEAN Committee on Disaster Management (ACDM) Plus Japan.
Empowering ASEAN communities through capacity building
The first concrete action taken by JAIF in this endeavour dates back to January 2008 when the project "Utilization of Satellite Image on Disaster Management" commenced with the Asian Disaster Reduction Center acting as both the proponent and the implementing agency. The project brought together disaster management and satellite imagery experts, created the impetus for closer collaboration between both parties, and promoted better and practical use of satellite imagery for disaster mitigation and response, which was relatively new to the stakeholders of disaster management communities in the region at that time.
To date, ASEAN and Japan have collaborated and delivered more than 40 projects in disaster management cooperation in the amount of nearly 80 million US dollars. Some of the notable achievements of the JAIF-funded projects include the establishment and operationalisation of the AHA Centre. Built on the first ever project of this kind in the region, "Setting Up and Operationalisation of the AHA Centre" enhanced ASEAN's capacity to monitor, assess, and respond to disasters in a timely and effective manner. JAIF has since partnered with the AHA Centre to enhance its main functions for emergency preparedness and response by mainstreaming in the Centre's actions, such initiatives as the development of an integrated information and communication technology (ICT) infrastructure and system, the Disaster Emergency Logistics System for ASEAN (DELSA), the transformation of ASEAN-Emergency Response and Assessment Team (ASEAN-ERAT), and the AHA Centre Executive (ACE) Programme.
And through a series of DELSA projects, the relief items stockpiled in the regional warehouse in Malaysia and the satellite warehouses in Thailand and the Philippines were rapidly deployed to affected countries to cope with challenging, imminent situations on the ground during major disasters, such as the Typhoon Haiyan in the Philippines in 2013 and a devastating flood that hit Kelantan, Malaysia in 2015. Between 2012 and 2022 alone, 31 disaster emergency operations were undertaken in eight ASEAN countries—Indonesia, the Lao PDR, Malaysia, Myanmar, the Philippines, Viet Nam, Thailand, and Cambodia.
Furthermore, JAIF facilitated forging a cadre of qualified disaster management professionals and leaders by supporting their participation in the intensive ACE and ERAT programmes. These professionals are attached to the AHA Centre and the national disaster management offices of respective ASEAN Member States. The programmes cover various topics, such as disaster risk management, humanitarian coordination, leadership, and communication skills, complemented by field visits and simulation exercises. Since 2014, 741 participants from 10 Member States have been fostered by 37 JAIF-funded ACE, ERAT and DELSA training programmes to become national and regional disaster management professionals of strong confidence and responsibility. Ms. Hjh Nora binti Hj Md Yusof, Head of Emergency Medical Ambulance Services, Brunei Darussalam, recalled her experience in ERAT training, "The most important thing is to maintain regional standardisation. … To have standardisation, we must unite and that's what JAIF is doing through ERAT programmes. JAIF unites all ASEAN Member States and creates first responders who are certified and able to work in other countries."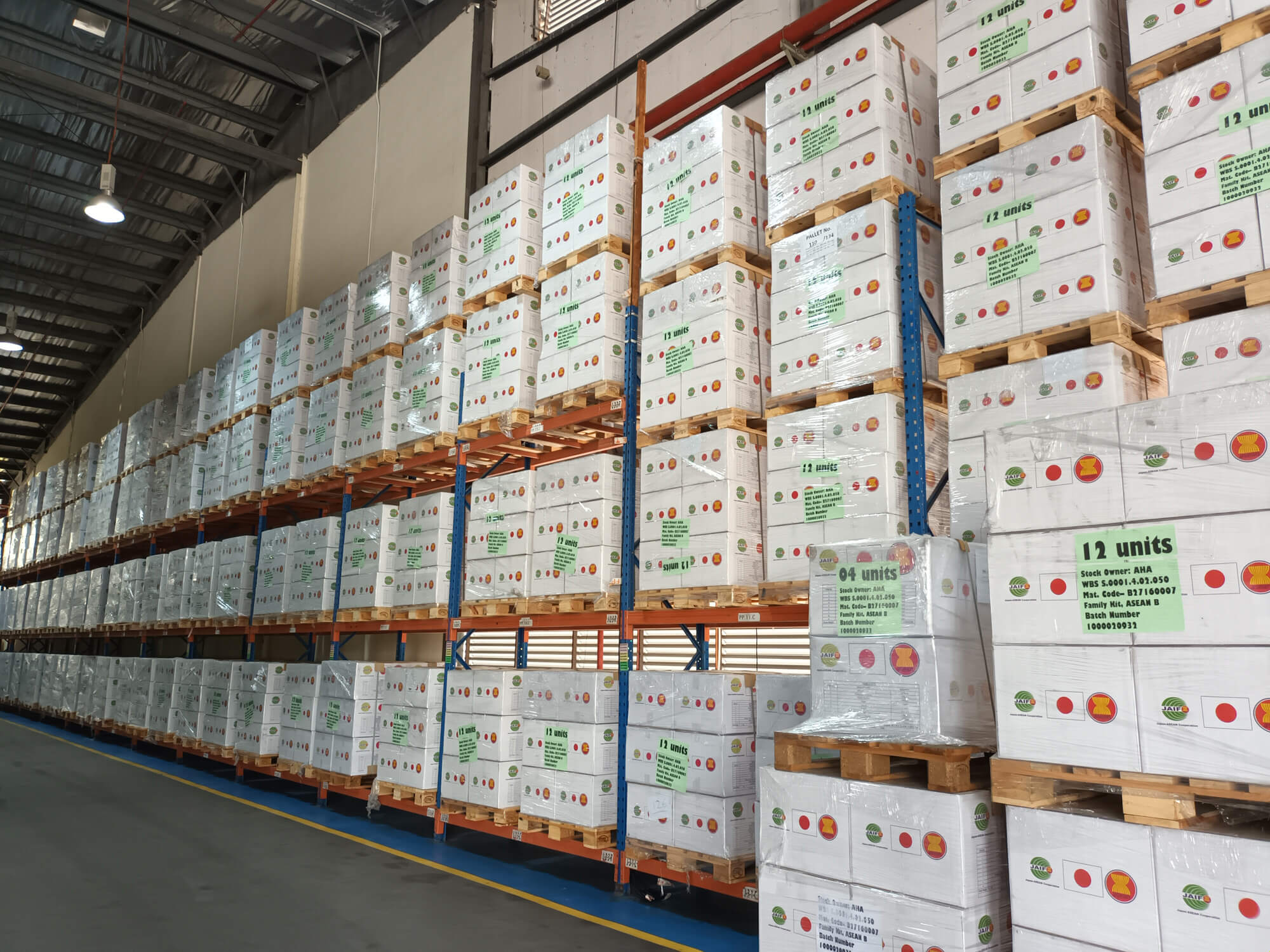 Relief items stockpile at DELSA's warehouse in Subang, Malaysia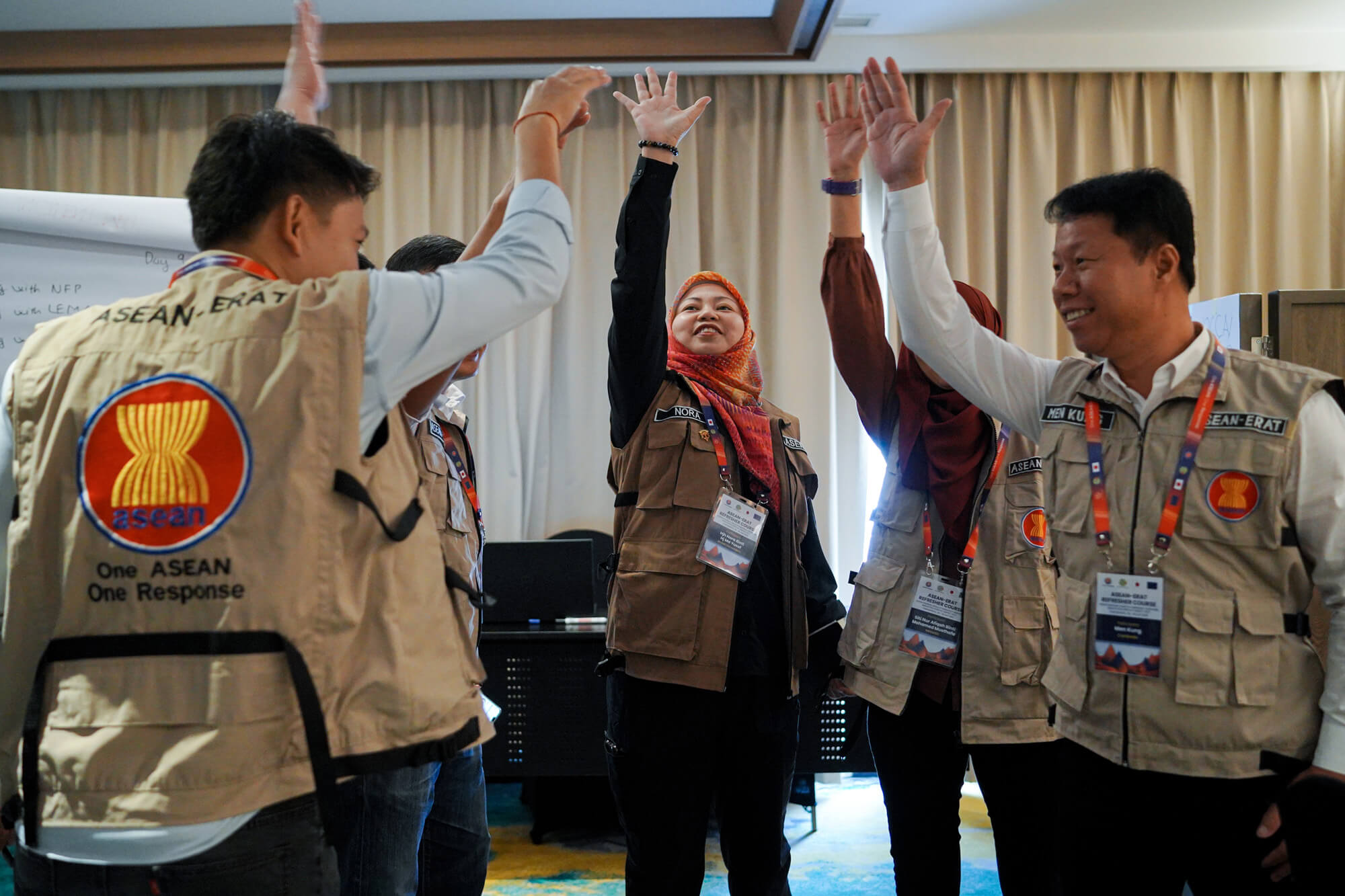 Ms. Hjh Nora binti Hj Md Yusof (centre), during her ERAT training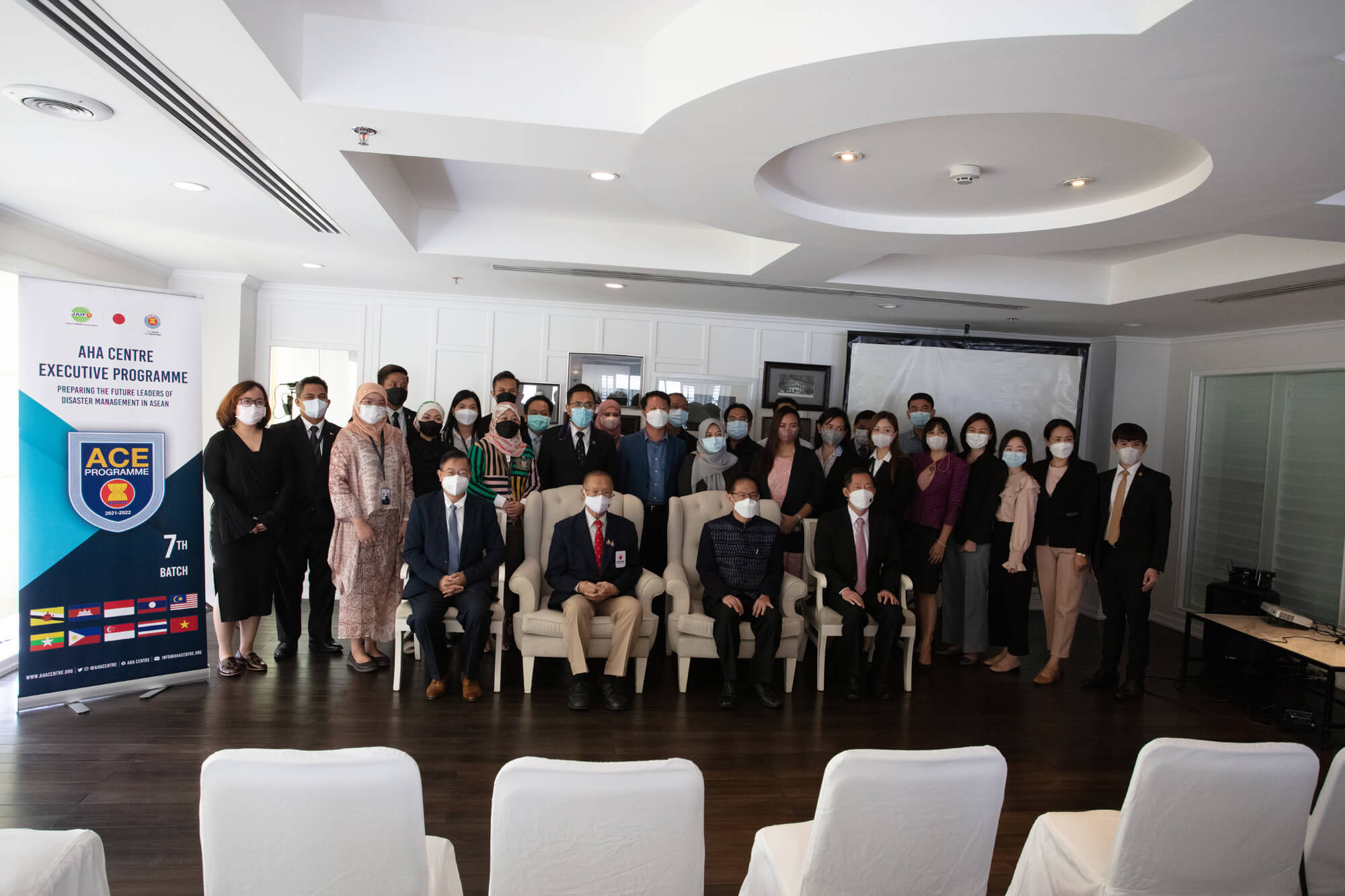 Officers and disaster managers from 10 ASEAN Member States participated in the AHA Centre Executive Programme Seventh Batch in Bangkok, Thailand, 2019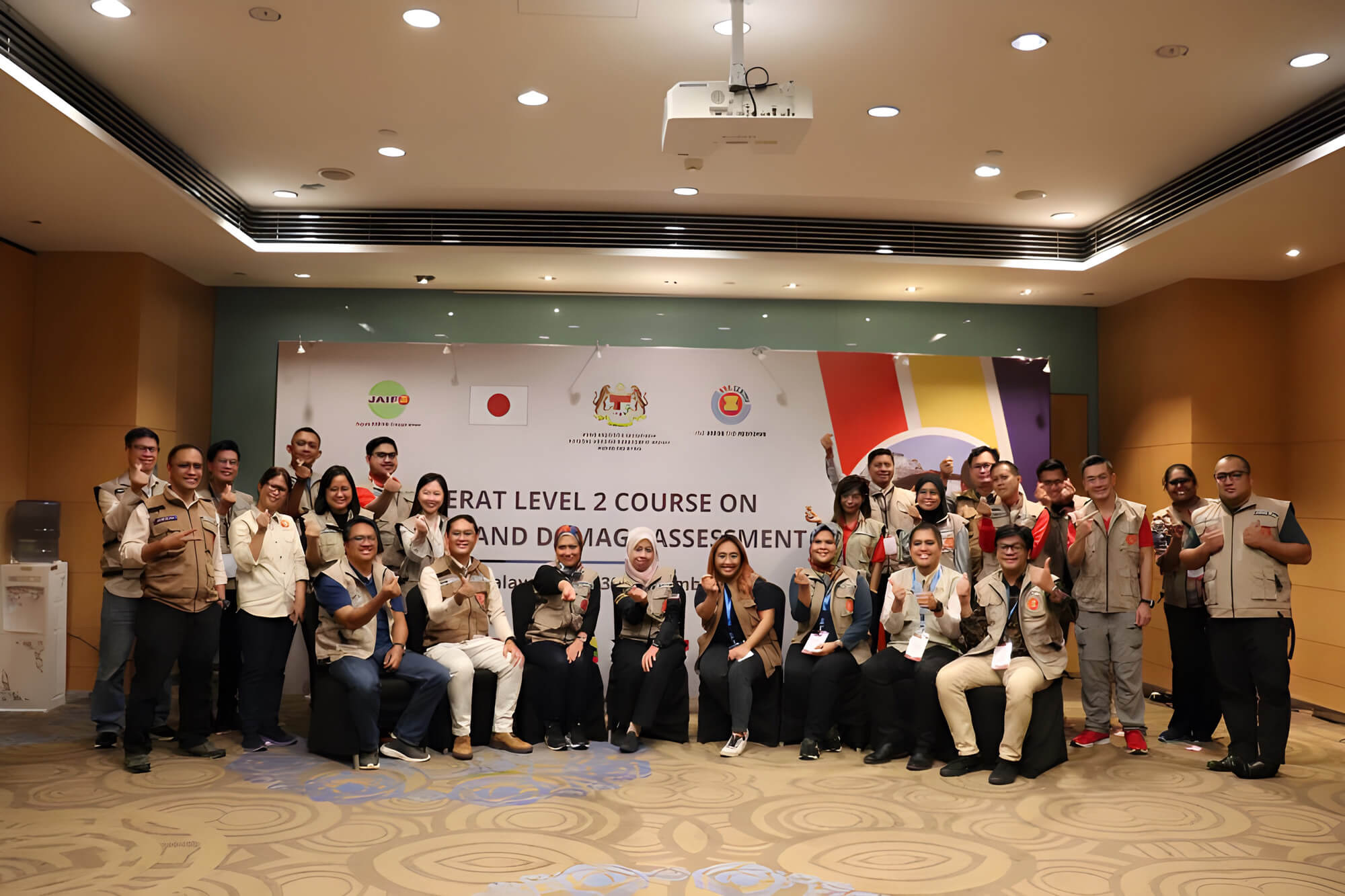 ASEAN-ERAT Level 2 Course on Rapid Assessment in Kuala Lumpur, Malaysia (26-30/9/2022)
for resilient communities: Building a robust policy framework
The collaborative efforts between ASEAN and Japan over the years have reinforced and ushered in significant advancements in disaster management coordination and cooperation. At the heart of the partnership lies AADMER, a comprehensive framework designed to respond collectively to emergencies, mobilise and invest effectively, and ultimately enhance disaster resilience and coordination in the region. JAIF has been privileged to translate the AADMER into concrete actions by formulating the AADMER Work Programme (AWP) 2021-2025, which was endorsed at the 8th AMMDM in November 2020. The new five-year work programme is a strategic roadmap aiming to further enhance ASEAN's resilience and adaptive capacity to disasters by covering five strategic components: risk assessment and monitoring; prevention and mitigation; preparedness and response; resilient recovery; and global leadership. Currently, a mid-term review of the AWP 2021- 2025, funded by JAIF, is underway and expected to help gauge the effectiveness and impact of the AADMER at the mid-point.
Sustaining momentum for a resilient future and Japan's unwavering commitment
In his policy speech delivered at the Indian Council of World Affairs (ICWA) in March 2023, which rolled out Japan's New Plan for a "Free and Open Indo-Pacific," Japanese Prime Minister Kishida Fumio reaffirmed Japan's strong commitment to the region, putting forth a new contribution of 100 million US dollars to JAIF. He also expressed his intention to support the disaster management efforts in the region, "To help countries build resilient societies, both in terms of disaster prevention and recovery, Japan will harness its expertise and technology to provide support including for improving disaster prevention and response capacity."
As we look ahead, the partnership between ASEAN and Japan continues to hold immense possibilities. The successes achieved to date serve as the foundation for future endeavours in disaster management. Japan's unwavering commitment will not end just with building stronger communities but shall consolidate bonds, strengthen solidarity, and ensure that the ASEAN region is better situated to cope with whatever new threats lie ahead. Guided by the AWP 2021- 2025 and other related initiatives, JAIF is poised to safeguard the lives and livelihoods of millions across the region. Together, ASEAN and Japan will navigate the challenging path towards a safer, more resilient, and sustainable future.
---
The information contained in this article represents the views and opinions of the authors and does not necessarily reflect the views or opinions of the Government of Japan.