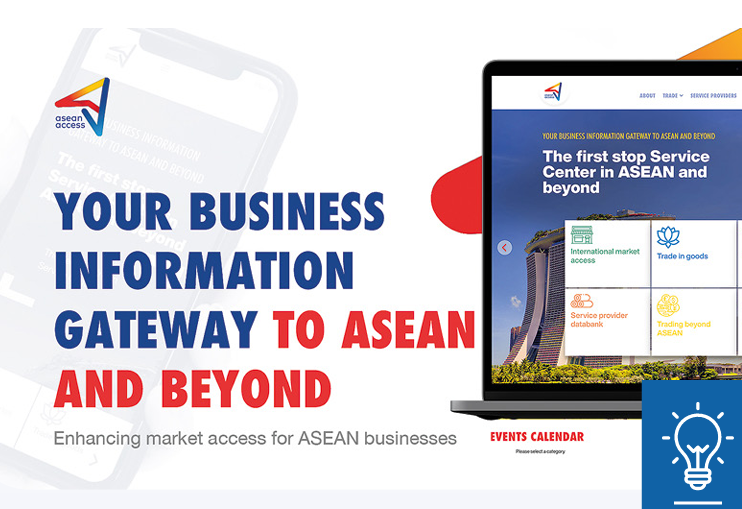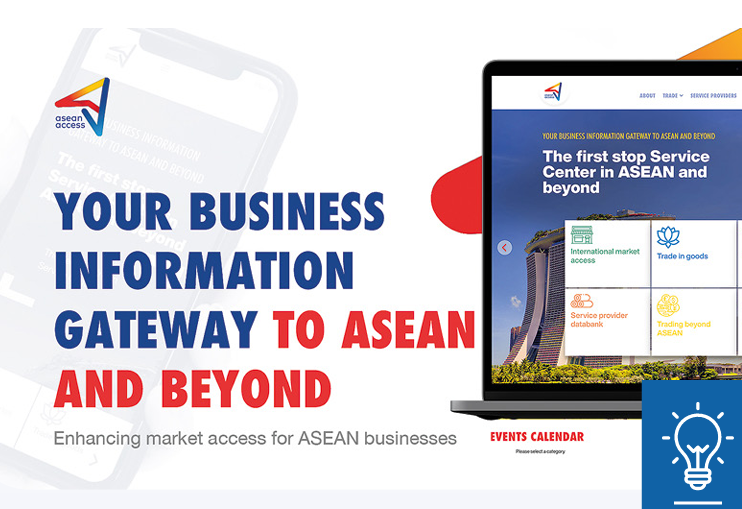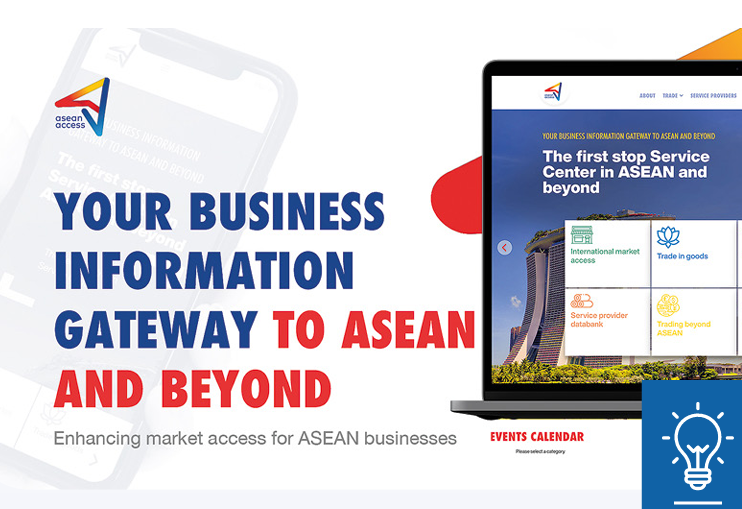 From Local to Global: A New Portal Taking Small and Medium Entrprises Across Borders
Rujirek Petpimolmat
SME Policy Analyst, International Cooperation Department, Office of SME Promotion, Thailand
Triin Udris
Consultant, ASEAN Access, Office of SME Promotion, Thailand
ASEAN Identity and Community Building
ASEAN businesses need support to internationalise and engage in trade across borders and have a positive impact on economic growth. It is a wellknown that businesses that engage internationally can grow faster, experience higher turnover, adopt technological capabilities, and increase wages. In turn, their competitiveness improves in global value chains as well as in domestic markets.
But having suppliers and buyers on the other side of the world means disruptive events, such as the COVID-19 pandemic, can interrupt the flow of trade. The gridlock is reversing the globalisation trend, with businesses leaning towards localisation or regionalisation once again. Many businesses are now re-evaluating their supply chains and bringing production closer to home. To future-proof their business, however, companies need to look at the bigger picture and adapt to emerging trends that other industries have embraced. Digitalisation, automation of industries and the rise of knowledge-intensive industries, "smart" and predictive technologies, growth of cross-border services, and the ever-blurring line between goods and services, are all impacting industries and trade, and shaping the future requirements of businesses.
However, companies, especially small and medium enterprises (SMEs), often struggle to find information about the "how to's" of international trade, including how to enter new markets, build new business connections and networks, adapt their business to change, and access new technologies, knowledge, and expertise. This is often because of the lack of finances and/or capacity, a common problem of SMEs across the world. To help strengthen SMEs' participation and integration in the ASEAN business community and enable them to take advantage of opportunities at their doorstep and keep up with global trends, the 10 ASEAN Member States launched a joint digital SME support and matchmaking platform—ASEAN Access. 
ASEAN Access is a virtual international business support portal, offering SMEs, including micro enterprises and other businesses in all sectors, information on trade and proactive market entry support through events and business matchmaking in ASEAN and beyond. As trade between ASEAN Member States becomes much easier, information on the trade of goods and services in the region and how to access new markets must also be more available to businesses. As a first-mover, ASEAN Access offers country profiles on each Member State and sector briefs in agriculture, food and beverages, cleantech, manufacturing, and digitalisation and IT. These provide an in-depth view of the ins and outs of specific industries, pointing out opportunities for export and import and trade in services, all with the aim of helping companies make informed decisions about their next venture. 
While the portal is free to visit and use, there are benefits to registering as a member on ASEAN Access. First, registered users can download country profiles and sector briefs. Second, the portal features a databank of service providers, such as importers and agents, logistics and shipping companies, translators, export consultants and market researchers, legal and regulatory experts, all of whom can offer foreign SMEs practical cross-border support to enter local markets. All visitors can browse a list of service providers either by country or type of service, but only registered members get their direct contact details. 
For SMEs, these services help crossmarket entry barriers and make the process easier and faster. At the same time, for service providers, being registered on ASEAN Access is a way to increase their brand visibility to attract new international clients.
Registered members of ASEAN Access can also join the ASEAN Access MATCH community. MATCH is the official business matchmaking and event platform in ASEAN, offering companies the chance to participate in virtual cross-border business matchmaking, knowledge and skills-building workshops, and market and sector information events. Businesses can also showcase their products, technologies, or services, free of charge, in MATCH, or describe the products, technologies and services they are looking for. MATCH events are all delivered through the extensive network of business support organisations behind ASEAN Access in the region, and Europe and China. 
Business support networks are key to helping SMEs overcome market access barriers, thanks to their connectedness, cross-border reach and understanding of international trade and market entry. ASEAN Access is the official business information gateway of ASEAN and the first-ever network of this kind in Southeast Asia, connecting business support organisations to businesses. In fact, in the second half of 2021, ASEAN Access successfully co-organised three matchmaking events, on food and beverages, creating value from biomass, and sustainable packaging topics, with the Enterprise Europe Network, the European Union's flagship business support network.
Online business matchmaking is a new concept for many ASEAN SMEs. The traditional way to make international connections is to participate in a trade fair, rent a booth, and lay out a display of products or technologies. So, what exactly are business matchmaking events? Business matchmaking events are pre-scheduled one-on-one private meetings between two companies or organisations to discuss concrete business, technology, or research cooperation, booked and scheduled on a special online platform. Matchmaking allows companies to meet quickly with other companies during a trade fair or event and can be much more costeffective than exhibiting at a trade fair.
ASEAN Access is taking this concept a step further and is focusing only on virtual events and matchmaking. By mid-2020, due to the COVID-19 pandemic, many business events went virtual including matchmaking events. While the world is slowly returning to the new normal, and physical events are once again starting to take place worldwide, there are considerable benefits to online events, even once travel and flying get easier. Online events are cheaper to run, saving up to 75 per cent in costs, and take less time to organise. Participants no longer have to travel to a trade fair, consuming time and money, but can participate online. Virtual meetings also offer a much wider participant pool from around the world, giving a more varied list of potential business partners. Virtual events are also much better for the environment, saving on materials and fuel and minimising CO2 emissions. 
In January 2022, ASEAN Access will launch the first set of targeted matchmaking events, covering the industries featured in the sector briefs and other key sectors in ASEAN. These events will employ a cross-sectoral approach, i.e. even if an event focuses on the food and beverages industry, ASEAN Access will invite not only food and beverages manufacturers, but also companies from other sectors, such as digital, agricultural and environmental technology companies, to tackle overarching social and industrial issues within the industry. This way, companies benefit from new partnerships, and the partnerships also have the potential to bring positive impacts to the industry and society.
Assoc. Prof. Dr. Veerapong Malai, Director General of the Office of Small and Medium Enterprises Promotion, the managing organisation of the portal, said, "The world and its industries are changing, and we need to adapt, to offer SMEs more opportunities and support that reflect the struggles and opportunities of the future. Through ASEAN Access, we are excited to bring companies not just trade and business information, but also to introduce the benefits of virtual events and matchmaking and embrace digitalisation as a whole."
ASEAN Access is one of the many steps taken by the ASEAN Member States to support the growth and development of SMEs, helping accelerate the region's post-COVID-19 development and focusing increasingly on resilience and sustainability.
Developed with the support of the German Federal Ministry for Economic Cooperation and Development (BMZ), ASEAN Access is implemented under the ASEAN Coordinating Committee on Micro, Small, and Medium Enterprises (ACCMSME) and is steered by the ASEAN Task Force on SME Service Centre Web Portal. With the Office of SMEs Promotion, Thailand managing the portal, national focal points and network partners of the 10 ASEAN Member States actively support the delivery of the services.
Who should join ASEAN Access?
ASEAN Access is open to SMEs and other companies and organisations from all industries and sectors interested in increasing their international trade activities and finding additional contacts, or just starting on their internationalisation journey. All companies and organisations can browse the website. Still, if they register as members, they can enjoy member benefits, have access to ASEAN Access MATCH, and meet new business partners from around the world. All companies qualifying as service providers are invited to register for free and to list their service on the databank to increase their business visibility and find new business opportunities. Public and private business support organisations are also welcome to join as Network Partners of ASEAN Access.
More information about ASEAN Access can be found on www.aseanaccess.com.