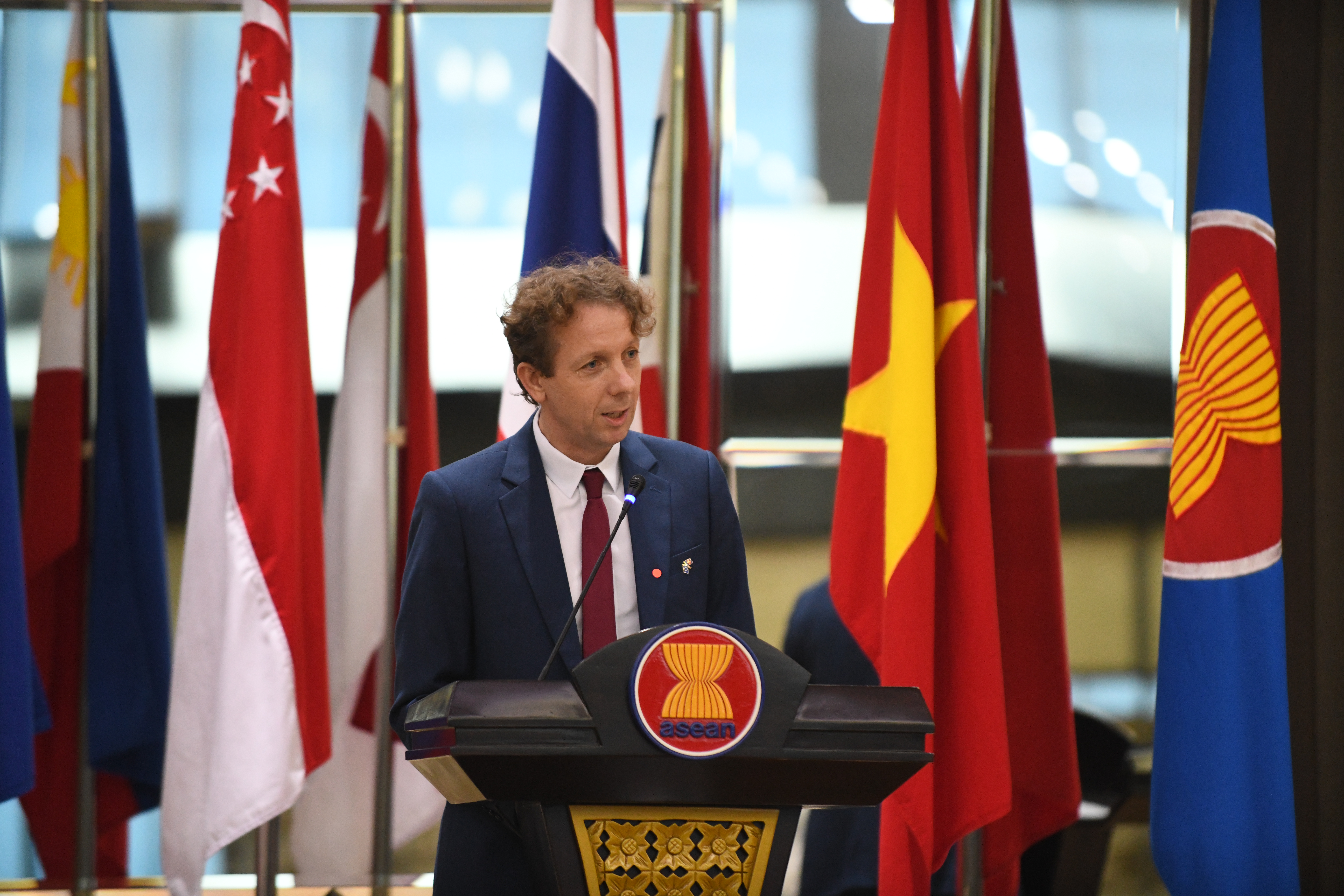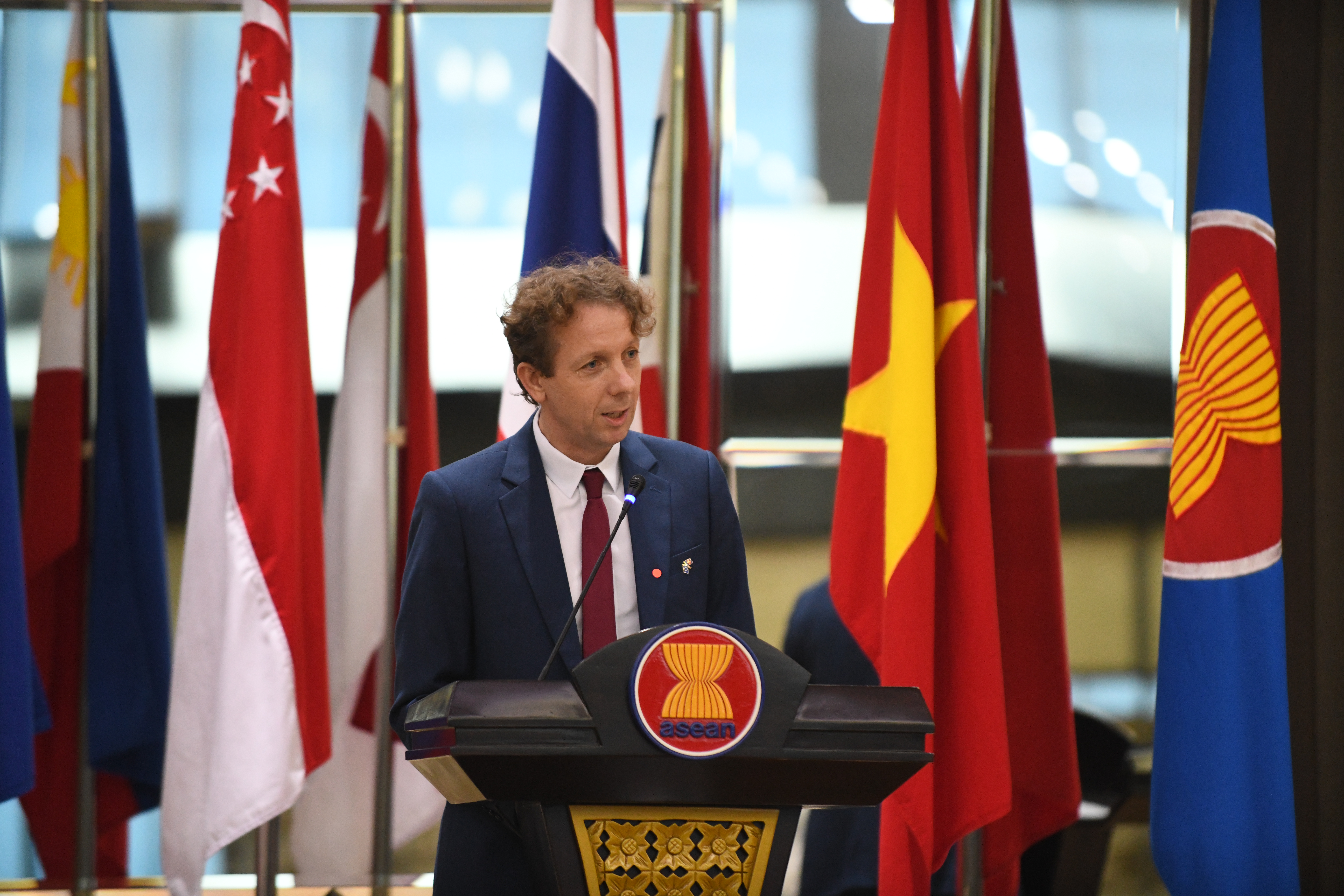 EU and ASEAN—Working Together to Ensure that No One is Left Behind
Igor Driesmans, EU Ambassador to ASEAN
Ambassador Igor Driesmans discusses the goals and components of the ASEAN-EU cooperation on COVID-19 response, and explains the ongoing efforts of EU to increase ASEAN Member States' access to safe and effective vaccines.
When reflecting on 2020 in an editorial that I wrote in late January 2021, I called it a dreadful year. The reasons for this classification have been, sadly and tragically, all too relatable to each one of us—the start of the COVID-19 epidemic and its speedy growth to a pandemic of truly global unprecedented proportions; the death toll it has inflicted since and the livelihoods it has severely impacted and even shattered; the loss of activities that we used to take for granted; the overwhelming sense of uncertainty and unpredictability that has become a major feature of our lives.
I also wrote of another story that was unfolding against this sombre backdrop— that of scientific innovation, ingenuity, and heroic effort of vaccine development and trials, of the hope these brought to us, and of the promise of these vaccines providing a major boost to our collective effort to stem the tide of the pandemic. The key messages were clear and remain as valid now as they were then: "no one is safe until everyone is safe" and "only global cooperation will bring vaccination for all."
I am proud to add that these principles have guided our actions from the very beginning— not only those of the EU and our 27 Member States, not only those of ASEAN and its 10 Member States but also the long-standing cooperation between us, two leading regional organisations and strategic partners. What has this close cooperation since the start of the COVID-19 pandemic entailed? A number of concrete examples and highlights come to mind—firstly, our assistance with mitigating the effects of the crisis; secondly, our stalwart support for vaccine multilateralism; and thirdly, our experts' collaboration.
The first step came shortly after the outset of the pandemic. On 20 March 2020, a mere nine days after the WHO declared the COVID-19 outbreak as a pandemic, EU and ASEAN Foreign Ministers convened via a videoconference to mitigate the social and economic impact of the crisis on both regions, to ensure that supply chains remained open and crucial movement of goods unhampered, and to provide support to relevant scientific research.
Four months later, the EU and our Member States, in a joint Team Europe effort, followed up by mobilising over 800 million euros to support the fight against COVID-19 in the ASEAN region. The focus of this package was multifaceted, including addressing the immediate health crisis, mitigating the socio-economic approach of the pandemic, and increasing the resilience of Southeast Asia's health, water, and sanitary systems. The number of resources mobilised by Team Europe was greater than that of any other ASEAN dialogue or strategic partner. 
This amount was topped up by a 20 million euros support programme on "South East Asia Health Pandemic Response and Preparedness," jointly launched by ASEAN Secretary-General Dato Lim Jock Hoi and EU High Representative for Foreign Affairs and Security Policy/Vice-President of the European Commission Josep Borrell during the latter's visit to Jakarta in early June 2021. The programme, which the WHO will implement, will strengthen regional coordination to respond to the immediate emergency and also the overall capacity of health systems in Southeast Asia for long-term resilience. Its activities are catered to individual nations' priorities, ranging from maternity care and mental health services to fortifying health systems for displaced and indigenous populations.
The second important pillar of our joint response has been our unequivocal and unwavering interest in pursuing a multilateral approach to affordable, fair and equitable access to safe and effective COVID-19 vaccines. In mid-2020, the European Commission announced the intention to provide the first 400 million euros in guarantees to the COVID-19 Vaccine Global Access Facility (COVAX). The COVAX Facility is up and running one year later, and Team Europe's contribution already amounts to more than 3 billion euros. With COVAX, our goal is clear: to provide safe and effective COVID-19 vaccines fairly and equitably to 92 lower and middleincome countries, as part of a collective effort to secure two billion vaccine doses by the end of 2021, covering more than 20 per cent of their population and doing so without any conditionality, with no strings attached and without any demands for political favours. We stand for vaccine multilateralism and resolutely oppose vaccine nationalism—something that we have shown time and time again in words and deeds alike.
What has this meant for Southeast Asia? First vaccine deliveries under COVAX commenced in the region in early March, allowing participating countries to accelerate their efforts to vaccinate frontline workers and the most vulnerable parts of their populations. To cite a few statistics—Indonesia has already received 100 per cent of its COVAX allocation, which translates to 11,704,800 doses of the AstraZeneca vaccines; the Philippines, 4,584,000 doses; Viet Nam, 2,493,600 doses; Cambodia, 324,000 doses; and Lao PDR, 232,620 doses. As more and more vaccine donations keep being announced, it is my hope that as you are reading this article, the actual figures are already higher and much closer to the overall initial allocation for ASEAN, which stands at 29,954,430 doses.
In addition to supporting international solidarity efforts through COVAX, the EU has consistently maintained export openness. Defying false and misguided accusations of vaccine hoarding, we have exported around 600 million doses of COVID-19 vaccines—in other words, half of our entire production— to more than 90 countries, including 11.8 million doses for export to Singapore and 10.4 million doses to Malaysia. This means that for each dose made in the EU and shipped to an EU Member State, one dose is exported. Far from being a vaccine hoarder, the EU, in fact, has been the biggest global provider of COVID-19 vaccines and thus, has been leading by example.
The last strand of our vaccine outreach consists of vaccine donations. At the European Council held at the end of May, Leaders committed to donating over 100 million doses by the end of 2021. As of late July, Team Europe that consists of the EU, our institutions, and all 27 Member States is on track to exceed this initial goal, with 200 million doses of COVID-19 vaccines foreseen to be shared with the countries that need them most, by the end of this year.
Discussions among experts have served as the third pillar of our close collaboration and have enabled us to exchange first-hand knowledge and experience fighting the pandemic. The 1st EU-ASEAN Experts' Dialogue on COVID-19 Vaccines took place on 8 December 2020 and provided a platform for debating strategies and practical aspects of vaccine authorisation, production, and distribution. The 2nd Expert Dialogue followed on 25 May 2021 and addressed the emergence of new variants, the scaling up of manufacturing capacity, and the possibilities and challenges of vaccine rollout. Each Dialogue was attended by over 100 policy practitioners, medical experts, and industry representatives. Looking ahead, we want to continue in these exchanges and make them as timely and useful as possible, with the 3rd Dialogue envisaged for this autumn. 
In this context, let me also mention the EU-ASEAN webinar dedicated to HighPerformance Computing (HPC) COVID-19related modelling and diagnostic held on 10 July 2020, which was followed up by an HPC school over five days in July 2021 to learn about the fundamentals of HPC design and applications to critical domains such as COVID-19.
Over the past few weeks, the highly contagious Delta variant has unleashed the most devastating wave of infections in Southeast Asia yet, while Europe is also experiencing the steepest growth in the number of cases since the start of the pandemic. We may still be far from understanding the true nature of the virus and being able to predict where it takes us next, but the launch of vaccination programmes in Europe, Southeast Asia, and worldwide has provided us with irrefutable evidence about the effect of vaccines. In a sentence, vaccines significantly decrease the rate of hospitalisations and therefore save lives and relieve healthcare professionals and other frontline workers to whom we owe so much.
Looking ahead, I am certain that the EU and ASEAN, as long-standing friends and strategic partners, will continue to work closely together in order to ensure that no one is left behind in our effort to beat the virus in the region and across the globe. Let us work together to ensure that 2021 will be remembered as the year when the tide finally turned!