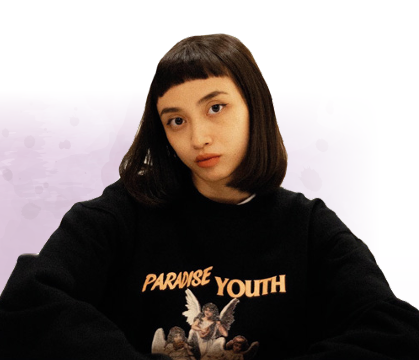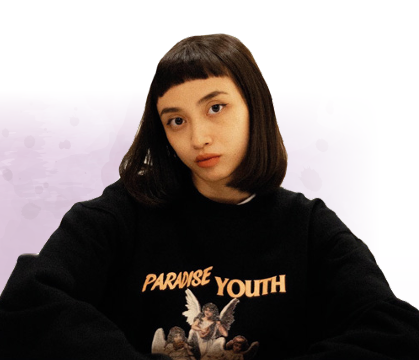 Erin Dwi Azmi
Digital Illustrator
Culture, Labour and Future of Work
Digital technology has been transforming the world of art since the 1960s. Artists are leveraging the power of technological innovations to explore new forms of artistic expression and create engaging digital art experiences. Digital transformation in the art field became more evident during the pandemic, as artists were pushed to expand their work into the digital realm.
Digital paintings, 3D sculpting, digital photography, digital installations through virtual and augmented reality, and mixed media are some of the digital art forms that have emerged and are now common to see and experience in creative spaces and public places.
Erin Dwi Azmi, our featured cover artist for this issue, is one of these talented, up and coming digital artists. She is an Indonesian illustrator who creates through digital mediums and showcases her illustrations in social media. Erin is fast becoming known for her style of bright, bold colours and sharp geometric lines, and her artworks have appeared in the cover of several publications and campaigns of prominent organisations and brands. Erin graduated from Indonesian Arts Institute (ISI) in Yogyakarta at the beginning of the pandemic and currently works in a freelance capacity.
"I have liked drawing since I was a kid, and there's nothing else I wanted except to continue mastering my skill in illustration. American illustrator Abbey Lossing and French artist Malika Favre are my favourite illustrators because of their unique approaches.
"I have tried a lot of styles in my drawing, from realistic to cartoons, and these practices contribute a lot to my style development. I began to understand my style when I worked on my thesis and it goes on until now, with more alignments towards precision and visual considerations.
"My drawings have also been influenced by the city I live in—Yogyakarta. Yogyakarta is a very special region as it is called the city of arts and culture, and an education city. It's really amazing to live here, the environment really pushes the creative vibes to the next level. So many exhibitions and arts performances are also organised here.
"I graduated from college, in the beginning of the pandemic. During that time, everyone struggled with their lives to survive. I tried to draw consistently everyday as I had no projects yet. And then, something good happened to me. People started to recognise my work and I managed to secure several collaboration projects. Some of the most memorable collaborations were when I worked with China's mobile and online payment platform Alipay for their campaign, the C40 Cities global mayors network for their annual report cover, and with Netflix Indonesia to make digital murals with 10 other illustrators.
"I like being a freelancer. Being a freelancer doesn't mean that you only wait for projects to come, it also involves handling a lot of projects with a tight deadline. Time management is the key for everything to work out well in freelancing. I once decided not to take on a project because my schedule was full, and I'm afraid I will not be able to do my best if I take it.
"The pandemic situation in Indonesia is getting better, and it's also easier for me to get projects this year. Last year, most of my clients were from outside Indonesia, but now I have many clients from Indonesia. I will have new collaboration and commercial projects soon. I think it's important for us to stay resilient and consistent.
"I hope ASEAN can give more support to the creative industry; it can be by creating more art, design and cultural events, livening up the community, encouraging people to support artists by buying their real and original artworks only, and supporting art movements."
---
Interviewed by Novia D. Rulistia. The conversation has been condensed and edited for clarity. The views and opinions expressed in the text belong solely to the interviewee and do not reflect the official policy or position of ASEAN.