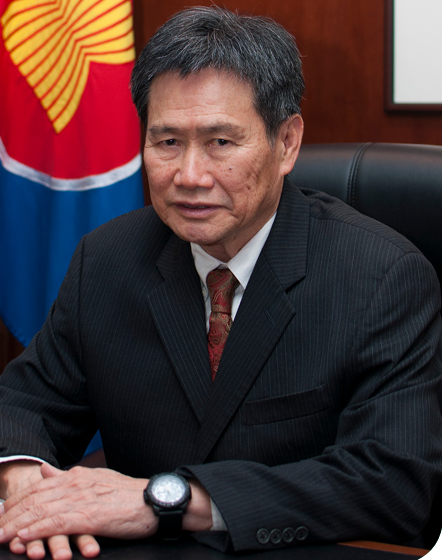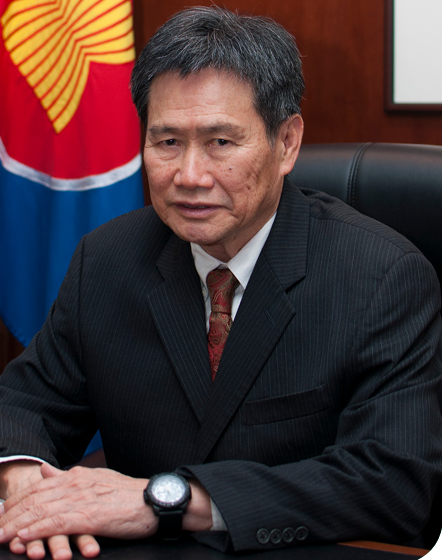 Dato Lim Jock Hoi
Secretary-General of ASEAN
Several countries in the region have been hit by a series of powerful typhoons, flooding, landslides, and forest fires over the past few years. How has ASEAN and the Member States responded to these transboundary disasters?
Secretary-General Lim
As a regional organisation, ASEAN has been pioneering coherent and coordinated regional actions. One of the most important actions is the ASEAN Agreement on Transboundary Haze Pollution. The Agreement is the first regional arrangement in the world that binds a group of contiguous states to tackle transboundary haze pollution resulting from land and forest fires. It has also been considered a global role model for tackling transboundary issues.
Just this October, several disasters struck the region. Tropical storms Linfa and Nangka heavily impacted Viet Nam, Cambodia and Lao PDR. Typhoon Molave came next and affected the Philippines and Viet Nam. In the wake of Molave, came Super Typhoon Goni, battering the Philippines and heading towards Viet Nam next. The One ASEAN, One Response framework guides our responses to disastrous events like these. Under this framework, the AHA Centre is responsible for, and is assisting the ASEAN Humanitarian Assistance Coordinator in mobilising more resources and coordinating coherent and harmonised regional actions on disaster responses.
What are the challenges of responding to disasters during a pandemic?
Secretary-General Lim
COVID-19 pandemic created a situation where overseas travel and supply chain restrictions severely slow down the movement of relief items and international humanitarian workers. Additionally, evacuations were hampered as affected populations could not be transported in large numbers, while evacuation centres could only be filled to half their usual capacity to prevent the spread of the coronavirus disease.
Delivering humanitarian response must be innovative and utilise information and communications technology. Cash-based transfers via digital platforms could be another potential use of technology in a disaster-pandemic context. Donors and humanitarian agencies increasingly view cash-based interventions as an important emergency response to meet immediate needs in the aftermath of a disaster. Another area of improvement would be communications. As communications infrastructure could be damaged during a natural hazard, it would require innovative solutions to ensure that disaster-prone and disaster- affected communities remain connected.
How would you assess the work that has been accomplished in the ASEAN Agreement on Disaster Management and Emergency Response (AADMER) Work Programme 2016-2020? What can be expected from the AADMER Work Programme 2021-2025?
Secretary-General Lim
Recognising that ASEAN Member States are at a higher risk of experiencing and suffering from disasters due to natural and human-induced hazards, ASEAN has laid down a policy framework that mandates the programmatic pursuance of disaster management and risk reduction initiatives at regional and national levels. The ASEAN Agreement on Disaster Management and Emergency Response (AADMER) was ratified by all 10 Member States and entered into force on 24 December 2009. It has two objectives: (i) reduction of disaster losses, and (ii) enhanced regional cooperation in responding to disasters. AADMER is a legally-binding instrument— binding all the 10 countries and serving as a common platform in responding to disasters within ASEAN. The Agreement establishes the ASEAN Coordinating Centre for Humanitarian Assistance on disaster management (AHA Centre) as the operational coordination body and engine of AADMER.
There is also the ASEAN Disaster Management and Emergency Relief Fund (ADMER Fund) which was established for the implementation of AADMER. The fund is administered by the ASEAN Secretariat under the guidance of the Conference of the Parties to AADMER. The ADMER Fund serves as a pool of resources to support the implementation of the AADMER work programme, respond to emergencies in ASEAN Member States, as well as for the operational activities of the AHA Centre. It is open to voluntary contributions by ASEAN Member States and other public and private sources, such as ASEAN dialogue partners and assisting (donor) governments.
The ASEAN Committee for Disaster Management (ACDM) will continue to serve as the main driver in the implementation of AADMER, assisted by the five ACDM working groups, the ASEAN Secretariat, AHA Centre, as well as partners and stakeholders.
The ACDM essentially provides leadership and guidance towards fulfilling the aims of AADMER, and oversees the overall implementation of the work programme.
Through ACDM, we aim to strengthen coordination with other relevant ASEAN bodies, such as through the cross-sectoral coordination platforms we have created. ACDM also intends to invite and engage partners and stakeholders to ensure that the AADMER implementation is inclusive and comprehensive.
The ACDM working groups will continue to take the implementation of specific priority programmes. They are expected to review proposals from partners and determine the technical feasibility, before endorsing the proposals to the ACDM. They are also expected to engage with partners at the technical level and invite partners into open sessions of the working groups.
The national disaster management organisations (NDMOs), which constitute the ACDM, will oversee the implementation of the priority programmes at the national and local levels, and institutionalise AADMER at national and local levels.
ASEAN Secretariat will continue to provide policy coordination support to the ACDM as well as assist the ACDM in assessing technical feasibility of proposals submitted by partners, to ensure that they are in line with the priority programmes.
Likewise, AHA Centre will continue to support ASEAN Member States in ensuring collective response and in capacity building, and will assist the working groups on the technical implementation of the priority programes.
Partners and stakeholders are expected to work with ACDM to ensure that their proposed activities contribute directly to the AADMER work programme. To ensure coordination, partners are expected to liaise with the ACDM working groups through ASEAN Secretariat and AHA Centre.
The ASEAN Work Programme 2021-2025 will continue to strengthen the coordinated and coherent regional efforts in disaster management by ASEAN. The work programme will continue to provide a set of concrete actions to assist ASEAN Member States reduce risk and strengthen resilience. It will expand potential collaborations with wider stakeholders. It calls for more innovative methods for disaster risk financing and insurance. It will strengthen alignment with international frameworks such as the Sendai Framework for Disaster Risk Reduction, Paris Agreement on Climate Change, and the Global 2030 Agenda of Sustainable Development. Most importantly, it will bring ASEAN closer towards realising its vision of being a global leader in disaster management.
What strategies or interventions are being implemented at the ASEAN regional level to strengthen the ability of Member States to prepare for, manage, and minimise the effects of both rapid and slow-onset disasters?
Secretary-General Lim
The ACDM, through its five working groups, has developed and implemented various tools, mechanisms, and capacity building initiatives to strengthen the capacity of ASEAN Member States in preventing, mitigating, and responding to the impact of rapid and slow-onset disasters. The development of the ASEAN Guidelines on Risk Vulnerability Assessment, enhancement of the ASEAN Disaster Monitoring Response System, development of national risk profiles, and strengthening of risk data and information sharing both for rapid and slow-onset disasters have been essential to support the Member States with relevant and reliable information on the particular risks and hazards affecting different countries. Initial risk assessment data and information have proven to be useful to support the preparedness actions and also the development of more proximate scenarios planned under the ASEAN Joint Disaster Response Plan and ASEAN Regional Disaster Exercise.
ASEAN has been consistent in mainstreaming disaster risk reduction (DRR) into climate change adaptation. It has strengthened institutional capacity and policy frameworks for effective implementation of DRR and climate change action, and undertook various interventions in incorporating DRR into climate prediction, in particular to the flood-prone countries.
ASEAN continuously promotes safe and resilient infrastructure through the ASEAN Safe School Initiative programme, development of guidelines, regional standards, and innovative designs for urban resilience and climate adaptive cities.
With regard to slow-onset disasters such as drought, ASEAN has successfully completed comprehensive studies to identify the potential risks and impact of drought on the region. The study report provided insightful recommendations to ASEAN on how to mitigate and respond to the foreseeable challenge of drought, and led to the development of the ASEAN Declaration on the Strengthening of Adaptation to Drought in 2020. A regional plan of action to implement the Declaration is underway, and will provide a stronger foundation for relevant sectors in preventing and responding to the impact of drought in the years to come.
The most important takeaway from the pandemic is the appreciation of the continuing relevance and importance of regional and global cooperation.
What lessons have ASEAN Member States learned regarding the pandemic and how have these influenced the priorities and initiatives of the ASEAN disaster management sector going forward?
Secretary-General Lim
The Declaration of the Special ASEAN Summit on Coronavirus Disease 2019 (14 April 2020) recommended the following seven measures:
(i) Further strengthen public health cooperation measures to contain the pandemic and protect the people, (ii) Make arrangements to preserve supply chain connectivity,
(iii) Actions are to be based on a multi-stakeholder, multi-sectoral, and comprehensive approach by ASEAN to effectively respond to COVID-19 and future public health emergencies,
(iv) Take collective action and coordinate policies in mitigating the economic and social impact from the pandemic, safeguarding the people's well-being and maintaining socio-economic stability,
(v) Enhance effective and transparent public communication involving multiple forms of media including timely updates of relevant government policies, public health and safety information, clarifications on misinformation, and efforts
to reduce stigmatisation and discrimination, (vi) Prioritise the well-being of our peoples in ASEAN's collective fight against COVID-19, and provide appropriate assistance and support to the nationals of ASEAN Member States affected by the pandemic in each other's country or in third countries,
(vii) Support reallocating existing available funds and encourage technical and financial support from ASEAN's partners to facilitate cooperation, including the proposed establishment of the COVID-19 ASEAN Response Fund.
The most important takeaway from the pandemic is the appreciation of the continuing relevance and importance of regional and global cooperation. COVID-19 strengthened the unshakeable bond of brotherhood of nations among ASEAN Member States as regional collaboration is necessary to their national COVID-19 containment efforts. COVID-19 has brought the best in ASEAN and its external partners, showing that multilateralism and regional cooperation are ideal approaches to address common challenges.
With reference to the ASEAN Vision 2025, how do you see ASEAN realising the vision
of being the global leader in disaster management in the future?
Secretary-General Lim
ASEAN is well placed to become a global leader in disaster management and emergency response, given its vast experience, knowledge, and expertise. These experience, knowledge and expertise need to be leveraged more effectively through multiple avenues including through comprehensive and integrated communications. As we look at ASEAN as an overarching regional governance system, it is important to ensure that the different ASEAN pillars and sectors effectively work together. Furthermore it is important for ASEAN to explore sustainable and innovative ways to transform the way it funds and mobilises resources for disaster management and emergency response as well as enhance its networks with traditional and non-traditional partners. Therefore for the next five years, ASEAN will focus on activities to support the following priorities: (i) knowledge management for regional resilience building, and (ii) sharing of regional knowledge and experiences to demonstrate global leadership in disaster management.