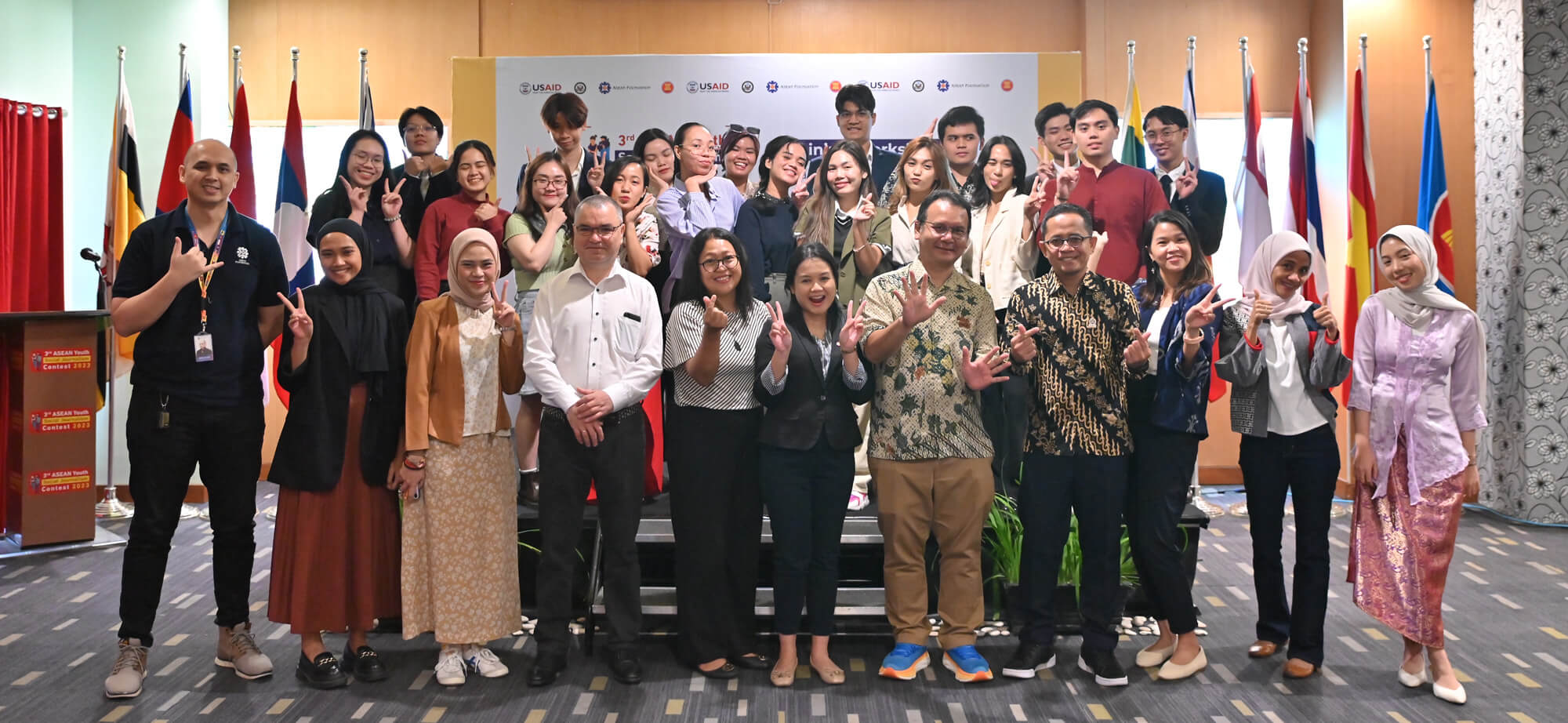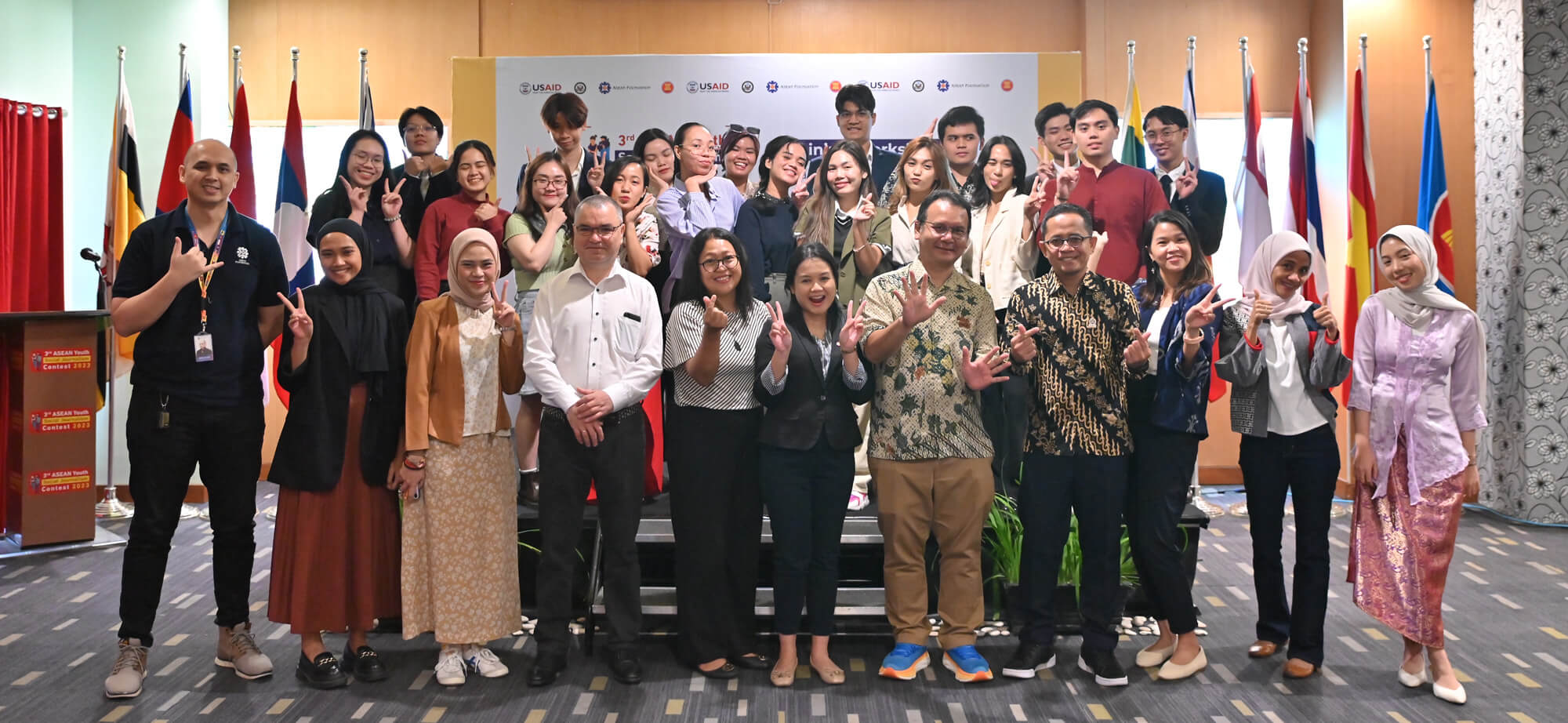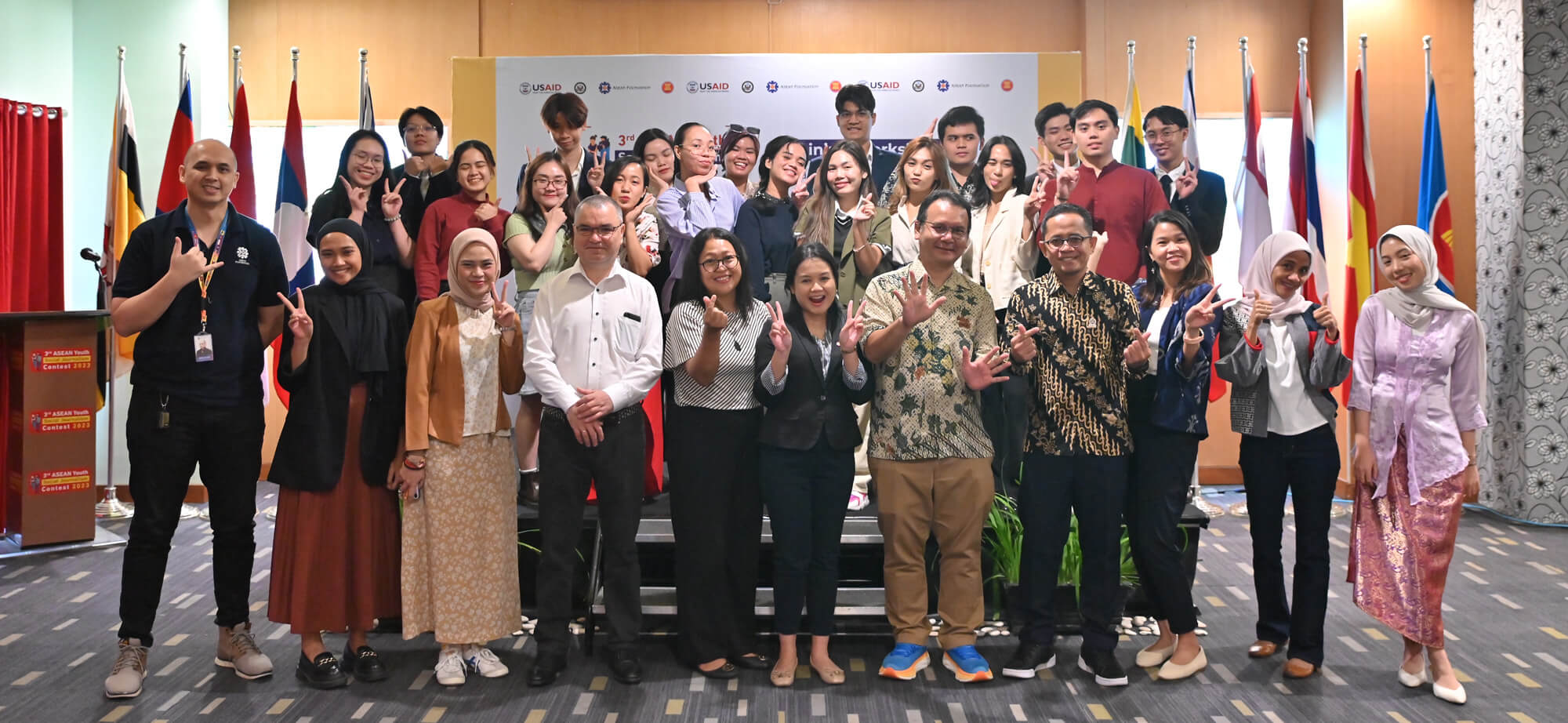 ASEAN Youth Social Journalism Contest 2023: Harnessing Social Journalism for Community Resilience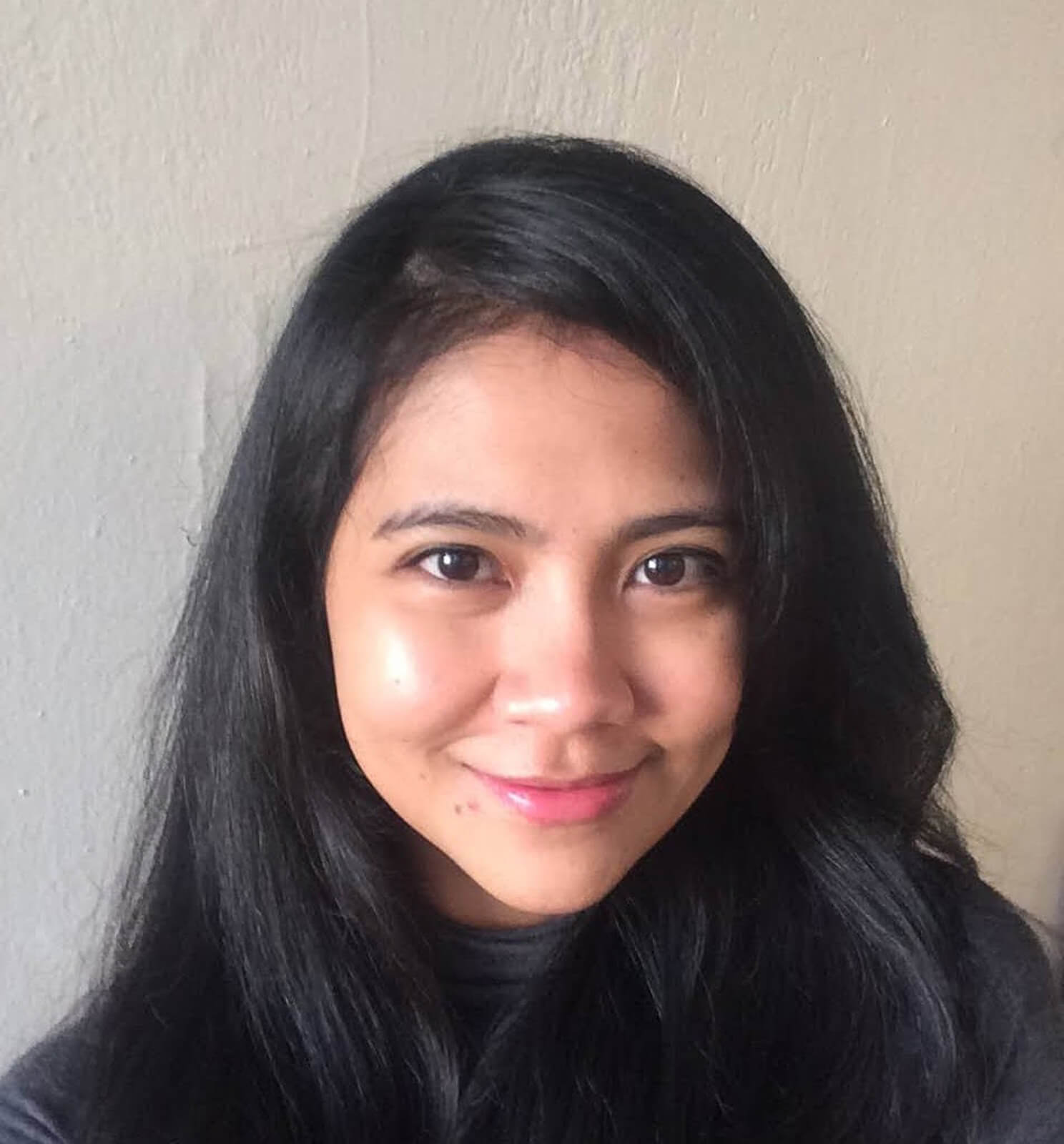 Ixora Tri Devi
Staff Writer, The ASEAN | ASEAN Socio-Cultural Community Department
ASEAN Identity and Community Building
The 3rd ASEAN Youth Social Journalism Contest (AYSJ), a collaborative effort of the ASEAN Foundation, ASEAN Secretariat, and the ASEAN-USAID PROSPECT project, was successfully held under the theme "Community Resilience." This competition has been a pivotal platform for nurturing young journalists across Southeast Asia over the past five years. As of 2022, the initiative has trained 58 finalists from all 10 ASEAN Member States, equipping them to tackle diverse societal challenges, from combatting domestic violence to promoting eco-friendly shopping.
This year, 20 finalists engaged in an immersive in-person journalism training workshop in Yogyakarta, Indonesia, refining their skills to craft impactful campaigns that resonate with their communities. Beyond the workshop, these teams implemented their campaigns, vying for the coveted top three positions and cash prizes of 1,000 US dollars (1st winner), 750 US dollars (2nd winner), and 500 US dollars (3rd winner) based on their campaign performance.
The AYSJ 2023 winners focused on addressing critical issues such as climate justice, food security, indigenous education, sex education, and water, sanitation, and hygiene, demonstrating their dedication to driving positive change within their communities.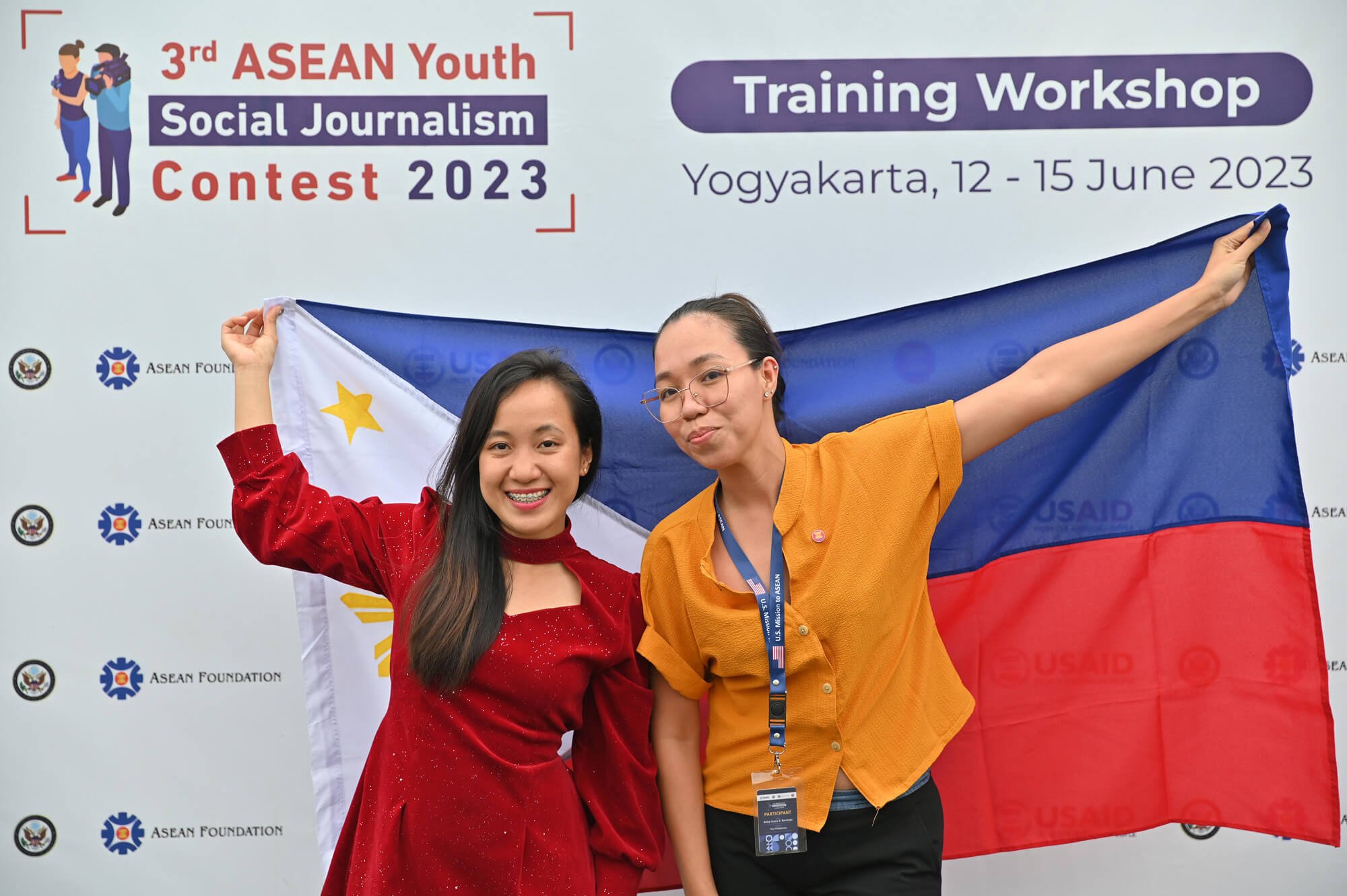 Abby Grace Bermejo and Krystel Mae Peñaflor from the Philippines
First Place Winner, ASEAN Youth Social Journalism Contest 2023
The journey of Abby Grace Bermejo and Krystel Mae Peñaflor, both 30 years old, began during their college days at the University of the Philippines Los Baños. Their shared path was destined for greater things beyond the classroom. 
While Abby was keen on ecotourism, and Krystel specialised in social forestry and climate change adaptation, they found common ground in volunteering for public speaking engagements at environmental events. 
In 2018, they founded the Youth Climate Navigators, a platform dedicated to capacity-building and raising public awareness through education. Their mission centred around catalysing innovative climate adaptation and mitigation mechanisms.
Despite their lack of prior journalism experience, Abby and Krystel saw the competition as an opportunity for growth. For their campaign, they sought to have a better understanding of the nature of and solutions to the vulnerabilities of remote island communities in the Philippines' Bicol Region, frequently ravaged by intense typhoons.
In an interview with The ASEAN, Abby expressed her motivation, saying, "As a young leader, my ability and creativity to initiate youth-led collaborations are key factors for youth development. These interventions can empower aspiring youth leaders in Southeast Asia to actively engage in their community and drive positive social change."
Their campaign, "Climate Resilient Islands Philippines," was deeply rooted in personal experience. The devastating super typhoon Ulysses (Vamco) that struck during the COVID-19 era in 2020 laid bare the vulnerability of island communities. 
The closure of a major local news network left these communities without vital early warnings and assistance during disasters.
Krystel noted, "remote island communities struggle to survive super typhoons due to a lack of mainstream media coverage and delayed disaster response from the national leaders on the mainland. Ineffective communication between the national government and local island leaders impedes timely emergency response. Without these systems in place, they face these challenges alone."
This dire situation fueled Abby and Krystel's determination to bridge the information gap. The ASEAN Youth Social Journalism Contest 2023 provided a platform to turn their ideas into reality.
During the competition, they discovered the potential of journalism as a transformative tool. They introduced "Citizen Science Journalism," a system driven by trained youth volunteers to deliver accurate and localised early warnings. 
Their campaign aimed to empower communities through information, strengthen political will, and foster collaboration among diverse stakeholders to achieve resilience. Their mission extended to bridging the gap between the privileged and the marginalised, honouring indigenous knowledge, and promoting local adaptation practices.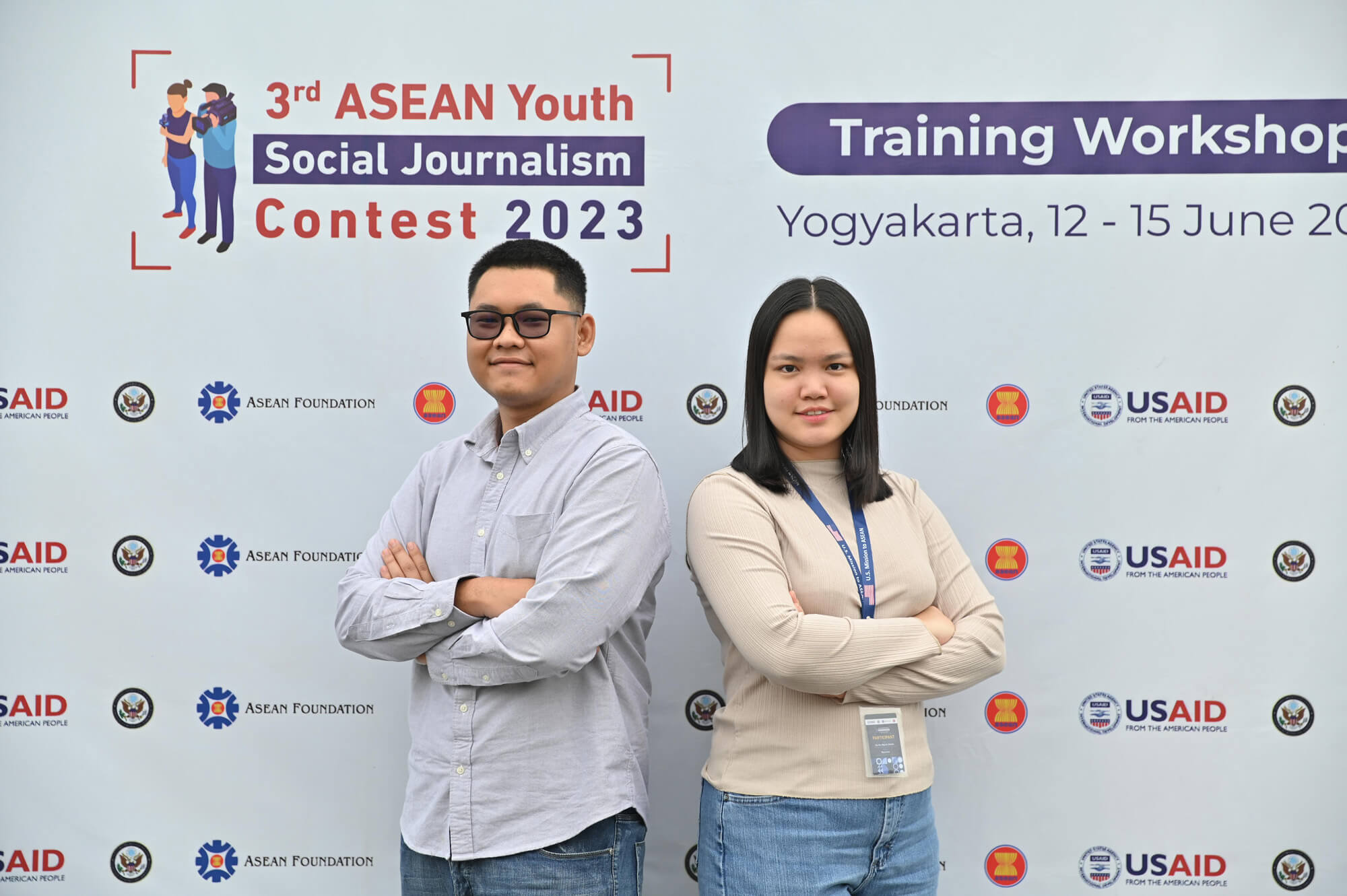 Po Po Myint Shein and Wai Liam Phyo Kyaw from Myanmar
Second Place Winner, ASEAN Youth Social Journalism Contest 2023
Twenty-six-year-old Po Po Myint Shein was born and raised in Mawlamyine, Mon State. Meanwhile, 23-year-old Wai Liam Phyo Kyaw was born in Meikhtila and raised in Lewie, Mandalay Region. Despite growing up far apart, Po and Wai share a common concern: the inadequate attention to nutritional knowledge within their nation.
This shared concern led them to join forces for the ASEAN Youth Social Journalism Contest 2023, where they campaigned to raise awareness about nutritional challenges within the Myanmar community. Their primary goal was to elevate public awareness of this pressing issue.
"In Myanmar, the topic of food and nutrition has received limited attention. Access to nutritional knowledge and resources is scarce, perpetuating misconceptions and traditional beliefs surrounding everyday meals. Recognising these critical gaps, our team 'Aharya-အာဟာရ' delivered meaningful nutritional knowledge and engaged in activities that bolster community resilience and understanding of nutritional challenges," the duo stated in an email to The ASEAN. 
Wai and Po pursued their bachelor's degrees at the University of Yangon. After graduating, Po worked as a community and event coordinator. Meanwhile, Wai is completing his bachelor's degree and works as a freelance photographer. These complementary skills helped them during the competition.
Even with previous experience in digital marketing and content creation, the duo faced several challenges, including conducting offline activities. They decided to host these activities in a local wet market, a choice that turned out to be highly successful. They also worked with a local nutritionist to help make sure their content was factual.
"We are unfamiliar with the healthcare and food safety industry. We spent hours doing desk research. Fortunately, with the help of nutritionist Ma Thu Thu, we were able to publish accurate content. Despite all these challenges, the campaign went well and received positive feedback from the community." 
Securing second place in the competition came as a pleasant surprise. The opportunity has motivated them to keep going. "We plan to collaborate with other organisations to solve other social issues not only limited to nutritional challenges," they said.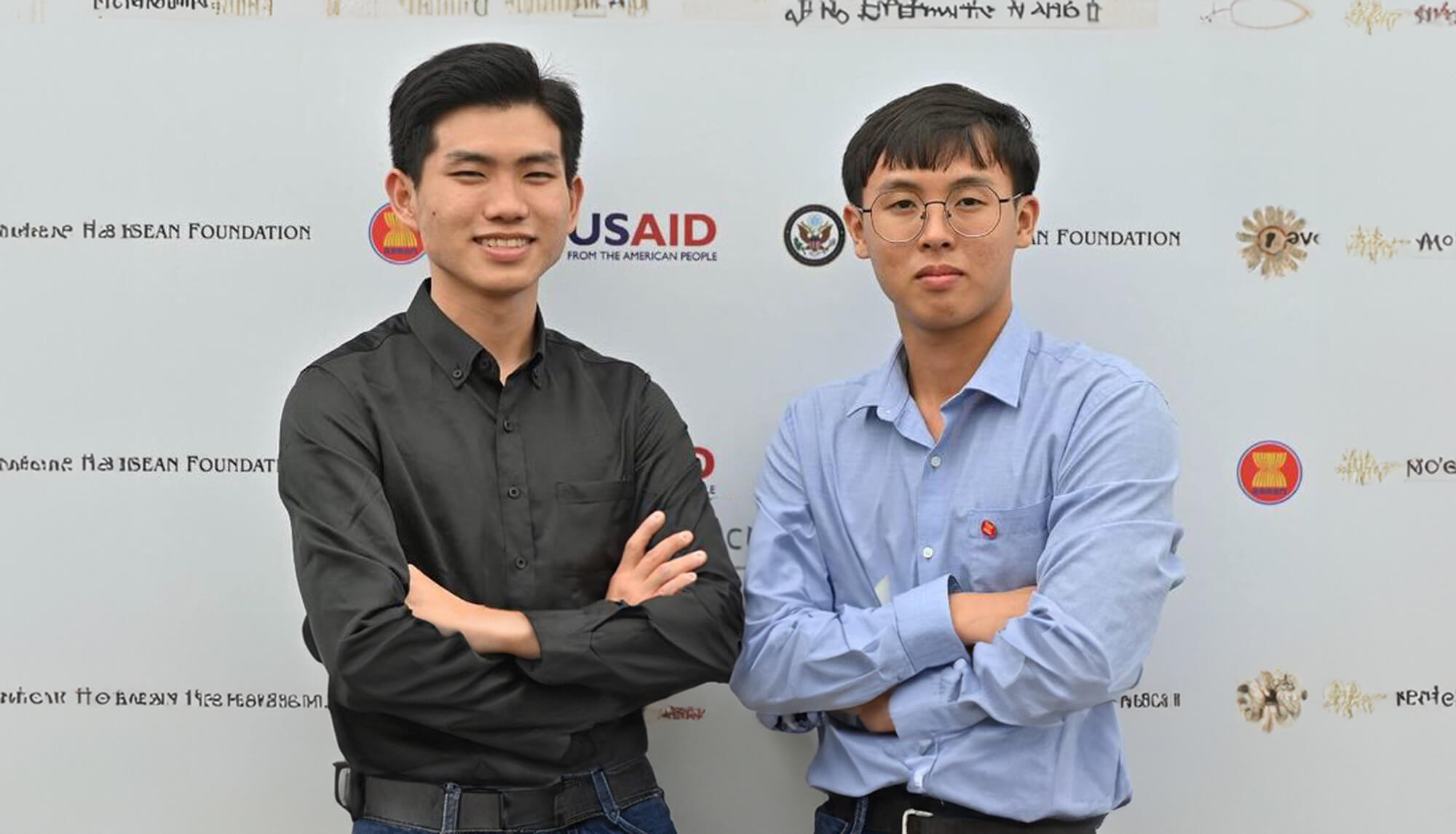 Soon Ping Wong and Yung Kang Lo from Malaysia
Third Place Winner, ASEAN Youth Social Journalism Contest 2023
Bunneam Chhimcanal and Nika Chom from Cambodia
Honourable Mentions, ASEAN Youth Social Journalism Contest 2023
Fresh out of college, Bunneam Chhimcanal and Nika Chom, both 24 years old, found themselves working together as programme officers at the Centre for Sustainable Water in Phnom Penh, Cambodia. While their collaboration wasn't initially planned, it didn't take long for these graduates of the Institute of Technology of Cambodia to realise their shared concern for the critical issues of water, sanitation, and hygiene (WASH).
As programme officers, their work sheds light on the challenges rural communities face in Cambodia, particularly the lack of access to vital information regarding WASH. Hence, when they stumbled upon the opportunity to participate in the ASEAN Youth Social Journalism Contest 2023, they leapt at the chance to bring their shared passion for WASH to a broader audience.
Their dedication to this cause stems from a significant realisation. "In 2019, I came across a report by WHO that emphasised the crucial role of water, sanitation, and hygiene in achieving the Sustainable Development Goals (SDGs) by 2030. This revelation propelled us to take action," explained Bunneam during an interview with The ASEAN.
In hindsight, Bunneam and Nika recognised that effective communication and media skills were pivotal in delivering their message and raising awareness about this vital issue. Their excitement soared when they were selected as finalists to attend in-person workshops on journalism in Yogyakarta, Indonesia, from June 12 to 16, 2023.
"At first, we anticipated conventional lessons about news and print media. However, to our delight, the workshops exceeded our expectations. They taught us how to create compelling content and utilise various apps for content production. It was an entirely new experience for us, and we are genuinely grateful for the opportunity," Bunneam shared.
Both Bunneam and Nika candidly admitted that they weren't enthusiastic users of social media platforms initially. Stepping out of their comfort zones, they embarked on a journey to learn the intricacies of these platforms.
"We weren't accustomed to standing in front of cameras and posting videos of ourselves. Therefore, one of the most challenging aspects for us was to actively engage on social media. We try to build our online presence, which is entirely new territory for us," Bunneam confessed.
However, as they persisted in their efforts, the duo began to relish the experience, experimenting with various social media platforms.
Bunneam and Nika's newfound skills and experiences changed their perspective on social media, leading them to consider its potential for future projects.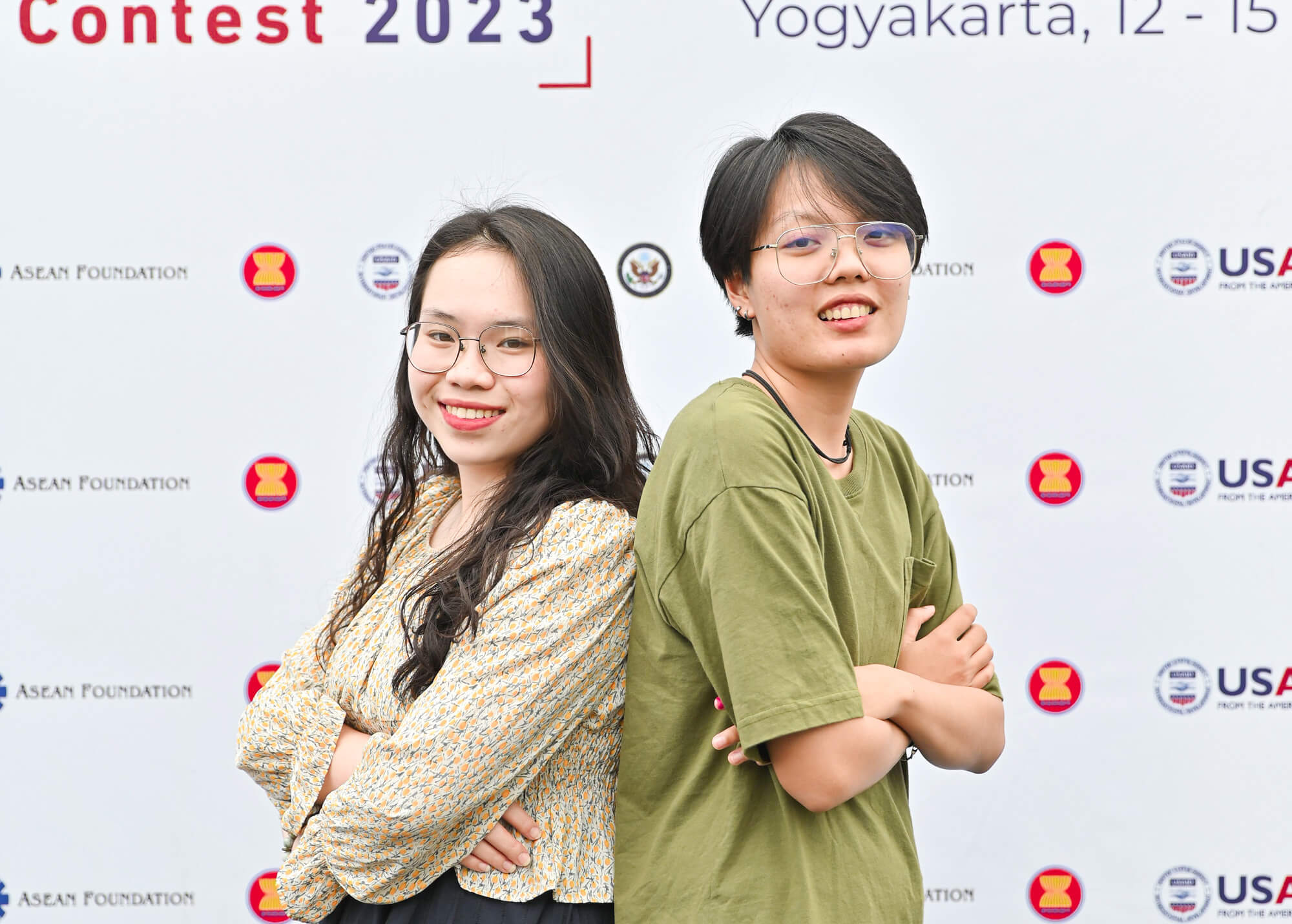 Pakaimek Sirisouk and Thipphasone Phonphakdy from the Lao PDR
Honourable Mentions, ASEAN Youth Social Journalism Contest 2023
Pakaimek Sirisouk, a 22-year-old graduate from the Faculty of Engineering at the Lao-American Institute, and Thipphasone Phonphakdy, also a 22-year-old, a recent graduate in Environmental Engineering from the University of Lao, shared diverse interests and perspectives, but their enduring friendship prevailed.
"We attended the same primary school, high school, college, and university. Despite our differences in habits, preferences, and ideas, we formed a strong bond. We faced numerous challenges and even had disagreements that tested our friendship. However, we remain friends, and to me, that exemplifies the essence of true friendship," Pakaimek shared in an email with The ASEAN.
The duo's campaign centred on the vital issues of healthcare and the challenges youth face. Specifically, they tackled the sensitive subjects of unintended pregnancies and sexually transmitted infections (STIs) to raise awareness and educate their peers on responsible reproductive health practices.
Pakaimek and Thipphasone's campaign was inspired by their personal experiences and observations within their society. They witnessed the adverse effects of inadequate sex education and felt compelled to tackle them directly.
"We wanted to explain misunderstandings about sex education and emphasise its importance in supporting healthy relationships, consent, and reproductive health," said Thipphasone.
Their campaign aimed to demystify myths surrounding reproductive health and empower the youth with knowledge that can enable informed decisions and prevent unwanted consequences.
Pakaimek expressed, "The most challenging aspect of the competition for me is effectively communicating our campaign. We need to convey our message clearly while being mindful of our language and tone, ensuring that we do not alienate the youth in the Lao PDR."
"To address this, we studied culture and beliefs and adapted our messaging to be sensitive and inclusive. We also asked for feedback from people from all backgrounds to ensure that the campaign was friendly and appropriate to a wide range of audiences," echoed Thipphasone.
Recognising the power of social media, they harnessed its potential to engage with a broader audience. 
"As youth journalists, our advice to others aspiring to make a difference through journalism is to be passionate, curious, and patient. Find a topic that you deeply care about and go for it," said Thipphasone.
"Clear communication is essential. Also, keep doing what you love, as it will eventually lead to something," Pakaimek concluded.