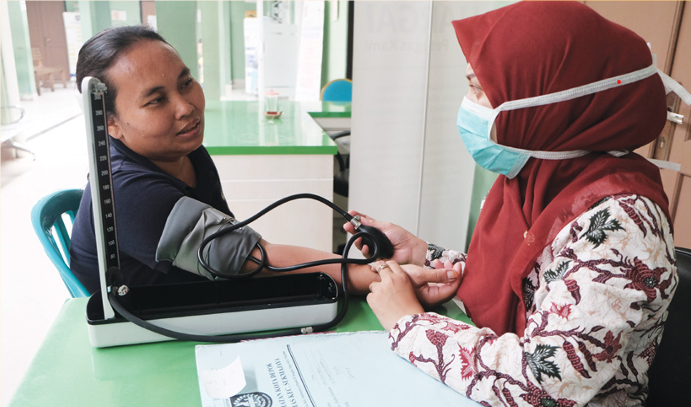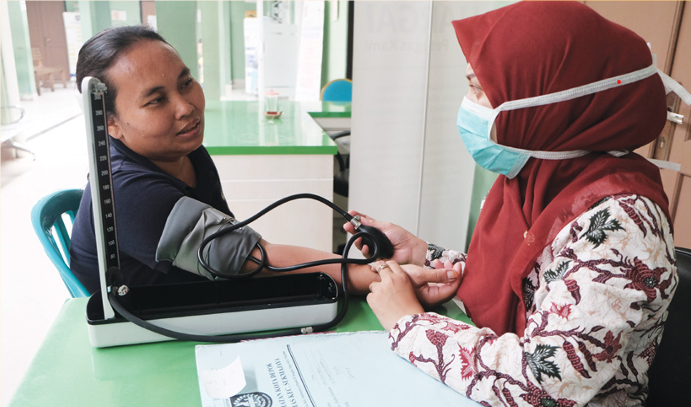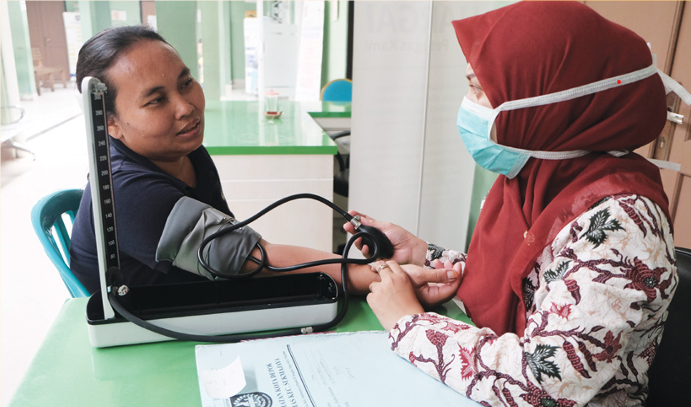 Universal Health Coverage in ASEAN
Oscar Primadi, MPH
Secretary General, Ministry of Health, Indonesia; Chair, Senior Officials Meeting on Health Development
Health and COVID-19, Social Protection
In pursuing Universal Health Coverage (UHC), the World Health Organization (WHO) advocates that all people should receive the full spectrum of essential, quality health services, from health promotion to prevention, treatment, rehabilitation, and palliative care, without suffering financial hardship.
WHO further describes UHC as an intervention to increase peoples' access to quality health services that are needsbased in order to improve the health of those who are able to receive them.
All UN Member States have agreed to undertake and achieve UHC by 2030 as part of their commitment to Sustainable Development Goals (SDGs). This goal presents challenges given that at least half of the world's population is still without full coverage for essential health services and about 100 million people are still living on 1.90 US Dollars or less per day based on WHO estimates. This vulnerability is exacerbated by the fact that a household spends at least 10 per cent of its income for health care—a common situation facing more than 930 million people around the globe according to WHO.
Currently, more emphasis has been placed on addressing and achieving UHC because of the health and socio-economic effects of the COVID-19 pandemic. Countries around the world that are challenged by the pandemic are also confronted by, among others, labour and poverty issues. 
The global discourse in addressing and f inancing UHC has gone beyond the identification of traditional sources of funds or approaches to deliver essential health services to populations. Literature has introduced encompassing perspectives to tackle UHC, including upstream investments in public health; health system enhancement; investments on human capital especially human resources for health; increase in labour market skills and jobs; poverty reduction and social protection; promotion of f inancial protection and reduction in inequities by decreasing out-of-pocket payments; increase in efficiency of resource mobilisation; and, health security strengthening. These are being tackled as the current COVID-19 pandemic including past outbreaks have shown their overarching effects, such as causing productivity and development setbacks, at the national, regional, and global levels.
Indonesia's Progress Towards Achieving UHC
As mandated by the 1945 Constitution of the Republic of Indonesia, all citizens, including the poor and vulnerable, are entitled to proper healthcare services. Consequently, the governments are responsible for providing a healthcare system that improves access to health services for the poor and vulnerable and protects them against the impacts of illness. The Indonesian government has initiated a social security reform process by promulgating Law No. 40 on National Social Security System in 2004 (SJSN Law) and Law No. 24 establishing the National Social Security Agency (BPJS) in 2011, to fulfil its commitment to have a health care system for all Indonesians and migrant workers who have been working in Indonesia for at least six months.
On the National Health Insurance or Jaminan Kesehatan Nasional (JKN), its implementation in Indonesia began in January 2014 and was widely seen as a significant step towards achieving UHC.
JKN aims to provide a comprehensive healthcare for the entire population through government support and by funding low-income groups' premium. JKN intends not only to expand coverage, but also to improve access to quality and comprehensive healthcare services.
During the first six years of JKN implementation, the Indonesian government carried out several strategies to strengthen JKN sustainability, primarily by improving the National Health Insurance Administration Agency or Badan Penyelenggara Jaminan Sosial Kesehatan (BPJS Health) management. The strategies entailed improving the standards of quality, strengthening promotive and preventive measures, increasing the use of generic drugs and domestic medical devices, rationalising health f inancing by optimising cost-sharing, and promoting other financial sources such as philanthropy. 
In August 2019, more than 223.4 million people, representing 83 per cent of the total population, have been covered by the JKN. In the same period, there were 23,084 primary healthcare providers and 2,251 secondary and tertiary healthcare providers registered as JKN providers. JKN utilisation reached 233 million visits in 2018, and it reached more than 159 million visits in May 2019. Since JKN's implementation, there has been a dynamic change in health spending in Indonesia. In 2019, Indonesia's National Health Account reported that a share of public financing through the government budget increased and became the largest financing source at 32 per cent of total health expenditure. The share of social health insurance f inancing also increased to 21 per cent of total health expenditure and the out-of-pocket spending in the macro term decreased from 54 per cent in 2010 to 31.6 per cent in 2017. However, the proportion of total health expenditure is 3.2 per cent of GDP in 2017.
Indonesia's Approach to the COVID-19 Pandemic and UHC
Amidst growing concerns related to the increasing demands to the health system and needs of the people affected by COVID-19, maintaining the quality as well as the cost-effectiveness of services without compromising other national health priorities, remains of prime importance to the Ministry of Health. In the fight against COVID-19 pandemic, Indonesia is faced with having to care for numerous patients while preventing the health system from being overwhelmed, and allocating health care resources while minimising price rationing. 
To cope with the situation, the central and local governments reallocated their budget to prioritise government response to COVID-19, such as contact tracing, surveillance, and in-patient care, and provision of medical supplies and health care as additional support to the JKN. With the increasing demand for health care, JKN plays a vital role in providing essential healthcare services to COVID-19 patients as well as controlling the price of pharmaceuticals and healthcare services.
UHC Achievements in ASEAN
Based on the ASEAN Socio-Cultural Community Blueprint, the ASEAN Post 2015 Health Development Agenda (APHDA) was developed to address the regional health concerns of 10 ASEAN Member States. One of the 20 Health Priorities in this APHDA is UHC.
Aligned with the SDGs, the work programme of ASEAN Health Cluster 3 on Strengthening Health Systems and Access to Care for 2016-2020 identified regional activities to complement and enhance the achievements of UHC at the national level. Under this work programme, ASEAN targets that all ASEAN populations, regardless of household income, expenditure or wealth, place of residence or gender, have at least 80 per cent essential health services coverage by 2030; and by 2020, at least 80 per cent of documented migrants in ASEAN have access to healthcare in receiving countries.
In 2019, the ASEAN Health Sector published a dedicated issue in the ASEAN e-Health Bulletin on UHC entitled "Progressive Realisation of Universal Health Coverage: ASEAN Member States." In this publication, we reported that ASEAN's population had reached 642.1 million, accounting for 8.5 per cent of the world population as of 2017. Though ASEAN's population is considered to be gradually getting older, the share of youth population below 20 years and productive working-age population of 20-54 years has remained large at 34.5 per cent and 50 per cent, respectively.
The article highlighted regional achievements in UHC and noted that all ASEAN Member States have committed to UHC even though they are at different stages of moving towards the goal through different health financing approaches and programmes. As of July 2019, Brunei Darussalam, Malaysia, Singapore, and Thailand have covered nearly 100 per cent of their population under their UHC programmes. Brunei Darussalam achieved UHC by implementing its national welfare programme. Malaysia achieved UHC using public providers and general government budget since the 1980s. Singapore has covered 93 per cent of its population by implementing national programmes such as MediSave, MediShield, and MediFund since the 1980s. Thailand has achieved UHC since 2002.
Indonesia, Philippines, and Viet Nam are also moving closer to achieving UHC. As for Indonesia, it has achieved 84 per cent coverage through its national health insurance which started in 2014. The Philippines has achieved 78 per cent national health insurance coverage through the efforts of national and local governments and the benefits package offered by the PhilHealth Insurance Corporation. Viet Nam has achieved 89.9 per cent coverage through its social health insurance scheme based on the Resolution of the Central Committee of the Communist Party of Viet Nam. Cambodia, Myanmar, and Lao PDR are also committed to progressing in UHC and have exerted efforts on strengthening their health systems which form the foundation of UHC.
Moving Towards UHC through the ASEAN Post 2015 Development Agenda and Beyond
The decision of ASEAN Member States to prioritise UHC specifically took the perspective of enhancing health systems under the five-year work programme of ASEAN Health Cluster 3 on Strengthening Health Systems and Access to Care. To complement national interventions on UHC, this cluster identified regional priority strategies to include as follows: (i) promoting improved access to safe, affordable and appropriate services; technology, essential drugs and vaccines; and traditional and complementary medicine by developing national policies and regulations for ASEAN population including vulnerable groups; (ii) advocating appropriate levels of health resources including human resources for health and health financing; and (iii) enhancing communication, knowledge sharing including research and development, and innovations.
In this work programme, there are 18 project activities that are collectively implemented by Member States which are categorised according to themes. Theme 1 on Entitlement/ Access to Affordable Package of Goods and Services (end-user perspective) focuses on achieving the best value for money through Health Technology Assessment (HTA) by determining HTA capacity needs and building capacities in Member States; promoting efficient use of resources through information sharing such as on the affordability of pharmaceuticals; and encouraging the adoption of standard measurements of health system performance through the system of health accounts and UHC metrics.
Theme 2 on the Availability and Quality of Care (provider perspective) entails ensuring ASEAN drug and vaccine security and self-reliance by establishing baselines of Member States and regional policy and programme development; strengthening quality health care by establishing baselines of Member States to develop regional recommendations; sharing of best practices; and promoting traditional and complementary medicine. Theme 3 on Services for Special Populations involves policy development on the health coverage of special populations as well as research development on special populations to contribute to evidence-based UHC. 
The other work programmes under the ASEAN Post 2015 Health Development Agenda for 2016-2020 include those for: ASEAN Health Cluster 1 on Promoting Healthy Lifestyles, ASEAN Health Cluster 2 on Responding to All Hazards and Emerging Threats, and ASEAN Health Cluster 4 on Ensuring Food Safety all contribute to the attainment of UHC.
The sector-wide promotion of UHC at the regional level is continuously supported by the ASEAN health ministers and their counterparts in China, Japan and Republic of Korea (also known as the "Plus Three" countries). In the 14th ASEAN Health Ministers Meeting (AHMM) in August 2019, the health ministers committed to "strengthen primary health care in order to achieve Universal Health Coverage among ASEAN Member States, and ensure the availability and timely provision of essential medicines and cost-effective health interventions at healthcare facilities and building up the capacity of health workers" (14th AHMM Joint Statement). The 8th ASEAN Plus Three Health Ministers Meeting (APTHMM), on the other hand, reaffirmed their commitment to the United Nations SDGs to achieve Universal Health Coverage by 2030 which includes financial risk protection, access to quality essential healthcare services and access to safe, effective, quality and affordable essential medicines and vaccines for all. The 8th APTHMM also tasks "the ASEAN Plus Three Senior Health Officials to accelerate the progress towards UHC in all countries by building up the national and regional capacity to assess and manage the equitable and efficient health systems to support UHC, including activities under the ASEAN Plus Three UHC Network" (8th APTHMM Joint Statement).
Looking beyond the current work programme of the ASEAN Health Sector, the Universal Health Coverage will still form part of the ASEAN Health Sector's health priorities to build upon the outputs of ASEAN Post 2015 Health Development Agenda. To support national UHC goals and to push the regional health agenda forward, the commitments of ASEAN health ministers and other external partners on UHC will be further realised through the development of relevant strategies and activities in the 2021-2025 ASEAN Health Development Agenda.