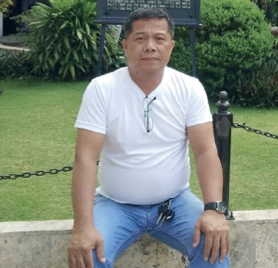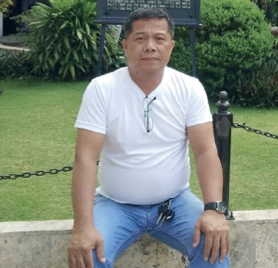 Rowel Balais
Super Typhoon Haiyan Survivor
Disaster, Social Protection
When Super Typhoon Haiyan (local name: Yolanda) struck the Philippines on 7 November 2013, Rowel Balais and his family hunkered down in their home in the town of Palo, Leyte province. Along with Tacloban city, it was one of the hardest hit areas by the deadly typhoon. Haiyan affected 16 million people and killed over 7,000.
The 55-year-old driver still lives in Leyte, where he says people are still rebuilding their lives but are better prepared for other storms to come.
"We are used to typhoons because we have them every year. We had never experienced anything like Yolanda. My wife and kids stayed with my in-laws that day, so if anything happened, we would all be together. We live in the center of town in Palo, Leyte. The winds were howling so loudly. Roofs were rattling. It sounded like gunfire, like there was a war.
"I didn't realise how bad it was until the afternoon, when we got out of the house. We saw people retrieving bodies. We heard them say, "whole families perished." Bodies started to pile up and there was no place for them to be buried. Many of the dead were buried in shallow graves, near the Palo cathedral. People were walking around looking dazed, looking for food and water. Supplies came in about seven days after the typhoon but we had to ration it. We let the children and elderly eat and drink first.
"There are so many stories to tell. My best friend, who lived in Tacloban, lost his entire family. Tacloban and Palo were the hardest hit by Yolanda. He worked as a barker outside the airport and he still works there now but he's alone.
"I have a taxi and thankfully, it wasn't damaged by the typhoon, so I could still work after it passed. I was hired by an international NGO and I drove doctors around Leyte while they did their work. Days after the typhoon, that's when I saw more of the destruction. Food and water were running out, so people started getting hungry and looting stores and warehouses. I saw that but I also witnessed how people came and helped each other out. Shop owners were giving away their stock of canned goods and food. I was able to work with groups that came in to help in the relief efforts. Later, I helped distribute donated supplies to people too.
"People here always say we are used to typhoons. We don't need to evacuate because we need to guard our homes and livestock. When Yolanda was coming, local officials asked residents along the coast to evacuate but many refused to do so. Locals didn't know what a storm surge meant because they used the term "tidal wave". They didn't understand that a storm surge can be dangerous. I think they need to be forced to evacuate. It has to be a forced evacuation.
"Now, people are prepared and each town has an evacuation plan and designated shelters. Before a typhoon comes, we stock up on food, put our clothes in plastic bags. Especially with the pandemic, local health centers and barangay (village) officials are ready to launch evacuation plans. I think people need to be given the proper training and information. How much rice do you need to survive for how many days? Instructions like that.
"It took about four to five years for us to recover from Yolanda. There were houses built for those who lost homes that are inhabitable. To be fair, there are many houses that people now live in."
---
Interviewed by Mary Kathleen Quiano-Castro. This conversation has been translated, edited, and condensed for clarity. The views and opinions expressed in the text belong solely to the interviewee and do not reflect the official policy or position of ASEAN.