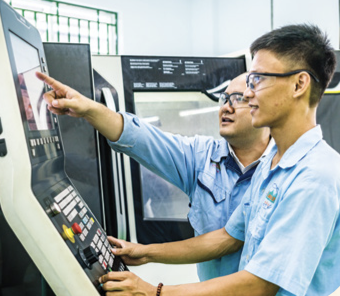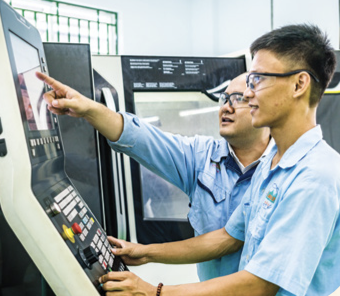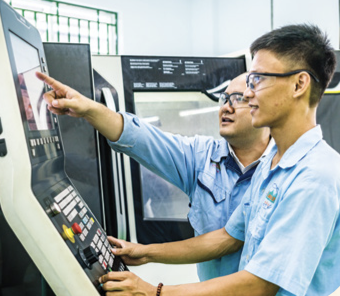 Preparing ASEAN's Youth for the Labour Market

Franziska Seel
Senior Technical Advisor, Deutsche Gesellschaft für Internationale Zusammenarbeit (GIZ) GMBH
Education, Labour and Future of Work
Transitioning from school to work is an important stage in a young person's life. Matching what young people learn at school with the skills employers need helps youth to transition more quickly and into a better job. Increasing the share of training taking place in companies can help to strengthen the matching of skills, facilitate the integration of youth into the labour market, and prepare ASEAN's economy for the Fourth Industrial Revolution.
Many youth in Southeast Asia struggle to gain employment after leaving school. A major obstacle to finding an entry-level job is young people's lack of basic competencies. Outdated and often overloaded curricula and a focus on memorising theoretical knowledge do not prepare the youth adequately for the world of work. Performing effectively at a workplace requires the practical application of knowledge, 21st-century skills (such as critical thinking, collaboration, and resourcefulness) and a professional attitude. Overcoming the skills gap is particularly relevant for young people graduating from technical and —vocational education and training (TVET) institutes, as TVET is widely considered inferior to a university education across the ASEAN region.
Beyond the issue of youth unemployment and long-term effects for the individual young person (such as lower salaries that persist for years into one's working life), ASEAN's skills gap also represents a significant economic opportunity cost for the region. Improving learning and strengthening young people's employability is a critical issue for ASEAN's social and economic community.
A transformation of learning in ASEAN Member States requires more responsiveness to the demands of the labour market. In times of rapid digital transformation, these demands are constantly changing. The best—and possibly only—way to respond to such a fast-changing labour market is by reconsidering the role of the private sector in education.
Germany's Dual Training System as a Model
In countries such as Germany, active private sector involvement in education, particularly in TVET, has a long history. Germany's dual training system features two places of learning: companies and TVET schools. Trainees are hired by a company for the duration of their training (usually 2-3.5 years) and receive a stipend. They spend 70 per cent of training time at the company embedded in a real-life work environment. Theoretical training at a publicly funded TVET school constitutes the remaining 30 per cent of training.
Germany's dual training model is highly recognised worldwide for its contribution to low youth unemployment and high skill levels. Copying this model may not be feasible for ASEAN Member States, but a steady increase of the share of in- company training would help address the region's skills gap, facilitate the integration of youth into the labour market, and prepare ASEAN's economy for the Fourth Industrial Revolution.
Improving learning and strengthening young people's employability is a critical issue for ASEAN's social and economic community.
Benefits for Companies
While many ASEAN companies remain reluctant to actively engage in the development of a skilled ASEAN workforce, research shows that companies benefit in numerous ways from investments in the training and development of students and employees. Among the benefits are lower recruitment costs, higher productivity and competitiveness, reduced staff turnover, higher employee engagement and loyalty because employees feel valued and appreciated, and a higher reputation which helps to attract the best talent in the labour market.
In recent years, ASEAN Member States have recognised the importance of public-private cooperation for the improvement of learning outcomes. The German government's Regional Cooperation Programme for TVET in ASEAN or RECOTVET supports ASEAN Member States in their numerous efforts to strengthen the involvement of the private sector in TVET. In cooperation with labour and education ministries, chambers and business associations, RECOTVET, which is implemented by the German development agency GIZ, has put a focus on promoting, expanding, and improving the quality of in-company training.
The learning outcomes of in-company training depend to a large degree on the skilled technicians and supervisors who train or mentor students, apprentices, and other employees in their company. These in-company trainers are at the heart of the approach.
The Standard for In-Company Trainers in ASEAN Countries
Between 2014 and 2015, a regional working group addressed the need to define a benchmark for the essential competencies of in-company trainers. The group consisted of 60 experts from labour and education ministries, standard authorities, the business and industry sector, as well as universities and other educational and training institutions from Cambodia, Lao PDR, Myanmar, Philippines, Thailand, and Viet Nam. In a collaborative process, they jointly developed the Standard for In-Company Trainers in ASEAN Countries.
Since 2015, a regional steering committee has been overseeing the promotion and implementation of the standard at the regional and national levels. The committee brings together nine ASEAN Member States and is composed of one public and private sector representative from each country. The work of the steering committee has been recognised by ASEAN Member States with the endorsement of the standard by the ASEAN Senior Officials Meeting on Education in 2017 and the ASEAN Senior Labour Officials Meeting's Working Group on Progressive Labour Practices to Enhance the Competitiveness of ASEAN in 2018.
At the national level, several public TVET authorities have introduced regulations for in-company trainers based on the regional standard. In 2018, for instance, the Philippines'Technical Education and Skills Development Authority approved a training regulation for in-company trainers. In Viet Nam, the Directorate of Vocational Education and Training has initiated in 2019 the development of a training programme for in-company trainers in close cooperation with the Vietnamese Chamber of Commerce and Industry. In Thailand, the government provides tax incentives for companies that invest in the qualification of in-company trainers.
To support the roll-out of trainings for in-company trainers according to the standard, RECOTVET and its cooperation partners trained over 200 master trainers (trainers of in-company trainers) from across the region and facilitated the development of training materials and assessment instruments, the translation of the standard into ASEAN languages, and knowledge sharing among ASEAN Member States.
With several ASEAN Member States having adopted this standard as a basis to regulate in- company training at the national level since its inception is a testament to its usefulness," said Deputy Secretary- General of ASEAN for ASEAN Socio-Cultural Community Kung Phoak.
Calls to Invest in In-Company Training
Calls for more investments in in-company training can be found elsewhere too: From 2018 to 2019, the ASEAN Secretariat with support from RECOTVET facilitated a regional learning process about business and industry cooperation in TVET among ASEAN Member States. As part of the process, a working group of 20 TVET champions from chambers, business associations, and companies from across ASEAN developed 45 recommendations that are compiled in the document, the Future ASEAN Agenda for TVET. One of the recommendations calls for the strengthening of in-company trainers.
Similarly, under the ASEAN Chairmanship of Viet Nam this year, governments, tripartite partners, the academia, and business sector jointly crafted the ASEAN Declaration on Human Resources Development for the Changing World of Work, which was adopted by the 36th ASEAN Summit in June 2020. The declaration calls for private sector leadership and "incentives and recognition to companies investing resources in skills training, internships and apprenticeships."
As these high-level commitments show, in-company training is increasingly recognised in ASEAN as a means to address the region's skills gap. But the work has only begun and cannot stop here. The digital transformation—which is at the core of RECOTVET's work in the years 2020 to 2023—will continue to significantly influence how we learn and what skills we (need to) acquire. Lifelong learning, and with it the role of training that takes place in companies, will become even more important to elevate the employability of the young—and old—in a workforce that is increasingly at risk of being replaced by robots and artificial intelligence.