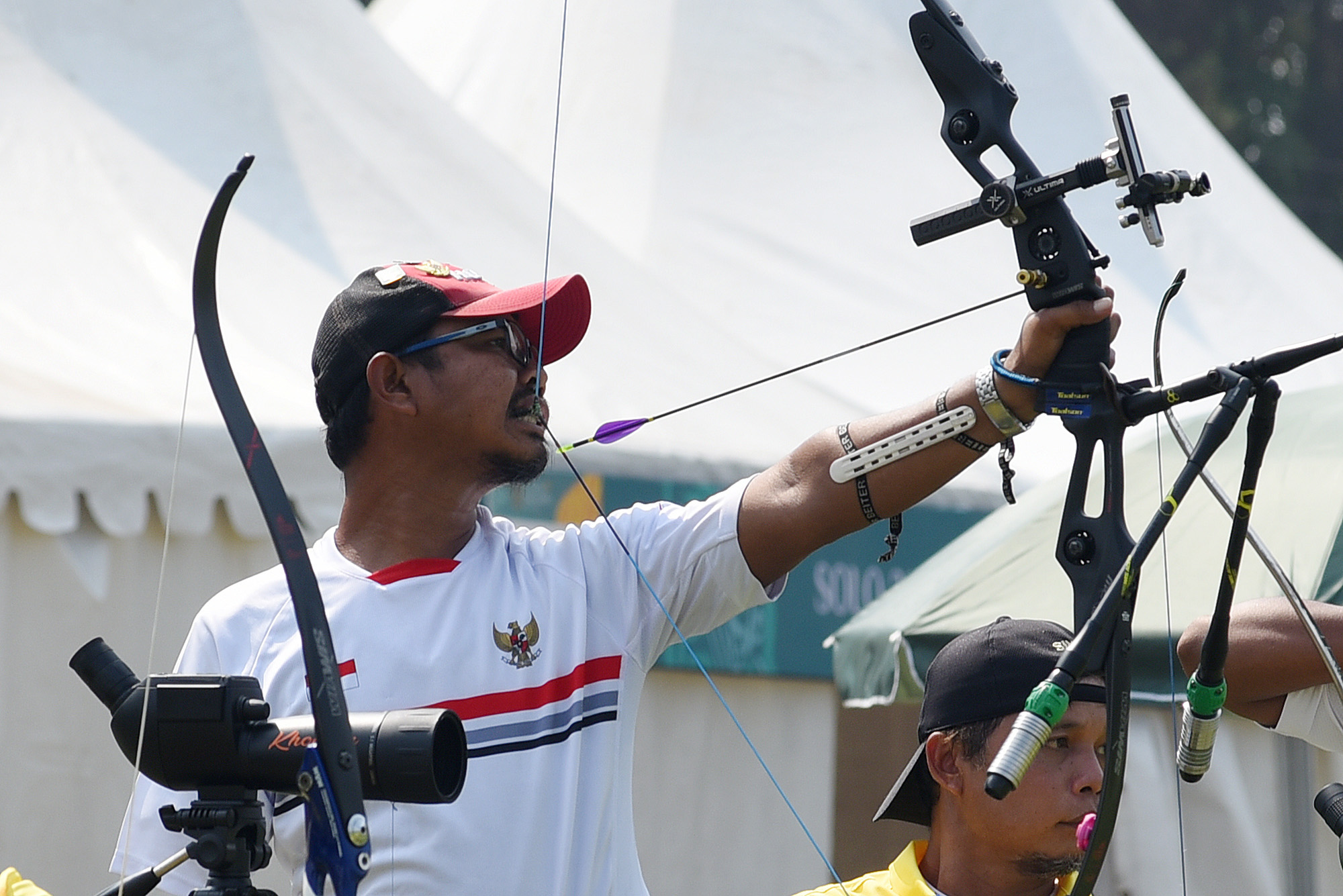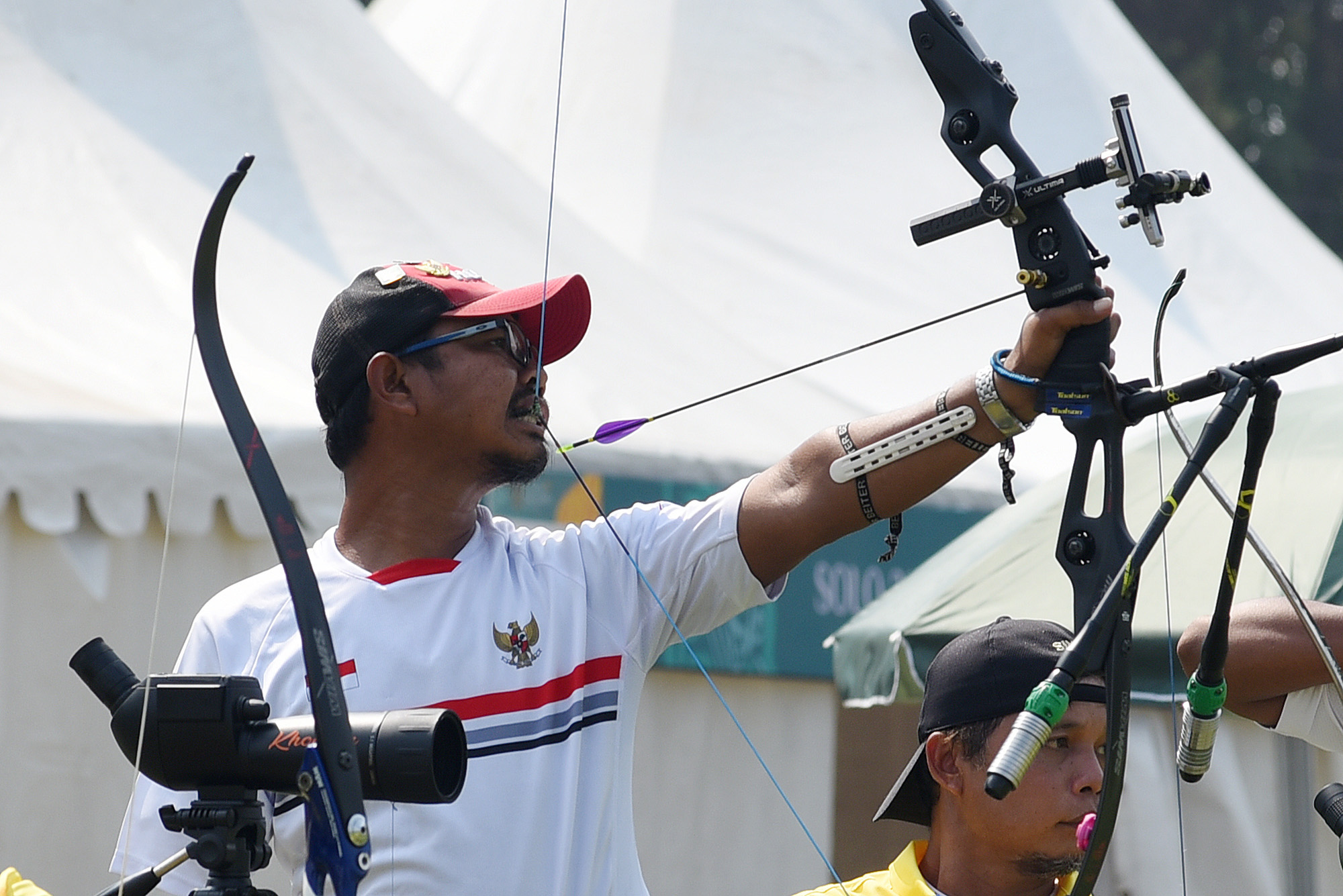 Kholidin
Archery Para Athlete
Ixora Tri Devi
Staff Writer, The ASEAN
One day, just three days before Eid-Al-Fitr in 2017, Kholidin fell off a 9-meter-tall coconut tree. As he was lying on the ground, he conceded his destiny to God. He prayed that if he still had time left on earth, he wanted to be a valuable man.
Kholidin had just discovered a new hobby—archery—but the fall would cost him his right hand.
"It was Ramadan. I went back to my hometown in Pekalongan (Central Java). I was longing for some fresh coconut water for Iftar. I ended up climbing a coconut tree in my garden. I lost my grip when I tried to get rid of a colony of ants. I fell from a height of nine meters. My family immediately took me to the hospital. Unfortunately, I felt unbearable pain in my right hand after a week. The infection was spreading. They needed to amputate my right hand", narrates Kholidin.
Five years after that fateful day, the 45-year-old porridge vendor stood on the ASEAN Para Games 2022 podium to receive his first gold medal in recurve men's open doubles. He also bagged silver in mixed team recurve and bronze for the men's individual recurve open at the archery events.
"I left Pekalongan and headed to Jakarta in 1994 to sell chicken porridge. At first, I could only sell up to four bowls of porridge a day. I sold it for 300 rupiahs. Thank God I never went hungry. I did, however, eat a lot of porridge during those times. Bubur Ayam Bang Udin, my cart, grew in popularity over time. College students and employees of radio stations that worked in Sarinah (Central Jakarta) became my regulars. Now, I have four staff. Some of them have been working with me for 15-20 years. I am grateful."
Kholidin was 39 when he discovered archery in 2016, and he was immediately hooked. After just three months, he joined Focus Archery Sports Team (FAST) in Pulomas, North Jakarta. Kholidin soon enjoyed his new routine: selling chicken porridge in the morning; archery training in the afternoon.
"My first introduction to archery was through my little brother. He suggested I try archery because futsal, my previous hobby, was taking a toll on my body. I tried it, and I embraced it right off the bat. After three months of training, I started to join local competitions. I won my first competition on my initial try. In 2017, I won the Piala Presiden (President Cup). That was just before the accident."
Kholidin's disability did not stop him from pursuing his passion for his chosen sport. It didn't take long for him to pick up his bow and arrow again.
"Three weeks after the accident, I began to walk again. I went to the archery club to cheer myself up. I could not fathom my eagerness to do archery again. At home, I asked my son to help me put on the bow. We went upstairs, where we usually hang the clothes dry. I tried to pull the arrow with the help of a rope and the strength of my front teeth. The arrow successfully landed on the target. I was elated. I tried so many times that I could not eat for three days because of a toothache. Now, I use my molars and shield to protect my teeth."
Kholidin mastered this new technique immediately. In 2018, the Asian Para Games archery team conducted training at Kholidin's club. One of the coaches noticed Kholidin and suggested that he train with a recurve bow recognised by international championships. Kholidin followed his suggestion. As a result, he was selected to join the Jakarta official para-archery team in the same year.
"Under the guidance of Coach Denny from the Jakarta team, I flew to Nové Město nad Metují in the Czech Republic. It was the Para-Archery World Ranking Event 2021 and the Final Paralympic Qualification 2021. I ranked seventh in the Recurve Men Open Qualification Round. When I returned, they put Coach Denny and me on the National Team."
As a member of the Indonesian National Para-archery team, Kholidin competed against other athletes from across Southeast Asia in the ASEAN Para Games 2022. According to him, his competitors were nothing but remarkable.
"Five members of the Thai team were all regulars at the Paralympics, also one from Malaysia. I did not even get the ticket to compete at the Paralympics! It was so intense to compete against them. I was in disbelief when I won because, according to statistics, I was below them. Nonetheless, I am proud to have won medals while representing my country."
Looking at how enthusiastic his fellow athletes were at the 2022 ASEAN Para Games, the father of two and husband of Neni Handayani asked for ASEAN's commitment to maintaining this valuable space.
"Competitions are the only place we can meet, compare, and measure our hard work. Why should we give our all at training if there is no competition? During the ASEAN Para Games in August, all my fellow para athletes were enthusiastic. I hope ASEAN consistently keeps this precious space, especially for para athletes."
Kholidin's passion for archery will not be doused anytime soon. With support from his faithful wife, children, coaches, and a dedicated dentist, Kholidin's next goal is the Paralympics. He cannot wait to compete among the world's best athletes.