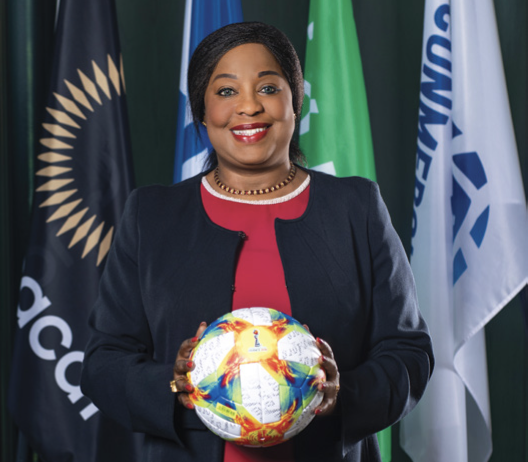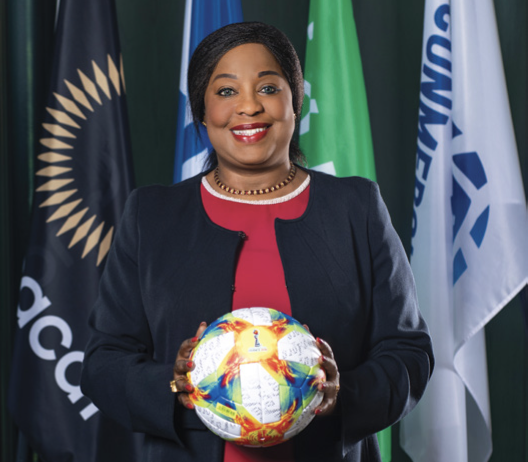 Fatma Samoura
Secretary General, FIFA
Health and COVID-19, Sports, Youth
Harnessing the power of football for positive change.
On the Fédération Internationale de Football Association (FIFA) partnership with ASEAN, staying healthy and active during the pandemic, and elevating the sport in the region
Why was it important to forge the ASEAN-FIFA agreement? What are its main goals and objectives?
Samoura
Football has the power to unite and inspire people, as well as to bring about positive social change. It can also contribute to achieving societal development and growth which Gianni Infantino, the FIFA President, referred to during his address at the 2019 ASEAN Summit in Bangkok. The ASEAN-FIFA agreement will see both organisations work together to harness the power of football to address challenges such as a holistic education, better health, equality, and social integration.
ASEAN has a young and vibrant population with great interest in football and we look forward to working hand in hand with ASEAN, to use the beautiful game to bring about positive changes in the region, that echo ASEAN's vision of unity and solidarity among all nations and peoples of ASEAN.
The partnership covers a broad range of collaboration areas with a strong focus on education through the implementation of FIFA's Football for Schools Programme, which will aim to foster life skills and physical education through football for boys and girls in schools across the Southeast Asian region.
The joint initiative will also see ASEAN and FIFA work together on the implementation of strategies to promote healthy lifestyles and inclusive participation in football, particularly for women and marginalised communities. Other areas of the cooperation will be the promotion of child safeguarding in football, as well as the advancement of sports integrity via increased awareness raising of match manipulation and doping.
Most of Southeast Asia is crazy about football but few players in the region make it to the big leagues. How would you describe the state of the sport in the region and how is FIFA helping to promote and develop it?
Samoura
Southeast Asia is crazy about football with many people from the region passionately following European club teams and taking part in efootball through the FIFA eWorld Cup, the online version of the FIFA World Cup, where skilled gamers from around the globe battle it out for eWorld Cup glory.
FIFA wants to harness this passion and further develop football in the region, so that we will see more teams from ASEAN reach FIFA competitions at youth level, such as our Under 17 and Under 20 FIFA World Cups. This kind of experience will provide a gateway for ASEAN teams to qualify for the ultimate FIFA competitions, the Men's and Women's FIFA World Cups.
Through tailor-made football development programmes across the ASEAN region, taking the individual needs of the national football associations into account, and our FIFA Forward programme, we hope to bring ASEAN football and ASEAN football talent to the fore.
The FIFA Forward programme provides resources and structure to deliver a state-of-the-art development programme through increased investment in development for member associations' (MA) football activities accompanied by impactful tailor-made plans to meet specific needs of each MA, and more oversight of funds so that they are used responsibly and go to the development of football.
We believe that by working with ASEAN to highlight the positive impacts of football, tailoring the FIFA Forward programme to meet the specific needs of our MA's in the ASEAN region and the expansion of the FIFA World Cup to 48 teams, ASEAN football has many exciting years ahead of it.
Can you expound on the need for professional capacity-building, in relation to safety and security at football matches?
Samoura
Football should always be played in secure and safe environments and therefore stadia and their safety and security personnel play a role of paramount importance in protecting and maintaining the safety and security of fans, players, etc.
FIFA's experience has shown that a well-structured safety and security capacity-building programme delivers the best long-term results, and we support our confederations and MA's to improve and maintain consistent levels of safety and security via:
knowledge sharing in the field of safety and security planning, in accordance with the FIFA Stadium Safety and Security Regulations and relevant local/regional regulations
facilitating the formulation of frameworks of safety and security plans for key areas (e.g. crowd flows, ingress, egress, player and official security, venue operations centre work, field of play protection, zoning)
identifying gaps and agreeing on critical action points
providing subject-matter expertise and support
It is through these measures that FIFA can help MA's and confederations to build capacity in terms of safety and security, and guide them towards maintaining the highest global standards in this field for the protection of everyone at football matches.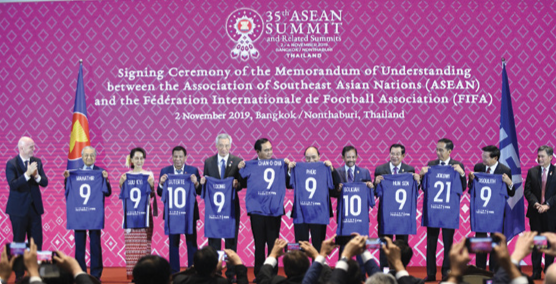 ASEAN Leaders witness the MOU signing between ASEAN and FIFA | Photo credit: ASEAN Secretariat/Kusuma Pandu Wijaya
How has the COVID-19 pandemic affected the planning and implementation of the agreement? Can you tell us more about the first initiative, a video project that you launched to promote healthy and active lifestyles among the youth? And the COVID-19 Relief Plan?
Samoura
COVID-19 has impacted football like everything else around the globe and at FIFA, we believe that it is essential to follow the guidelines and best practices of the World Health Organization (WHO) in order to slow the spread of the disease and save lives. Football matches and training sessions have been affected by COVID-19 and on this point, I echo the words of the FIFA President, in that no football match is worth risking a life right now, and people should only hold matches when it is safe to do so.
Despite the ongoing pandemic situation, the spirit of cooperation between ASEAN and FIFA is high and enthusiasm from both sides remains strong. We are currently working on finalising the roadmap with concrete projects for immediate implementation.
In early August, the official e-Workshop on the ASEAN-FIFA Annual Collaboration Plan took place with roughly 50 participants from all ASEAN Member States, the ASEAN Secretariat and FIFA. We were of course hoping to hold a physical meeting, which was not possible due to the ongoing travel restrictions.
In the midst of the COVID-19 crisis, ASEAN and FIFA teamed up to launch a social media campaign to help pass key health messages to the wider population. Together, we launched the #BeActive videos at the end of July 2020, featuring regional football stars as part of a joint campaign encouraging ASEAN citizens to lead healthy and active lifestyles by following the recommendations of the WHO amidst the COVID-19 outbreak.
In addition, ASEAN countries will be able to benefit from FIFA's COVID-19 Relief Plan which will see a total of 1.5 billion US dollars available to assist the football community (including men's and women's professional, youth and grassroots football, through a system of combined grants and loans under strict compliance requirements) via:
each FIFA MA benefitting from a 1 million US dollars grant to protect and restart football, and an additional 500,000 US dollars specifically for women's football
interest-free loans of up to 5 million US dollars being made available to all MAs
The fund will be supervised by a steering committee led by Olli Rehn, the Deputy Chairman of the FIFA Governance Committee, who is also the Governor of the Bank of Finland, a Member of the Governing Council of the European Central Bank, and a former Vice-President of the European Commission.
Sporting events are on hold or postponed and stadiums will likely be empty for the foreseeable future. How has football been affected by the pandemic? How can young footballers in the region use this time to keep fit and prepare for future sporting events?
Samoura
Right now FIFA wants to ensure that football is only played when safe to do so, and although this is tough, with many training sessions and matches being postponed or cancelled, we are encouraging football fans to look at other safer and more socially distant ways to be involved in the game.
The #BeActive campaign encourages people to try to lead a healthy and active lifestyle during the COVID-19 pandemic and includes advice and practical guidance from football stars from across ASEAN and encourages fans to stay active during lockdown phases through a range of activities like:
online exercise classes
dancing
stretching and conditioning
jumping rope
muscle strength and balance training
In addition, FIFA— together with the WHO—published in May 2020 a risk assessment tool, alongside draft medical considerations for all 211 MAs and six confederations, which aim to help facilitate the planning and resumption of football after health authorities and national governments in the relevant countries have considered it safe to do so.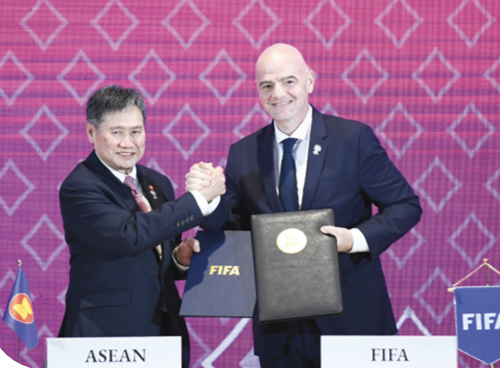 ASEAN and FIFA signed a Memorandum of Understanding at the sidelines of the 35th ASEAN Summit in 2019 | Photo credit: ASEAN Secretariat/Kusuma Pandu Wijaya
The 2021 FIFA U-20 World Cup is scheduled to be held in Indonesia. How has the planning for this event been affected?
Samoura
As with other FIFA tournaments, due to COVID-19, the overall planning and milestones had to be reviewed for Indonesia 2021. Discussions and preparations for the tournament have so far been very positive and FIFA and the Local Organising Committee (LOC) are working closely with the government authorities in Indonesia to finalise the host cities and venues as well as the exact dates for the tournament.
Women's football has grown in popularity around the world. Does FIFA see any opportunities to work with ASEAN in promoting women's football in the region?
Samoura
In line with the FIFA Women's Football Strategy, FIFA has a long-term vision for the development of the women's game and is working with MAs and confederations to build on the momentum generated by last year's FIFA Women's World Cup and to further develop the sport.
Along with other upcoming women's football development initiatives that will be announced very soon, this additional financial investment will provide MAs in ASEAN and other regions with an opportunity to access dedicated funding to support women's football during the COVID-19 pandemic and further develop it once football begins to restart.
We also believe that the ninth edition of the FIFA Women's World Cup in Australia and New Zealand in 2023 will act as a springboard for women's football across the entire Oceania and Asia regions.
How do you see the post-COVID 19 future of football in the ASEAN region?
Samoura
Right now, it's difficult to say and if the COVID-19 pandemic has taught us anything, it is that planning and looking to the future is difficult until we get this disease under control. Football is not immune to these impacts and FIFA's top priority has been and will remain the health, safety, and wellbeing of all those involved in the game.
At this stage, our first priority is health and FIFA is committed to supporting football— particularly MAs, including those in the ASEAN region—to overcome the challenges they are facing. FIFA through a range of measures, including the COVID-19 Relief Plan, as well as various initiatives and campaigns to support football and fans in these difficult times, will help football in weathering the storm that is COVID-19 until brighter and safer days of football are here.