Education in the Age of Pandemic: Promoting, caring, and sharing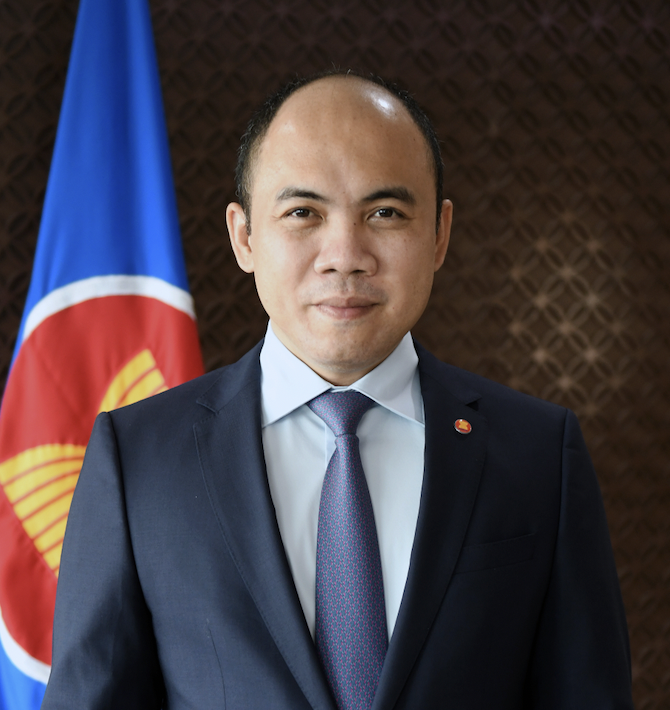 Kung Phoak
Deputy Secretary General for ASEAN Socio-Cultural Community
In an effort to curb the spread of COVID-19, over 190 countries have ordered school closures. This move impacts 90 per cent of the world's learners, which translates to a staggering 1.6 billion children and young people.
In the ASEAN region, governments were quick to deploy distance learning at scale. A number of online platforms were launched by ministries of education, maximising available e-learning solutions such as virtual classrooms and open educational resources.
While these interventions allow learners to continue their education in the interim, distance learning is often criticised for exacerbating existing educational and social inequalities.
Students from disadvantaged backgrounds may fall even further behind due to lack of access to the Internet and technology. For these students, the gains made as a result of widening access to education are at risk of being lost. A grim yet possible scenario is that these educational gains may even be reversed completely.
The conversation brings to the fore the gender dimensions of the digital divide. Due to cultural norms, girls from underprivileged communities may have less opportunities to access technological devices shared by the family. As girls tend to undertake more responsibilities in the household, less time is also devoted to their learning.
The transformative power of education cannot be disputed. Education leads to better health outcomes, higher social capital, more gender-equal societies, and decent work opportunities. Studies reveal that every additional year of schooling is linked to a 10 percent increase in income.
However, if learning grinds to a halt, the children and young people of today simply cannot enjoy the wider benefits of education.
An inclusive quality education is the right of all children and young people in ASEAN. In the face of a global pandemic, this right has to be protected and fulfilled more than ever.
A look at promising cases across the ASEAN region shows that the inability to access and participate in virtual schooling does not necessarily pose a barrier to learning.
Educational television networks, such as TV Edukasi in Indonesia, TV Okey in Malaysia, and Knowledge Channel in the Philippines, air free educational programmes based on national K–12 curricula.
In Lao PDR, community radio is widely used to broadcast basic education programming in various local languages.
In Cambodia, the Text to Change project uses SMS to deliver English instruction as well as lessons in life skills to students in Battambang and Siem Reap.
Remote learning in the midst of COVID-19 must be true to the principles of inclusion and equity in education. These offline approaches demonstrate that education does not have to be limited to better- resourced students in the online classroom.
With the recent school closures, the most crucial concern in educators' minds was to keep disruptions to learning at a minimum. However, we fail to realise that the challenge of education in times of lockdown is not solely confined to learning outcomes.
The mental health and psychosocial consequences of the COVID-19 crisis on learners are equally worth addressing.
Schools hold a central place in promoting social interaction and a sense of belonging.
With schools predicted to remain closed indefinitely, this can create feelings of isolation, loneliness, and uncertainty among students. Prolonged periods of quarantine and social distancing can have far-reaching effects on students' mental health and well-being, including post- traumatic stress disorder and depression.
The emotional and psychological effects of the pandemic are profound. Ensuring that learners are provided with adequate psychosocial support in these challenging circumstances should not be considered secondary to delivering quality distance education.
In the ASEAN region, various organisations and universities have stepped up to offer free counselling and other psychological services—via landline, mobile, email, Skype, and Whatsapp. Audioguides, videos, and other self-help resources on stress management, mindfulness, and relaxation are also readily available for download at no cost.
Post-COVID 19, the issue of mental health in education must remain a priority for action by ministries of education, schools, educators, parents, and communities at large. No learner should ever have to feel disconnected, scared, and alone.
School managers, teachers, and parents— our indispensable partners in education— also require support during these trying times. As we navigate the psychosocial challenges of this pandemic, available tools and platforms must be mobilised to facilitate connectedness and the sharing of coping strategies.
At the global and regional levels, a series of virtual meetings and webinars have been organised in recent weeks to exchange experiences and lessons learnt. Discussions were conducted around topics of mutual interest and concern such as distance learning strategies, psychosocial support and socio-emotional learning, innovative teaching practices, equity in remote education, and the gender aspects of school closures.
As we speak, school managers, teachers, and parents are also working together to confront common issues and challenges.
Post-COVID 19, the issue of mental health in education must remain a priority for action by ministries of education, schools, educators, parents, and communities at large. No learner should ever have to feel disconnected, scared, and alone.
These can range from strategies to sustain learner engagement, the sharing of teaching–learning materials, and the technical constraints of video conferencing platforms.
These inspiring displays of solidarity —involving governments, schools, organisations, communities, individuals —reinforce our collective commitment to education, even in the most difficult of conditions.
At the UNESCO Futures of Education panel discussion held in March 2020, Professor Arjun Appadurai commented that "unlike other global crises, the COVID-19 outbreak has also awakened our sense of belonging to the global environment, and all other forms of beings."
This message resonates strongly with the ASEAN Community. The ASEAN Socio-Cultural Blueprint 2025 is underpinned by aspirations to build "a caring and sharing society," where its citizens "face new and emerging challenges together."
In the service of its Member States and their peoples, the ASEAN Secretariat will play a convening role to facilitate the continued sharing of knowledge, information, ideas, best practices, lessons learnt, and experiences to support the education sector in the midst of the coronavirus outbreak.
As this pandemic unfolds, wherever possible, let us help one another. Our common humanity needs to be at the core of efforts to ensure the continuity of learning for all.