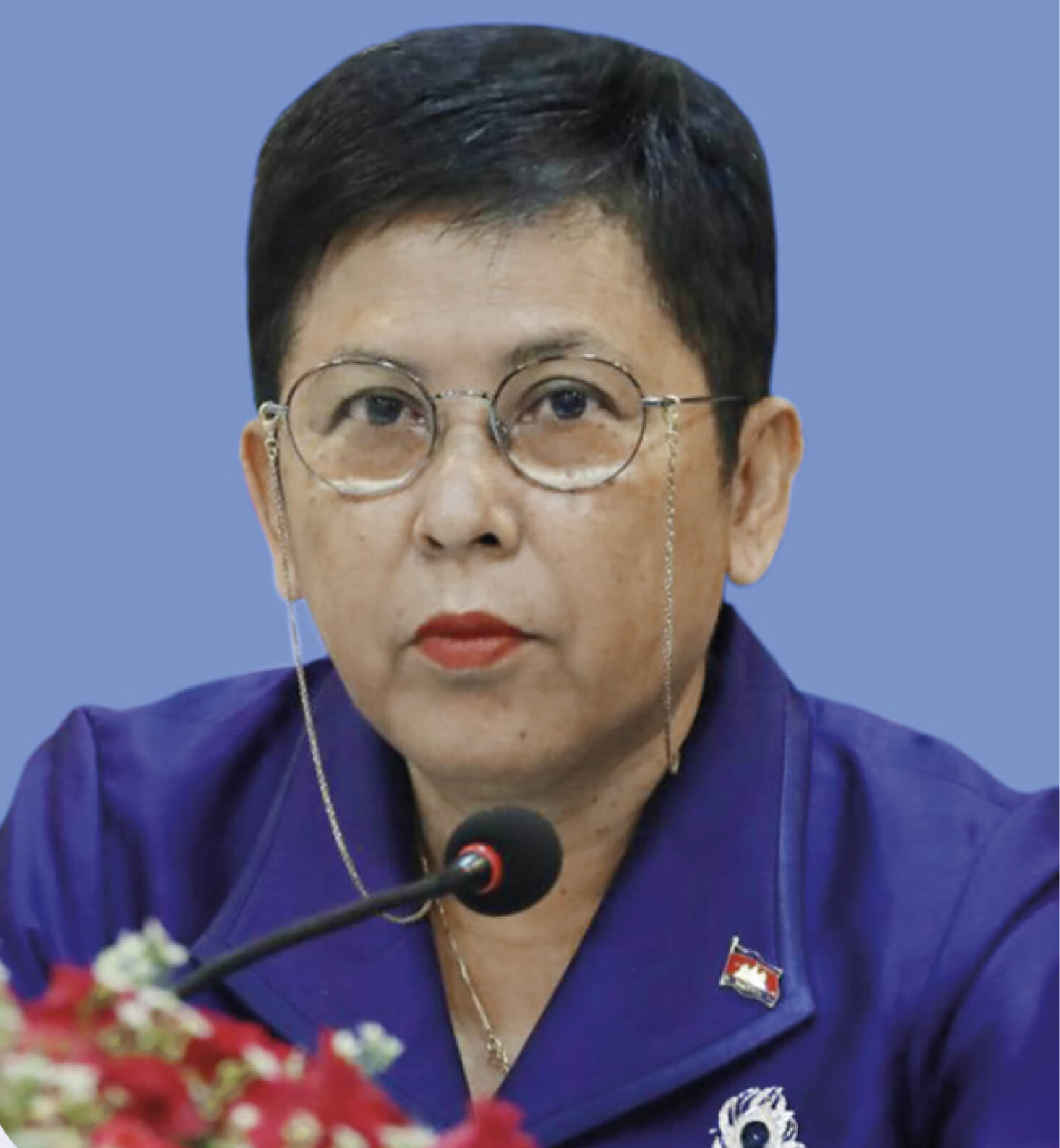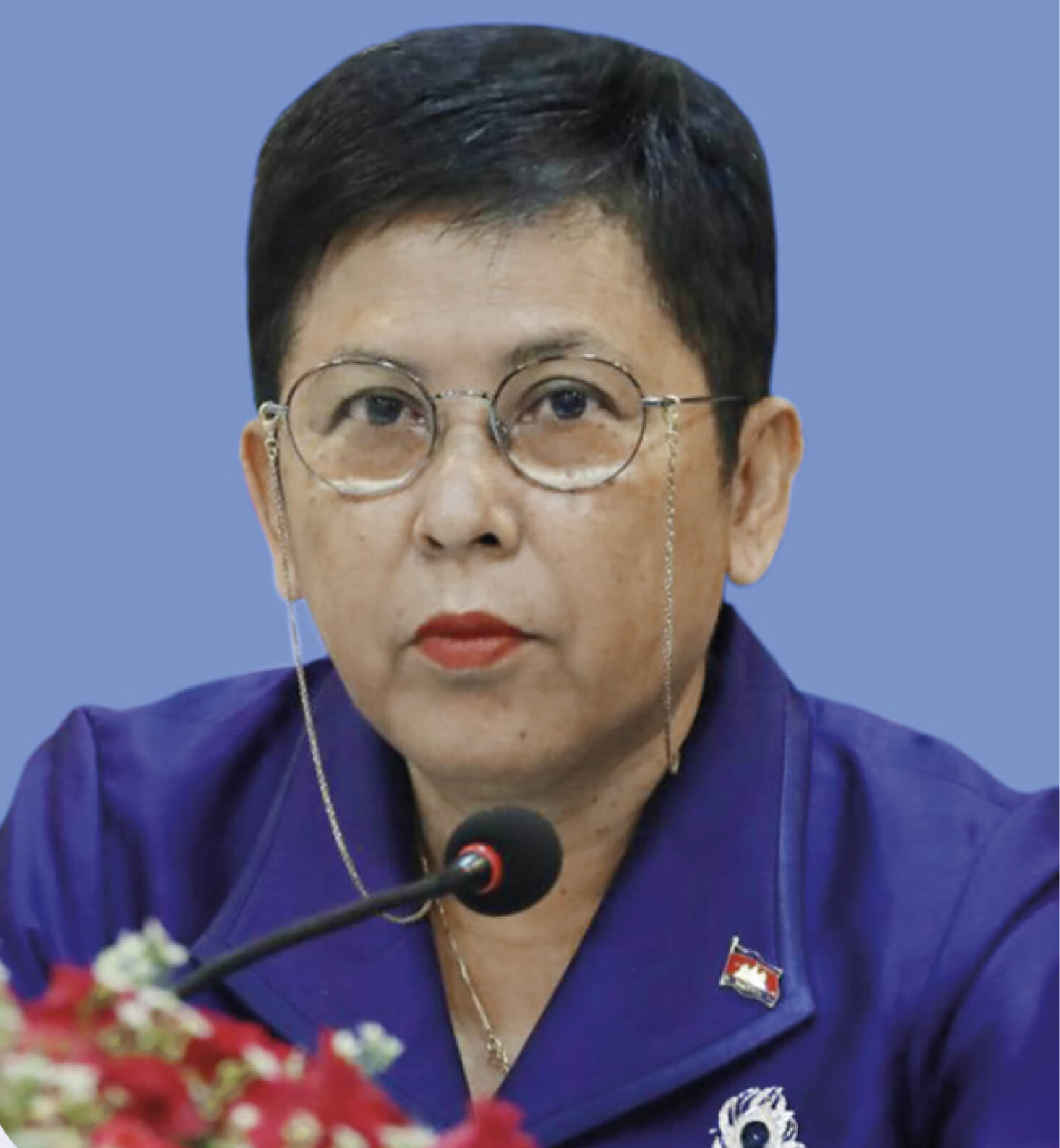 Phoeurng Sackona, PhD
Minister of Culture and Fine Arts, Kingdom of Cambodia Chair, ASEAN Ministers Responsible for Culture and Arts (AMCA)
Education, Social Protection
Minister Phoeurng discusses Cambodia's key policies and programmes to develop and support its creative industries, the challenges posed by the COVID-19 pandemic, and the role that the creative industries play in the country's post-pandemic recovery plan. She also shares her views on how ASEAN can position itself collectively as an important driver in advancing the creative economy.
Can you describe Cambodia's strategy for promoting and fostering its creative economy? What are the policies and institutions that are in place that support the creative economy in Cambodia? What are the challenges in promoting and supporting the creative economy in Cambodia?
Minister Phoeurng
In recent years, the Royal Government of Cambodia (RGC), through the Ministry of Culture and Fine Arts (MCFA), has set forth policies and strategies to safeguard and preserve the Kingdom's rich tangible and intangible cultural heritage, while harnessing the country's cultural resources for economic development, especially through the travel and tourism industries (travel and tourism contributed 21 per cent to Cambodia's GDP in 2019).
One of the Kingdom's main culture policies is to promote and foster a culture-based creative economy. Cultural and creative industries, the core of the creative economy, have started to thrive and contribute quite significantly to the people's economic development and livelihood—made possible with Cambodia's newly-won political and economic stability and peace. An enabling environment for the growth of the industries has been created by adopting a number of national and international legal frameworks and enhancing inter-ministerial collaboration and public-private partnerships. The National Policy on Culture, a significant cultural policy document, was approved by the RGC in 2014. This important document serves as a culture and development roadmap, articulating the links between culture and development by integrating aspects such as education, environment, science, media, and health.
Before the COVID-19 pandemic, remarkable investments were made in the growth of Cambodia's cultural and creative industries, resulting in the creation of more jobs. At the same time, there was a growing need for skilled labour in the country, a necessary condition for increasing production to satisfy market demand, drive exports, and broaden consumption habits. It is, however, difficult for the cultural and creative industries to grow without a comparable expansion of vocational education and training opportunities. To this end, MCFA has worked in close collaboration with both public and private sectors to develop more skilled professionals to meet the demand. Moreover, significant investments on provision of sufficient and appropriate cultural infrastructure and measures that encourage consumption and guarantee wider access to cultural goods and services were made.
Promoting and fostering a creative economy requires inter- ministerial efforts as well as public-private partnerships. MCFA has worked in collaboration with the Ministry of Education, Youth and Sports; Ministry of Tourism; Ministry of Commerce; Ministry of Industry, Science, Technology, and Innovation; Ministry of Economy and Finance; Ministry of Labour and Vocational Training, among others.
Although Cambodia has achieved significant steps in promoting and fostering the creative economy, especially the culture- based creative industries, a number of key areas need to be addressed or reinforced. These include primarily the following: (i) access to technological infrastructure in provinces or places outside of the urban area, (ii) inclusion of youth through innovation and arts education, (iii) information sharing about the creative economy, especially for local enterprises, (iv) cultural funding from the governance system to support creativity and the export of cultural products, (v) social protection scheme for independent artists, freelancers and creative entrepreneurs, (vi) tax incentives for economic recovery in the culture sector, as frequently offered in other sectors like agriculture, tourism, or export industries, (vii) technological skill to allow secure and reliable development of the Cambodian cultural and creative industries, and (viii) market creation for both local and international, to name a few.
How do we build an enabling environment for the creative economy to flourish and to ensure that no one is left behind? What are the best practices at the national level in promoting creative industries that could be co-opted and elevated for regional cooperation?
Minister Phoeurng
For an enabling creative economy to flourish, the key challenges mentioned above must be addressed. A responsive legal framework, infrastructure, and information and communication technology should be provided and monitored for the growth of the creative economy. Public spaces where artists can display their work must be made available to them at low or no cost. Likewise, the development of exhibitions, fairs and festivals must be encouraged and supported. Connectivity and network for exports, market facilitation, business workshops/training, and equitable access to affordable finance are a must. In the new information technology era, the creative industries must also apply responsible and ethical technologies.
To ensure that no one is left behind, the government has been putting more effort into building a stable social protection scheme and a creative economy ecosystem where artists and creative workers can thrive and survive. In promoting creative industries, one of Cambodia's best practices is the collaboration between the public and private sectors. As a public sector entity, MCFA has adopted the guiding principle, "the public sector should facilitate/help the private sector in implementing their work." An enabling environment is created through the development of these public-private partnerships. In addition, the current socio-economic stability in Cambodia provides a favourable environment for various stakeholders in the creative economy to form mutually beneficial alliances.
With the prevailing pivot toward digital adoption, what should the creative industries do to better adapt to the 4th Industrial Revolution?
Minister Phoeurng
COVID-19 has disrupted the lives and livelihoods of people around the world and among those hardest hit are the cultural and creative workers. The need for social distancing has resulted in the closure of heritage sites, museums, theatres, festivals, and workplaces, and at its worst, a complete lockdown of cities and countries around the world. The crisis made people crave for connectivity, which resulted in an unprecedented reliance on information and communication technology as a way to stay connected. The pandemic also accelerated digitisation in the arts and culture to meet the massive demand for cultural and creative goods and services, such as music, performing arts, film, and virtual museums.
The 4th Industrial Revolution (4IR) is creating a new frontier for human technological advancement and along with it comes the positive and negative aspects. New technology will push the creative industries into a new phase of innovation and originality. Technological advancement will produce new tools to capacitate artists to make new kinds of arts, creating new fields in the creative sector. We already see the use of artificial intelligence (AI) in the world of visual arts, and its role will continue to expand into other creative fields.
On the other hand, new AI can also be a threat to artists as it also has the ability to produce cheap imitations on a large scale, becoming competitors to human creatives. Also, because new technology such as AI is not covered in most Intellectual Property laws and regulations, legal remedies may not be available to protect artists.
Therefore, while embracing the immense potential for innovation in the creative industry, we at the same time must update policies and legal framework to tackle negative issues such as imitation to protect the livelihood of artists in the 4IR era.
The people of ASEAN share a rich and diverse culture. Our identityand cultural and life experiences inspire our ideas and the limitless creativity drives us to produce creative goods and services or processes that have commercial and cultural value.
How do you think ASEAN can position itself collectively as a regional destination for promoting and developing the creative industries? How do you think ASEAN can leverage its creative industries to foster ASEAN identity and awareness?
Minister Phoeurng
The people of ASEAN share a rich and diverse culture. Our identity and cultural and life experiences inspire our ideas and the limitless creativity drives us to produce creative goods and services or processes that have commercial and cultural value. To promote its creative industries, ASEAN needs to tap into its identity to build its own unique brand and in turn, this brand identity can be used to foster ASEAN identity and awareness.
Each ASEAN Member State is at different stages of development and this is reflected in the diverse situation of the creative industries in ASEAN region. There are efforts among ASEAN Member States to promote the creative industries through various projects including business forums. Prior to the pandemic, these events usually take place annually. However, this is not yet enough to enable ASEAN to position itself collectively as a regional destination for the promotion and development of the creative industries. To achieve this, more collaborative effort is needed among the Member States and their partners in areas such as data collection relating to cultural and creative industries in ASEAN and around the world, information sharing, network creation, entrepreneur training, and equitable access to information infrastructure and financing.
Cambodia, the current ASEAN Ministers Responsible for Culture and Arts (AMCA) chair, notes that although much has been done, there is a lot more to do regarding the cultural and creative industries. Thus, as the current AMCA chair, Cambodia has taken the initiative to propose the creation of the ASEAN Centre for Cultural and Creative Industries (ACCCI). The objectives of this proposed centre are as follows:
Promote research and innovation to enhance the cultural and creative industries across all ASEAN Member States and to highlight the significant contribution that culture- based creative industries make to ASEAN sustainable socio-economic development;
Establish a regional database hub for cultural and creative industries;
Stimulate cooperation within the cultural and creative sectors among ASEAN Member States and our Dialogue Partners;
Support and share innovative policies and best practices undertaken in the cultural and creative industries among the ASEAN Member States and Dialogue Partners;
Build capacities and skills including business planning, marketing, and knowledge on financing options that can improve the outcomes of cultural and creative industries;
Create network/alliance among ASEAN's cultural and creative industries; and
Strengthen ASEAN Identity awareness.Discussions among ASEAN Member States are currently underway to look at the feasibility of this dedicated ASEAN Centre.