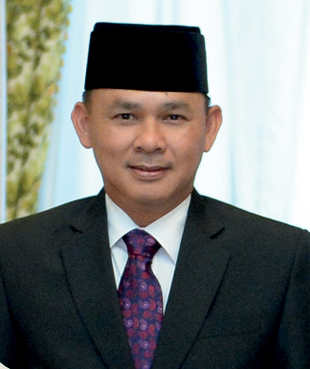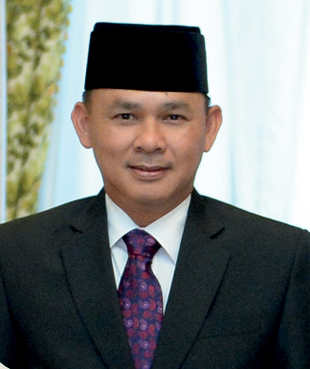 Dato Paduka Seri Haji Aminuddin Ihsan bin Pehin Dato Seri Paduka Haji Abidin
Minister of Culture, Youth and Sports, Brunei Darussalam; Chair of the ASEAN Socio-Cultural Community Council 2021
On 1 January 2021, Brunei Darussalam assumed the ASEAN Chairmanship for 2021. Minister Aminuddin talks to The ASEAN about how Brunei Darussalam will work to accelerate efforts to recover from the pandemic and reach the goal of ASEAN solidarity.
With the world facing significant economic and social challenges due to the COVID-19 pandemic, how will Brunei Darussalam's ASEAN 2021 priorities, through its ASEAN Chairmanship Theme, "We Care, We Prepare, We Prosper," contribute towards post-pandemic recovery efforts?
Minister Aminuddin:
ASEAN has long recognised that its vision and aspirations need to be closely intertwined with global affairs and development. Towards this, Brunei Darussalam, together with the other ASEAN Member States, will continue the tradition of aligning our chairmanship's agenda in response to current and emerging issues, to create an enabling environment, so as to build a stronger ASEAN, which is better prepared, more strategic, holistic and coordinated in its responses. 
In this context, against the backdrop of the unprecedented year of the COVID-19 pandemic, which has impacted every aspect of our peoples' lives, Brunei Darussalam's ASEAN 2021 theme, "We Care, We Prepare, We Prosper," resonates with ASEAN's collective commitment to harness the caring nature of the ASEAN Community; to prepare and adapt for the future and ensure ASEAN remains relevant through the many complex challenges; whilst creating opportunities for the people to benefit through ASEAN-led cross-cutting initiatives and frameworks towards enhanced sustainable prosperity of the region. In tandem, Brunei Darussalam's priorities will also be reflective of ASEAN's past commitments with renewed aspiration in consolidating and strengthening ASEAN's common goals. 
The theme for ASEAN 2021 will also re-emphasise ASEAN's strong resolution towards its Community Vision 2025, as well as advancing the work on the Post-2025 Vision in forging ahead, building upon, and deepening its integration process. This is to realise a rules-based, people-oriented, peoplecentred ASEAN Community, with now an even greater resolve to strategise ASEAN's initiatives to counter any challenges, through new and existing tools and initiatives of both policy and practical relevance. We will also continue to further harness the lessons learned from the "pandemic normality" and look into ways we can strengthen ASEAN's engagement with its partners through existing or new mechanisms, as well as look into the possibility of establishing new partnerships through a forward-looking and proactive approach that ensures mutual respect and benefit.
Brunei Darussalam's ASEAN 2021 theme, "We Care, We Prepare, We Prosper," resonates with ASEAN's collective commitment to harness the caring nature of the ASEAN Community.
The theme "We Care" is among the areas to be addressed under Brunei Darussalam's ASEAN chairmanship this year. How does Brunei Darussalam hope to foster this within the ASCC pillar?
Minister Aminuddin:
One of the core elements of the ASEAN Socio- Cultural Community is to build a community of caring and sharing societies, emphasising a stronger sense of community of shared interests, with its people at its centre, confronting common challenges.
The caring nature of ASEAN has led to the adoption of the ASEAN Comprehensive Recovery Framework and its Implementation Plan to address the impacts of the COVID-19 pandemic while safeguarding peoples' health and well-being. At the same time, ASEAN Vision 2025 continues to inculcate a committed, participative, and socially-responsible Community. In that spirit, we are encouraging a more committed ASEAN Community, particularly the youth, to take that leading role, together with the support of ASEAN's relevant stakeholders, to give back to society, through volunteerism and support. This is also in line with the ASEAN Secretariat's initiatives on ASEAN Aid, as well as the current discussion on the revision of the ASEAN Agreement on Disaster Management and Emergency Response (AADMER) Fund.
Tolerance and understanding also reflect the "we-nature" of ASEAN, through its many commonalities and appreciation of our rich, diverse culture of understanding and tolerance. His Majesty the Sultan and Yang Di-Pertuan of Brunei Darussalam, at the 32nd ASEAN Summit in 2018, raised the importance of fostering understanding, tolerance, and a sense of regional agendas among the peoples of ASEAN in light of the many global and regional uncertainties. Culture, education, sports, greater information accessibility, and other initiatives to showcase the benefits of living harmoniously are some of the examples to foster greater regional understanding and tolerance.
In this regard, ASEAN is currently working together with the ASEAN Secretariat, Japan, and other stakeholders, to submit a Regional Policy Framework of Fostering Greater Understanding and a Sense of Regional Agendas among the Peoples of ASEAN, as one of the outcomes of the ASEAN Summits in 2021. It is Brunei Darussalam's hope that promoting understanding and tolerance will uphold ASEAN's principles of shared values, norms, and unity through dialogue and cooperation under all the ASCC Sectoral Bodies. This would also play a complementary role in promoting regional agendas of stability and development, as reflected in the characteristics of the ASCC Blueprint.
Brunei Darussalam's priorities focus on cross-pillar and cross- sectoral initiatives with greater attention on the effectiveness of the ASEAN Secretariat. What does this entail, and what are Brunei Darussalam's expectations on this priority?
Minister Aminuddin:
While facing new challenges, ASEAN should not forget its other existing challenges. In realising a well-adapted and wellprepared ASEAN, it is even more crucial to establish appropriate platforms to coordinate efforts. This is to ensure that ASEAN will remain relevant and continuously take advantage of new opportunities, while advancing the work of a Post-2025 Vision. As we look at the ASEAN Comprehensive Recovery Framework's strategies, we should further focus on the greater aspects of how the ASCC could also contribute and assist in the economic development of ASEAN and beyond.
The envisioned improved quality of life calls for an enabling mechanism to look into alternative economic and social policies, measures, and practices to support and build a caring economy, particularly for vulnerable groups. There is also a growing challenge to address the sustainability of investment in care through greater access to social protection systems so as to become an indispensable part of the economic growth of ASEAN. An investment in a caring economy, featuring those aspired and outlined in ASEAN's declarations, statements, blueprints, and plans of action, will also promote inclusivity and equal opportunities for the people of ASEAN, while taking advantage of technologydriven innovations. This is where the vital role of the ASEAN Secretariat comes in, which the ASCC needs to explore further.
This requires us to re-imagine and even re-engineer on how ASEAN and its institutions work at the most fundamental level, on how we work with each other and our partners, to realise our respective potential.
What are Brunei Darussalam's longterm expectations for the ASCC Pillar?
Minister Aminuddin:
The year 2021 is a turning point for all, more so for the ASCC Pillar, as it is also known as the Peoples' Pillar. The pandemic, as mentioned earlier, intensely highlighted the inter-connectedness of the world; and for us to be aware of the changing trends and demographics of ourselves and others. This requires us to re-imagine and even re-engineer how ASEAN and its institutions work at the most fundamental level, on how we work with each other and our partners, to realise our respective potential.
The questions we need to frequently ask are: (i) Are we future-ready? (ii) How can we make ASEAN's work beneficial to its people and also its partners? (iii) Are we forward-looking or proactive in our work? (iv) Is the ASCC doing the work that it is mandated to do in the ASEAN Charter?
The key to all these is ASEAN centrality and its mechanisms. It is in ASEAN's interest to continue to establish strong and diverse engagement with its existing and new partners while maintaining mutual respect and benefit; as part of building blocks to maintain peace, stability, and security of the region.