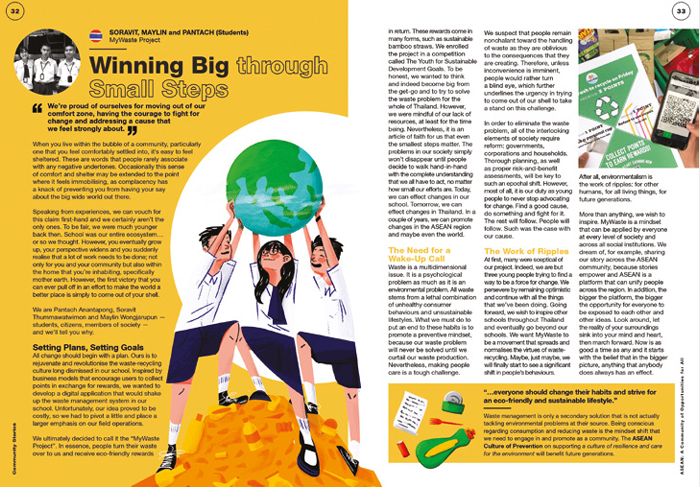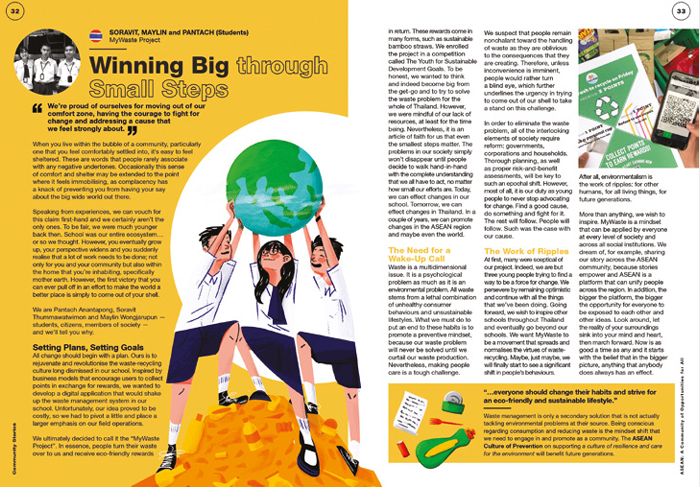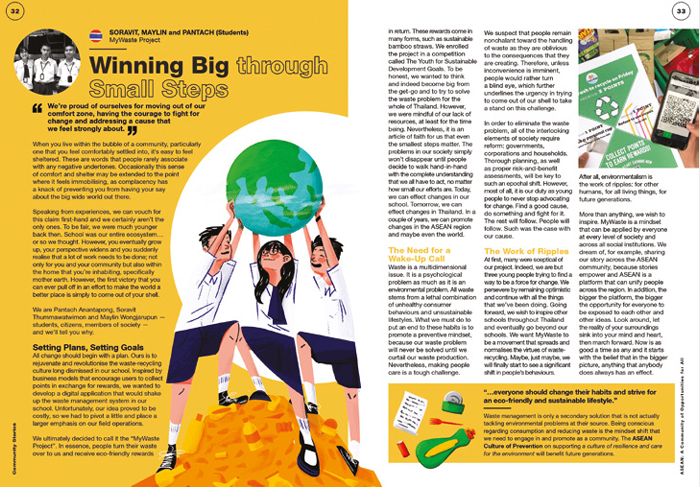 Bringing ASEAN to the People, One Story at a Time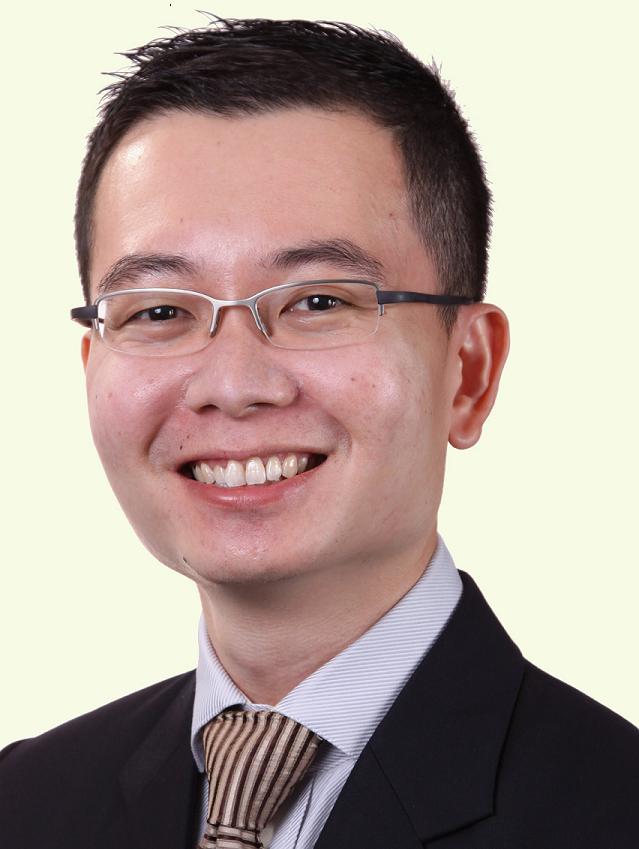 Jonathan Tan
Head, Culture and Information Division ASEAN Socio-Cultural Community Department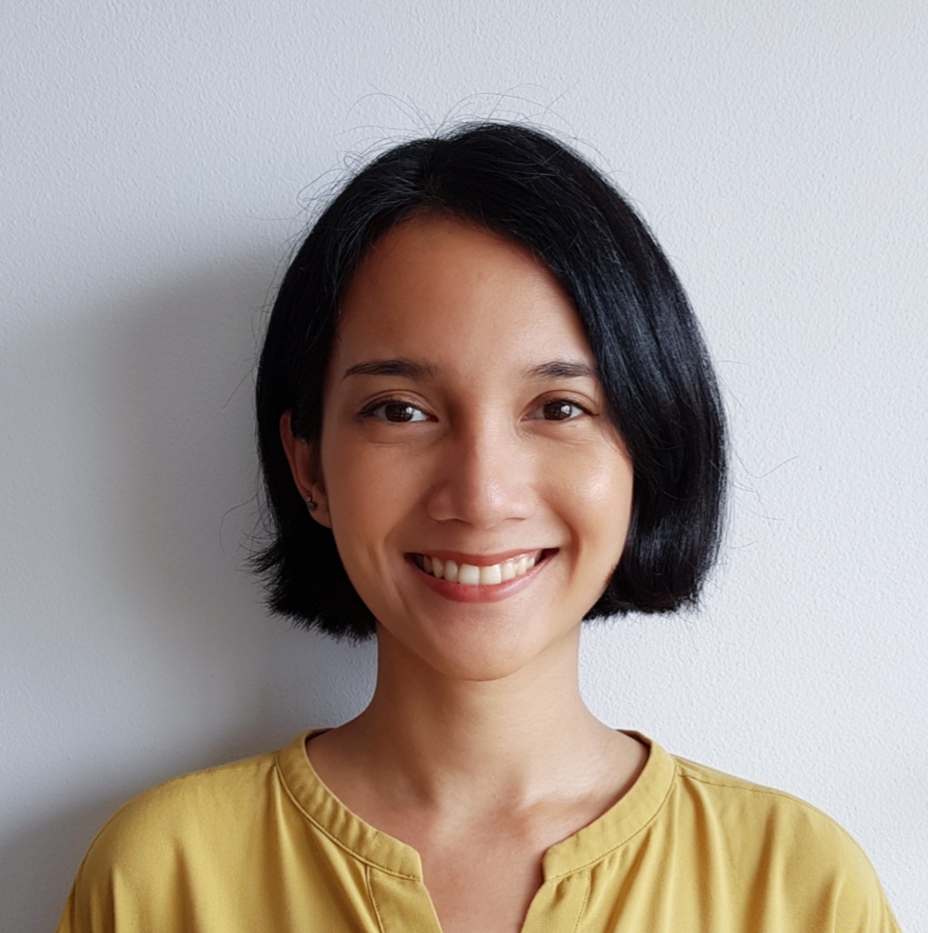 Gladys Respati
Project Officer, Culture and Information Division ASEAN Socio-Cultural Community Department
ASEAN Identity and Community Building, Education
In today's digital age, compelling narratives can make a message stand out in a saturated media landscape. They can capture the imagination, build understanding, and forge emotional connections among people.
Storytelling or narrative making is an important facet of and essential tool for any organisation. It is doubly so for an inter-governmental organisation such as ASEAN whose work at the policy and regional level is often far detached from the everyday lives of ASEAN citizens, therefore, less understood and felt.
ASEAN is the third largest economy in Asia and the fifth largest in the world, boasting a combined GDP of 3 trillion US dollars. Impressive as these numbers sound, the public may not be aware of or fully understand the tireless work that ASEAN does to address challenges and capture opportunities to turn the region into the economically dynamic and vibrant force that it is today. The peace and stability that the region is experiencing as a result of countries' concerted efforts is also likely underappreciated by the public.
The 2018 ASEAN Awareness Poll, commissioned by the ASEAN Secretariat and supported by the Government of Japan through the Japan-ASEAN Integration Fund (JAIF 2.0), reveals stark realities. While the overall public awareness of ASEAN is high at 96 per cent, fewer than one-third of respondents have extensive knowledge and understanding of ASEAN. Moreover, only half of the respondents perceive ASEAN to be communicating effectively, while a majority of businesses and civil society organisations found ASEAN lacking in terms of meeting their information needs.
Research shows that 45 per cent of a brand's image is not just influenced by the "what," but also by how a brand tells its story (Digital Marketing Institute blog, n.d.). Meanwhile, 64 per cent of people cite shared values as the main reason they establish relationships with brands (Harvard Business Review website, 23 May 2012). Likewise, effective branding of an organisation requires creating compelling narratives that resonate with and engage people. It requires more than just content development and dissemination, but most importantly, how such content is pitched and amplified through its engagements with the people. 
Cognisant of the importance of effective communications and storytelling, the ASEAN information sector has put in place the ASEAN Communication Masterplan II 2018-2025 which governs how ASEAN engages, informs, and interacts with its citizens.
The COVID-19 pandemic has accelerated digital adoption in multiple sectors, affecting various facets of our lives. Worldwide, more than 4.5 billion people now use the internet, and social media users have passed the 3.8 billion mark. In the region, social media users account for 63 per cent of our total population. Recent data show us that there is an increase in online and digital activities during COVID-19—from watching and streaming movies and videos, listening to more podcasts, to spending longer time on social media.
These recent developments imply that we have access to platforms and a receptive audience. It is an opportune moment for us to position ourselves through storytelling to engage people in the region.
To this end, the ASEAN Secretariat and officials are actively developing new ways to amplify the benefits of our community building efforts. For example, we are pitching the use of human-interest stories by ordinary citizens to share their ideas about ASEAN Community building efforts and the ways in which the ASEAN Community has benefitted them personally as well as their communities.
Recently, as part of the ACMP, the ASEAN Secretariat launched the "ASEAN Champions" podcast series to better engage digital natives and youth. Also, we have published the inaugural In Conversations with ASEAN Citizens developed with support from the German Government through Deutsche Gesellschaft für Internationale Zusammenarbeit (GIZ). In these podcasts and publication, ordinary citizens from the 10 ASEAN Member States shared their rich experiences in bringing change to their communities, and in spreading messages of hope, unity, and most importantly, that ASEAN is a community of opportunities for all.
The pivot towards individual storytelling in the podcasts and publication is a deliberate attempt for us to humanise ASEAN. In doing so, we seek to translate the obscure aspects of ASEAN work into relatable conversations with ASEAN citizens and communities at large. These communication products are positive proof of the vibrancy and dynamism in ASEAN. They highlight the multitude challenges that ASEAN is tackling, and the range of opportunities that is available to the peoples if ASEAN citizens work collectively as one region and one community.
These human interest stories in the podcasts and publication further exemplify the preventive mindset that we seek to embed in the DNA of our peoples, as stated in the ASEAN Declaration on Culture of Prevention. A good case in point is a compelling story about a waste recycling movement in Thailand contained in the In Conversations with ASEAN Citizens. Young students from Thailand, who spearheaded this groundbreaking wasterecycling movement, relayed the important message of the power of individuals to contribute to the prevention of natural and human induced disasters, and environmental degradation. 
To catch the digital waves, the ASEAN Secretariat will be rolling out a new suite of communication products including topical podcasts that inform our people and focus on pertinent issues like climate change, efforts to combat fake news, and cultural pessimism. In the pipeline, we will also jazz up ASEAN storytelling through webtoons, animations, and 101 videos that will hopefully bring ASEAN closer to the hearts and minds of its citizens.
As we amplify ASEAN in name as in action, we will continue to intensify our communication outreach with more immersive and impactful storytelling so that we can create an inclusive climate of keen awareness and deep understanding of ASEAN, one story at a time.