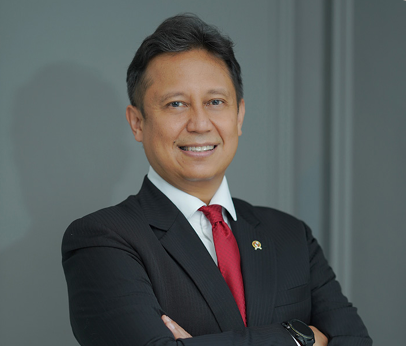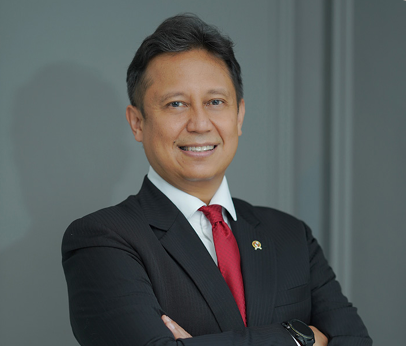 Budi G. Sadikin
Minister of Health of the Republic of Indonesia
Minister Budi G. Sadikin explains Indonesia's strategy for securing an adequate and steady supply of COVID-19 vaccines, the progress of its national vaccination rollout, and approaches to addressing vaccine hesitancy. As current chair of the ASEAN Health Ministers Meeting, he also outlines key regional initiatives designed to facilitate Member States' recovery from the COVID-19 pandemic and enhance preparedness and resilience against future public health crises.
Can you describe Indonesia's COVID-19 vaccine rollout strategy and how is this being financed? What is the status of implementation, and how far has Indonesia achieved its targets? Are there initial studies indicating the effect of mass vaccination on vaccinated communities or sectors? What has been the contribution of the private sector to the vaccination programme?
Minister Sadikin:
Since the COVID-19 cases were detected in Indonesia, the Government of Indonesia has been actively ensuring the availability of the COVID-19 vaccine. The target of the current vaccine security policy is to vaccinate 70 per cent or 181.5 million of the population. Now, we have increased the target to more than 208 million people, 12 years of age and older, to be vaccinated within a year until January 2022 towards achieving national herd immunity. To meet the needs of national COVID-19 vaccination, Indonesia has two strategies:
i. The short-term strategy is to secure vaccines through bilateral procurement and dose sharing of multilateral cooperation.
ii. The middle/long-term strategy is vaccine research and development by research institutes and universities. Several ongoing vaccine developments are using various platforms. Some of them are in the pre-clinical trial phase.
Indonesia is fully aware that the pandemic cannot end before all the countries in the world have won the battle against the COVID-19 pandemic. In this connection, ndonesia is committed to and actively participates in pushing the fair and equitable access principles of COVID-19 vaccines through the COVAX Advance Market Commitment (AMC). AMC is a platform within the COVAX Facility that will ensure every country will receive supplies of vaccines regardless of their financial status. 
As of 26 September 2021, Indonesia has managed to secure 209,116,796 vaccine doses, 88 percent or 185,031,665 of which have been distributed to districts across the country.
Indonesia's COVID-19 vaccine rollout strategy is risk-based and follows the WHO Strategic Advisory Group of Experts (SAGE) recommendations. Indonesia's roadmap and technical guidelines of vaccination rollout consist of three stages.
i. The first stage of vaccination set a target of 1.46 million people and was conducted from January–June 2021. It was aimed at the health personnel in 34 provinces.
ii. The second stage of vaccination started in February 2021 and prioritised the elderly above 60 years old and public officials with a total target of 38.4 million people.
iii. The third stage started in July 2021, and it targets 141.6 million people residing in high transmission areas and a wider population group.
As of 28 September 2021, more than 49.6 million and about 88.5 million people have received their first and second doses, respectively. So far, our maximum daily vaccinations have reached 1,500,000 per day, and we are aiming to increase that to more than 2,000,000 vaccinations a day with the help of the police and army to mobilise the masses and reach the grass-roots level.
The Government of Indonesia has established two types of vaccination schemes. The first one is the Vaksinasi Program, in which the government bears the funding. This programme first began on January 13, 2021. Vaksinasi Program also covers diplomatic representatives, international non-profit organisations, international educational workers, and foreigners above 60 years old.
The second one is Vaksinasi Gotong Royong (VGR); this scheme allows private and state-owned companies to purchase vaccines for their employees, families, and other related individuals in the employee's family. This scheme will complement the Vaksinasi Program in increasing and accelerating vaccination coverage. 
The Government appointed state- owned enterprises, PT. Bio Farma, as a single distributor of vaccines to healthcare facilities across the country for the vaccination programme. It also has the role of procuring vaccines for VGR.
The Government of Indonesia is engaged with the private sector to accelerate the coverage of COVID-19 by opening vaccination posts in public places owned by the private sector, such as shopping centres and drive-thru vaccination sites.
The World Health Organization has issued a guideline on how to assess COVID-19 Vaccine Effectiveness (VE); it shows that evaluating the effectiveness of vaccines in a community requires a complex methodology and the result might be biased. Indonesia has a mechanism to report, collect, and analyse data on the side-effects of vaccination to evaluate the safety of vaccines in the community. There is no significant number of severe side-effects of vaccination reported so far.
Several studies are conducted at a small scale, providing us a rough picture of vaccination protection to those who have been inoculated. One study was conducted by the Research and Development Agency of the Ministry of Health of Indonesia to evaluate the effectiveness of inactivated SARS-CoV-2 vaccine to the severity of COVID-19 infection symptoms and its treatment, as well as the death toll among health personnel in the Jakarta region from January to March 2021. This study reveals that the Sinovac vaccine effectively prevents 96 per cent of health personnel from being hospitalised and prevents deaths by 98 per cent due to COVID-19. Another study conducted by the local Kudus district government in Central Java in June 2021 found that only 308 vaccinated health personnel were exposed to COVID-19 or around 5.13 per cent of the total number of 6,000 health personnel. Most of them had only mild symptoms and they eventually recovered and started to work again.
Indonesia is fully aware that the pandemic cannot end before all the countries in the world have won the battle against the COVID-19 pandemic.
Indonesia has committed to the COVAX facility but also announced it wants to decrease its dependence on imported vaccines and to scale up onshore production of vaccines, particularly Sinovac. How is Indonesia ensuring a steady supply of COVID-19 vaccines amid a global shortage to meet the WHO's vaccination target of at least 10 per cent of the population of every country by September, at least 40 per cent by the end of 2021, and 70 per cent by the middle of next year?
Minister Sadikin:
The issue that Indonesia is facing is not vaccination capacity but rather vaccine supply. However, we are lucky that we have secured vaccine doses, both delivered and pledged, to vaccinate 200 million Indonesians. The vaccine delivery schedule is concentrated in the last quarter of 2021 and will put immense pressure on our health professionals to vaccinate as many Indonesians as possible in the last quarter of the year.
To scale up vaccine production, bulk deliveries of Sinovac vaccines which come in several batches, need to be filled and packaged into multiple doses by our state-owned enterprises, PT. Bio Farma, while still maintaining the content, profile, quality, efficacy, and safety according to the standards of vaccine processed in manufacturing countries.
For the longer term, Indonesia is currently developing our local vaccine. Out of seven candidates, two vaccine candidates are moving ahead faster than the others. The first one is a local vaccine from the recombinant protein subunit developed by the Eijkman institute in partnership with PT. Bio Farma. The second one is a local vaccine from inactivated virus developed by Airlangga University in partnership with PT. Biotis. 
Indonesia is also participating in the WTO TRIPS waiver program as a co-sponsor in which we are promoting the temporary waiver of intellectual property protections for COVID-19 vaccines to enable the scaling up of global vaccine manufacturing capacity. Hopefully, this will enable Indonesia to build vaccine manufacturing in the country as well as in Southeast Asia.
Indonesia has tried to strike a balance between containing the pandemic and re-opening the economy. What is the rationale behind this strategy? How has the recent surge in COVID-19 cases and the detection of other variants in the country affected Indonesia's response and vaccination strategies? Is inoculating children aged 12-17 part of this new strategy to control the spread of new variants and attain herd immunity?
Minister Sadikin:
In response to the recent surge of COVID-19 cases, the first strategy to control COVID-19 transmission lies in public social and health measures. Every pandemic from time to time demands people to change their behaviour. This time, COVID-19 urges us to wear masks, wash hands, and keep our distance. Indonesia is currently implementing emergency public activity restrictions in high transmission areas, particularly in Java and Bali.
We are also implementing the second strategy in curbing this pandemic, detection, including testing and tracing. We are now massively increasing our testing. Before, we started at 30,000 tests per day, now it is reaching more than 200,000 tests per day, and we are aiming for 400,000 tests a day. We already have 780 PCR labs in the country that can provide testing facilities for all islands across the country.
We also have 12 genome sequencing labs in Indonesia that have been networked together so we can sequence more frequently. Since mid-June 2021, we have enhanced our sequencing capacity to more than 800 variants testing. We are aiming every month to sequence 1,000 samples from across the country to identify the new mutations, and prevent transmission across the country. The new mutation is most likely to spread across the country since it is more transmissible. Therefore, it is imperative to establish a network of labs among ASEAN countries.
The third initiative is vaccination. We sped up the national vaccination target to more than one million jabs per day. We allocated 50 per cent of vaccinations for high-risk areas and places with high public mobility. Since a vaccine certificate is required for travelers, we also provide vaccination centres at airports, train stations, and ports.
The data from the recent COVID-19 surge in Indonesia shows that almost 260,000 COVID-19 cases were coming from children age 12-17 years old with a 0.18 per cent Case Fatality Rate (CFR). In response to the data, the National Agency of Drug and Food Control has issued Emergency Use Authorization (EUA) for the Sinovac vaccine to be used for this group of young population from 12-17 years old on 27 June, 2021. Therefore, we started vaccinating this age group since July 2021.
These three strategies are for healthy people to prevent them from infection, while the last initiative is therapeutic which aims to treat the sick. Since there is an increase in hospitalisation, we classified cases and managed hospitalisation triages, and continued to monitor those in home- isolation. As a result, we converted around 30-40 per cent of total hospital bed capacity to hospital beds for COVID-19 patients. In addition, the government provided additional centralised isolation facilities for COVID-19 patients with mild to moderate symptoms. Securing a steady supply of oxygen and medicine is key, especially since some of the medicines under the category of antivirus are very difficult to get in the country and globally because of their short supply. Currently, we are supported by the private sector and global partners to secure medical devices related to oxygen and medicines. We also mobilise human resources, tapping both medical interns and medical students.
What is the government's strategy in addressing the issue of COVID-19 vaccine hesitancy in Indonesia, particularly among rural dwellers, older persons, and even parents who are resistant to inoculating their children?
Minister Sadikin:
The vaccination campaign started last year. The Ministry of Health of Indonesia developed a National Communication Strategy of COVID-19 Vaccine and designed various educational media formats as guidelines for republishing and modifying COVID-19 messages. We have produced short messages, education advertisements, e-book questions and answers about COVID-19 vaccines, and infographics for all forms of media. In addition, we promote the motto "I'm ready to be vaccinated," which is now widely known in social media. So far, we consider the mass campaign effective and successful in increasing public confidence in COVID-19 vaccination.
Regardless of the strategies and efforts made in the vaccination campaign, Indonesia still faces challenges. Large quantities of COVID-19 vaccines are urgently needed to meet the target. We also continuously fight hoaxes, provide factual information, and educate the public on the benefits, safety and efficacy of COVID-19 vaccines. This may help to overcome vaccine hesitancy and increase public confidence in COVID-19 vaccination.
To increase access to vaccination for the elderly, the government persuades, registers, and transports the elderly with help from their family members. The government also provides transportation services to pick up and drop off the elderly, conduct door-to- door vaccination, organise vaccination in the nearest places to the elderly in the village, and do evening vaccination.
Has the COVID-19 immunisation programme affected Indonesia's other immunisation efforts against other preventable diseases? How is this being addressed?
With Indonesia as the current Chair of the AHMM and SOMHD, what has your leadership contributed to ASEAN's goals of improving the cooperation on COVID-19 response and ensuring health is reflected in all policies, particularly now as we move towards post-COVID-19 recovery and ASEAN post-2025?
Minister Sadikin:
The ASEAN Health Sector has synergised and scaled up its efforts in responding to COVID-19 and future public health emergencies.
There are ongoing mechanisms within the ASEAN Health Development Agenda and ASEAN Health Clusters that support the ASEAN Member States in responding to the COVID-19 pandemic, such as ASEAN Emergency Operations Centre (ASEAN EOC) Network for Public Health Emergencies, ASEAN Risk Assessment and Risk Communication (ARARC), ASEAN Plus Three Field Epidemiology Training Network (ASEAN+3 FETN), Regional Public Health Laboratories Network, and ASEAN BioDiaspora Virtual Centre (ABVC).
There are 11 new health initiatives, including the establishment of the ASEAN Centre for Public Health Emergencies and Emerging Diseases (ACPHEED) as the first organisational instrument to manage and coordinate resources and whole aspects of health response. Following the adoption of the ASEAN Strategic Framework for Public Health Emergencies, the ASEAN Public Health Emergency Coordination System (APHECS) programme is developed to support the implementation of this framework. APHECS is a multi-year programme that aims to institute a region-wide formal whole-ofASEAN mechanism to better prepare for and respond to public health emergencies. It also aims to harmonise existing, ongoing, and upcoming relevant initiatives.
The ASEAN Health Sector has also been actively engaged in the development and implementation of non-health sector initiatives. There are five non-health sector initiated efforts, including the ASEAN Strategic Framework for Public Health Emergencies and Regional Reserve of Medical Supplies for Public Health Emergencies.
Collaboration and solidarity are critical in this extraordinary, unprecedented global health crisis. It requires the cooperation of the international community. The cooperation with Dialogue and Development Partners was been harnessed and has resulted in assistance and new initiatives that aim to enhance the current response and ensure future preparedness. These include:
Enhancing Detection Capacity for COVID-19 in the ASEAN Member States with the Republic Korea (ROK);
Development of an ASEAN Portal for Public Health Emergencies with Canada and Germany;
Establishment of the ASEAN Centre for Public Health Emergencies and Emerging Diseases with Japan and Australia;
Formulation of the ASEAN Public Health Emergency Coordination System with the United States;
Cross Border Contact Tracing and Outbreak Investigation Protocol and Health Protocol Development with Germany;
Continuation of relevant programmes for COVID-19 through the Mitigation of Biological Threats Programme supported by Canada;
Technical assistance and exchanges, and provision of medical supplies and equipment at bilateral and regional levels with China, ROK, and Canada;
WHO cooperation with ASEAN, supported by the European Union EU, which includes activities in ASEAN Member States and a component of support to regional coordination for a better response to COVID-19.
To conclude, no nation can tackle COVID-19 pandemic exclusively. As a region, we should work cohesively so that we can do it better and faster. When the winds of change blow, many tribes build walls, but only a few tribes build windmills. Following this quote, Indonesia, as a nation, should see the pandemic, not only as a danger, but as an opportunity to build vaccine security and self-reliance, as well as a stronger and resilient healthcare system that will protect our people from future pandemics.